Have you always wanted to live in paradise? Have you ever considered living in Phuket?
Here's an introduction to a few things you may not know about "The Pearl of the Andaman" which may help you to make up your mind.
The Allure of Thailand
The allure of Thailand manifests itself in many ways.  For some, it is a tropical paradise, with countless islands, immaculate beaches and crystal clear azure waters.
For others, it is the hustle and bustle of the big cities, with the crowds, the shopping, or the street food.
And then there are those who are drawn to the cool mountain air and unspoiled jungles in the north of the country.
Whether you are looking for a retirement home in a warm climate, or you are making a permanent move with the whole family, there is literally something here for everyone (unless, of course, your passion is for downhill skiing).
Whatever your reason for wanting to live here, you've probably already discovered why it's called "Amazing Thailand"!
Although Thailand is rising steadily up the prosperity charts thanks to its stable economic growth, the cost of living is still quite cheap compared to many other comparable destinations around the world.  Anyone in search of a great lifestyle (and great food!) can truly have the standard of living they've always craved – and for a fraction of what it would cost in Spain, Portugal, California or the Caribbean.
Thailand has an extremely buoyant and ever-expanding tourism industry, which continues to attract visitors from all over the world.
Whatever you are looking for in a tropical island paradise, we are certain you will find it in Phuket.  Anyone who visits Phuket agrees it is a dream destination.
With its stunning scenery, magnificent beaches, crystal clear waters, and warm and welcoming people, it is easy to understand why Phuket has become one the world's most desired holiday destinations. Not to mention, such a magical place to live.
But the country's natural beauty is not its only allure.  Here are just a few of things which are attracting people to Phuket.

Phuket's Cultural Melting Pot
Centuries ago, the tin industry brought many Chinese to Phuket, and as the island was on one of the major ancient trading routes it developed a diverse cultural heritage.
Today, its growing popularity as tourist destination has ensured that Phuket has remained a cultural melting pot, home to a vast array of nationalities.
Many people from around the world have chosen to live in Phuket, and as tourists become residents each ethnicity adds a different flavour to the lifestyle in Phuket.  (Speaking of flavours, the diverse population has also ensured that – if someone's favourite cuisine wasn't already on offer in Phuket – it is now.)
But we're not just talking about traditional expatriates here. People from surrounding countries have also made their home in Phuket, including many Myanmar nationals, who comprise a large portion of Phuket's construction work force.
As Phuket has prospered, so has the Thai community, and this growing wealth has attracted indigenous Thais from all over the country to Phuket. You can now hear almost every regional dialect of the Thai language being spoken on the island.
The Thai people in Phuket are extremely warm and welcoming, so much so that it is hard not to feel that you have a home away from home.
Phuket's Rapidly Improving Infrastructure
Thailand has first class infrastructure, modern hospitals and health care, world-class golf courses and sports facilities, all manner of recreational facilities, the yachting industry, amazing shopping experiences, and international schools for all ages.
Thailand's government has shown great foresight by investing in the country's infrastructure. This is true across the whole country, but it is most noticeable in the popular tourist areas.
Phuket has also seen road and traffic-flow improvements, and a Light Railway Transit (LRT), expected to run the length of the island, goes out for tender in Phuket this year.  There is also the long-standing plan to build a high-speed bullet train connecting China and Singapore (passing necessarily through the length of Thailand).
The pace of improvements is mind-boggling, and it looks set to continue well into the 21st Century.
Click here to read more about Phuket's World Class Transportation System.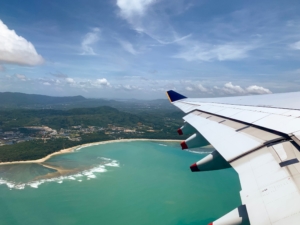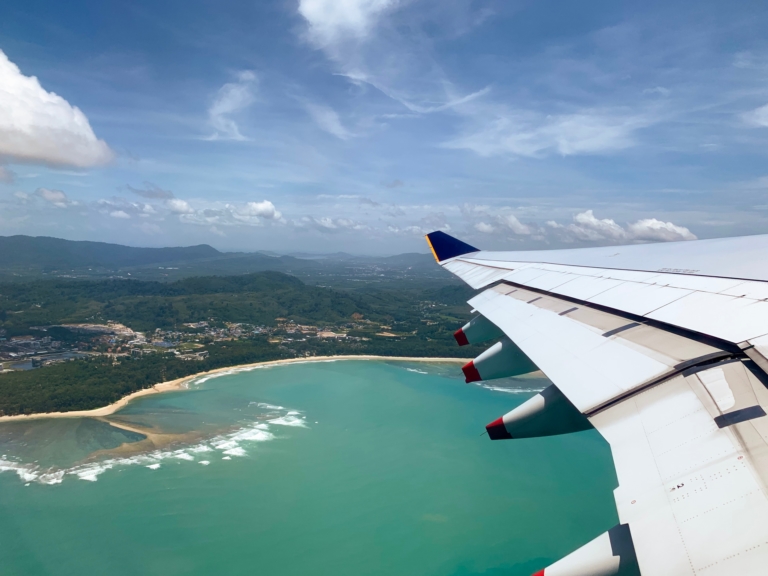 Getting To Your New Home – More on the New Phuket International Airport
Getting to your new home in the sun has never been easier.
In 2017, the new Phuket International Airport (HKT) opened for business, and now welcomes over 16 million passengers every year.
HKT is the second busiest airport in Thailand, and its 3,000 metre runway has brought in new direct international flights from Europe and the Middle East.
The airport is now open 24 hours a day, and remains busy through the night. In fact, while HKT currently welcomes 10 flights per hour, it has the potential to increase capacity up to 24 flights per hour, if required.
At the same time, Bangkok's airports – which are important feeders into Phuket – have seen greater passenger numbers, and are both undergoing further upgrades.
Where to Live in Phuket?
One of the first things people do when they make the decision to come and live in Phuket, is to find a home. The Phuket residential property market is keeping pace with the islands' improved infrastructure, with a broad range of new developments being introduced each year.
A large percentage of the market is comprised of high quality apartments or condominiums, but many areas also offer a range of villas – either stand-alone plots, or homes within a gated development.  So whether you want to buy or rent, there are ample options to choose from.
Such a buoyant market has attracted top-class developers, who have brought some award-winning projects to Thailand, with more planned for the future.
The focus and attention on preserving the environment has led to an extremely eco-friendly approach to development, with an eye to maintaining the natural beauty of the local landscapes. Preservation of national forest land, and building height restrictions where development is allowed, will make sure that this does not change in the future.
If you'd like to know more about all the different areas to live in Phuket, you may find our comprehensive area guide useful: 
A Comprehensive Guide to the Best Locations to Buy or Rent Property in Phuket
If you are unsure whether you should buy or rent in Phuket, you may enjoy this article here:
Renting versus Buying Phuket Property
And if you'd like some tips on how to find the perfect rental for you in Phuket you may want to read this:
A Comprehensive Guide to Finding the Perfect Long-Term Monthly Rental Property in Phuket
Buying Property in Phuket
Many people who choose Phuket as a place to live or retire also wish to purchase property here. There is a very buoyant property market with a variety of homes in different price ranges. Foreigners may also purchase freehold condominiums on the island.
If you are interested in buying your dream property in Phuket, then you may want to first read our extremely in-depth and resourceful guide:
The Thai Residential Phuket Property Guide
Living Close to a Phuket Beach
If you have always dreamed of a property close to the beach, then there are plenty of developments to choose from.
If you like white sands and crystal clear waters, then the west coast is right up your street (or rather, beach).  With 32 total beaches – separated by stunning rock formations, capes and headlands – you are sure to find your own little paradise.
You can read all about Phuket's main beaches here:
There are long, sweeping beaches such as Mai Khao, Bang Tao and Patong, as well as unspoiled,  hidden beaches located on the smaller bays created by some of the headlands.
Read more here about Phuket's Hidden Beaches.
Even though it is not as developed as the west coast, there are still lovely properties available on the east coast with magnificent views of Phang Nga Bay.  A number of mangrove swamps and oyster farms can be found on the east coast making it somewhat inaccessible (and muddy), but there are still a few pristine beaches to choose from.
Whether you are committed to buying a property in Phuket, or you prefer the flexibility of renting, let us know exactly what kind of area and type of property would suit you, and we'll help you find that ideal home.
Close to Nature When Living in Phuket
While Phuket has been developing rapidly over the last two decades, there is still an abundance of nature throughout the island.
Many of the lush forested mountainous areas are protected under national park status, and building restrictions do not allow construction at elevations higher than 80-metres above sea level.
Monitor lizards, pythons, cobras, Pangolins, Slow Lorises and an array of bird and insect life can still be found in the higher elevations, away from the developed areas.
At hillside elevations where building is allowed, the wildlife which live there tend to stay away from people.
Monkeys are found more frequently than other wildlife, and can often be seen swinging through the trees or occasionally scrounging from tourists.
The national parks are nice places to get away from the tourist areas, and the Phra Taew National Park also hosts The Gibbon Project, which has been devoted to the rescue, rehabilitation, release and repopulation of Gibbons since 1992.
An Accommodating Immigration Policy Makes Your Dream of Living in Phuket That Much Easier
Thailand makes acquiring the requisite visas and work permits extremely easy for anyone who wishes to make Phuket their new home.
When foreigner bring businesses and FDI (Foreign Direct Investment) to Thailand they are welcomed with opened arms. There is, after all, a direct correlation between the increasing number of foreigners settling and investing in Thailand, and the rising levels in Thailand's own prosperity.
Individuals who work for a company which invests in Thailand, or who set up a company to do the same, will find that it's a pretty clear-cut process to get a work permit.
If you are coming to Thailand for a house-hunting visit, the standard "visa on arrival" for most nationalities is valid for 30 days.  You are unlikely to require a longer-term visa issued by an embassy.
At the same time, if you decide to buy a Phuket investment property (which affords you 14-30 days personal use per year), you will also not need a visa for the holidays you take to stay in your new home.
For slightly longer stays, a 90-day single-entry visa costs around US$ 50. You can apply for this "Non-Immigrant O" visa at any Thai Embassy, and the processing time is typically only 1 day.  This means you can pick it up the day after you apply.
If you are looking at permanent relocation, there is obviously a bit more required, but for a Phuket property owner the process is refreshingly easy.
Thai Visa Information Guide – List of Visa Types in Thailand
Thailand Visa and Passport Requirements
Starting a Business in Thailand
How to Apply for an Education Visa in Thailand
How to Obtain a Retirement Visa in Thailand
 Moving to Phuket
Many people move to Phuket with a view to making Phuket their new home for many years to come, so they also move all their belongings and furniture with them.
If that's your goal, then you may find our article on the subject useful: 
Thailand Moving and Logistics Companies – How to Make Moving To a New Home Easier to or From Phuket
Purchasing a Motor Car if Living in Phuket
Once you have chosen a place to live in Phuket, you'll need to think about how you plan to get around the island.  Taxis are relatively expensive in Phuket – especially by the standards of other South-East Asian countries – so you will probably want to plan on buying a car.
Depending on the type of motor you go for, you may find that your car is cheaper than in Europe, especially if you buy one which is built in Thailand. Most of the Japanese car companies have a manufacturing foothold in Thailand, as do some of the German and American ones.  Even MG – the classic British brand, now Chinese-owned – has made its way toThailand.
If luxury automobiles are more your speed, all the major brands can purchased in Phuket.  These are all imported, and tend to be more expensive than you would find at home.  But if your preference (and your budget) means you want to zip around the island in a Mercedes, Porsche, Ferrari, Rolls Royce, Aston Martin, Lamborghini, or Bentley, be prepared to pay some exceptionally high import duties and luxury taxes.
Despite the high sticker price, these are still popular cars.  On any given day you are likely to see one of these high-end makes.
When it comes to the running costs, as is generally the case in most countries, taxes are higher on cars with bigger engines.
That said, you can count on at least one thing being considerably cheaper than in Europe, namely the price of gas (petrol).
At the time of writing, it costs around THB 2,000 to fill a 60-litre tank.  (While cheaper than in Europe, this is about 50% more expensive than in the U.S.)
Purchasing an Automobile in Phuket
World Class Hospitals & Medical Tourism
Whether you are a resident, or are planning to relocate or retire to Phuket one of the major concerns for all foreigners living in Phuket is whether the standard of medical care matches what you are used to in the west.  Trust us when we say:  you do not need to worry about this.
Feedback from foreign residents on the quality of care they received at Phuket's hospitals is overwhelmingly positive.   And a common point of praise is that Thai hospitals offer that care at an exceptional value for money.
There are a number of small medical centres, doctor's surgeries and specialist clinics, but Phuket also boasts two leading accredited hospitals.
Siriroj International Hospital and Bangkok Hospital Phuket are both modern medical facilities which are used by visitors from all over the world.  The standard of care is as good, if not in some cases better, than you would find in most western countries.
Thailand is a major centre of medical tourism in Southeast Asia.  Foreigners fly into the country every day for a variety of procedures, treatments and surgeries.
Not only does Phuket offer excellent medical facilities, but Bumrungrad Hospital in Bangkok (just a short flight away from Phuket), is rated as one of the best hospitals in all of Asia.
Phuket's World Class Hospitals
Phuket International Schools
In the last decade, the number of international schools in Phuket has increased alongside the growing population of foreign families living in Phuket.
It seems that a new school is opening every few months, catering all age groups.  Within 30 minutes of most areas of the island, you can find a school for children as young as 18 months old, right the way up to university-bound 18-year olds.
Phuket's international schools accommodate all nationalities, and while the most common curricula are the British, American, French, and Canadian, there is also language instruction in a variety of other languages including Chinese (Mandarin), Russian, Spanish, and Korean.
Most children at the island's international schools also learn the Thai language and Thai culture.
The international schools in Phuket are predominantly located in the southern part of the island. Two notable exceptions are the British International School (BIS) and United World College (UWC).  BIS lies mid-way up the island in Koh Kaew, across the highway from the Royal Phuket Marina and the Boat Lagoon.   UWC is the northeast, next to the Khao Phra Thaeo National Park
One of the newer schools in the south, which is really making a name for itself, is BCIS in Chalong.  The curriculum of the school is English and French, and the enrolment is growing rapidly due to the high standards and competitive school fees. The school undergoing expansion plans to include world class sporting facilities, and the first planetarium in Southern Thailand.
If you are seriously considering relocating to Phuket with your family, and you want to be conveniently located near to an international school, please feel free to ask us for advice.  We will be happy to help you determine which individual area of island – as well as which school(s) – would suit you and your family the best.
International Schools in Phuket
Nurseries, Kindergartens and Preschools in Phuket
Phuket's Sports Facilities
Phuket has become a popular destination for fitness enthusiasts among its residents and visitors alike. Residents who like to lead a healthy lifestyle have a broad range of world-class sports facilities to choose from to keep themselves in shape.
There are naturally numerous water sports to choose from, such as kayaking, wind surfing, water skiing (including wake parks), kite surfing, and even board surfing (in the right season).  Keeping with the water theme, Phuket has been home to fishermen for centuries, and that now includes those who wish to try their luck at deep sea sport fishing.
If you are more of a terrestrial being there is hiking and climbing, but if you enjoy taking flight you may want to indulge in parasailing or hand gliding.
We've already mentioned the superb Thanyapura Health and Sports Resort in the north of the island.  In addition to some of the finest facilities in Thailand, it also has first-class coaching services.  The resort is ideal for athletes training for upcoming events, or for those in search of treatments or wellness programs.
The amenities on offer include a full-size rugby/soccer pitch with athletics track, six indoor tennis courts, an Olympic length swimming pool and a training pool, as well as numerous specialist studios and gyms. It even has an outdoor assault course.
In addition to attracting athletes for training, Phuket also has a yearlong sporting calendar packed with events for both amateur and professional athletes. Phuket plays host every year to marathons, beach volleyball, sailing, as well as cricket, rugby and soccer competitions.
Phuket's Best Health and Fitness Gyms
The Best Places to Do Yoga in Phuket
Golf Courses in Phuket
Like so many of the islands other attractions, the golf courses in Phuket are world class. You currently have a choice of seven courses, each one offering a different set of challenges and different landscapes.
Loch Palm is built around a lake, but the constant threat of your ball going in the water is somewhat mitigated by its wide and forgiving fairways.
Red Mountain is right next door to Loch Palm.  The course was built on the site of a former tin mine, and its highlights include some stunning views and landscape. Red Mountain is one challenge that you must accept.
Blue Canyon is only 15 minutes from the airport, and its two courses are among Phuket's best.  It was here that a 22-year old Tiger Woods (whose mother is Thai) established himself as a legend in Thailand when he became the first golfer ever to hit the 13th hole green in one shot. (The 13th has been called "The Tiger Hole" ever since.)
Katathong Golf Resort & Spa is about 1 hour north of Phuket, on the edge of the Khao Lak-Lam Ru National Park. This championship course is set within a stunning tropical landscape.
If you want to be close to the links, then please read about all of Phuket's golf courses at the link below, and enquire about any nearby Phuket property developments.
Golf Clubs and Courses in Phuket
Phuket's Marinas and Ports
For many years Phuket has been renowned for its yachting industry, and it is certainly a major sailing destination in the region.
The island has four major marinas, which can all be found on the island's east coast.  The Boat Lagoon, and The Royal Phuket Marina are closer to Phuket Town, while Ao Po Marina and Yacht Haven are further north.
There are also a number of bays which are suitable for anchorage, such as Nai Harn and Kata, and in the high season (especially during the island's major regattas such as The Phuket Kings Cup) there is a veritable armada of vessels anchored off the south-west coast.
Chalong is also a popular anchorage bay, and is the home of the Ao Chalong Yacht Club (ACYC) and Phuket Yacht Club.  A number of companies provide yacht and boat charters from Chalong to explore the neighbouring islands.
Phuket also plays host to the Phuket International Boat Show (PIMEX) each year, which attracts the world's best-known boat and yacht builders, as well as a large gathering of sailing enthusiasts from around the world.
If you are someone who needs to answer "the call of the sea", we are happy to show you homes close to any of Phuket's stunning marinas.
World Class Shopping
On three corners of Phuket's busy Darasamut Intersection, the Central Group has constructed a true marvel of shopping. The buildings are linked by walkways over the roads, and each one offers something different.
The newest building is Central Floresta, a shopping experience for those who enjoy designer luxury brands, and it also features an aquarium, which is sure to please kids.
Further south on Chaofa Road West is The King Power Duty Free shopping facility.  If you've ever been to an airport in Thailand, you will have seen King Power because the company has the sole duty free concession for every airport in the country.  If you've never noticed the duty free shops, but you are a fan of English football, then you may recognise them as the main shirt sponsor of Leicester City F.C.
Here in Phuket, King Power have constructed a remarkable, state of the art facility where you can take care of all your duty free shopping needs – in air-conditioned comfort, and without any time pressure.
If you typically find yourself in a rush at the airport, unable to decide on (or recall) one thing you had planned to buy at the duty free shop, this massive mega-store is just what you need, especially as it offers more selection than the airport itself.
Find clothes from your favourite designers; check out the bags and cosmetics; fill a basked with Swiss chocolate; or select a bottle of your favourite wine or spirits.  And since you are not rushing to catch your plane, take the time to enjoy a coffee, a light snack, or even a meal.
When you do finally make your way to the airport, however, everything you bought — at a nice relaxed pace, not in a mad rush just before your flight — will be waiting for you.
Modern supermarket chains offer culinary delights for home chefs.  In addition to Villa Market, Central Food Hall, Big C, Tesco Lotus, Macro, there are a number of specialist foreign food stores and groceries making a wide range of international foods available to foreign residents.
There are also shops catering specifically for those looking for imported foreign groceries. Every small community has a local Thai market, and some of these are open 7 days a week.
And if you need to furnish that new home of yours, options abound! You may want to choose your own furnishings to reflect your personal style, but if interior design is not your forte, you can always hire an expert.   Your choices are virtually unlimited, from high-end luxury furniture stores, to excellent value-for-money from the likes of Index Living Mall, Home Pro or Ikea.
Phuket's Weekend Market (Naka Market)
Phuket's Shopping Centres and Malls
Hassle Free Duty Free Shopping in Phuket
Local Thai Food Markets in Phuket
Supermarket Shopping in Phuket
Tips on How to Bargain in Thailand
Top Tips for Your Holiday Shopping in Phuket
Phuket's World Class Dining and Evening Entertainment – Gastronomic Delights in Paradise
Phuket has always attracted tourists from around the world, but the past few years has seen people of almost every nationality buying or renting property in Phuket.
If Thai food weren't already delicious enough for you, thanks to the influx of such a diverse range of cultures, there is a considerable (and ever-expanding) variety of international cuisine on offer in Phuket.  By all means, indulge in the magnificent local Thai foods, but you can also sample an almost unlimited choice of menu items from around the world.
The gastronomical choices on offer in Phuket now include: Greek, Portuguese, Turkish, Chinese, Russian, Ukrainian, Scandinavian, Burmese, Korean, Japanese, Spanish, Italian, English fare (including a great choice of Sunday roasts), Australian, American, Irish, German, Swiss, Croatian, French, Lebanese, Egyptian, Pakistani, Iranian, Afghani, Indian, Vietnamese, Malaysian, Israeli, Argentinian, Mexican, Brazilian, South American grills, and many more.  There are also plenty of choices for raw food, vegetarian and vegan diets.
If you are feeling nostalgic for home, and missing your favourite foods, it is almost impossible not to find a restaurant serving them in Phuket.
Thailand's Healthy Living
According to statistics from the World Health Organization (WHO), the number of centenarians (people reaching age 100) in Thailand is among the highest in the world as a percentage of total population.
It is somewhat strange that Thailand should be ranked so high, as there are mostly developed nations topping the list – countries with a higher average income per GDP than Thailand.
This means Thais are living longer lives despite a considerably lower average income.  If you visit a local market in Thailand, it easy to understand why Thailand ranks so high in terms of the longevity of their population.  The vast array of fresh fruits, herbs, vegetables, and seafood are the same components of the healthy diets enjoyed by other countries on the list.
But while the diet is without question a major factor in their longevity, the favourable climate and the stress-free, relaxed way of life in Thailand certainly have their own positive impact.
So if you choose to live in Phuket you may also add a few years on to your life!!
Thailand's Healthy Living and Secrets of Longevity
Living in Phuket For Night Owls
If you are somewhat nocturnal, you can find night time entertainment in every major tourist area in Phuket, even in the more traditional Phuket Town.
Throughout the island you'll find modern nightclubs, all manner of drinking establishments, trendy beach clubs, reggae bars, disco boats, beach parties and even karaoke.
But there is nothing that compares to a night out on Bangla Road in Patong!
Phuket Nightlife – A Night Out in Bangla Road
Phuket's Spas, Wellness, Rejuvenation and Transformational Resorts 
Phuket has grown into one of the most popular detox, health and spa destinations in Asia, with countless resorts opening over the last decade.
People come to Phuket from around the world purely to rejuvenate or to participate in a health and well-being transformational holiday.
What can be better than having all these amazing resorts and services on your doorstep? Thailand, especially Phuket and Koh Samui, are certainly the Spa capitals of South East Asia!!
Diving In and Around Phuket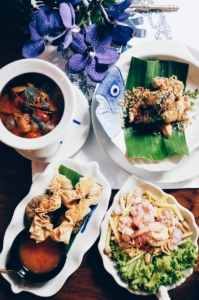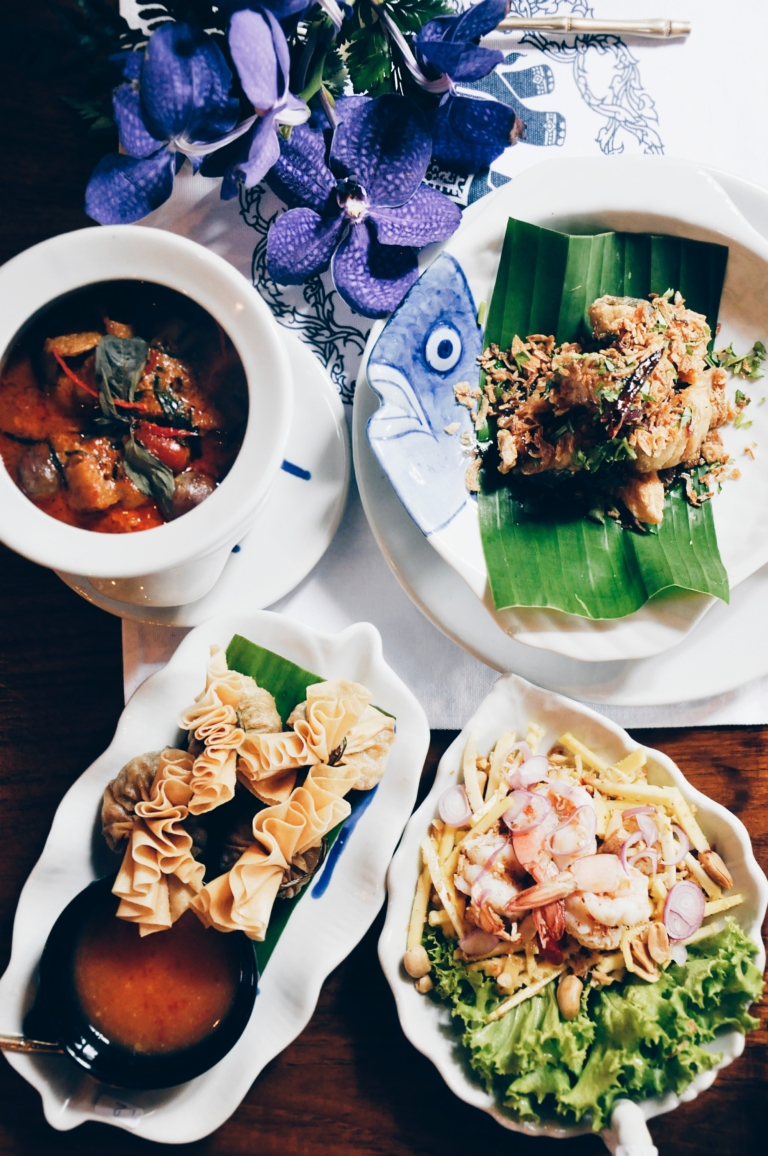 All around Phuket the sea is teeming with marine life. This has obviously made snorkelling and diving very popular pastimes around the island.
The various islands dotted around the Andaman Sea all have slightly different ecosystems, and in the quieter areas whale sharks, leopard sharks, manta rays, reef sharks, and turtles can still be seen. Of course there is also a plethora of tropical fish and coral to found everywhere.
MORE ABOUT PHUKET
Geography and Topography
Phuket lies in the Andaman Sea, just off Thailand's southwest coast and roughly 8° north of the equator.
It is approximately 48km from top to bottom, and while its width varies, the total area is approximately 570km2.  While Phuket is of course an island, it is only 600 metres from the mainland, which can be reached via the Sarasin Bridge. All of Phuket province encompasses 39 surrounding islands.
Apart from the relatively flat northern area (where the airport is located), the landscape is generally hilly and mountainous, with some ranges exceeding 500 metres.
At the base of many of the hills you will notice agricultural land and undeveloped forest or scrubland. "Sea Gypsy" fishing villages still exist, unspoilt by development or tourism, which are home to an Aboriginal Malay people who have called Phuket home for thousands of years.
Pearl and abalone farms, mangrove swamps, rubber plantations, pineapple fields and prawn farms also dot the East Coast landscape, rarely seen by tourists.
Phuket Geography and Topography
Living in Phuket's Amazing Climate
Phuket is warm throughout the year, although humidity tends to drop off during the drier months between November and May, and the ever-present sea breezes make the island extremely pleasant on most days during this period.
From May through to September, sporadic rain and overcast skies do prevent the sun's rays from getting through for some of the day, while October tends to be the rainiest month of year.
The first full moon in November is generally considered the start of high season, and the warm dry weather returns for the busy holiday season (Christmas and New Year's are peak season).
While beach goers may run and hide when the rains come, the conditions created by the changing winds are prefect for surfers. So from April/May, through until the seas begin to calm again in November, you will usually see people with their surf boards up and down the West Coast.
The Absolute Best Time to Visit Phuket in 2019
A Guide to Phuket Weather Month by Month 
Reasons to Love Phuket's Rainy Season 
How to Survive Phuket's Rainy Season 
Phuket's Neighbouring Islands and Provinces
It is not Phuket alone that makes the area an amazing place to live or retire. Phuket is surrounded by dozens of islands, either low lying sand banks or granite and limestone cliffs that add a surreal, imposing character to the landscape while you are exploring.
Whether you venture into Phang Nga or Krabi provinces, or even as far south as Trang, the islands dotting the coastline are spectacular.
If you feel the need to get out and experience the sea breeze on your face, there are even some islands within sight of the shore that can be reached in no time.
The Raya, or Racha Islands, with their crystal clear waters, are situated just 20 km south of Phuket and on most days can be seen clearly from Promthep or Rawai.
Coral Island is just a short trip from Rawai Beach, and can be reached very easily by long tail boat for a small fee. Even closer than Coral Island is Koh Bon, a great day out with excellent facilities including a restaurant.
Koh Yao Yai and Noi are the two large islands situated in the middle of Phan Nga Bay, and definitely worth the trip to explore. They are near to the Koh Kai Islands, small and stunning islets that are busy with tourists snorkelling and soaking up the sun in the high seasons.
The world famous Phi Phi Islands (remember The Beach with Leonardo Da Caprio?) are breathtakingly beautiful, and large enough to be a holiday destination in their own right, with a great choice of luxury hotels.  (In order to preserve the ecosystem of the Phi Phi Lay, the government has ordered the main entrance to the bay to be closed for a while, so if are you planning a visit be sure to check if boats will be allowed.)
Further north, on the west coast of the mainland in Phang Nga province, lie The Similan Islands, a national park and favourite diving area in the high season months.
Ranked as one of the top ten dive spots in the world, divers regularly see whale sharks and turtles.  Even further north you come to the Surin Islands, which are smaller but regarded by many as superior to The Similans.  Both are relaxing getaways.
If you enjoy exploring by car, then don't miss the neighbouring provinces which are easily accessible by road. Heading north over the Sarasin bridge, you enter Phan Nga which has its own beauties. Phang Nga has the beach resort Khao Lak and the Kao Sok National Park, where wild elephants still roam.
Further north you reach Chumporn and the Isthmus of Kra, the narrowest point of Thailand and very close to the Burmese border.
Heading east around Phang Nga Bay takes you to Krabi province and the resorts of Ao Nang, Rai Leh Beach, and the stunning islands of Koh Hong, Koh Poda, are easily accessible with a short boat ride.
A Summary of Living in Phuket
Phuket is a stunningly beautiful tropical paradise. The Thai people are warm and welcoming, the food is delicious and the cost of living is low. And there are many ways a foreigner can make Phuket their home, with Thailand's extremely accommodating immigration policies.
The island has first rate infrastructure, with world class shopping, quality schools, modern hospitals and health care clinics, top of the range sports facilities, world-class golf courses, a vibrant yachting industry and a huge range of things to do.
The property market is buoyant, with a great range of properties to buy or rent out. You can live near the beach, in the city or surrounded by nature.
On top of it all, Phuket is surrounded by other spectacular attractions in neighbouring Provinces. There is so much to do, and in the southern region alone, you can spend a lifetime visiting each of the amazing places on offer, without ever venturing too far from home.
It's a beautiful island, but there is so much more to Phuket than sun, sand and sea. Phuket has now been transformed into one of the world's most desirable places to live.
You may want to read some of our Phuket property articles here:
Understanding the Importance of Due Diligence and Exactly What Due Diligence is When Buying Real Estate in Phuket
The Benefits and Advantages of Buying a Freehold Condominium in Thailand
The Things All Phuket Condominium Investors Should Know About the Condominium Act
The Benefits of Buying a Phuket Condominium Off Plan
The Risks of Buying a Phuket Condominium Off Plan
The Pitfalls of Buying a Condominium Leasehold Unit
Owning a Freehold Hotel-Licensed Condominium in Thailand
What Exactly is a Leasehold in Thailand?
Using a Thai Company Limited to Purchase a Leasehold Condo Unit