Even after spending years in Phuket, we can't claim to know all of the island's secrets.  There is always something new to discover.  
But given the nature of the coastline in Phuket, it stands to reason that there are multiple coves and bays on both the east coast and the west, and that is where to find many of Phuket's hidden beaches.
Private Beaches are not allowed in Thailand, but in some areas resorts have bought up enough of the surrounding land to make access nearly impossible.  We have not included some of these "resort beaches", but a few of those with restricted access have made the list. 
The following list of "Hidden Beaches" starts in the north of the island, then heads south along the West Coast, before rounding the southern tip and heading back up the East Coast.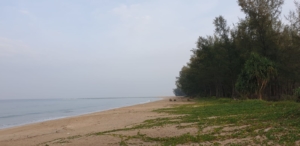 1. SAI KAEW BEACH
Haad Sai Gaew (or Sai Kaew Beach) is a long stretch of beach in the very north of Phuket. The area is very undeveloped and you can walk for miles (literally miles), with barely a clue that you are still on one of the world's most popular islands.
Some people may view this as a part of Mai Khao Beach, but it actually named separately. And it is so rarely visited and so quiet, that we've included this in our list of hidden beaches.
Sai Kaew starts practically where Phuket ends, at the Pak Prah Strait separating Phuket Island from mainland Thailand.  Mai Khao Beach lies at the southern end of Sai Kaew, but there is no physical barrier telling you where one beach ends and the other begins.
If you like wide open spaces and lots of sand and sea with barely any people about, then Sai Kaew is for you. There is also a restaurant on the beach and it isn't bad, so it's a nice place to go for lunch and take an afternoon stroll.
To get there just head as if you are leaving the island towards Sarasin Bridge and keep your eyes open to the left.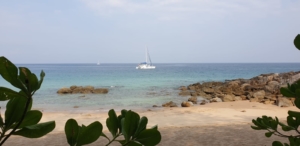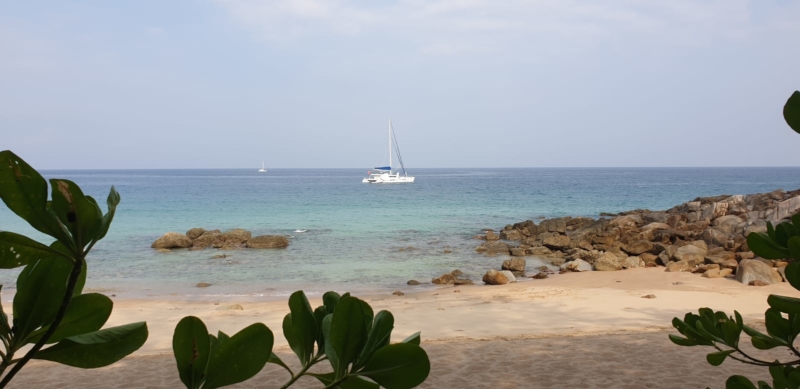 2. BANANA BEACH
It is remarkable that a beach of this quality could be sandwiched between the more well-known Layan and Nai Thon Beaches, and yet still remain relatively obscure after all these years.  Don't get us wrong – we're not complaining!
Banana Beach is easily accessible by road, but some prefer to rent a longtail boat from Nai Thon, and approach by sea.  In Thai, the beach is called "Hat Hin Kluay" (literally 'Banana Rock Beach'), so if you are planning to explore by boat, it would be useful to know that phrase.
The easiest way to find Banana Beach by the road is to just find the Trisara Resort and it is a few hundred metres further down the hill on the left.
Parking is at a premium, which is why you will probably notice a few cars or motorbikes parked along the road side.  The road is very quiet, and it is generally safe enough.
The beach is not exactly visible from the road, so look for either a path through the trees or (if it is still there) the "Banana Beach" sign nailed to a tree.  Follow the path through the trees and down to the beach.
The small bay is bordered north and south by rocks and trees, but in the middle is a gentle swimming beach with crystal clear calm waters in the high season, and also very good snorkeling.
Beach chairs and umbrellas are available to rent (again, hidden but not abandoned), and there is small restaurant where you can order lunch, snacks or drinks – then enjoy them in the shade.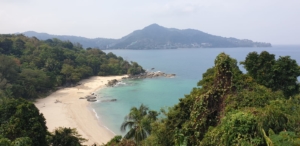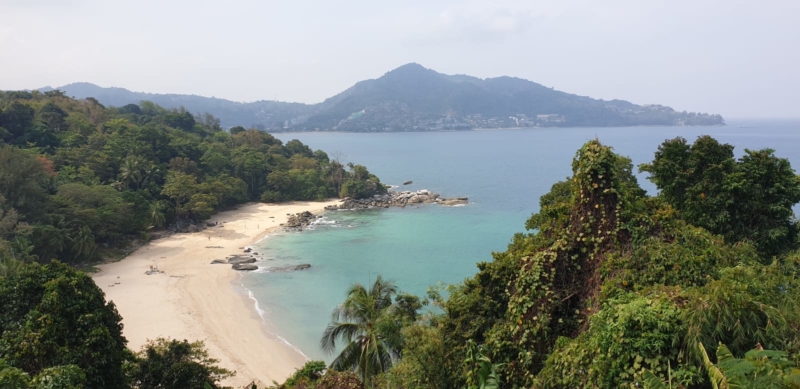 3. LAEM SINGH BEACH
When it comes to Hidden Beaches, Laem Singh is probably one of the most picturesque. We've included Laem Singh because, although most people know it's there, access now is extremely difficult.
Resting on a secluded bay between Surin Beach and Kamala Beach, Laem Singh is widely regarded as one of the most beautiful beaches in Phuket.  It offers shade from the trees, gently sloping sand down to the crystal clear water, a calm surf to swim in, and the rocks (especially on the southern end of the beach closest to Kamala) are teaming with marine life, making it a fantastic spot for snorkeling.
It was once accessible by two pathways down from the main coast road, between Kamala and Surin, but right of way has been cut off for tourists the last few years. However, every beach in Thailand is open to the public, so while that pathway route may be closed, the beach is open.
Thankfully, you can get there by boat. Just walk to the southern end of Surin Beach, but instead of heading for the rocks, look for a boat and a sign (in English) announcing it goes to Laem Singh Beach.  You must board the boat in the water, so don't wear any shoes (or leather sandals) that can't get wet.  The boat is THB 100 per person, but if you don't want to wait for the boat to fill up, THB 400 will get you a private trip.
If you don't think you are up for the boat trip, but you are in the area, then at least stop at the Laem Singh Viewpoint to have a peek at what you are missing.  One look, and you may just change your mind!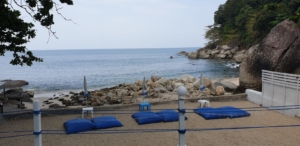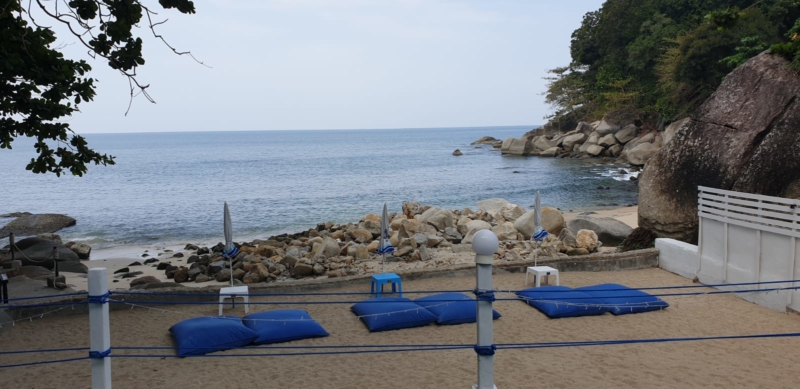 4. IGUANA BEACH
You can easily miss Iguana Beach as you drive down towards Patong from Kamala. Try not to, because if you like small quiet beaches, then this one may become a regular stop for you.
We used to come here many moons ago, when it was virtually unknown. We were the only ones on the beach back then, but these days it has a little bit of a name for itself because of the beach club that tends to open here every high season.
The beach is sheltered by big rocks on either side so it's nice to swim, and depending on the month you visit you'll get food and drinks.
Iguana Beach can be found on the sharp right heading south just after the Zenmaya Hotel on the coast road called Phrabaramee Road, before you go into Kalim at the northern end of Patong.
There is a sign at the top so you can't miss it. To get to Iguana you just walk down the slope towards the sea. They now even have steps to make the walk easier.
You have to check this one out!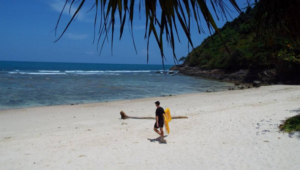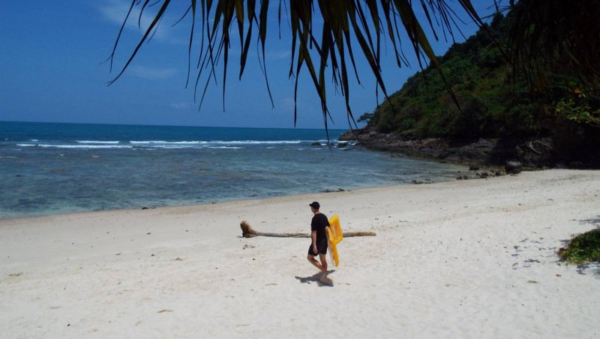 5. TRI TRANG BEACH
Just south of Patong, where the island juts into the sea, you will find three of Phuket's Hidden Beaches:  Tri Trang, Paradise, and Freedom.  If you have grown tired of the crowds on Patong, and you are looking for a different vibe, then you have three choices only 15-20 minutes down the road.
If you are already in Patong, given the one way system, you will need to loop around the Ratuthit Songroipi Road (past Jungcelyon Shopping Centre) to join the road which approaches from Karon. As you approach Patong Beach from the southern end, you need turn left when you reach the seafront, (Patong seafront is to the right). After crossing a short bridge, veer left past the Amari Hotel and just keep following the winding road.
Tri Trang is on your right before you get to Marriott Merlin Beach Resort, although you can also access it from the far end just as you start to go up the hill just past the hotel. Some of the hotels along that road also allow you access.
Tri Trang's only downside might be during low tide, when the sea reveals a rocky area that used to be coral. Fortunately, at high tide, there is more than enough sandy areas for a good swim.
Tri Trang is also well known because this is where you can swim with the elephants in the water. It's a wonderful experience and you can get up get close and personal to these amazing animals, certainly much better (and kinder) than taking an elephant ride.
Not far from Tri Trang Beach you can also find two of Phuket's other hidden gems:  Paradise Beach and Freedom Beach.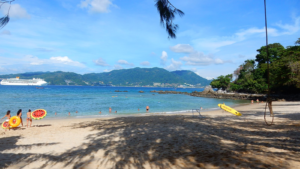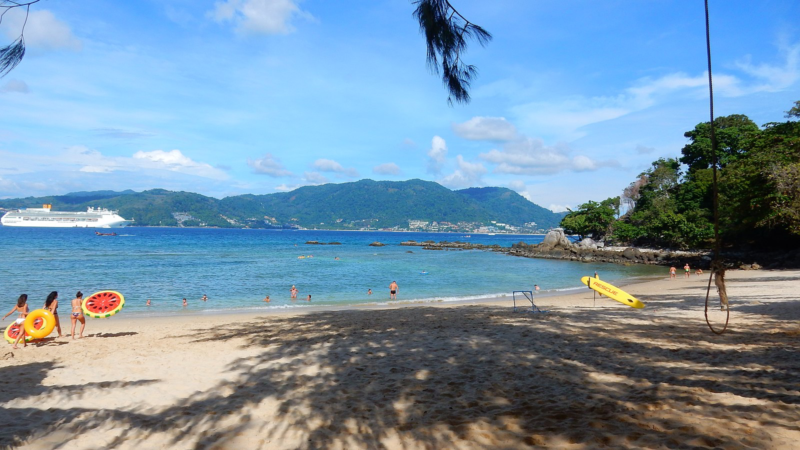 6. PARADISE BEACH
While its name may suggest it is hidden away – and to be fair, it is not easy to get to – it is nevertheless extremely popular.
Paradise Beach is well sign posted, but if in doubt, you only need to follow the directions above to Tri Trang.  Ignore Tri Trang and just keep driving straight (or as straight as you can on a windy road) past the Marriott, and after a few minutes you will come to the parking for the beach.  You will need to park at the top of the hill and take a shuttle down to the beach.
In keeping with the "party" theme started in Patong, Paradise Beach is home to Phuket's most famous full moon parties.  These monthly raves go on long into the night, and attract the young (and young at heart) from all over the world.
But when the moon is waxing or waning, Paradise beach is still a great place to spend the day. It opens early, and it has an entrance fee, but it is well worth it.  There once was a time that you felt like you had joined the cast of Gilligan's Island when you reached the beach – it really was like being castaway on a desert island.
Today there are bars and restaurants and water sports.  Oh yeah, and people.  It is a popular hang out, and is another of Phuket's Beach Club locations.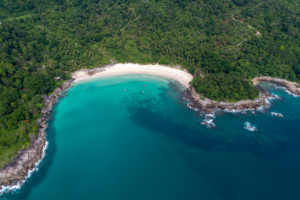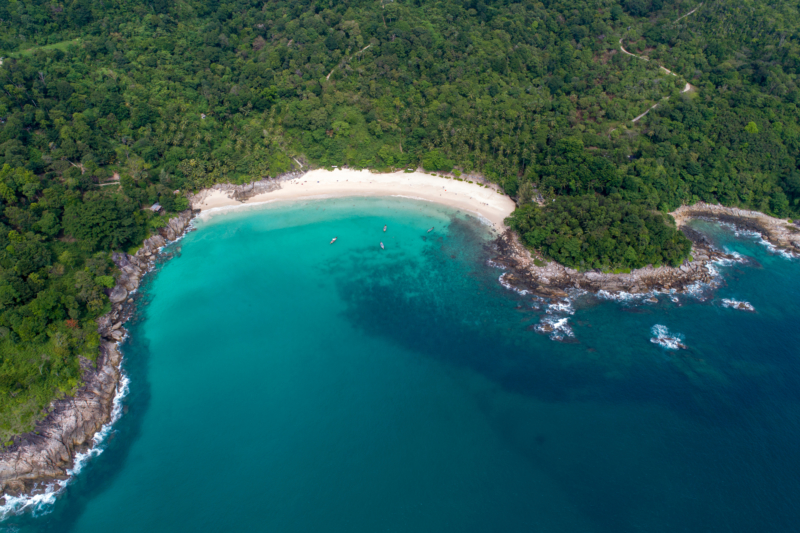 7. FREEDOM BEACH
Soft white sand.  Aquamarine water.  Palm trees.  In short, paradise.  It is also one of the most inaccessible beaches on the island, but that's what being a Hidden Beach is all about!
The easiest way to get here is via longtail boat from the southern end of Patong Beach, but be prepared to pay up to THB 1,500 per trip (or more), depending on the whim of your "captain".   If there is a larger group, you may be able to negotiate a lower fare per head.  It takes about 10 minutes to get to Freedom Beach, and your fare is payable on the return trip.
If you are visiting Phuket in the low season (usually May through early November) the waters are too rough to make the trip, so plan on seeing Freedom Beach during high season.
To a certain extent, this includes trying to get there by land.  You can park and walk to the beach, but be forewarned:  the walk down to the beach is only for those who are somewhat athletic and sure-footed.
Freedom Beach faces west, but because the bay is partially protected from the headland further north, the waters are extremely calm, making the swimming and snorkeling fantastic.
Because it is so difficult to reach, you may be surprised that there is a restaurant at the southern end of the beach.  Well, there is, and it is aptly named the 'One 'n' Only Restaurant & Bar'.  The purveyors of the restaurant also rent beach chairs and umbrellas.
This is a wonderfully secluded beach, and is well worth the trip.  The boat trip is really your best option for getting here, even if you find the fee a little high.
Before we leave this headland next to Patong, we'll also give a quick shout-out to Merlin Beach, which also faces southwest just along from Freedom Beach. Merlin is a quasi-private beach for the Marriott resort, but as we know, no one can own a beach.  There is a dirt road along the edge of resort's property providing access, and once there it is a beautiful spot (like pretty much all Phuket beaches).
While the coral makes swimming difficult, the snorkeling here is highly recommended. There is also a small restaurant on the southern end called 'The Little Tiger' which provides some much needed shade on a hot day and some decent enough beach grub.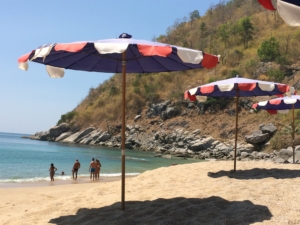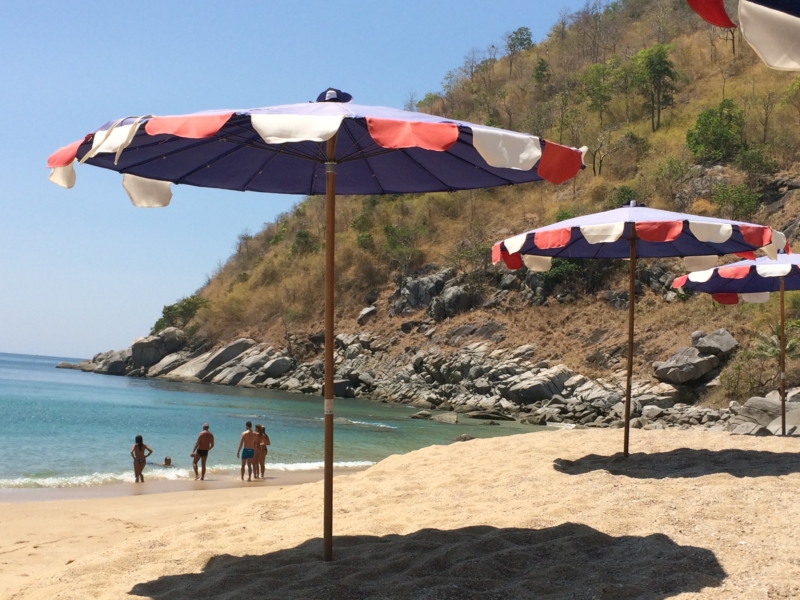 8. NUI BEACH
The road to Nui Beach is probably as responsible for keeping it as hidden as anything else.  Not because the road can't be found, but because it is a difficult road to drive.
To find Nui Beach from the North just drive down from the Karon/Kata viewpoint and keep a close eye on the sign to your right. About 350 m after the viewpoint, you'll see it.
That road winds downhill for 2.3 km before you reach the beach, but you have to park up around half way down.  Let us reiterate:  this is not an easy road on which to drive, so be careful.   Once you've parked, there is a truck that will take you down the rest of the way (for a fee, of course), or you can walk the rest of the way.
Relief may be at hand, however, as construction activity has been seen at the top of the road.  This could be the beginning of a safer route down the hill.  And that would make sense, because Nui Beach is now home to one of Phuket's wonderful beach clubs – The Water Beach Club.  It stands to reason that the proprietors would like to have a better access road for their club.
Once you reach Nui Beach, the sand is not soft and white, but everything else is exactly what you would expect from a secret little hideaway.  The beach rests on a secluded palm fringed cove, and is actually like two beaches, separated by some large boulders. The location is simply divine and the water is clear – as you would expect at any West Coast beach.  There's also a bar and restaurant that serve good food.
In short, it is a great place to chill for the afternoon, or the day.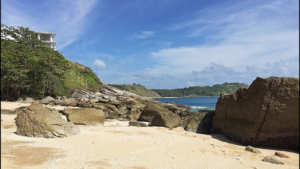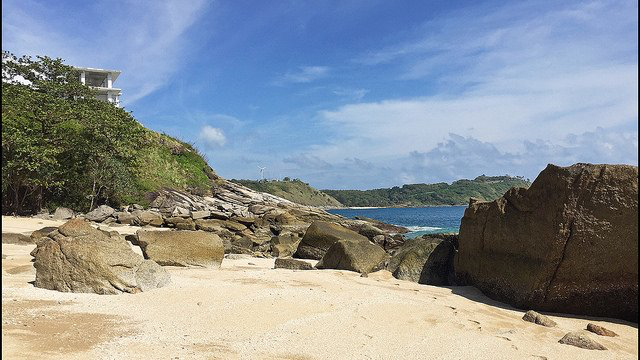 9. AO SANE BEACH
You have to know where you are going to find this one.  If you drive along to the northern tip of Nai Harn Beach, you come to the Nai Harn Hotel.  Go into the hotel, carry on under the front of the building, and then just keep going. When you get to the end of the small lane which takes you around the mountain edge, Ao Sane Beach is to your left.
It's secluded, though not private, but its remote location means you will not encounter Patong-style crowds.  If you are a keen diver, the reef here is a popular site for diving and snorkeling.  Not an ideal swimming beach – a few large rocks in the water to look out for – but in high season the water is so clear you can see anything underfoot.
The beach is also home to thousands of hermit crabs, some of which manage to grow to full size. There seems to be less there every time we visit Ao Sane, but hopefully you will still see some.
There is also a restaurant at Ao Sane where you can sit and enjoy a cold beer and some breathtaking views.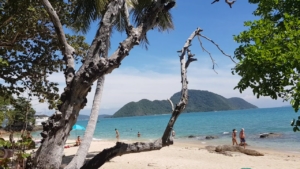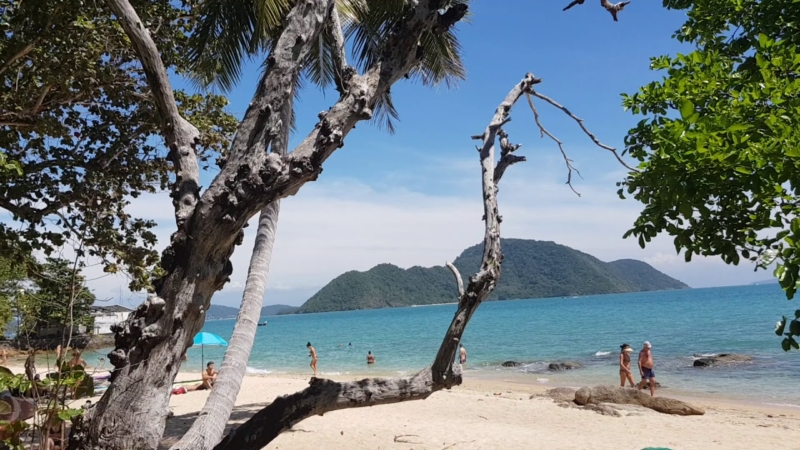 10. LAEM KA BEACH
Laem Ka Beach is near Rawai, and it requires a fair amount of local knowledge to find it.
The turning to Laem Ka is off the Wiset Road (Route 4024), opposite the entrance to Wat Sawang Arom, one of Rawai's main Buddhist Temples.  A short distance along this road you will reach a barrier (which is open), and enter a coconut plantation.  This is private land, but a right of way to the beach does appear to have been granted.  Carry on straight through the coconut grove, and you will reach Laem Ka's carpark.
Laem Ka is a wonderfully isolated little paradise.  There is plenty of shade for lying back and enjoying the view of the sea and the nearby islands. But if you want to get yourself wet, the northern end of the beach is better for swimming.  At high tide the southern end of the beach is under water, but that offers a greater opportunity for snorkeling.
This one is really off of most people's radar, so if you are planning on spending a day, it may be a good idea to take your own snacks and drinks.  (Food and drink vendors do come by occasionally, but there are no bars and food stalls.)
Please note: a far as we know, this road is privately owned, and the owner could close the road and prevent access at a whim, which has been the case on occasion. Apologies if you try to get there and find it closed.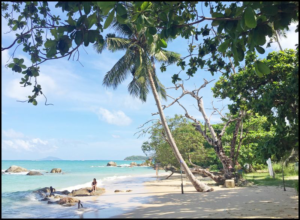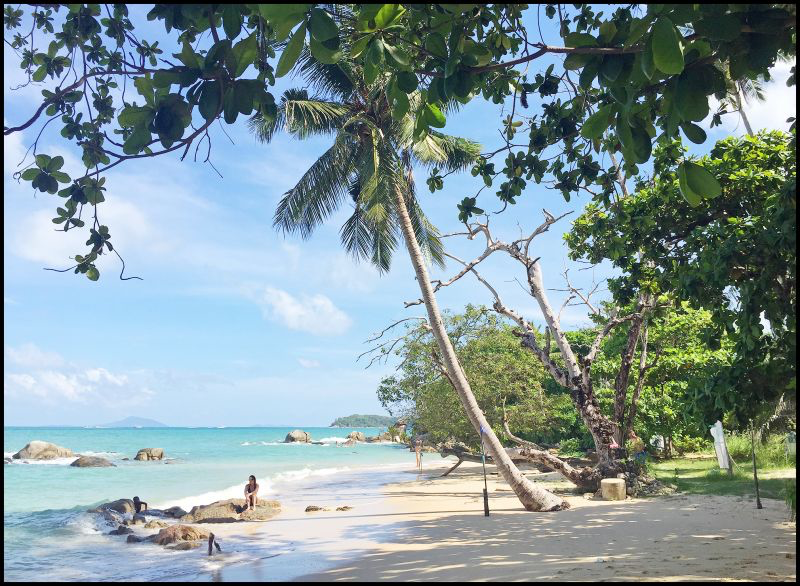 11. FRIENDSHIP BEACH
Friendship Beach is one of Phuket's east coast beaches that is south enough to be very popular. This is not a swimming beach, but is a popular spot for resident expats to hang out, especially as the Friendship Beach resort allows you to use their swimming pool if you have lunch there.
The entrance to Friendship Beach is Soi Mittapap, roughly half way between Chalong Circle and Rawai Beach along Route 4024.  (If you are heading south, the turning is just after Hock Hoe Lee Coffee Roasters.) About 100m down that soi, a road branches off to the right and if you plan to eat lunch there, you can use the car park.
The iconic Friendship Beach Resort & Spa has been reinvented wellness resort and spa (called Atmanjai).  People come from all over the world for the spa and detox treatments available, and the menu also offers an excellent choice of raw and natural food dishes.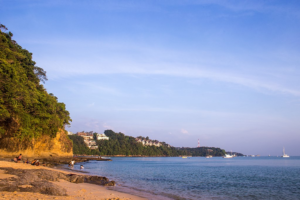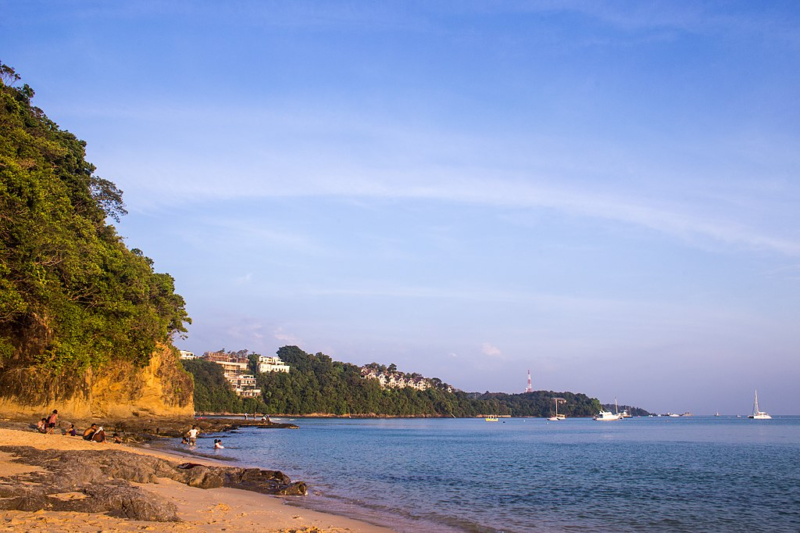 12. PANWA BEACH
If you are driving along the southern coast road of Cape Panwa with Chalong Bay and Koh Lon on your right and you are heading towards the end of the cape, you'll come across Panwa Beach. It's on the right and the access is easy enough where you see the signs for a "Beach Bar", at the very end of the long straight road before it veers left.
Panwa Beach is somewhat unique because it an east coast beach which faces south west.  So while it is not a typical swimming beach, it does offers some spectacular sunsets.
While the wide open view of a West Coast sunset – itself quite magical – tends to be unobstructed, your vantage point at Panwa Beach sees the sun going down behind the islands in Chalong Bay and Phuket's central mountain range. If you're there for the sunset, be sure to have your phone or your camera ready for some great pics.
Cape Panwa is home to few luxury resorts and boutique hotels, but whether you are staying in Panwa as a guest, or only there for the day, you will immediately notice the relative peace and quiet compared with most West Coast beaches.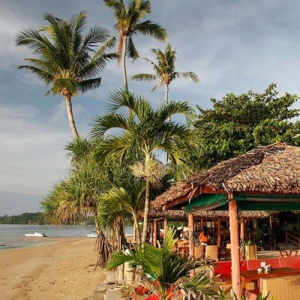 13. AO YON BEACH, CAPE PANWA
Ao Yon, like Panwa Beach, isn't necessarily so much hidden as it is just plain out of the way. Unless you are staying in Cape Panwa, it really requires a little dedication to get there.
If you've found Panwa Beach, it's easy. Just keep going towards the tip of the cape on the same road towards Cape Panwa and you'll drive straight into Ao Yon Beach. You can't miss it because the road is only a few feet from the beach.
Once you arrive, relax under the palm trees, swim or simply enjoy the view of the islands and the yachts moored in the bay. It's a local beach but has plenty of charm and there are now bars, restaurants and a new coffee shop right on the doorstep. One of these is the Ship Inn, a lovely place to grab a cool beer.
After your beer, if you have a little exploring left in your system, why not check out the Ao Yon Waterfall. You can walk up or drive up partially and park your car. You find the road at the western end to the beach next to the prawn farm. Follow it up and you'll see a small path with a sign. Go up the hill and you'll find the small waterfall.
The waterfall is not huge and dramatic, but there are plenty of catchment steps that you can bathe in. If you love waterfalls this is worth a visit as its quiet and has a more natural feel to it than many other falls crowded with tourists.
If you keep going a bit further and have time, why not also check out the Cape Panwa Aquarium, which is well worth a visit. Make sure you check out the turtle sanctuary around the back.
One final thing to do at the end of the day. Since you've ventured this far, you might as well make a day of it on Cape Panwa. The Baba Pool Club and The Baba Nest at Sri Panwa is about 5 minutes away. The Baba Nest has stunning 360-degree panorama across the islands and bay below.
In Summary
We marvel at the fact that Phuket, which has been explored and written about for decades, can still have so many places which remain unknown to so many people.
The "Hidden Beaches" are each absolute gems in their own way, and they are all worth a visit.  Some of them are quite close to one another, so if you fancy ticking more than one off your 'beach bucket list', take a look at a map and see which ones you visit in a day.
Who knows how long any of these hidden beaches will maintain their natural charm, so be sure to check out Banana Beach (and the rest of the beaches on this list) while they remain relatively undiscovered.
See our other articles on great things to do in Phuket:
Phang Nga Bay – The Best Day Out Ever!
Phang Nga Bay's Floating Muslim Village
Phang Nga Bay – A Day Trip to James Bond Island
Exploring the Phang Nga Caves in a Sea Canoe
Reasons to Love Phuket's Rainy Season
The Sea Turtles of Mai Khao Beach
Where to Stay in Phuket For Your Perfect Vacation