Like many of the other attractions in Phuket, the island's golf courses are also world class. There are currently seven courses to choose from, each one offering beautiful landscapes and unique challenges.
List of Golf Courses in Phuket
The course at Loch Palm Golf Club combines the challenge of being built around a lake, with some forgivingly open fairways.  But don't think you are in for an easy round!
The fairways may be more open than some of Phuket's other courses, but the mounds and well-placed bunkers keep you honest, and the fairways always seem to slope toward the lake.
The undulating greens reward precision with the putter, and because they are exposed to the tropical sun, they run true and quick (unless you're playing immediately after a heavy rain).
Right next door to Loch Palm is the Red Mountain Golf Club.
Winding through the canyons on the site of a former tin mine, it features an impressive landscape, and stark changes in elevation.  The best example of this is the Signature Hole at 17, with its 150 metre drop from tee box to green. The fairways are narrow, so they favour the straight hitter, and the greens are true.
This is a challenging course, but one you must experience. And once you've experienced it, sit outside and marvel at the course with a drink on the veranda at the club house.
About 15 minutes from the Airport is Blue Canyon Golf and Country Club. This club offers two immaculate courses, both of which are award-winning, and rank as two of Phuket's best golf courses.
The Canyon Course is a challenging, championship-caliber course, and has hosted numerous regional and international tournaments.
It was on the Canyon Course where a young Tiger Woods cemented his legend in 1998 when he became the first person to hit the green in one on the 13th hole. (It has since been known as "The Tiger Hole".)  The Lakes Course, challenging in its own right, will nevertheless provide you with a slightly more relaxing round of golf.
Mission Hills Phuket Golf Resort & Spa is a 6,806-yard tournament course designed by Jack Nicklaus, and situated on the northeast coast of Phuket.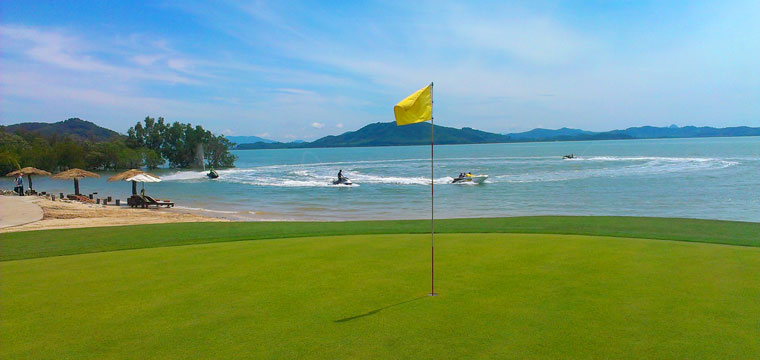 Surrounded by mangrove swamps and rubber estates, and offering stunning sea views across Phang Nga Bay, you will be mesmerized by the setting.
But don't get too caught up in the scenery because you will need to focus on the challenge at hand, such as the 537-yard Par 5, whose narrow fairway tests the accuracy of your long game, while the island green demands precision with your short irons.
In total, there are water hazards on seven of the holes, and the wind coming off the bay is an ever-present threat to your iron game.
The oldest golf course in Phuket, Phuket Country Club is easily accessible due to its location in Kathu, only a 15-20 minute drive from Patong Beach.
The Old Course has been the venue of many National Tournaments, but it remains popular with high handicappers, as well, thanks to its wide and forgiving fairways.
The hole everyone talks about after their round is #10: a 557-yard par 5, with a dog-leg right  snaking around an enormous lake, and if you are confident in your long game, its reachable in one!
If you are looking for a "quick round", Phuket Country Club also has a par-36, 9-hole course (located across the street from the entrance to the Old Course).
It may only be 9 holes, but it is still a challenge, and with 5 tee boxes at each hole, if you feel like going around again, you approach each fairway from a new perspective.
The Laguna Phuket Golf Club (previously known as The Banyan Tree Golf Club Phuket) has received numerous awards for both the course and the clubhouse facilities.
Paul Jansen undertook a major 2-year renovation and redesign, which upon re-opening in 2015, instantly made Laguna one of the elite golf courses in Thailand.
The layout of this 6,756-yard course is very playable, yet truly challenging for enthusiasts of all handicaps. The landscape provides golfers with two distinct scenic experiences with lush tropical foliage on the front nine, while the back holes feature coconut groves and sand bunkers.
The scenic lagoons, coconut groves, undulating fairways, and the surrounding Phuket Mountains, combine to make Laguna Golf Phuket a truly idyllic course.
The course is part of the 5-star Laguna Resorts complex, which is in the Bang Tao area of Phuket. In addition to the resort hotels, this is an extremely popular high-end residential community.
A short trip north of Phuket, not far from Kao Lak, is Katathong Golf Resort & Spa, home to a newly-opened Championship course, set amongst dazzling mountain scenery and tropical landscaping.
Above all else, Katathong is a sanctuary for golfers who arrive to play golf, but leave with a deeper respect for nature.
The site of a former tin mine, the course follows the natural contours of the land featuring undulating hills, sand traps and a beautiful reservoir.
But with an abundance of natural waterfalls and streams, prepare for the sound of cascading water, rather the tranquil chirping of birds.
The club house is designed in charming Sino-Portuguese architectural style and decorated with memorabilia from the mining era, there are even authentic rusting relics of the industrial mine that can still be seen from the fairway.
Mini or Crazy Golf in Phuket
Finally, if you are spending time with the little ones, their idea of fun is unlikely to be sweltering heat, divots, 40-foot putts, or balls lost in the jungle or the water.
Their brand of golf is more likely to be of the "mini" variety, making Dino Park and Mini Golf Patong right up their alley.
Dino Park features 18 holes with authentic scale replicas of prehistoric creatures, each hole blending with the theme and offering a different and exciting view of the prehistoric world.
Mini Golf Patong is a roof-top course at Banana Walk Beachfront mall in Patong. Each of the 18 holes has fun themes and obstacles, such as rocks, crocodiles and water hazards. On top of that, if you're playing in the evening, you get sunset views over Patong Beach.
See our articles on things to do in amazing Phuket:
Exploring the Phan Nga Bay Caves in a Sea Canoe
Phang Nga Bay – The Best Day Out Ever!
Phang Nga Bay's Floating Muslim Village
Phang Nga Bay – A Day Trip to James Bond Island
The Sea Turtles of Mai Khao Beach
Where to Stay in Phuket For Your Perfect Vacation