When considering a property purchase in Phuket, foreigners are faced with a number of choices. But the most important thing to be decided is surely which area of the island suits you the best.
Every region or district of Phuket has its own charms and unique attractions.  In fact, sometimes you can find stark contrasts only five minutes down the road, so it is worth spending a little time discovering what each area has to offer.
Which Are the Best Areas For Me to Choose Real Estate in Phuket?
To help you gain a better understanding of the locations where foreigners most frequently invest or settle in Phuket, we have prepared the following articles. Hopefully this information can begin to help you narrow down where you might like to live or buy property on the island.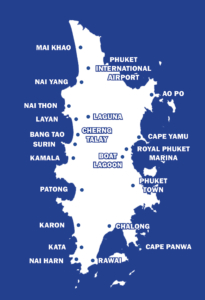 Please click on the links below to read our summary of the main features of each popular area:
Reasons to Buy Property in Mai Khao
Reasons to Buy Property in Nai Yang
Reasons to Buy Property in Nai Thon
Reasons to Buy Property in Layan
Reasons to Buy Property in Cherng Talay
Reasons to Buy Property in Laguna
Reasons to Buy Property in Bang Tao
Reasons to Buy Property in Surin
Reasons to Buy Property in Kamala
Reasons to Buy Property in Kalim
Reasons to Buy Property in Patong
Reasons to Buy Property in Karon
Reasons to Buy Property in Kata & Kata Noi
Reasons to Buy Property in Nai Harn
Reasons to Buy Property in Rawai
Reasons to Buy Property in Chalong
Reasons to Buy Property in Cape Panwa
Reasons to Buy Property in Kathu
Reasons to Buy Property in the Boat Lagoon & Royal Phuket Marina
Reasons to Buy Property Phuket's Northeast Coast
What Are Your Objectives When Buying Phuket Property?
This is obviously a very relevant question:  what is your main motivation for buying property in Phuket?
Your decision should ultimately be based on what the property will primarily be used for.
Are you looking for:
1: A home in the tropics?
2: A holiday home only?
3: An income-producing investment?
4: A property that will achieve capital gain?
5: Something you aim to keep for only a short timeframe?
6: A home that you want to live in for the next 20 years?
7: A combination of some of the above?
As a Retirement Home or Holiday Home in the Tropics?
Most home buyers hope they are making a solid investment, but sometimes that is not the primary goal.
If you are looking for a property purely as a place of residence for the next decade or more, then what really matters is how much you like the area, and how much you love your new home.
When considering the actual home, everything comes down to individual preferences, and usually a "gut instinct." People generally get a feeling about a place as soon as they see it, and they just know they will be comfortable there.
And what makes you comfortable could be very different to what elicits the same feeling in your friends or neighbours.
For example, do you like being near the sea?  Do you enjoy being surrounded by nature and away from people? Or do you prefer being surrounded by people and away from nature?
Do you like the sounds made by nature's creatures of the night, or do you prefer the noises made by the other creatures of the night – the ones emanating from nightclubs?
And if there is even the slightest possibility that you will one day change course, and decide to rent the property, rather than live in it, you must also ask yourself this:  Is the rental potential great enough to achieve a satisfactory yield?
The Beach – when we talk about the beach in Phuket, especially when the subject is real estate, we are usually referring to the west coast. 
The Andaman Sea is crystal clear in the high season, and the beaches are clean and inviting. People love to live on the west coast, and holiday makers are almost always drawn to the beaches. These areas are almost always in the highest demand.
The west coast has plenty of great areas and excellent beaches to choose from. Many of these are still seeing development taking place, including villas and condos.
Some of the beaches are relatively small, but with ample development nearby (e.g. Nai Harn). Others, like Mai Khao, extend an impressive 13km along the west coast and have little development.
Immersed in Nature – some people love being surrounded by greenery, rather than people.  They cannot relax among the sounds of cars and people, while the sound of the jungle puts them to sleep at night.
You can get "back to nature" in virtually any area of Phuket, but with people flocking to Thailand for the beaches, the majority of the development has taken place closer to the shoreline. And that is not only for hotels and amenities servicing tourists, but also for residential properties.
Thankfully, the zoning laws in Phuket ensure that a lot of the jungle areas at higher altitude are out of bounds for development.
This not only preserves the natural surroundings, keeping the island "green", but more importantly, these laws protect plant and animal life which are indigenous to Phuket and South East Asia.
For prospective buyers, if you manage to acquire a nice sea view property, close to the 80 meter elevation limit, you are unlikely to ever see any construction occurring above you.
We would think that in and around the national parks in the Northeast is about as close to nature as you can possibly get on the island. 
If you are lucky, you might also find a property in one of the less developed areas of the west coast (e.g. Layan or Mai Khao). 
In the south you would probably have to look slightly inland to find the same natural environment, but you would still not be too far from the beaches and other hot spots.
Living in a City Environment – although many of us come abroad to escape the city, there is a surprisingly large collection of people who come to Phuket because they love that manic vibe.
Although Phuket Town is the main city on the island, it does not hold the number one spot for crowds, glitz, fun and entertainment – certainly not for tourists.
If you want to be right in the thick of things, Patong is where it's at. 
Patong is world famous for its nightlife, and the high concentration of bars and nightclubs, most of which are open into the early hours.
Given its prominence as a tourist area, it goes without saying that Patong also has the widest selection of restaurants on the island.
If you want to live near the "action" then you will want to explore the available properties in Patong.
Being Close to Important Amenities – we often hear retirees insist that they will only consider a property if it is convenient to one of Phuket's main international hospitals.
Unfortunately, there are not many quality developments near to the hospitals.  There a few, but buyers basing their choice of location 100% on this factor would no doubt be forced to sacrifice other attractions (such as a beach) in order to find a home which satisfied this criterion.
But it is not only proximity to hospitals which is in demand.
Sometimes the desire is to be walking distance to shops, or bars, restaurants or even supermarkets. Fulfilling this wish will certainly limit the acceptable areas, and as most of these potential buyers also want lifts/no stairs, their choice of units in indvidual developments may also be reduced. 
Buying Phuket Property Purely as an Investment
When considering the reasons to buy property in any given area, it is important to ascertain the future prospects for that area.
Selecting the right investment property is very different to finding a place to live. You must choose a development or individual property that will be in demand – attracting good rental yields – for the duration of the time you own it.
You must also choose a sound developer, one with a proven track record who has demonstrated that they can manage a property professionally and efficiently.
You must ask whether the prospective location is favourable enough to provide capital growth. In other words: is the resale value of my property going to go up?
There are certainly areas on the island where real estate is in greater demand, and these prime locations will likely be great investments, especially for generating rental income from holiday makers.
Buy Carefully If You Want a Good Phuket Investment
You will notice from the individual articles (linked above) on each area that we are upbeat about most, but not all, regions of Phuket.
But discerning buyers carefully select the properties they buy.  That means finding the best deals in the right locations with the best form of ownership from the right developers.
When buyers have made the wrong choices, we have heard them complain about difficulty of reselling their properties at a later date. This typically happens because they jumped into a sale without doing any checks of their own, or they did not fully understand the legal structure they were getting into.
In some instances they did not even seek the advice of a reputable lawyer. Sadly, we know that on many occasions people have also taken the wrong advice from (or were blatantly misled by) agents who they trusted.
Price Matters To Buyers Too When Choosing Phuket Real Estate
While it is nice to have deep pockets, able to choose whichever property you like, not everyone who comes to buy property in Phuket is a millionaire (except of course in Baht).
Sometimes buyers are looking for the maximum amount of home they can buy in relation to what they plan to spend. And that can mean buying in an area which offers better value for money.
Of course location matters. Investors are told all the time: location location location.  But in many cases, the "ideal location" might exceed the budget.  Either that, or what does fall within someone's budget is not exactly what they envisaged as a perfect tropical dream home.
Phuket's Cheapest Properties
In areas of slightly lower demand, you will almost certainly find more bricks and more mortar for the amount you wish to spend.
And if you are able to buy something off-plan, then you might see that the price comes down even further.
There are a surprising number of properties for under 5 million Baht, even close to the best beaches.
You can view some attractively priced condominiums here:
Great Value Condominiums Under 5 Million Baht
You can view some attractively priced villas here:
Great Value Villas Under 15 Million Baht
Phuket's Luxury Properties
Over the last 15 years, Phuket has seen the construction of a number of luxury villas and condominiums.
These are aimed at high net worth individuals, who may have fallen in love with Phuket, but who nevertheless would only choose to invest in a truly special Phuket property.
Such developments typically have unique designs and enlist the expertise of major architectural firms.  They generally use the finest fittings and fixtures, and have stunning views from the balconies, verandas or terraces.
These also usually come with a hefty price tag, but you'd be surprised how many change hands on the island each year.
You may view some of Phuket's luxury properties (over US$1 million) here:
Summary
Although most of Phuket is absolutely beautiful, it is still a good idea to do your research – to find that area of the island in which to buy which is perfect for you.
Every area is different.  The north of the island is vastly different to the south, and in the South even two adjoining beach communities can leave noticeably contrasting impressions.
Some parts of the island (e.g. Patong) absolutely thrive on pubs, clubs and entertainment, while less than 10 minutes away you can sleep to choir of crickets, cicadas and Tokay geckos.
Some people like to hear the croaking of a band singer at 4 AM, while others prefer to hear the sound of frogs croaking.
Being close to the action usually means all the day-to-day amenities are also on your doorstep.  Depending on how much isolation you crave, you may have to drive anywhere from 10-30 minutes just find a cafe, a restaurant or a supermarket.
You'll obviously know your own preferences before you start looking, but also bear in mind that the vibe during the day could also be vastly different to the atmosphere at night.
So be sure to look around, and if you think you like an area, make sure you like it as much in the morning as you do in the evening.
Finding exactly the right location is vital if you want your Phuket residence to feel like a home. Either for you today or for you at some stage in the future.
Or even for the future tenants who may want to rent it from you!!
You may want to read some of our related Phuket property articles here:
The Benefits and Advantages of Buying a Freehold Condominium in Thailand
The Risks of Buying a Phuket Condominium Off Plan
Owning a Freehold Hotel-Licensed Condominium in Thailand
Using a Thai Company Limited to Purchase a Leasehold Condo Unit