Anyone who has been in Bangkok on a weekend will know that one the major attractions is the Chatuchak Weekend Market. There's no doubt that Chatuchak is special. It takes all day to get around the place, and daytime can be hot and exhausting.
Phuket might not quite have a rival for the famous Chatuchak, but we've got a pretty good alternative. If Bangkok has the mother of all markets, then let us say Phuket has the eldest sister.
The Phuket Weekend Market, as the name suggests, takes place every weekend. Unlike Chatuchak, however, it is not open for most of the day.
Known as Naka Market by the locals, this is a hybrid of a weekend market and a night market. It only opens on Saturdays and Sundays, but it doesn't open until the late afternoon.
If you are not much of a shopper, don't worry. You don't have to be a shopper to enjoy Naka Market.  There's enough to do and see without even buying anything. You can stroll around, take in the atmosphere, eat some of the fantastic food, and just enjoy the experience.
If you do love shopping, then watch out!  You'll love this place, but it can be dangerous. Not dangerous to your person, mind you, but definitely a threat to your wallet. If you are a compulsive shopper, there will undoubtedly be a large hole in your travel budget when you leave here.
Naka Weekend Market has everything that you would expect from a market of its size, which is aimed at both locals and tourists. There is so much to look at you can go crazy.
Even if you are not a shopper, you will almost certainly be tempted by a few bargains.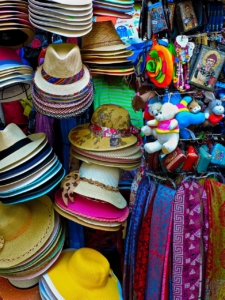 Here's a list of everything we remember from the last time we were there:
Lots of jeans
Clothes & fashion
Souvenirs, art and handicrafts
DVDs and CDs
Fashion accessories
Jewellery
Watches
Shoes
Bags
Electronics & Gadgets
Toys
… and there even some stalls selling pets!
Hungry – Why Not Try Some Market Food?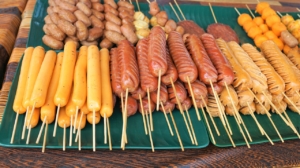 One of the things we love about the market is the variety of food, drinks and all manner of snacks for sale. There's a real assortment on offer, and while the market obviously caters to the visiting tourists, there's plenty of traditional Thai food, too.
The food area is situated right at the entrance as you walk into the market. You can't miss it.
If this is your first time to Thailand and you are not familiar with Thai market food, then you must try some.  If you are not adventurous, there are also snacks like sweetcorn on the cob, spring rolls and chicken or beef satay. These are always super tasty, and not at all spicy.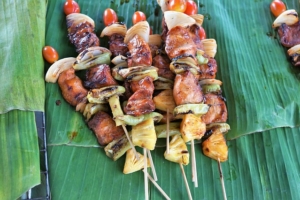 If you want something a little spicy, try the fish balls with sweet chilli sauce. But if you're really brave, try some of the amazing spicy sausage. It is a speciality of Chiang Mai in the north of Thailand, and it is even too spicy for some locals.
Regardless of your preference in food, there's always something that will whet your appetite.
There are different deserts, such as Thai crepes or pancakes, called 'kanom bueang' in Thai. These come with a choice of fillings or toppings, and you may see them with egg yolk on top.
You'll see a lot of jelly-like deserts, such as the layered and colourful 'kanom chan'.  Or the colourful small fruits made from marzipan (called 'luk chup'), which look extremely appetising but are usually not very sweet.
There is a real assortment of traditional rice and coconut dishes. One of these is the extremely popular mango sticky rice, made with glutinous rice, sweetened coconut milk and fresh, succulent mango.
One of the things that always surprises many non-Asians is the use of beans (usually mung beans) in Asian cuisine.  In this, Thailand does not disappoint.
You'll also see so many varieties of fresh fruit for sale, so why not try some. You can usually find single portions sold in small bags, with wooden skewers so you don't need to use your fingers.  The fruit often comes with some type of dip.
We love the sour mango with the spicy sweet dip.  It's just amazing!  Or you could try the guava, which Thais usually dip in a powder made from dried plums.  You might also like the rose apple (some people call this water apple), which typically comes with a mix of sugar, salt and chilli for dipping.
Or how about just a bag of fresh, juicy pineapple or watermelon, without any dip.
Fried Locusts Anyone?
The food section is also where you'll find some of the exotic insects for sale. For those who may be interested, this is called 'entomophagy' and Thailand is famous for it.
Now, it has taken many years for us to accept this as food, but we have actually started trying the insects that they serve up around Thailand. Before you turn your nose up at eating insects, Europe and North America are the only two continents that don't do this.
In fact, one-third of the world regularly consumes over 1,900 different species of insects.
We never thought we would ever say this, but we now eat the locusts regularly and actually find them quite tasty.
We've tried them at the market, but really prefer to buy them raw and then fry them up at home in extra virgin olive oil.
Insects, worms and maggots have been eaten in Thailand for centuries and are an easily obtainable source of protein.
This may be challenge for most people, but crabs, prawns and lobsters are aren't exactly pretty creatures either.  And yet most people have no problem eating those.
We still don't have the courage to eat the maggots, though!!!
Be Sure To Agree The Price Before You Eat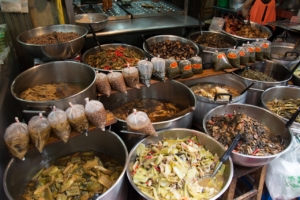 One word of warning at the food stalls. They do have some upmarket cuisine, so be careful when ordering anything expensive. For example, lobster.
It is very important that you know the price before you say 'yes', and they take it away to prepare for you.  With anything that is sold by weight, always agree with the proprietor on the price first.
We've seen people being really overcharged when they ordered a lobster. We are not lobster experts, but the prices being demanded did seem extortionate by Phuket standards.  Our guess was the stallholder was taking advantage of the customer.
In fact, the price was so high that the Russian couple asked to call the police to verify the bill they were being asked to pay.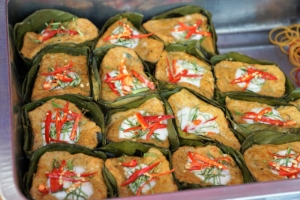 A Great Place for Watching the World Go By
Thailand is always a great place to just sit and look at the world around you.  They also have nice cold beers for sale. So you can grab a seat at the bar in the centre of the market, relax, enjoy a drink, and watch the world go by.
It's worth mentioning that there is also a great beer house, aptly named 'The Beer Bank' across the road from the market.  It always has live music, especially on market nights.
If you fancy a few beers after the market, then we guarantee you'll enjoy the evening even more.
How To Get There
Naka Market is pretty easy to find. If you are driving, then all you have to do is find Hok Yong Road, which a road that joins Chaofa Road East and Chaofa Road West.
Most people will be coming from Chaofa Road West already, and you will find the market closer to this end of Hok Yong Road.
Hok Yong Road is equidistant between Central Festival and King Power Duty Free.  If you are heading south from Central Festival, you'll see the turning on your left. Coming north on Chaofa Road West, turn right a few hundred metres after King Power.
Parking is Not So Easy
If you don't want the hassle of finding parking then it is best to take a taxi to the market, or join a tour that goes there.
But if you like the freedom of having your own car, once you've turned into Hok Yong Road, the market will be on your right.  You can't miss it.
In the busy season, the traffic is pretty heavy when the market opens, so expect a bit of congestion.
You can park anywhere on the road, but getting a space near the market is difficult. If you see parking space, just take it. But be prepared to walk.
The Best Time To Get There
The market opens at 4:00 PM (16:00 hours), and officially the stalls are meant to close some time around 9:00 PM (21:00 hours).  But we have been there much later than that before.  A lot of the places do stay open, so if you want to, you can hang around a little later.
We can tell you from experience, if you want to get a parking space, then get there early.  But walking around while the sun is still shining can be uncomfortable – even unbearable.  That's why we usually sit and relax for a while, and wait for the temperature to drop a little.
It does get a little more crowded in the early evening, but the crowds start to thin out around 8:00 PM (20:00 hours).
Which brings up another good tip:  the better bargains can usually be found later in the day.
Love shopping?
Read all our articles on shopping in Phuket:
Tips on How to Bargain in Thailand
Top Tips for Your Holiday Shopping in Phuket
Phuket's Shopping Centres and Malls
Hassle Free Duty Free Shopping in Phuket
Local Thai Food Markets in Phuket
Supermarket Shopping in Phuket