How often do you arrive late to the airport – in a sweat, checking your watch at immigration – then sprinting (or at least fast walking) to your gate.  If that sounds eerily familiar, then the new Duty Free Shopping Centres around Phuket may be just what you've always needed.
The problem with buying at the airport, when you're already rushing to catch a plane, is that you can't always decide (or remember) what you wanted to buy in the first place.  You often find yourself making bad purchase choices, and suffering from a bout of buyer's remorse.
If instead you could take your time – browsing through thousands of square metres of duty free shopping, with far greater selection than most airports, pausing only to have an espresso and a pastry – then these sprawling mega-stores are perfect for you.
Try on your favourite designer clothes; find your favourite designer bag, take time to select the right cosmetics for you; load up on Swiss chocolate; or pick out your preferred wine, whiskey or vodka.  And since you have the time to take your time, savour that cup of coffee, or even have a bite to eat while you are there – something you never have time to do when you're running to catch a plane.
How can this be any easier, we hear you ask?  How about "free delivery"?  Because when you finally arrive at the airport, everything you bought a few days earlier will be waiting for you to collect.
It really is that easy. Just visit one of the Duty Free shops below, and follow these five simple steps:
Visit the Duty Free Mall of your choice.
Find the registration counter. Show them your passport and outbound international ticket. You will then be given a shopping card, together with some shopping privileges.
Make sure you present your shopping card to the sales assistant at any shop where you make a purchase.
Pick up your merchandise at the airport. The pick-up counter can be found after Immigration in the International Departure Concourse, on the 3rd floor, near boarding gate No. 15.
Duty Free shopping is obviously already VAT-free.  But if you have done shopping elsewhere on the island, be sure to save your receipts so that you may claim your VAT refund at the airport.
There are two Duty Free "Mega Stores" in Phuket to choose from: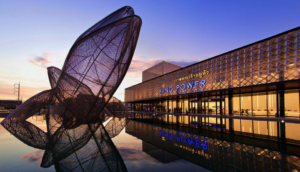 King Power
The King Power Duty Free shopping facility is on Chaofa Road West.  King Power has the duty free concession for all of Thailand's airports, and English football supporters may recognise them as the kit sponsors for Leicester City F.C.  Tragically, the founder and owner passed away recently when his helicopter crashed just after taking off from the centre circle of the King Power Stadium.
But his legacy lives on.
The King Power building in Phuket is amazing, and as you drive down Chaofa Road you can't miss it.  Outside the building there are some large stainless steel framed whale statues, which form part of a water feature. Inspired by the Andaman Sea, the building itself is a work of art.
Here King Power have created an impressive, modern complex which allows you to do all of your duty free shopping in comfort, and at your own relaxed pace.
You'll find all the world's leading brands here, from alcoholic beverages to designer labels, fragrances, beauty products, clothing, electronic goods and time pieces. In fact, you'll find just about everything you would expect to find in any shopping district in any major capital city in the world. There's also a nice selection of local Thai products, foods and souvenirs to choose from.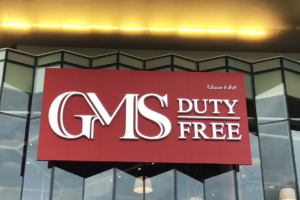 GMS Duty Free Phuket
Kathu also has a new duty free store.  The GMS Duty Free Phuket isn't far from Central, around half way between Patong and Phuket Town.
It's not quite as big as King Power, but it offers essentially the same range of products. Many of the top designer labels and fashion accessories are here, and you may even be able find some different ones at GMS than at King Power.  The process of choosing what you want, then picking your shopping up from the airport, is the same.
GMS is a welcome addition to the island, especially for all those staying closer to Patong or Kathu.  GMS also offer a free transfer, so give them a call or complete your details online, and they will pick you up from your hotel and drive you to the shop.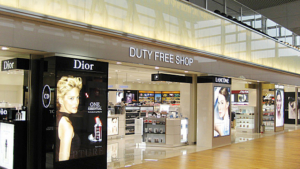 Is Duty Free Shopping Really Cheaper Than The High Street?
Purely from an ease of purchase point of view and an enjoyable experience, these new duty free shops are a wonderful addition to Phuket.
But does duty free truly mean cheaper prices? Well, we've had these conversations many time over the years so have always tracked prices when buying goods from duty free airports.
There's no doubt that prices are exempt from VAT, but does that mean that prices are the same to begin with? Maybe some duty free retailers simply increase profit margins by undercutting high street prices marginally, but all that does it increase their mark up.
Certainly you'll get better prices on alcohol and tobacco because you rarely see them on sale on the high street. Other products we are not sure about, but heck, if you enjoy shopping then just enjoy the experience.
So are they cheaper? Well, I think we'll let you decide that on your own.
Whatever the case, enjoy your shopping!!
See all our related Phuket shopping articles:
Phuket's Weekend Market (Naka Market)
Top Tips for Your Holiday Shopping in Phuket
Phuket's Shopping Centres and Malls
Local Thai Food Markets in Phuket
Supermarket Shopping in Phuket