Gone are the days when tourists went home from Thailand with nothing but cheap souvenirs. Today, the choice of things to buy is almost unlimited.
In days past, memorabilia of a trip to the Land of Smiles inevitably included the same traditional kitsch:  soaps, postcards, silk scarves and little wooden trinkets – or perhaps a new tailor made suit.
Everything evolves, and shoppers are no different.  Shoppers today have more money than in the past. And they want to buy anything and everything, whether a carefully planned purchase or something snapped up on impulse.
They still buy their fair share of trinkets, to be fair, but these are mostly for friends and family back home.   Tourists in Phuket today are going more and more in search of designer clothing, local art, high-end jewellery, or other quality products unique to the area.
Holidays in Phuket are the Perfect Time for Shopping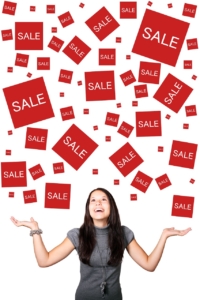 In our experience, people love to shop when they are on holiday.
Not only do they have the time, but typically they have also budgeted for it. That's why Phuket has turned into a great place to part with your hard earned cash.
Let's face it. Holiday makers love to shop just for the sake of spending the cash they brought along with them. It's considered a sin to leave money unspent when you are on vacation!
The Perfect Female Pastime
Whichever way you look at it, shopping is deep down in the female DNA.  What woman doesn't love to shop!?
To most men it's a chore. Something they do because they have to, but ladies find it utterly irresistible.
Psychologists and socio-biologists believe this female behaviour goes back to the open plains of Africa, suggesting it stems from the "gatherer" traits of the hunter/gatherer society.
As the hypothesis goes, men went out to hunt and the women did the primeval version of shopping, by gathering herbs, vegetables, fruits, nuts and seeds.
Maybe it is something far simpler than DNA.  Shopping gives women freedom.  Serious shoppers are in full control of their actions when armed with a bit of cash, and can make decisions on their own, enjoying the feeling of power and liberation that spending money gives them.
Big spenders also relish being molly coddled and lap up the special treatment and respect they get from sales staff.   In fact, one friend insists that when she's feeling low, only "shopping therapy" can pick her up.
Men may have hunted for food way back when, but today, it is mostly women who are out on the hunt for bargains around Phuket.
Shopping in Phuket is Fun
For the man who usually despises being dragged from shop to shop, tropical island shopping is a bit more bearable than at home. In many ways, it's a discovery process, with plenty to see and do, making it a far more enjoyable experience.
Male or female, shopping in Phuket can certainly be fun, mainly because of the influence of the Thai culture.  So much of what you see is visually appealing, and there is an abundance of new sights, scents and sounds around every corner.
Phuket Today Has Every Imaginable Shopping experience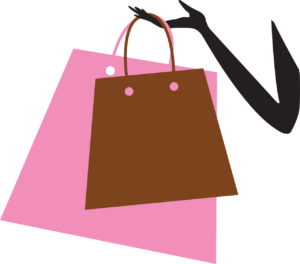 Over the last 10 years, Phuket has also seen the emergence of bigger and better shopping centres. Incredibly, it was only a few years ago that the only choice most residents had was to shop at Tesco, Big C or Robinson's in Phuket Town.  Now we are spoiled for choice.
Obviously standalone shops and stores have always been dotted around the island, and you'll probably even stumble upon some great stores close to your hotel.
But today Phuket also has a fantastic variety of shopping venues, and the last few years have seen the arrival of many stylish and modern shopping centres.
We have two large shopping malls:  Central Festival/Central Floresta on the Darasamut intersection, and Jungceylon in Patong, with more being planned.
See also: Phuket's' Shopping Malls and Centres
There are also some mega malls for duty free shoppers where you can take your time selecting the duty free goods you want to take home with you, then pick them up at the airport departure area before you fly out.
See also: Duty Free Shopping in Phuket
Although they have been around a long time, even Tesco or Big C can still offer an enjoyable shopping experience.  These large supermarket chains usually have a fair amount of retail spaces taken up by other shops and restaurants. Not only that, but they also tend to have small stalls in the walkways with nice local "brick-a-brac" for sale.
See also: Supermarket Shopping in Phuket
There are also a number of local weekend and night markets around the island, which can be great fun to explore.
See also: Phuket's Weekend Market (Naka Market)
Tips for Shopping in Phuket

Here are some tips to help improve your Phuket shopping experience:
Make Good Use of the Poor Beach Days – depending on whether you are a beachgoer, and which time of year you are staying, you can make good use of any cloudy or rainy days by heading to the shops. Those overcast days are perfect for shopping, so let the weather be your guide.
Take Your Time, and Shop Around – explore all the shopping possibilities.  Depending on how long you staying in Phuket, don't buy the first thing you see (unless there is only one left of what you want to buy). The looking is part of the shopping experience.
Take your time, and learn how to browse. Don't feel under pressure to buy; relax and enjoy it.  After all, the search is half the fun!
Don't Spend ALL Your Money Too Quickly – make your money last for the duration of your vacation. Space your purchases out. If you have some cash left at the end, you can always go back to buy something you saw earlier in the holiday.
If you spend the last of your Thai Baht on the taxi to the airport and a coffee before your flight, then you've planned it just right.
Be Sure of Each Purchase – Unless it's your last day on holiday, only buy if you are 100% sure you want something.  Spending purely for the sake of spending has two drawbacks. To start with, your money goes too quickly.  Secondly, you end up with many items you might not really like that much.
Don't Be Afraid to Barter – this isn't a problem if you come from another Asian country, but most westerners fail to haggle.  Please bear in mind that unless you are in a department store, the price usually has a built-in buffer for bargaining. The first price you are given is usually the worst price.
Don't get stressed; treat it as a bit of fun, and by all means remember to smile.  Again, don't try this at an international branded store because they will look at you like you're crazy.
Feel No Guilt, Allow Yourself Some Freedom to Shop – give yourself permission to buy what you want. You are on holiday. It obviously goes without saying that you don't want to break the bank, go home, and be forced to re-mortgage your property.  But you also shouldn't get hung up on spending a little cash while you're here.
If you see something you really like, then don't hold back.
You Are on Holiday – Never Get Buyer's Remorse – chalk it up to part of your holiday expense. The psychological benefits of buying something – anything – is well known. Remember our friend above and her Shopping Therapy?  Well, there is no time better for addressing this than when you are holiday.
OK, so shopping might not buy happiness, but it sure feels good. Don't let anything, and I mean anything, spoil your shopping experience.
Depending on where you are from, things are likely cheaper here, and that means buyer's remorse is cheaper too.  You might also get pangs of regret for not buying something, which can feel even worse.
Go Thai – it is well known by residents on the island that things are usually priced twice. There is the Thai price and the "farang" (foreign) price.  It doesn't take Einstein to work out which price is cheaper.
Try to find the shops frequented by Thais. These will be away from the tourist areas, but well worth the search. Phuket Town is a good example of where to "shop Thai".  These shops are where you are going to find those unexpected treasures.
Ask the Locals – Don't be shy. Ask the locals about the best place to shop on the island. And don't ask a male concierge for the best women's shop; find a stylish Thai women and ask her instead.
The real shopping gems are always owned by locals, and mostly shopped by locals. You'll be amazed what you can find just by asking the right person.
Make Sure You Have Room in Your Case – are you a chronic over-packer? Well, if you plan to shop on holiday, don't be. Whatever you do, don't make the same mistake we have made on countless trips.
Airlines are now far less forgiving when it comes to excess baggage, and the prices they hit you with if you exceed your weight allowance can be as much as another ticket.
Nothing can ruin a lovely holiday like an airline handing you a bill for excess baggage before you leave.  Instead, it makes sense to bring the empty space with you, to ensure you have plenty of room for whatever you buy.
Always Buy a Keepsake of Your Holiday – you should always select at least one item to help you remember every holiday. It doesn't even have to be costly, but when you return to your home country, every time you see it, you will remember the amazing time you had in Phuket. It could be something as simple as a ring, a necklace or a keychain that you carry with you every day. Or how about a memento for your office desk?  Or a magnet for the fridge?
Every time I go to the fridge I am reminded of so many nice holidays we have taken over the years, and I am thankful we picked out something small to keep the memories alive.
Conclusion
There is absolutely nothing you can't buy in Phuket these days (within reason).
And with the variety of shopping locales available today, it is an experience that men and women alike can enjoy.
Happy Shopping!!!

See all our other related shopping articles in Phuket:
Phuket's Shopping Centres and Malls
Hassle Free Duty Free Shopping in Phuket
Phuket's Weekend Market (Naka Market)
Tips on How to Bargain in Thailand
Local Thai Food Markets in Phuket
Supermarket Shopping in Phuket