The Phuket Property Guide 2021
Everything you need to know before buying a home or investment property in Phuket, Thailand
PHUKET ISLAND: THE TROPICAL PARADISE DESTINATION
The Phuket Property Guide 2023 has been compiled to provide a concise, impartial and "easy to read" primer on the real estate sector in Thailand, with an emphasis on Phuket.
While many people are simply seeking a home in the sun, research shows that the vast majority of Phuket Properties are being bought by investors looking to achieve better returns on their money. As with any investment, it is important to have a thorough understanding of the market. This includes understanding the complexities and fundamentals related to buying Thailand property, before committing any money to it.
This report has been designed to enable these investors (as well as anyone looking for a residential home) to make a more informed decision on the Phuket property market when purchasing a new home or investment in the sun.
Thailand is an attractive place for a property investment. Not only is it a stunningly picturesque country, but transaction costs are low and taxes on rental income are some of the lowest in the world. Being equipped with the right information will help you to find the Phuket property that is right for you.
The Phuket Property Guide addresses the following issues:
What Types of Property Can Foreigners Buy in Thailand?
Is Property Expensive or Cheap?
Why You Must Know The Laws in Thailand!
What Should You Look Out for When Buying Property in Thailand?
What Areas Have the Greatest Potential?
What is Driving the Attractive Rental Returns?
What is the Potential for Capital Appreciation?
How Low are Transaction Costs?
How Low are Taxes on Rental Income?
What are Thailand's Economic Strengths?
How Do Currency Movements Affect Investment Returns?
What About Succession Laws for Foreigners? Do You Need a Will?
Where to Get the Best Advice?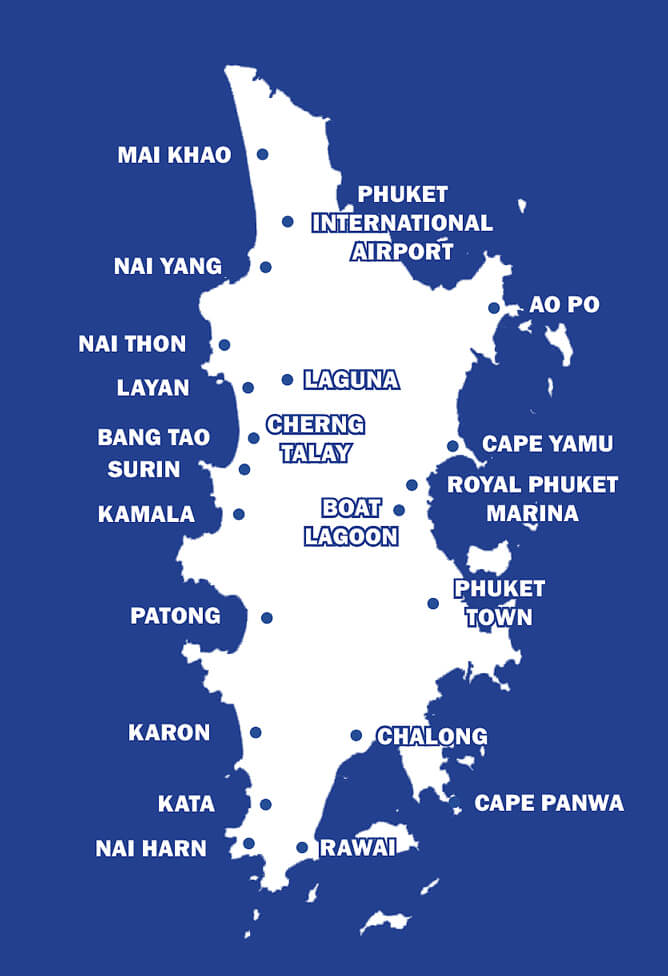 By highlighting how current market conditions can affect and attract foreign buyers, the guide aims to help discerning investors construct a better overall picture of the Phuket and Thailand housing markets. The guide also examines the Key Drivers of the Phuket real estate market, and how each of these can influence purchasing decisions.
There is significant attention paid to the legalities of foreign property ownership in Thailand, which is vital knowledge for any foreigner considering a property purchase here. We would like to acknowledge the contributions of the law firms Duensing Kippen and International Law Office (ILO) for the depth and accuracy of the legal information in this guide.
Whether you are looking for an investment property or a home in Phuket, we hope this guide helps you to make the best and most informed decision.
And we hope you will find this island paradise to be as alluring as we do.
The Impact of Covid-19 on Phuket
While this is the 2023 edition of the Phuket Property Guide, many of the figures and statistics below will necessarily refer back to 2019. Quoting tourism statistics during, and in the immediate aftermath of, a global pandemic would hardly do justice to the international reputation as a premier holiday destination the island has earned over the last 40 years. The length of the tourism slump caused by the pandemic was an anomaly, and when we look back 40 years from today, we believe it shall remain one.
The pandemic has obviously impacted far more than just tourism statistics, and we have covered the various repercussions of Covid-19 on the island in greater detail throughout this guide.
Contributors
All references herein to the laws of the Kingdom of Thailand have either been written or confirmed by licensed Thai attorneys. Foreign Advisors from two of Phuket's most respected law firms have assisted us with the relevant sections of this Property Guide.
International Law Office Patong Beach Co., Ltd. (ILO) was founded in 1995 in Phuket, and for more than two decades has offered expert legal services to foreign companies and individuals living and working in Thailand. ILO specialises in Corporate, Tax, Immigration, Family and Real Estate Law, and is regularly called upon for contract negotiation and dispute resolution, as well as to settle disputes and act as intermediaries in matters concerning their clients. Mr. Friedrich "Sam" Fauma is a Director, Senior Partner and Foreign Advisor to ILO. All points of law contained herein have been confirmed by ILO and its licensed Thai solicitors, including Mr. Mongkol Ruengwutchanapuech, (LL.B. (Honor), LL.M., (UNSW). The editors are proud to include ILO as a key contributor to the Phuket Property Guide.
DUENSING KIPPEN is an international law firm specialising in business transaction and dispute resolution matters, with offices in Bangkok and Phuket, Thailand and affiliated offices in 45 other countries. Olaf Duensing has worked in Thailand as a consultant since 2001. He is a licensed German attorney, trained tax law specialist, and an internationally certified arbitrator (FCIArb), and a partner at Duensing Kippen. The editors are proud to include Olaf as a key contributor to the Phuket Property Guide.