There's no doubt about it, our choice of automobile is highly personable and says a lot about us.
In Phuket, a mere ten years ago, the choice was limited mainly to only Japanese and Korean brands. Today, residents are able to buy whatever car they want . . . as long as they are willing to pay the price.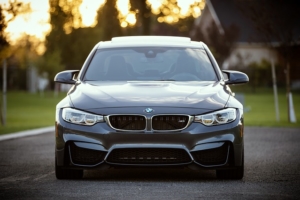 Does Your Car Define You?
Isn't it funny that we live in a world where people judge us by the cars we drive?  Even when it is not "judgement", there are other people who try to guess our personalities by looking at our cars.
If money were not an issue, people would choose a car because of an underlying psychological or emotional driver (pardon the pun).  Our cars define us.
This is actually backed up by research. Who said we aren't a sad species?
Some of us use a car only as a means of transport, others love and care for them like children.  And then there are those who are obsessed with their image.
Is it a sedan, SUV, jeep, sport car or a compact? Are you macho, sleek, practical, stylish, cheap, elegant or arrogant? Even the colour is apparently a giveaway.
Sad as it may seem, we are what we drive.
But those psychological experts have probably never studied car owners on a tropical island.   Cars are more expensive here, so we can't all drive our first (or even second) choice.
We all look for value, and what we really want to drive doesn't necessarily match our budget.  We also have to consider servicing, which isn't quite the same thing as what you'd expect back in Europe, Australia or North America.
So Who Can We Be in Phuket?
The auto market in Phuket has come on leaps and bounds over the last few years. Gone are the days when we saw only Hondas and Toyotas on the road. Today, the choice is almost complete, with a number of new car brands being manufactured in Thailand, or being imported from overseas.
If you have recently moved to Phuket, you will want to consider how you'll be getting around the island. Taxis are (by South-East Asian standards) quite expensive in Phuket, so you will almost certainly want to consider buying a car.
Which Car Do I Choose?
For most of us living in the normal world, the ideal car is something reliable that gets us from A to B, but isn't an eyesore.
Depending on your automotive preference, it can be cheaper than buying a car in Europe, especially if you opt to purchase a domestically-manufactured car. Most of the Japanese car companies, some American and German ones, and even the classic British brand MG have found a foothold building cars in Thailand.
There are also brands like Mini Cooper (now owned by BMW) which is a stylish little car, but which comes with what we consider an extremely unaffordable price tag. A low end Countryman is now made in Malaysia, and goes for as low as 2.2 Million Baht, but some models are touching 3.5 Million Baht. That's just a little too steep for us, BMW engine or no BMW engine.
While German cars are expensive, American cars (aside from Ford) are just not up to the Japanese or Korean quality.  If you're focused on price, you can even buy a Malaysian Proton.
Imported luxury automobiles are also available to purchase on Phuket, but these tend to be a hell of a lot more expensive.
Luxury Cars in Phuket
The luxury car market has really taken off in Phuket over the last few years.
If that is your style, you can cruise around in an Aston Martin, Rolls Royce, Bentley, Lamborghini, Ferrari, Porsche or Mercedes.  These come at a massive price tag, owing to the high import duties and luxury taxes.  That said, they remain popular, and you will see at least one of these high-end makes pretty much every day.
Import and luxury taxes aside, the general rule of thumb for buying any car in Thailand is this:  the bigger the engine, the higher the tax.
Financing Your New Automobile
Financing is available from most of the showrooms. But you will have to show them proof of income.
If you have retired in Thailand, then they will want to see your retirement visa. If you are working in Thailand, then you will need to show a few months bank statements together with other documents, such as passport, work permit etc. to assist in the loan application.
If you have income being paid overseas, some lenders will allow you to use these for your application.
Most lenders also want a high deposit, especially from foreigners, so be prepared to cough up with at least 20% or 30% as a down payment.
The one good thing about financing is that interest rates are very low right now, so you should get financing over 5 or even 6 years for as little as 2-3%. This makes the monthly payment extremely affordable.
Make Sure You Choose a Brand With Good After Sales Service
Some brands have a terrible reputation for servicing, so it's best to do some homework first.
Having to drive all the way to Phang Nga Province just to get your car serviced isn't very practical. So make sure you double-check on blogs and forums that you're not about to make the same mistake others have.
Some dealers unexpectedly pulled out of the market leaving showrooms and garages empty, putting all the servicing pressure on just one independent dealership, or leaving none at all. There's no way of knowing this is going to happen, and most of the time dealers are replaced quickly. But sometimes they are not.
Some car companies are safer than others. We believe you just can't go wrong with Toyota, having had almost zero trouble with them and an excellent service record for almost 20 years. They are fairly well entrenched in Phuket, so it is highly unlikely you will ever experience problems.
Do your homework, don't just choose a brand because you like the look of the car.  There are many other factors to consider.
Affordable Mileage
Fuel prices have risen considerably over the last 15 years, but because they track the oil price, are still down considerably from the lofty highs seen in 2008, early 2012, and again just recently.
But no matter which car you choose, you can count on the fact that gas (petrol) prices are considerably cheaper than in Europe (but a little more expensive than the U.S.).
At current prices, it is just under THB 2,000 to fill a 60-litre tank on a 4X4 SVC.  A popular fuel for smaller cars in Thailand is E20, which contains 20% Ethanol.  Our friends can fill their 40-litre tank with E20 for about THB 1,000.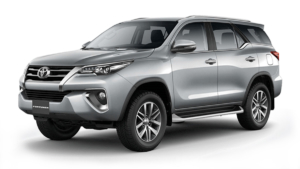 Why We Love Toyota
The reason we love Toyota so much is the fact that we have owned Toyotas in Phuket for the last 18 years, and have never had a problem.
Our first car was a Vios, which we bought around the first year the model was launched. It was a great little car and we had no complaints with the car or anything relating to Toyota's servicing.
Not long after that we bought our first Fortuner, which we replaced with a newer version a couple of years ago. Again, zero complaints about the organization or the quality of the car.
Since living in Phuket, we have heard horror story after horror story from car owners who have made the wrong decisions when choosing a car. The word "lemon" springs to mind, but very often it is just down to a half-hearted approach by garage owners or a lack of logistics and/or organization skills and internal controls.
You won't be disappointed with a Toyota, no matter which model you choose. We've explained the problems with other brands, so if you want to make 100% sure your car owning experience is perfect, then go for Toyota.
We also have plenty of friends who have owned other Japanese or Korean brands, and they have seemed perfectly happy with these.  But occasionally there are problems. We can't vouch directly for other brands, but most are a safe enough bet.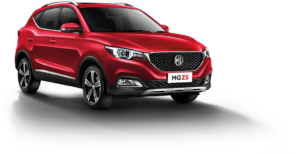 The MG Has Been Shanghai'd – In More Way Than One
OK, OK . . . So we know it isn't a British car anymore, not since 2005 when SAIC took over the company. The logo is the same, the UK offices and factory apparently do all the design.
But for all intents and purposes, this is now a Chinese car.
Since they did keep the company running and the brand alive, in the whole scheme of things, it's not really such a bad thing.
The old MG brand was synonymous with the British sports car. But eventually the original "Morris Garages", became British Leyland, then Austin Rover, until its demise as British motor icon in 2005.
When the Chinese bought the company they revitalised it, and anyone who has one doesn't seem to be complaining about the car they bought.
Let's put history aside for a moment to ask a question that has been bugging us:  what's up with the rising popularity of MG? We seem to see them everywhere!
They've gotten poor reviews in Europe, so if that is your yardstick, you may think twice about buying one. But when you look a little closer at how much car you get for your money, you may want to reconsider your original reticence.
The fact is there are few alternatives unless you want to spend 1.5 Million Baht on a Honda, Toyota or Mazda.
We've been looking at the MG ZS, because we want a work car and one that is likely to be here to stay. It's growing popularity, combined with the number of satisfactory customers, means we are willing to take a punt. Even friends in Bangkok have zero complaints.
No matter how much you try and sugar coat this car, nearly every review comes up with more negatives than positives. The wheels are too small.  There isn't a 4X4 option (which is obviously the norm on other SUV's). The interior is too cheap and plasticy. It's uneconomical. It falls down in safety tests.
But the competition for low cost SUVs in Europe comes from Citroen, Kia, Seat, Vauxhall and Renault. Well, sorry folks, we just don't have those choices here in Phuket. Our choices are limited to mostly Japanese, American and German imports, and they are all expensive.
No matter how you look at it, the MG ZS still undercuts all of these competitors by a fair chunk of cash.  You just don't seem to be able to beat it for value for money.
So the decision when buying a car on a tropical island takes on a completely different dynamic compared buying one back home.
One of the major plus points for the ZS is the amount of room there is inside:  it's easy on the legs, and for tall foreigners who need a bit of extra head room it has that, too.  The same can be said for the trunk space – much bigger than many comparable cars, and even other SUVs. All in all, on a price per cubic metre basis, it's a really spacious interior for the money.
On top of that, parts logistics may be easier with China on our doorstep.  Our friends with MGs have had no issues with breakdowns, and no need for spare parts (beyond changing the battery). The same can not be said for another friend who had his Mercedes sitting in the garage for half a year waiting for parts.
If you go for the top model, then you get the bigger 17 inch alloy wheels which silences the small wheel complaints.  And no one can complain about the touch screen entertainment system or leather interior.
Of course, gas/petrol prices are just so much cheaper here than in Europe. So filling the car up and complaints about it being uneconomical don't hold as much sway for us in Phuket.
And we can live with a plasticy interior if all the other positives outweigh the negatives. The truth is, we've seen much much worse, especially in other Asian or even American brands.
The only other point on the reviews which concerned us was safety, and seeing as we rarely drive over 100km per hour, that's not really the issue here in Phuket as it would be on German Autobahn.
Conclusion
These days we have an extensive choice of cars we can drive in Phuket. But most of us do not have an unlimited supply of cash.
If you want quality and reliability, then stick with a Japanese model. MGs are not Toyota, but value for money they are hard to beat. As long as servicing standards carry on uninterrupted, then it is easy to see why there are now so many on the island's roads.
And if you truly want something that is, quite simply, amazing value for money, then we can see nothing wrong with the MG ZS.
See our other related Phuket articles:
Understanding the Administrative Districts of Phuket
International Schools in Phuket
Nurseries, Kindergartens and Preschools in Phuket
Thailand Moving and Logistics Companies – How to Make Moving To a New Home Easier to or From Phuket
Phuket's World Class Hospitals
Pets – Vets and Veterinarian Clinics in Phuket
Pets – Kennels, Dog Hotels and Dog Sitting Services in Phuket