Phuket has undergone a miraculous transformation over the last 15 years.  Once a little isolated compared to other parts of Thailand, logistical improvements have made it easier to transport goods to the island from all over the world. 
Food stores and supermarkets today offer a wide array of goods, from French cheese to Australian steaks to German beer and English tea.  Naturally, there is plenty of good food from Thailand, too.
The choice was once quite limited, and many residents chose to buy certain foodstuffs overseas and bring them in themselves.  When friends or relatives were visiting, there was inevitably a shopping list requested before they flew to Phuket.
It's only in the last two decades that we have seen this vastly improved selection all over the island.  We had a party to celebrate the opening of a new Deli in Patong (long since closed), but over the years things have just gotten better and better.
Having more than one outlet for quality food can often determine whether your holiday turns out to be mediocre or outstanding.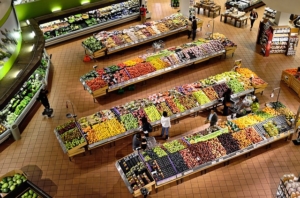 You Can Buy Anything in Phuket These Days
The Phuket of today leaves nothing out. We can get everything we wish for.
Truffles, vanilla pods, award winning extra virgin olive oil, caviar, kimchi, grass fed Wagyu steaks, you name it, we can get it. We even have a "Food for Foreigners" shop opened in Chalong selling all those goodies we might miss from home.
If you are staying in a villa, then this will be music to your ears.  With a full western style kitchen, you have the luxury of preparing your own food, or hiring a private chef to cook for you.
Modern supermarket chains offer culinary delights for home chefs.  In addition to Villa Market, Central Food Hall, Big C, Tesco Lotus, Macro, there are a number of specialist foreign food stores and groceries, ensuring the widest possible range of international foods is available to foreign residents.
And every small community also has at least one local Thai market, and some of these are open 7 days a week.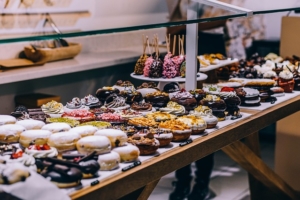 So let's get down to those choices:
We mention this one first, because to be honest, there is really no other store in Phuket that compares to it. It is by far the best supermarket on the island, from perspective of freshness and choice, as well as the price you pay for that level of quality.
Central also tends to offer discounts on certain products not found in other supermarkets (such as cheese).
So depending on your length of stay, our suggestion is that you go to Central Festival for anything your nearest local market can't provide. If you are staying on the island less than a week, and not planning to cook more than once or twice, it may not be worth the drive.
But if you are here for a longer stay, or you are planning to check out Central Festival/Floresta anyway, the selection is fantastic, and good food often makes your holiday more special, so it's definitely worth the trip.
We make the drive because the fruit and vegetables are so fresh. The bags of salad we buy from an international supermarket locally are always bad when they arrive at the store (mentioning no names) but the bags of salad we get from Central stay fresh for days. They have clearly mastered the art of logistics compared to their competitors.
They bakery also has a pretty good assortment of freshly baked goods, so you can stock up on some cakes, pastry and bread products for a few days.
What is really nice in the new Central Food Hall is the food bar, where you can grab a quick lunch. It's amazing value for money, the arrangement is very unique and the food is delicious.
If the drive to Central Food Hall is not convenient, but you do fancy stocking the fridge, then why not go for the home delivery service? Order online, and Central will deliver everything to your villa – no need for you to venture out – and the minimum delivery order is only 1,500 Baht.
Or, if you are staying in Patong, the new Central Patong also has a Food Hall, so you'll get the same quality of freshness right on your doorstep.
Villa Market was one of the first international supermarkets in Thailand, and it has a huge selection of foods from around the world.
If you have one locally, it is handy for international products, as it has a wide and varied selection of products available.
There are new Villa Markets opening up all the time in Phuket, and as the population expands no doubt this trend will continue. At present, we have three. There is one at Boat Avenue in Bang Tao, one in the front of The Boat Lagoon, as well as one at HomePro Village in Chalong.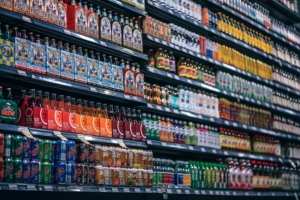 We'll mention Food for Foreigners next because, as the name suggests, it is squarely aimed at the foreign market with mainly British, Australian and perhaps a little American, French and Italian food.
Situated in Chalong's Fisherman's Way Business Centre there are always people in the shop buying, which we take as a good sign because we want this place to stay open forever. The foods that really make a difference to us are the sausages and bacon, the cheese, and the goods you just can't find anywhere else in Phuket.
If you come from Britain or Australia, you'll find a wonderful selection of products from home, and extremely competitively priced. If you are a cheese lover, but the notion of buying a small block of cheese for 400 Baht makes you abstain from cheese in the tropics, then a trip to Food For Foreigners is a must.
The cheese is imported in huge blocks/wheels, then sliced and packaged, weighed and priced. You are certain find your favourite type of cheese here, and at a fraction of the price of any other establishments selling cheese.
The same goes for the sausages and bacon.  They are simply wonderfully priced, and the quality is as good as what you would find back home. Last year's Christmas Turkey at our house came from Food for Foreigners, and it was great value for money compared to everywhere else on the island.
Makro is an amazing company with an interesting history. It was formed as SHV by the merger of eight Dutch coal wholesalers in 1896. As the world became more reliant on oil than coal in the middle of the 20th Century, the company was forced to diversify, and   established Makro in 1964.  Today, they are a global giant, synonymous with "Cash-and-Carry" warehouses.
The first one in Kathu was so successful, that we thankfully have them all over the island now.  You'll often see restaurateurs filling up their trolleys with fruit, veggies and meat, but for the rest of us it is just another supermarket.
Try to find their grass-fed steaks from Australia. Absolutely amazing value for money, and if you have a good chef, for 1/6 the price they can make you a beef tenderloin as good as anything you'll get from a top steak house in Phuket.
The main difference between Makro and other stores is that a few products are packaged with multiple pieces bundled together, so sometimes you do have to buy in bulk.
Also, Makro do have a lot of member only specials.  If you are staying longer in Phuket, and if you are able to, try applying for a member card.
You'll find Makro stores in Chalong, Kata, Kathu and Thalang.
Although Big C is aimed more at the local Thai market, it is always reliable, and has a great selection of all the staples.
The largest Big C is shortly after the Darasamut intersection heading north, just before you come to the Sririroj Hospital. But there's also one inside Jungceylon, which is always busy, and is extremely handy if you are in and around Patong.
You'll find most things you need to stock the cupboards here, and the fruit and vegetable selection is pretty varied. There's also a good electronics section in the basement, as well as a kids play area.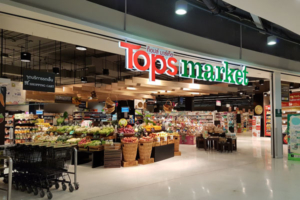 Tops can be found on the north easterly side of Central Festival in the HomeWorks building.  It's not bad, and it has a nice selection of international produce. If you're over there anyway, then it is pretty convenient.
If you visit a Tops and Central Food Hall you may notice a lot of the same store brands.  These are both owned and operated by the Central Group, with Central Food Halls targeting the higher-end market, but you can sometimes find what you are looking for at Tops without needing to visit Central Food hall.
You may also notice a few Tops mini markets stores dotted around the island.  These are similar to a 7-11, but the selection is generally a bit better.
You'll see a number of smaller Tesco malls around the island, and a couple of larger super stores, but the biggest Tesco is at Samkong intersection as you head north – just before you get to the Bypass Road.  It's been there for over 20 years, so most people even refer to it as the Big Tesco intersection.
This store is more like a mall, as there are many other shops and restaurants, and like many similar Thai shopping malls, the walkways are also lined with stalls selling local products, jewellery, etc.
The restaurant selection is pretty good, with a Fuji Japanese restaurant, Swensens ice cream, a Santa Fe Steak House and some nice coffee shops like Black Canyon.
Tesco is really aimed at the local market but they also sell some international products, of course many from the UK, which is the home of Tesco Lotus's parent company.
If you want to experience a truly local Thai-style market, and are really trying to keep the food bill down, then Super Cheap is the place.
It's indoors, but the birds flying around almost gives some of the stores an outdoor feel. The prices really are super cheap, and there are some items, especially in the fruit and veggie section, that you honestly cannot buy cheaper anywhere else on the island – not even in the local markets.
If you are extremely price conscious, then Supercheap is the place for you. But if you are squeamish, then maybe it's best to steer clear.
There's always a possibility you'll bump into the odd cockroach. The Thais don't mind this, and if you are buying things like limes in large quantities, as we do, then who cares.  You can just wash them thoroughly when you get home.
You'll find Super Cheap stores all over the island.
 Conclusion
As Phuket grows and flourishes, and the population expands, the choice of grocery shopping is constantly keeping up. There are so many places to choose from to do your food shopping, you are spoiled for choice.
No matter what is important to you, whether it be quality, keeping the cost down or wanting the widest selection to choose from, grocery shopping in Phuket is as good as it gets.
So no matter where you are from, or whatever your tastes, you can conjure up your favourite gastronomic delights in the comfort of your own home or holiday villa.
See all our related Phuket shopping articles:
Phuket's Weekend Market (Naka Market)
Top Tips for Your Holiday Shopping in Phuket
Phuket's Shopping Centres and Malls
Hassle Free Duty Free Shopping in Phuket
Local Thai Food Markets in Phuket