Phuket has seen the rise of tourism not only from holiday-makers, but also from people concerned about their health.   The medical tourism industry is growing in Phuket, which includes a large number of tourists coming exclusively for dental care. 
Even wellness tourism has grown significantly, with the opening of new spas, yoga centres and detox facilities on the island.
But now we have a new addition to the "alternative vacation":  Fitness Tourism. And one of Asia's premier health and fitness destinations is Phuket's very own Soi Ta-eiad.
New gyms open across the island all the time. These days they are all superbly equipped and cater for every type of health enthusiast.
But Soi-Ta-eiad has grown into something quite remarkable, so much so that it is becoming known all over the world.
Just consider for a moment the types of wellness and fitness facilities available to anyone contemplating visiting this little enclave in Chalong:
Muay Thai training camps
Mixed martial arts centres (MMA)
CrossFit centres
All types of fitness centres and gyms
Health spas and retreats
Weight loss advice
Nutritional planning advice
Detox facilities
Yoga centres
Healthy restaurants (including vegan and vegetarian)
Juice bars
Health stores
Saunas
Massage parlours
Dental services
Tattoo artists
In fact, if your goal is improved wellness and self-improvement, this one 1 mile (1.6 km) long street has absolutely everything you could possibly need.
Although it is already famous in Asia, it is also becoming increasingly well-known on the global health and fitness map.
Busy for the entire year, irrespective of seasons, this is a year round destination, which has been attracting tourists from all over the world, including big names in the MMA world who come to train here.
Even although it is already extremely busy, its increasing popularity is fostering rapid growth.
Let's Start With Pronunciation
If you are reading this article from overseas and have never been to Thailand, you are going to need a bit of guidance.
The Soi bit is easy. That's pronounced the same as 'soy' (as in the bean or the sauce).
Ta-Eiad is slightly more difficult. The individual syllables are pronounced: "Tah" (like lah) – ee (like bee) – and yad (like glad).  But then say it quickly: "Tah-eeyad".
What Has Soi Ta-Eiad Got to Offer?
If you are in Phuket on holiday, and trying find a quality gym or even detox centre near your hotel, it doesn't really matter where you stay because you'll be spoiled for choice.
But if you are staying close to Soi Ta-eiad in Chalong, you'll be drowning in choices.
Whether you are obsessed with self-improvement, training to be a commando, or just need to improve your fitness, Soi Ta-eaid is a place like no other.
It has every conceivable type of gym, training camp or weight loss facility to get you into shape. Even if you want a tan (the sun shines most days), need to get your teeth fixed up, or want to decorate your new body with a new tattoo, this road has what you're looking for.
The fitness industry has been growing worldwide over the last two decades, and we have seen the opening of many new health and fitness gyms in Phuket. But the concentration of such venues in this one area means there are few places in the world which comes close to competing.
We see thousands of recruits arrive in Phuket every year to get themselves into shape, meaning this is not only a tropical paradise, it is now a Fitness Paradise
Where Did It All Begin?
In the "old days", which was barely 15 years ago, Soi Ta-Eiad was just a quiet lane with not much happening at all.
Then the island's infamous Tiger Muay Thai group set up camp here, and it all grew from that. There followed some massage parlours, a few restaurants, then another Muay Thai camp. After that came a 7-Eleven (and you know a street in Thailand has finally made it big when a 7-Eleven opens there!).
After a few hotels opened, it gradually attracted more and more new businesses. Today it has been transformed into a comprehensive fitness village.
Where Do the People Come From?
If you take a stroll down Soi Ta-eiad, or drop into one of the many cafés, you will meet people from all over the world, and from all walks of life.
There are famous Mixed Martial Arts fighters, New York stock brokers, fashion models, and your everyday sort of guys who want to get fit or improve their health.
There may be slight differences in their exact goals, but everyone you meet will be here for essentially the same reason:  to improve their fitness and well-being.
Why Has Soi Ta-Eiad Become Famous?
Muay Thai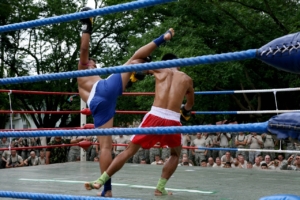 Since Muay Thai started the transformation of Soi Ta-Eiad, let us first talk about this growing sport.
Although there are many Muay Thai gyms in Phuket, when people on the island think of Muay Thai, they usually think of Soi Ta-eiad.
There are a few gyms or training camps in the street that focus specifically on Muay Thai. These are mostly run by local Thais, and are a great way of "going local" with great Thai trainers and immersing yourself in the Thai culture.
They are also cheaper than the other more high-tech gyms in the street, such as the MMA training camps.
In fact, the reason that so many big names in MMA are coming to Phuket is really down to the fact that the Thai style of fighting is so similar to MMA.
See our article: Muay Thai Boxing and Training Camps in Phuket
MMA and UFC
MMA (Mixed Martial Arts) is becoming increasing popular around the world.
The increase in popularity over last two decades has been a boon to the Muay Thai industry. The sports are very similar, in
that they allow the use of legs as well as fists.
In fact, Muay Thai is sometimes called the ancient art of eight limbs because you use two fists, two shins, two elbows and two knees.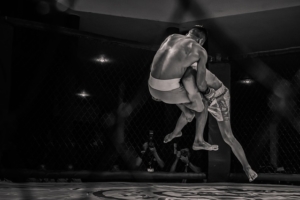 Unlike 10 years ago, today people don't only come to Thailand to train in Muay Thai, they come specifically to train in MMA.
For those who may be wondering, UFC stands for Ultimate Fighting Championship. MMA and UFC refers to the same sport, but UFC is the organization behind the sport.
The best known MMA gyms in the street (although they also do Muay Thai) are Tiger and Top Team.
Both are internationally recognized for their world class programs. In addition to MMA and Muay Thai, they also offer training in western style boxing and Jiu-Jitsu.
The facilities are pretty impressive to anyone visiting for the first time, and they are extremely popular.  Most of the gyms in in Soi Ta-Eiad stay busy throughout the year, irrespective of Phuket's high and low seasons.
Other Gyms and Fitness Centres
If you are not a fighter, but just want to get fit and improve your physique, there are other gyms in the street offering more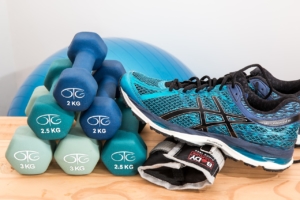 general facilities for basic strength and conditioning.
One great gym, Titan Fitness, is a good choice.  Their gym spread out over three floors, so you don't feel too crowded. If you want to attend fitness classes, they have fantastic personal trainers, and can develop a perfect personal workout routines for you.
Primal Fitness, is also a great gym. They have excellent equipment, whether you are looking for cardio or body building.
All the top gyms offer personal nutritional planning and can educate you on the benefits of maintaining a healthy diet. They even offer advice and assist with fasting and intermittent fasting programs.
Most importantly, the expert advice and guidance from instructors is given in such a way that you can take the new knowledge home with you.
See our article: Phuket's Best Health and Fitness Gyms
CrossFit Gyms
If you've never heard of CrossFit, it is an increasingly popular branded fitness regime, started in the US almost 20 years ago. It incorporates high-intensity interval training as well as some other hard core types of fitness workouts.
The only purpose built CrossFit facility in Phuket, is Unit 27 found – you guessed it – in Soi Ta-eaid.  In fact, Unit 27 claims to have the best CrossFit training camp anywhere in South East Asia.
For anyone who likes pain and suffering, then how about a week or two of torture at Unit 27.
(Unit 27 actually own Primal Fitness mentioned above too.)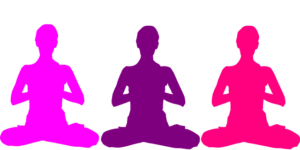 Yoga Centres
There are a number of different options for yoga on Soi Ta-eiad.  If your idea of a wellness holiday includes the art of yoga, then you will not be disappointed.
See our article: The Best Places to Do Yoga in Phuket

Restaurants in Soi Ta-eiad
One of the nicest attractions of So Ta-eiad is the choice of cuisine.  Even if you are not in Phuket for fitness, it's still a good place to eat some healthy food.
Whether you are looking for Thai or international food, there are so many options you are bound to find a restaurant to suit you. But if you fancy some fresh, highly nutritional food, then this is definitely the place to come.
The owners here know who they are catering for, so they make the effort to make everything tasty, as well as healthy. Whether you are vegan, vegetarian, gluten intolerant or a glutton, you'll be amazed by the amount of food on offer.
But don't be put off thinking that it's only health food. There are grills, BBQs, Italian, and Greek.  And yes, there are even burgers and pizzas.
Fitness/Boxing Equipment & Gear
Soi Ta-eaid now has a number of stores that sell training gear and sportswear.  As you can probably imagine, all of your nutritional supplements and protein powder is also available.
Whether you are a fighter, body builder or just a regular fitness enthusiast, the equipment and nutritional products you need are all here.
Massage Parlours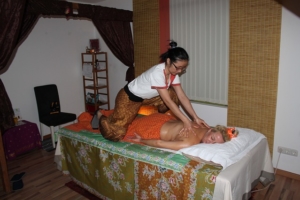 Massages are a big part of Thai culture, especially for athletes.
Everyone knows the benefits of Thai massage, and after you've been through a heavy workout it is even better. Qualified masseuses can ease away the pain and leave you feeling relaxed and rejuvenated.
That is why Thailand's top athletes (e.g. olympic athletes, or their national football team) always travel with a team of masseuses.
The body's lymph system also benefits from a good Thai massage (or even an oil massage).  A massage aids in moving toxins and waste out of the body, while circulating lymph cells throughout the body, which is good for a healthy, functioning immune system.
Anyone who has never had a Thai massage must try one.   In Thailand they are usually around one tenth of the price you'll have to pay in London, Paris, New York or Singapore.
Health Clinics
The street has its very own health clinic which offers various tests and medical services that can keep you on the right track during your fitness program.
There is even a sports medicine clinic in case you injure yourself during training.  Hopefully you won't be needing this one.
Dental Surgery
If you are coming to Phuket on holiday to literally transform yourself, so that you will be unrecognizable when you go home, then maybe you also want to improve your smile.
Soi Ta-eiad also has its very own dentist where crowns and veneers are also a fraction of the prices charged by dentists in Australia, Europe or North America.  (They are even cheaper than in other parts of Asia, for that matter.)
Also see our article: The Best Dentists in Phuket
Tattoo Artists
If you want a cool tattoo to go with your bronzed toned body and your new smile, then the street also has a few superbly talented tattoo artists.
Tattoos seems to be extremely popular in the fitness world, and certainly an MMA fighter would look naked without their customary "ink" when they go out to fight.
Soi Ta-eaid has a little bit of a tattoo culture. If you didn't turn up in Thailand expecting to have one, you may just feel out of place without one.
Getting a tattoo is also much cheaper than you would have to pay at home. But don't worry, hygiene standards are also very high.
Conclusion
Soi Ta-eiad is already one of Asia's premier health and fitness destinations. What it will offer in the next decade is anyone's guess.
But as the popularity of wellness tourism grows, Phuket Soi Ta-eiad will certainly be one of the beneficiaries. The road has plenty of land which is still undeveloped, and the likelihood is we will see another massive transformation of this area over the next 10 years.
If you are thinking that your next holiday should revolve around wellness or fitness tourism – on a beautiful tropical island – then Soi Ta-eiad in Phuket might be the place for you.
Check out our other related articles:
Phuket's Best Health and Fitness Gyms
Muay Thai Boxing and Training Camps in Phuket
The Best Places to Watch Muay Thai in Phuket
Thailand's Healthy Living and Secrets of Longevity