This article is about the traditional local Thai markets, which are great places to regularly buy all your fresh produce.
In most cases, the permanent "everyday" markets are open early in the morning and are where the local Thais come to buy their vegetables, fruit, herbs, fish, meat and other food stuffs.
There are also dozens of these traditional markets which are only once or twice a week affairs.
Even after many years in Phuket, we still think the local Thai markets are something special. The colours, smells, and noises all create an atmosphere that is, well . . . truly local.
It's not just that we like the experience of being there. The produce is always fresh and the prices are always cheaper than almost any supermarket in Thailand.
Anyone who has lived in Bangkok knows that Khlong Toey is the place to go to for fresh produce. It is massive, a little bit smelly and dirty.  It is, however, a "local Thai market" experience like no other.
We don't have a market quite like that in Phuket, but in all honesty, given the choice, we prefer the smaller, cleaner variety.
Plus, if you like animals, then you probably prefer markets that don't sell frogs, squirrels and turtles as culinary delicacies. (If you want to experience those markets, you'll also find some in Phuket if you look.)
 Find a "Local" Local Phuket Market
The Thai word for market is talad, and you'll normally find that the average household in Phuket will get a great deal of their shopping, especially fresh produce, from the local talad.
The best kept secrets are typically the ones that are frequented mainly by Thais and located in areas populated mainly by Thais.
You will know right away that you've found one because you are the only foreigner in the entire market.  You can therefore expect the prices here to be Thai prices, rather than foreign (farang) prices.
Some markets in Phuket seem to have grown and prospered in tourist areas. It's highly likely that the rents are higher in these places, so you'll often find that the prices tend to be higher, too. These are still often cheaper than the supermarkets, so it's just a case of finding the best local markets near you.
The vibrant atmosphere is always wonderful, and it is a great way to experience a slice of Thai culture. They are worth visiting for that alone.
But if you are a resident, then obviously you'll be wanting to make regular trips, rather than just viewing it as a tourist attraction.  The main point of the visit, after all, is getting your fresh groceries at extremely low prices.
For some reason, you always find some of the loveliest and friendliest Thai people working in these markets too. This is one of the things we love so much about Thailand.
Learn The Basics
Most of the stallholders don't speak English, so you usually need to point to what you want, and be able to tell them how many kilos of everything you need.
It's pretty easy, really. Wave your hand in the general direction of what you're buying, and say, "an ee," which means "this one".
Then, to say how much you want, the word kilo is the same, so you just need to know a few numbers.  One kilo is "neung kilo" and  "song kilo" will get you two kilos.
If it's a bunch of something just ask for one by raising one finger. Or if they have plastic baskets, just grab one, fill it up, and hand it over. It's as easy as that.
The nicest thing about going to the same market regularly is that you'll get to know the stall owners and will start to get an idea who gives the best deal, who's the most helpful and the friendliest.  After a while you'll develop your "favourites".
Having your "go to" stall doesn't necessarily detract from the enjoyment of the whole experience, and it certainly makes each shopping expedition quicker.
What You Can Buy From The Local Markets
Depending on the size of the market, you'll be able to buy pretty much every conceivable ingredient found in every dish on the menu in any Thai restaurant.  Each aisle you go down will hold a different surprise.
Below we've covered what we believe is every category of produce you can buy. These are:
Thai Vegetables
Tropical Fruits
Thai Herbs
Coconut Milk & Fresh Young Coconuts
Rice: Thailand's Staple Food
Thai Condiments and Spices
Market Meats
Fish from the Andaman
Food Stalls
OK!  Let's go shopping!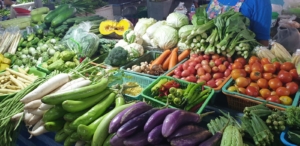 Thai Vegetables
The Thai word for vegetable is pak, and you may notice the word pak written (in English) on many restaurants menus to describe the dishes.
Every market will have a vast array of different vegetable stalls, selling every possible colour of vegetable. Some will be unrecognizable, but you'll be sure to spot the veggies used in most traditional Thai dishes, such as morning glory, bamboo shoots, bok choi, Chinese cabbage, broccoli, ladies fingers (okra) and the small pea and larger varieties of eggplants.
You may also notice the different types of mushrooms, as well as many types of veggie you'll never find at home.
We usually buy a few vegetables that are local just to Phuket, but it will likely take you a while before you know what they are.
Tropical Fruits
The choice of fresh fruit (polemai) in Phuket is fantastic. You'll obviously see the usual pineapples, bananas and mangos, all grown locally, but there is also so much more.
There are many fruits that are available all year round, but you'll also notice that some are very seasonal. Every year we gorge on lychees, langsat, dragon fruit, rambutan, custard apples and mangosteen when they are in season. But these all seem to disappear as quickly as they arrive.
You may also notice that some fruits are partially seasonal. They'll be available all year round, but prices may fluctuate, depending on supply.
Limes, for example, tend to swing from one extreme to the other.  Sometimes you'll see them at only one or two baht each, then a few weeks later a single lime may be as much as 10 baht.
Mangos, although grown locally, are also a little seasonal, and do vary in price throughout the year. When in short supply they might be brought in from other Provinces, but we usually notice a change in quality and taste during these periods.
Either way, if you are fruit lover, then Phuket is a dream. And every market is going to have an abundance of fruit to choose from.
Thai Herbs
Obviously, Thai cuisine is not complete without the wonderful array of Thai herbs. And a local Thai market is by far the best place to come in search of them.
You'll find everything and more at a herb stall. You'll see lots of green herbs such as basil, mint, curry leaf, kaffir lime leaves, asiatic pennywort, coriander and huge bunches of lemongrass. You'll find all the root vegetables (e.g. ginger, galangal and fresh turmeric) sold in big clumps.
There are always new herbs to try, and some things which are only seasonal.  For example, the large beans we use in many dishes called "sah-taw" in Thai, but which we know by the Malay name of "petai". In Latin they are called "Parkia speciose" (try finding someone who knows that), but in English they are just called "bitter beans".
You'll also see small dishes of fresh green peppercorns, which are very cheap.  These are ideal for curry dishes, and can be dried out in the sun to create black peppercorns.
Coconut Milk & Fresh Young Coconuts
There is an abundance of coconut palms in Phuket.  Some of that lovely flesh is used to produce oils, but most markets in Phuket also have a stall with a machine that turns the mature flesh of the nut into coconut milk or cream.
This milk can be used for cooking, for drinks, as well as on a healthy bowl of muesli in the morning. Careful though, it doesn't have a long shelf life.  We make sure to consume it the same day we buy it.
You'll also find fresh young coconuts for sale at most markets, usually sold in bulk. The stallholder will use a big cleaver to slice the coconuts for you, so that they sit nice and flat. You can then take them home, put them in the fridge and drink them at your leisure.  You'll also need a big cleaver at home to open them.
Watch your fingers if you've never done it before, but it doesn't take long to become an expert at opening the top of a coconut.
Thai Condiments and Spices
If you are hunting authentic Thai food it is impossible to ignore the Thai spices and condiments.  Every market has these galore.
These are the stalls that are great to browse. There are so many little bags hanging there, full of specialist Thai ingredients, such as the small local red onions (hom daeng). You'll also see bags of local garlic (gratium) and peanuts for adding to your som tum.  You'll notice these specialist stalls in every market throughout Thailand. They are unmistakable, and truly remarkable.
This is where you'll get all manner of prepared chillies. There will be some fresh ones in the vegetable stalls, but among the condiments and spices you'll get whole dried chillies, chilli flakes and chilli powder. Each one is prepared differently to the next.
You'll find cumin, turmeric, curry powder and cloves. You can also find "nam plaa" (the spicy seafood sauce) for dipping. You'll see the ready-made pastes include Thai curry paste (yellow, red and green), shrimp paste, and a range of other concoctions.
These stalls also have a range of different bottled sauces used in Thai cooking, like oyster sauce, fish sauce and black soy sauce.
Basically, everything you'll need for creating your own amazing Thai culinary delights at home.
Dried Anchovies
You'll also see some stalls specialising in dried anchovies.  These are sold from different sacks, and are priced depending on quality.
Anchovies are renowned for their health benefits. Not only do they have a healthy dose of Omega 3 fatty acids, they are also oozing with macro and micro minerals.
We usually fry these in extra virgin olive oil to give them a much nicer taste and then eat them as snacks.
Egg Stalls
Around these stalls, you may also find a stallholder specialising in eggs. It's quite common to see some quail's eggs for sale at these stalls. If so, get some and have them hard boiled. They are a wonderful addition to a Nicoise Salad.
The chicken eggs are also very good value for money. If you are wondering why some of them are dyed pink, that's because they are salted.
Some "newbies" in Phuket have expressed concerns about the fact that the eggs are not refrigerated.  We have never any issues with bad eggs from a market.
If you've been here a while, you will know that even supermarkets do not refrigerate eggs.  In fact, if you buy fresh eggs from a farm back home, the farmers are usually handing them to you straight from the chicken – also with no refrigeration.
Market Meats
In every market, unless it is in a Muslim area, you'll find a lot of pork for sale. Pork seems to have overtaken beef as the most popular meat consumed in Thailand. Beef is still eaten, but it does not seem to be as popular as pork and chicken these days.
You may find some "kampong" chickens at the market. These are, to the best of our knowledge, of the free range variety. They are reared in villages and left to run around, so they should be free of any hormones and antibiotics.
They should also have a healthier diet, feeding on grubs and bugs, not a purely unnatural diet of grain, which is known to make the meat higher in Omega 6.  Some experts believe that a diet too rich in Omega 6 can cause inflammation, so kampong chickens get the thumbs up from us.
These chickens are often died yellow (usually this is only turmeric, although we have heard of chemical dies being used next door in Malaysia).  If you were wondering why they're yellow, it is the same reason the chickens are so skinny – to distinguish them from factory farm-raised chickens, like the ones you find at the supermarket.
You have probably been conditioned over the years to think that plump chickens are healthier, but the opposite is true. If you're given the choice, always go for a skinny chicken.
Fish from the Andaman
It doesn't matter where you are in Phuket, even if you are in the middle of the island, you are still only be a few kilometres from the sea. That means that every day brings in a new catch.
At every Thai market you'll find an array of fish and seafood for sale, and it's a fraction of the cost of what you find in Phuket's western supermarkets.
The fish aisles are always worth exploring. We still enjoy looking down each one because there tends to be different fish each time you visit.
The range of fish is fantastic. You'll find sea perch, bream and snapper. There are many types of herrings, sardines, mackerel and sprats (or at least "relatives" of these fish). And you'll always find barracuda, grouper and various types of flat fish.
You'll also see stalls selling only squid, which comes in all different sizes. Occasionally you'll even come across baby octopus.
The prawn counters are always a draw. They will have small prawns, larger prawns and giant tiger prawns (these are mostly farmed by the way, not caught in the Andaman Sea). You'll see rock lobsters, horseshoe crabs, blue crabs and occasionally the big, meatier reddish-brown rock crabs.
You'll always find mussels, clams, cockles, oysters and all manner of weird and wonderful shellfish.  Every now and then you'll even see an amazing Nautilus, with its distinctive red and white colouring.
We often buy sea grapes, aptly named the "caviar of the sea" because they resemble caviar and have a similar texture.  Sea grapes are not a sea creature, rather a form of seaweed. This is popular in Japan, and high in Omega 3, so very good for you. It's especially tasty in a Thai style salad.
Buying fish and shellfish from a Thai market and cooking it at home is a fraction of the cost of eating out in restaurants. In fact, the price differential is mind blowing. To put things into perspective, we find the price of seafood per kilogram from the market is about the same as you would pay per 100 grams in a seafood restaurant in one of the tourist areas.
Obviously, the restaurant offers the "treat" of eating out, being waited upon, and a different ambience or vibe. It may even have a stunning view.  But if you live here, or even if you are staying for a few weeks or months, you will not want to keep paying a 1,000% mark-up on everything you eat.
On top of that, there's something satisfying about preparing a nice seafood dinner in your own kitchen, using the herbs and spices you also found at the market.
Food Stalls
At every market, there will be stalls selling pre-prepared local Thai dishes. These cater to the workers in the market, or anyone else who wants to take a bag of ready-made food home with them.
There's always a nice selection of rice dishes, soups and stews, curries, salads and noodle dishes.
And you'll always find an array of deserts, often made with coconut or rice. Most of them sell mango sticky rice, the sweet mung bean dishes, or Thai crepes.
You are bound to like the look of something!
Rice Stalls
What would Thailand (or any Asian country) do without their staple food?  There's no doubt about it:  Asians love rice!
In Thailand even asking if someone has eaten involves the word rice.  Kin Kaow Mai is the usual way of asking, "Did you eat yet?" Literally translated, however, it means: "have you eaten your rice?"
The rice is usually on display in huge sacks and is super cheap if you buy it from the market. You can buy enough to last months at a very low cost and the choice is usually great.
They have a wide selection to choose from, including the most popular – jasmine and basmati rice.
The scent around the rice stalls is fantastic. For us it's also a bit nostalgic, as it reminds me of the smell of the rice pudding we used to eat so much of as kids.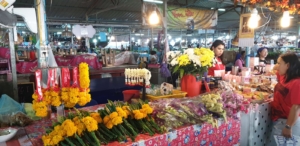 Other Stalls
There are a few other stalls worth mentioning.
You'll often see stalls selling flowers, which are extremely good value for money compared with the up-market flower shops, which always seem overpriced.
Some of the stalls sell flowers specifically for offerings to place in the temple or shrines, at home, or outside shops. These are usually in the form of beautiful garlands and arrangements made of bright orange marigold, lotus flowers, roses and jasmine. These stalls will also sell candles and other small Buddhist iconography.
Nearly every market will also have someone selling clothes. You'll no doubt see a selection of T-shirts and the omnipresent bra selection. You may possibly see a leather stall, someone selling flip flops and sandals, and maybe the odd children's toy stall too.
Finding a Phuket "Talad" Near You 
There are too many markets in Phuket to list them all – after all, there are 103 villages in Phuket, and each one has some type of market to cater to its local population.
The best known permanent markets, which are open 7 days a week (as usually early) are:
Phuket Town's Central Market, Talad Kaset in Phuket Town (near Robinson's), Kata Market and Banzaan Fresh market in Patong.
Our hidden gem, also open 7 days a week and great if you live anywhere south of Phuket Town. It's on the road at the back of Chalong Temple, called Luang Pho Chaem Road. It's at the end that joins to Chaofa Road East, so if you are coming from Chaofa Road West, just drive all the way to the end of the road and it is on your right. Car parking is on the left, or in one of the back roads behind the market.
This is open 7 days a week and is perfect if you live nearby. We even drive here from Kata, and it is well worth the drive.
Now that you know about it, if we start to see more farang there, we'll take a guess you've been reading this article.
Summary
There are literally dozens of markets on the island.  Some are open every day, but most are only two or three days per week.
Wherever you live, you'll easily find a market close by to suit you. They are normally on the main roads, so easy to spot. If you're unsure, just ask someone.  They will doubtless help you to find one close by.
If you're going to be in Phuket longer term, then it will pay to find the best one near you.
Not only will you save money, but you will also have an improved Phuket living experience.
See all our related Phuket shopping articles:
Phuket's Weekend Market (Naka Market)
Top Tips for Your Holiday Shopping in Phuket
Phuket's Shopping Centres and Malls
Hassle Free Duty Free Shopping in Phuket
Supermarket Shopping in Phuket
Tips on How to Bargain in Thailand