If you are an avid diver, you'll know how wonderful a day out on a boat can be. There is something soothing and almost spiritual about being on the open water, then getting kitted up and diving down among the amazing tropical fish.
And diving is even better in Phuket, where the Andaman Sea is crystal clear and Thai culture adds further to the experience. 
Thailand is considered one of the best global destinations for diving.  The seas surrounding Phuket are teeming with marine life, making both diving and snorkeling extremely popular pastimes.
The numerous islands around Phuket each have a slightly different ecosystem. You'll have the opportunity to see rays and reef sharks, leopard sharks and even turtles.  There is naturally an abundance of tropical fish, but also moray eels, and cephalopods such as octopuses, squids and cuttlefish. Lest we forget – the coral is amazing!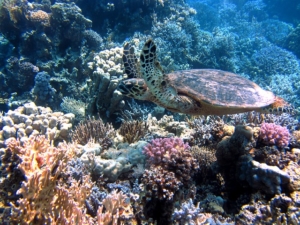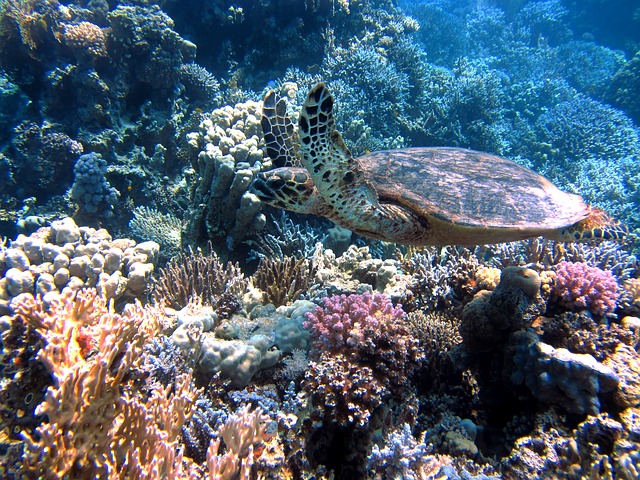 What is SCUBA?
For any novices out there, or anyone who has never been to a pub quiz, SCUBA is an acronym for Self-Contained Underwater Breathing Apparatus.
In the old days, divers required a breathing tube which had to stretched to the surface.  Gradual improvements in rebreathing technology, and a better understanding of the best gas mixtures for breathing underwater, ultimately allowed divers to reach greater depths completely independent of any surface air supply.
These days, scuba diving is a massive global industry, and PADI is at the forefront of standards and qualifications.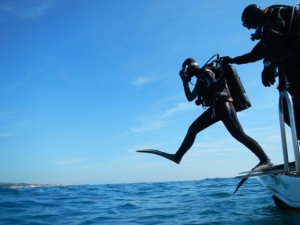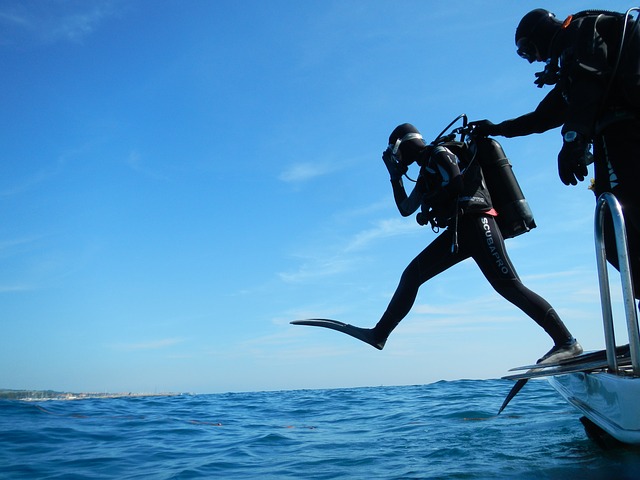 What is PADI?
Another acronym:  The Professional Association of Diving Instructors (PADI) has been teaching recreational divers the skills they need to dive safely since 1966.  They are the world leader in training both divers and instructors.
It goes without saying, therefore, that you should only choose a dive operator which is accredited as a PADI 5-Star Centre. PADI take their accreditation seriously, and their website will help you find an operator with the right experience and qualifications.
In Phuket, the industry is somewhat self-regulated, but those who break any rules are soon exposed.  Always choose a dive company that is well established, been around for 10 years or more, and which advertises widely.
The big names are usually the most reliable and likely to be the safest. On top of that, an operator who has been around for years will also know all the best dive sites, some that newer operators don't know about.
Going on a Dive Trip
As tourist numbers have increased, there has obviously been a corresponding increase in the number of dive operators on the island.
Some of those which have been around for years cater for large groups and provide dive trips for many dozens of people every day. They are highly organized, so you know you are buying a quality service.
It doesn't matter where you are staying on the island, there will be a dive shop near you.  You can even book a dive trip with your hotel or from a tour operator.
Most big operators will pick you up from your hotel (or home if you are a resident) so all you have to do is make sure you are up early and ready for an exciting day out. The van will drop you off at the port, introduce you to the cabin crew and instructors, then off you go.
Most of the time, the price of the dive trip includes all food and beverages, as well as all the equipment you'll need (if you didn't bring your own with you).
Make sure to take your PADI card with you, as some dive operators won't let you dive unless they can confirm you have passed your necessary PADI open water qualifications, and they can see that you already have a few dives under your belt (pardon the pun).
Which Dive Sites Should You Choose?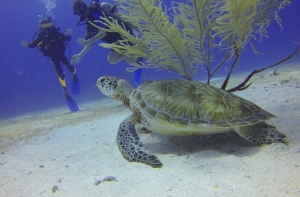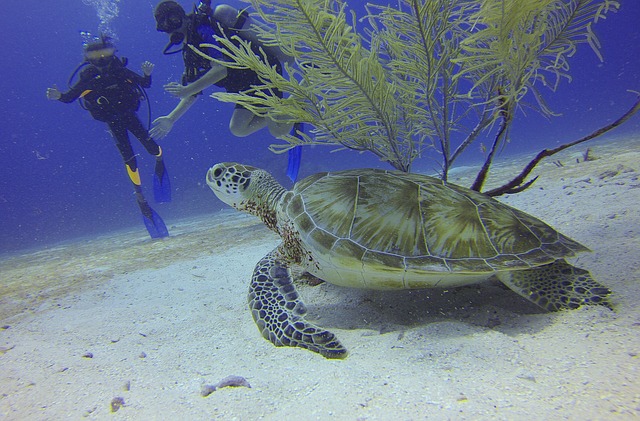 Most dive operators will give you a choice of dive sites or have a selection you can choose from.  If there's nothing that appeals to you, or you have a specific dive spot in mind because a friend recommended it, then try to find the operator offering exactly what you're looking for.
The main sites in and around Phuket don't take long to reach. We always consider anything you can get to by boat from Phuket to be part of the "Phuket diving scene", although technically if it lies in the waters outside of Phuket Province it is no longer Phuket, but rather Phang Nga or Krabi. There are some well-known dive sites, but over the years these seem to go in and out of favour with operators.
Shark Point is one we which we used to love, and the name says it all.  It's around 25km from Phuket but well worth the trip, especially if you manage to see a leopard shark, which are known to frequent the area. You may even catch a glimpse of a black tipped reef shark, of which there are many in the southern Phang Nga Bay area.
The King Cruiser Wreck is also worth a trip. Over 20 years ago, this ferry sank on a routine trip to the Phi Phi islands from Phuket. It is now a great dive site.  If you're lucky, you may get to see turtles, which we did the last time we went, and there are also many Lion fish.  But just diving the wreck is an experience in itself.
Many dive companies go to the Rachai Islands, and this is a great day out, too. The water in the midst of the high season is beautiful, and visibility is usually very good.
Another popular dive site is Koh Dok Mai, which lies about half way to Phi Phi.  Your operator may stop off here on their way to Shark Point.
If you are a bit more adventurous, and want to go further afield, then why not try a liveaboard.
Liveaboards
What is a liveaboard, you may ask?
In the recreational diving industry, it is a trip where you stay on the boat for longer than just the day. Instead, you live aboard the boat for a few days.
Some remarkable sites simply can't be done in a day. If you're leaving from Phuket, this normally means heading either further south or further north in the Andaman Sea (e.g. to the Surin or Similan Islands).
A liveaboard dive trip will pick you up from your hotel, and if you choose the Surin or Similans trip, will usually drive you all the way up to the Khao Lak region, where you'll board your home for the next few days.
Thailand has some nice dive spots, but diving in the Surin Islands is a different ball game. Richelieu Rock has consistently been named as one of the top ten dive spots in the world, so anyone wondering whether the trip is worth the effort, there's your answer.
Richelieu Rock is around 200 km northwest of Phuket and has some amazing underwater rock formations, with a real chance of bumping into a whale shark. These huge, slow moving docile beauties are the largest known fish species in the world. If you are lucky, you could have the sight of a lifetime.
If you are traveling to Thailand between May and October you won't be allowed to dive in this area, as it is out of season. So if you want to dive here, please plan your dates carefully.
For Beginners
Take Your First Dive in a Swimming Pool
If you think you'd like to swim with the fish (although not in the Godfather way), but you're not sure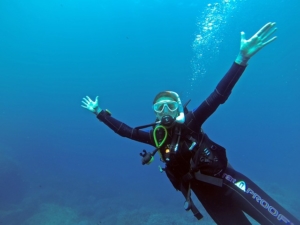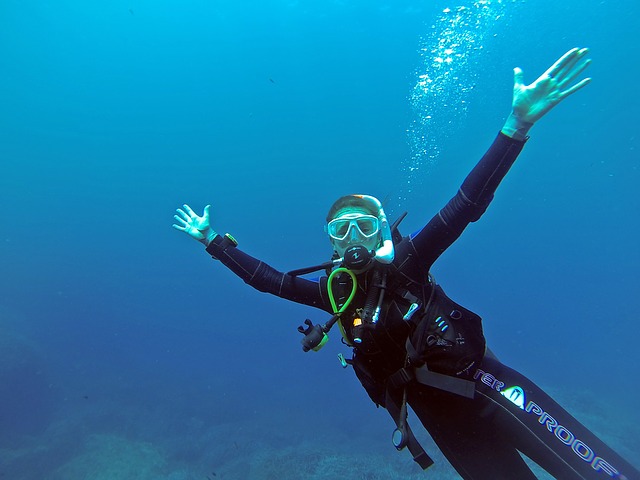 how you would cope with being 20 metres underwater, why not ease yourself in gently.  Try a little scuba diving, under supervision, just a metre or two down in a swimming pool. You might even try your first dive from one of Phuket's west coast beaches.
If you are on holiday, and time permits, why not take an Introductory Course?  You might even be able to squeeze in the PADI Open Water certification, which means the next time you visit paradise, you can go on as many dives as you like.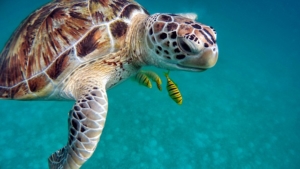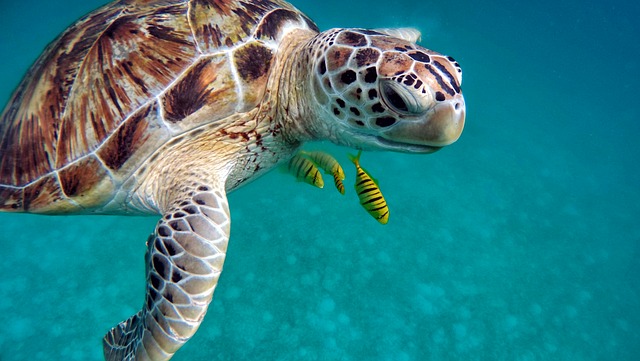 Try a Snorkeling Trip
If you don't fancy a dive, then many operators also have great snorkeling trips. Typically, you accompany the divers, then the tour guide will take you to a great snorkeling spot in the same vicinity.
You have the same wonderful "day out on the water" experience, the same food and services, but when the group goes diving, you'll be looking at the fish from a different angle.
Conclusion
Whether you are a seasoned diver, a novice, or a budding snorkeler, there is something for everyone in Phuket. November to May is the best time to come because the weather is more accommodating and the water is less choppy. (As mentioned above, in the low season, some of the dive sites are also inaccessible.)
Your dive instructor will certainly alert you to this, but you should not plan to dive within 24 hours of landing in Phuket, nor should fly out again within 24 hours of surfacing from your last dive.
One final word:  please look after the environment.  These are delicate ecosystems – especially the coral reefs – and you should take care to only enjoy them with your eyes.
See our other articles on great things to do in Phuket:
Phang Nga Bay – The Best Day Out Ever!
Phang Nga Bay's Floating Muslim Village
Phang Nga Bay – A Day Trip to James Bond Island
Exploring the Phang Nga Caves in a Sea Canoe
The Sea Turtles of Mai Khao Beach