Visas for Visiting Thailand
Being such a beautiful country, Thailand has always been a popular destination for holiday makers, as well as those who are looking for a permanent home on a relaxing tropical island.
A large percentage of Thailand's GDP comes from the tourism industry, and this revenue has grown exponentially since the mid-1960s.
Keen to attract more tourists every year, the authorities have made it easier to get visas to enter the country.  As long as you are coming purely for a vacation, and you do not conduct any business or attempt to work, the process is straight forward.
But which visa you need, and the procedures to obtain it, both depend on which passport you hold.
Visa Free Travel for 55 Countries
There is a very good chance, if you are reading this article, you come from one of the countries that has a visa exemption agreement with Thailand. If so, you do not need to apply for a visa before arrival. (This includes most western countries and many Asian ones).
There are 55 countries on this exemption list, and passport holders from these countries may stay for up to 30 days. provided that they do not intend to work and have a return air ticket out of the country (or can confirm departure through any other mode of transport). This exemption can only be used twice in one calendar year if entering over a land border.
If you are arriving via an international airport, there is an unofficial limit of 6 trips per year.  But if you intend to travel in and out of Thailand that frequently, don't try to follow "rules of thumb".
If an immigration officer decides that you have used your visa exemption one too many times, then that's it.  You could wind up with a stamp in your passport barring you entering with anything other than an official visa.
For the sake of $30 or $50, why take the risk?
Apply for a visa. 
A Tourist Visa for Longer Stays
The immigration services in The Kingdom understand how desirable a destination Thailand is.  Thailand has long been a destination for backpacker's eager to get lost in the jungle, climb mountains and explore the amazing Thai countryside.
Most people who require a longer stay visa wish to do more than lie on the beach for a couple weeks. Those people want to explore the entire country. But as long-term residents appreciate, it is almost impossible to do this in only a few short weeks.
Longer-term vacationers will need to apply for an extended tourist visa. This can be done at the Thai Embassy in your country of residence, and allows you to stay in Thailand for tourism purposes for longer than the normal visa exemption period (usually for 3 to 6 months). It is also possible to extend a tourist visa once it expires.
If you choose to apply for a tourist visa on arrival in Thailand then you'll need to make sure you have the right documents with you.  This includes a passport photo, the necessary completed forms and your return ticket.
Single-entry Tourist Visa
Cost are very low for a single-entry tourist visa (TR Visa), currently only US$40 (2018).  You may be required to show proof that you have the necessary funds available for your lengthy vacation.
Multiple-entry TR Visa
If you plan to travel around the Asian region, but want to pass through Thailand more than once, then a multiple-entry TR Visa is needed.  This will cost US$200 (2018), and is valid for 6 months.  During that 6-month period you may only spend 60 consecutive days in Thailand on any single visit.
Common Mistake
Don't ruin your entire vacation by making the all-too common mistake of trying to travel on a passport that is almost expired. You passport must be valid for at least 6 months at the time of departure. Anything less and you not only won't get the visa, but you may not be allowed to leave your country at all. 
Which Visa is Right for You?
Unless you are on a backpacking trip through Asia, your initial visit to Thailand is likely to be a package tour, a beach holiday or an exploratory visit (for work or a planned relocation). If that is the case, then the standard 30-day exemption is probably sufficient.  Applying for any other sort of visa would be overkill.
If you come from one of the 55 exemption countries, you may have purchased a Phuket property, which you only plan to use for 2-4 weeks at a time.  If that is the case, you would never need a visa when wish to make use of your home.
Visa Requirements
If you would like to confirm the visa requirements for your home country (e.g. the country which has issued your passport), The Ministry of Foreign Affairs of the Kingdom of Thailand has compiled the following list: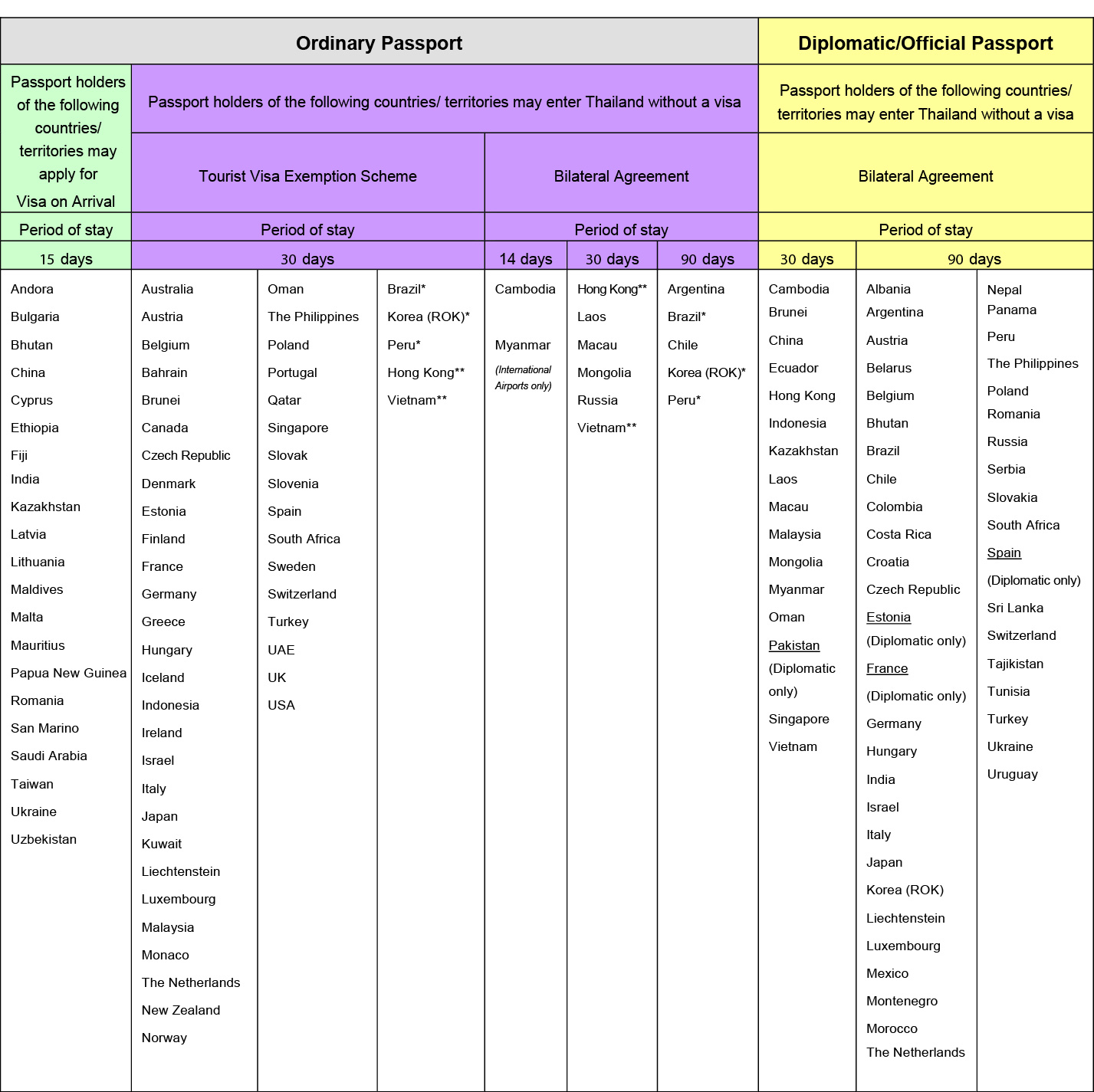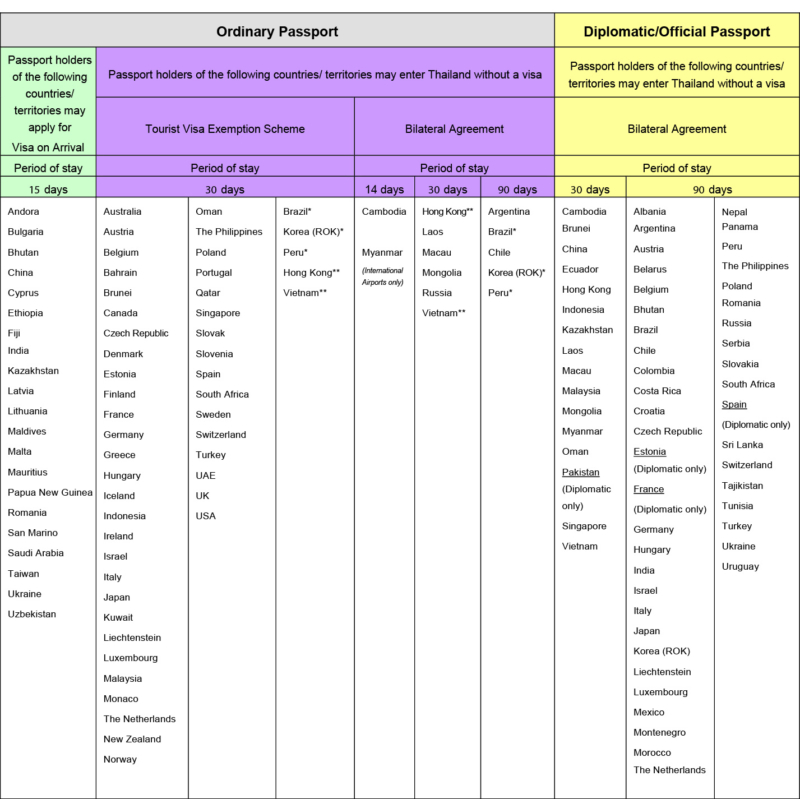 Depending on the length of your stay, a visa obtained prior to arrival may or may not be required.
You can consult the Ministry of Foreign Affairs website for more information on appropriate visa.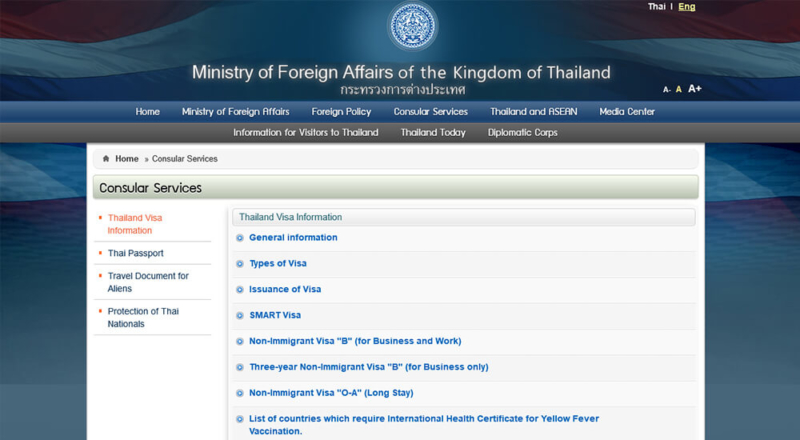 The Visa Run
Some visitors to Thailand decide to hang around longer than they first anticipated. To extend their stay in The Kingdom, they have historically made "visa runs" to neighboring countries to obtain a new entry stamp in their passport.
Doing multiple visa runs to remain in Thailand is not the greatest form of travel planning.  You are far better off obtaining the correct tourist visa in advance because the rules tend to change, and you could be caught out.
Thai Immigration have actually stated that they wish foreigners to obtain the appropriate visa based on the circumstances of their visit. The Immigration department goes as far as to say this should be done your home country before traveling to Thailand, or at the very least, applied for soon after arrival.
In the past, foreigners have entered the Kingdom on tourist visas, then continued to do visa runs indefinitely. Usually this was done in a minibus over the boarder to Cambodia, Myanmar, Laos or Malaysia.  Each new stamp in the passport was another 30 days in the country.  This was a popular means of extending visas for individuals who were working illegally.
The first rule to change was that entry via a land boarder only got you 15 days in the country, not 30.  After that, visa runs were then limited to only two trips per year for foreigners who had not obtained a visa beforehand.  Those who entered Thailand via an international airport, however, were still given 30 days each time.
As mentioned above, the conventional wisdom is that you can enter by air 6 times in one calendar year.  You may have heard the same thing, but conventional wisdom is not always wise.
A TR Visa is cheaper than a plane ticket, so why tempt fate?  Get the paperwork together, take some some passport photos, and get a visa. 
Countries With No Visa Exemption
If you do not come from one of the 55 countries that have a visa exemption, then do not fear.  There is a good chance that you still might come from one of the 21 countries that can obtain a visa on arrival.
The same rules apply, i.e. the visa must be for tourism purposes only. The main difference is the THB 2,000 fee (payable in cash), as opposed to the visa exemption, which is free.
Countries included in this 21 are China and Taiwan, India, Kazakhstan, Ukraine, Latvia, Lithuania, Romania and Bulgaria.
If your passport is not from a country eligible for either visa exemption or visa on arrival, then you will need to apply for either a single-entry or multiple-entry TR Visa.
Retirement Visa
If you are planning on retiring and moving to Thailand we have written a comprehensive guide on how to obtain a retirement visa in Thailand.
How to Obtain a Retirement Visa in Thailand
See our other visa related articles:
Thai Visa Information Guide – List of Visa Types in Thailand
Starting a Business in Thailand
How to Apply for an Education Visa in Thailand
Sources for this article
The quoted fees (and even the stated requirements) can vary slightly depending on which consular website you are looking at.
Here are three sources for reference:
Embassies and Consular Resources
The Ministry of Foreign Affairs of the Kingdom of Thailand
Website : http://www.mfa.go.th/main/en/services/4908
Phone : 0-2203-5000
Address : Ministry of Foreign Affairs Sri Ayudhya Road, Bangkok 10400 Thailand
The Royal Thai Embassy in London
Website : http://www.thaiembassy.org/london/en/services/7742
Phone : +44 207 589 2944, +44 207 225 5500
Address : 29-30 Queen's GateLondon, SW7 5JB
Royal Thai Embassy in Washington D.C.
Website : http://thaiembdc.org/visas/
Phone : 202-944-3600
Address : 1024 Wisconsin Ave. N.W.,Washington, DC 20007
See our other visa related articles:
Thai Visa Information Guide – List of Visa Types in Thailand
Starting a Business in Thailand
How to Apply for an Education Visa in Thailand
How to Obtain a Retirement Visa in Thailand
And also see our other sections about Phuket: