If you love live music and a party atmosphere, you'll love the Hard Rock. 
The reason this group has enjoyed such incredible success is plain to see.  Started by two young Americans in London in 1971, the Hard Rock Empire has gone from strength to strength.
It now boasts venues in 74 countries, including 185 Hard Rock Cafes, 25 hotels and 12 casinos.
It was nearly 50 years ago that two American hippies named Isaac Tigrett and Peter Morton opened their first Hard Rock Cafe in Mayfair, London.
Who could have imagined then that they were starting something that would grow into one of the largest theme restaurant empires in the world. Certainly not their first landlord – Isaac and Peter were only given a 3-month lease when they opened!
Anyone who has visited a Hard Rock anywhere would probably agree they deserve their success. Despite the fact that there are nearly 200 of them, Hard Rock Cafés are original even to this day. They are oozing with style and, quite simply, super cool places to go and enjoy yourself.
No matter which location you visit, the old magic is still there.
The Hard Rock Phuket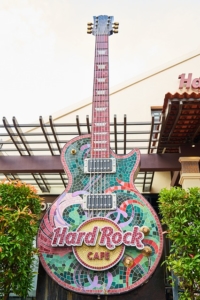 As you would expect, Hard Rock Patong is impressive. It covers 1,330 square metres on two levels, and includes seating for over 300 people. The outside seating, which you can see if you are walking or driving past, sits underneath the stage.
Here, on most nights, you'll be able to watch live bands rock the night away.
Where to Find the Hard Rock in Phuket
Hard Rock is located on the southerly end of Rat-U-Thit 200 Pee Road, the main road which runs the length of Patong, parallel to the coast road.
If you can find the main entrance to The Holiday Inn Hotel or the Courtyard By Marriott (with Hooter's on the corner), you'll be able to find the Hard Rock. It is almost impossible to drive down Rat-U-Thit Road without seeing the massive guitar.  It sits behind the stage, and is very visible from the road.
In fact, if you drive past after 8:00 PM, then you'll also hear a live band playing on stage.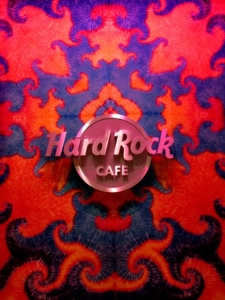 What is it Famous For?
The Hard Rock has managed to find a perfect blend of entertainment, atmosphere, excellent music and extremely appetizing food. It really is a great place to hang out for the evening.
Here's what makes it special:
The Memorabilia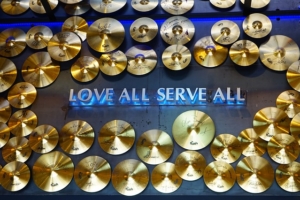 In every Hard Rock restaurant or hotel around the world you are surrounded by nostalgia. Everything decorating the walls, and even the floors, has to do with music and rock and roll.
Today the Hard Rock is famous for its rock and roll memorabilia, but it didn't start that way.  For that, we have rock legend Eric Clapton to thank.
Clapton was a regular at the original Hard Rock in Mayfair. One day he gave them one of his guitars to hang over his favourite seat so he could claim it as his own.  The owners were more than happy to do so – Eric Clapton was already a legend, after all.  Not to be outdone, Pete Townshend of The Who offered one of his own guitars for the wall, and the rest is history.
Today you can see costumes worn by famous performers, guitars by other famous artists, record jackets, and some amazing photographs of old legends.  Much of what you see has also been autographed by the artists. It is impossible to put a price on what their archive of memorabilia must be worth.
Every Hard Rock is almost like a museum, in fact, at over 80,000 items, the Hard Rock owns the largest private collection of Rock and Roll memorabilia in the world. Many of the items that you will see were donated by the artist themselves, but they also buy pieces at auction or from other collectors.
But if you think the "big stuff" are the drum kits or guitars, think again. The Hard Rock even owns the original bus used in the famous 1967 Beatles movie, Magical Mystery Tour.
The bus is kept at the Hard Rock warehouse, but it makes special appearance around the world, including an occasional return to the original London flagship restaurant.
The Music
If you go to the Hard Rock Café you can always expect to hear live performances.
The first performance in a Hard Rock venue was by Paul McCartney and Wings.  Sorry to disappoint, but you are not likely to find Sir Paul performing in Phuket.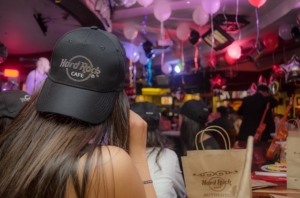 What you will see are some very good live bands, and they always rock! Hard Rock Cafés now have 15,000 live performances every year, including here in Patong.
The one thing about Hard Rock live music bands is that they are always carefully selected and always pure class. Whether they are local to the area, or "imports" from overseas, they are always extremely talented performers.
As mentioned above, performances in Patong normally get going around 8:00pm.
The Hard Rock Food Menu
If you have visited many Hard Rocks in the world, one of the things you'll notice is the consistency of the food.  Everything tastes pretty much the same wherever you are.
And some of the food is associated with the Hard Rock every bit as much as the memorabilia.  When you think of crispy potato skins, classic nachos, Buffalo wings and blue cheese dressing, you may be thinking of the Hard Rock's menu.
If so, the menu at Hard Rock Patong will not disappoint. You've got the original Jumbo Combo, which is a combination of the signature Buffalo wings, onion rings, chicken tenders, crispy potato skins with sour cream. (The final ingredient in the combo tends to change, depending on the location.  In Phuket it is Spinach Artichoke Dip with Parmesan flatbread and bruschetta.)
The Classic Nachos don't seem to have changed in 30 years. The same blend of cheeses, fresh tomatoes, jalapeños, and the pico de gallo.
Everything comes with those original Hard Rock dressings and dips which have been around for years – honey mustard, hickory barbecue, sour cream and blue cheese.
They've also got the same original hickory smoked barbecue dishes, and their great sandwiches and burgers, which including the personal favourite:  Mushroom Double Swiss.
The classic foods are all on the menu, and in Phuket there are also a few local Thai additions. For example, the Thai Spicy Beef Salad, made from Australian Angus beef, which comes with a spicy dressing.
The consistency we talked about earlier includes the desserts. They are also the same all over the world. The Hot Fudge Brownie has got to be one of the tastiest you've ever had, served with ice cream and topped with whipped cream.
Or what about the Sinful Hot Fudge Sunday?  Sinful isn't even close. It is large and it is delicious.  It doesn't matter if you are full, you just can't leave a bite of it behind.  You know you have to finish it, even if it means stretching your stomach.  The vanilla ice cream, and hot fudge sauce is sublime and the cream and cherries just make it mouth-wateringly tasty.
Of course, the food is not for everyone. But if you like American style food, then we guarantee you'll love the food in The Hard Rock. We can also guarantee that if it becomes your regular haunt, you will add a few inches to the waistline.
It is also worth mentioning the bar. Obviously, the Hard Rock is also famous for its fantastic selection of alcoholic beverages. You can get beers, spirits, and all manner of cocktails.
The Hard Rock Shops
Every Hard Rock Cafe has the famous "Rock Shop". Here you can buy some of their trademark merchandise and collectables.
The most famous Hard Rock souvenirs are the T-shirts, which now come in a number of different styles. But the most iconic by far is the white shirt, with the gold and maroon logo, and the name of the city where you bought it.
If you can't go home without a "Hard Rock Cafe Phuket" T-shirt, the Rock Shop is the place to buy one.  And you don't even have to stop for a meal or a drink.  The shop is accessed from the street, so you can go in there and buy something without actually visiting the restaurant.
The badges (or "pins", as they are called in US) are also popular. There have literally been thousands of these made over the years – nearly 45,000, in fact – most of them in honour of famous bands or Hard Rock venues
If you like that sort of thing, why not drop in and buy a T-shirt, baseball cap, or browse the other accessories they have on offer.
Conclusion
If you like Tex Mex food, great live music, good service and "good old rock and roll", then it's hard to beat the Hard Rock Cafe in Phuket.
See some of our other articles on things to do in Phuket:
Phuket Nightlife – A Night Out in Bangla Road
Phuket's Weekend Market (Naka Market)
The Best Places to Watch Muay Thai in Phuket
The Sea Turtles of Mai Khao Beach
Where to Stay in Phuket For Your Perfect Vacation
Phang Nga Bay – The Best Day Out Ever!
Phang Nga Bay's Floating Muslim Village
Phang Nga Bay – A Day Trip to James Bond Island
Exploring the Phang Nga Caves in a Sea Canoe