Patong is found roughly mid-way along the west coast of Phuket. It is, by a considerable margin, the largest concentration of tourists in Phuket.
Because there are more people per square mile, and more individual tastes to cater for, the choice of everything seems to be more expansive here than anywhere else on the island.
That means more shopping, more restaurants, more bars, more street markets, and lots of entertainment.
Why Patong is a Great Place to Invest in Phuket Property
It must be said that the vast majority of people who come to stay in Patong do so because it is great fun and just massively entertaining. There is certainly an energy to Patong, and a much faster pace of life than what you find on most of the island.
In addition to the entertainment, Patong is difficult to beat for shopping, restaurants, supermarkets and other conveniences.  But while these may attract some people, most folks who live in this area, or close to it, are generally looking to have the bright lights and nightlife on their doorstep.
Some people dislike Patong with a passion because they view it as a little seedy, but there is a surprisingly large amount of people who absolutely love it.  That includes not just residents, but a lot of tourists too.
What this means for property owners is that rental potential in Patong is pretty good, especially in the peak season, when the entire area is absolutely buzzing.
But because so many people also live here, and more seem to want to, as long as you buy wisely, you're also likely to see some good capital growth on your property investment.
Patong is home to Bangla Road (more about Bangla below), which could actually be classed as the epicentre of fun in Southern Thailand.  Nowhere in Phuket is there more of a party atmosphere, and evenings get pretty busy the whole year round.
There's lots of noise and fun and laughter, and anyone looking for a wild night out would love Bangla Road.
Patong's wild nightlife attracts people from all over the world and there is no reason to think that this will ever ease off.
Property investors here can rely on consistent demand, especially in the periods between November and April, from tourists seeking a "party time" holiday.
Villas and Condos For Sale in Patong and Tri Trang
As much of the land nearer the beach in Patong has been used for hotels, bars or restaurants already, there is not much in the way of new development in Patong. Occasionally, we get new projects appearing in the main areas but these often sell out very quickly.
The back roads of Patong have had some condominium developments over the last few years, but options today are fairly limited. There are, however, some further from the beach, perched on the mountain side overlooking Patong with stunning views over the bay.
If you love the nightlife, but also can't quite handle it right on our doorstep, then you may prefer the headland at the southern end, closer to the quieter beaches of Tri Trang, Paradise and Freedom.
Here the pace is slower, and there are fewer crowds and cars on the roads. You'll find a number of new condominium developments, and there are more in the planning stages.  Some high end villas and condos are also available with stunning northerly views across the bay back towards Kalim and Patong.
Kalim is another option if you prefer to be away from the hustle and bustle. Many people prefer being on the doorstep of everything Patong has to offer, but not directly in the thick of things. And from here it is still walking distance to the livelier areas.
You can view some of the properties for sales in Patong here: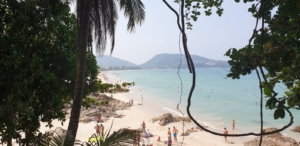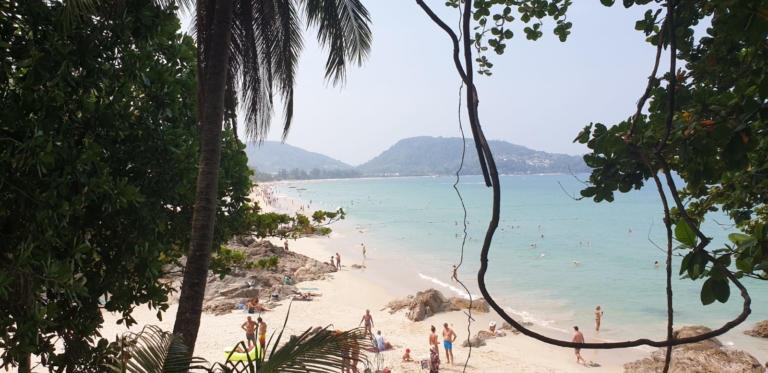 Patong Beach
Patong Beach is around 2.8 km long (slightly shorter than nearby Karon), but on any given day it is considerably more crowded.
Patong is probably the busiest beach on the island, and is popular not only with sunbathers, but also with water sports enthusiasts.  You will see plenty of Jet Skiing and Parasailing here.
The middle of the beach is nowhere near as clean as other beaches in Phuket, although general cleanliness does improve at the northern end towards Kalim.
If the crowds on Patong Beach are too much for you, there are three other amazing beaches – Tri Trang Beach, Paradise Beach and Freedom Beach – just to the south.  There is also a smaller beach located behind the Merlin Hotel, the aptly named Merlin Beach.
These are far removed from more raucous scene in Patong, and in addition to relative peace and quiet, each of these beaches offers up some stunning scenery and much cleaner waters.
A Great Choice of Restaurants and Dining in Patong
Patong has the largest selection of restaurants in Phuket. You don't just get the choice of international foods to eat when you go out, you get a choice restaurants within each specific category.
For example, anyone seeking Middle Eastern food or cuisine from the Indian Subcontinent may opt for Egyptian, Moroccan, Persian, Lebanese, Turkish, Israeli, Indian, Pakistani, and a slew of other restaurants which class themselves as Arabic or Middle Eastern.
Among Indian restaurants, there's even a choice between Northern Indian and Southern Indian food. And with Middle Eastern/Arabic food, it's not hard to find a simple kebab shop either.
Obviously every type of European food is available:  French, German, British, Scandinavian, Swiss, Spanish (including tapas), and loads of Italian restaurants and pizzerias.  There are also American grills, Australian grills, Argentinian steak houses – you name it. Patong has culinary delights to cater for absolutely every taste.
For anyone who enjoys live music while they eat, the Hard Rock Café has been a popular addition to the Patong scene over the last few years.
There are also multiple fine dining establishments for a night out with that special someone, and the 5-star hotels also offer up quality restaurants, with many directing their advertising to residents or holiday makers not staying at the hotel.
Of course, we can't forget the vast array of amazing Thai restaurants, all serving delicious seafood.
Grocery Shopping in Patong
The Jungceylon shopping centre (located at the top of Bangla Road), has a Big C supermarket, which will easily take care of all your basic shopping needs, and is quite reasonably priced.
Directly on the opposite side of Rat-U-Thit Road, you will find Central Food Hall, which is very much catered toward the foreigners in the area.  Central has pretty much any type of food you miss from home.
On the back end of Jungceylon you'll also find Banzaan Fresh Market which has a huge selection of fresh produce such as fruits, vegetables and seafood. It is worth the visit, even if you only want to look around.
Schools in Patong
There are no international schools, nor are there any international kindergartens or nurseries.
Quite frankly, Patong is not the best place to bring up a family.  While you will see families on the beach, or having lunch on the sea front, Patong is not really geared toward families with children.
And if you would like your kids to remain at least moderately oblivious to the occasionally seedier side of nightlife in Thailand, this would be impossible living in Patong.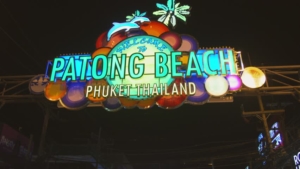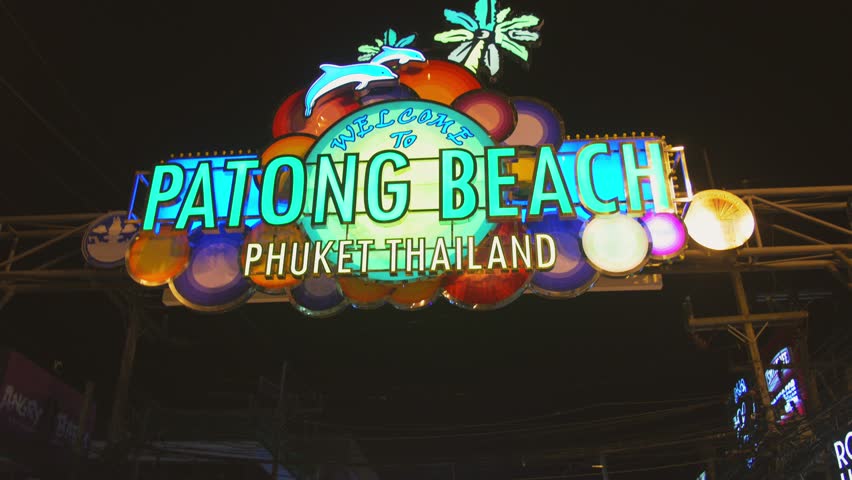 Nightlife and Entertainment in Patong
Patong is a party central, full of noise, laughter, fun and music. It's teeming with bars, restaurants and pubs, and it is all about bright lights and neon.
Bangla Road is the heart of the action in Patong, and the crowds here are a cross section of everyone in Phuket. You will find people of every nationality all out for the evening to have a good time.
Patong has a buzz to it which is not found anywhere else in Phuket. If you are in the vicinity of Bangla Road, you can literally feel the energy – and we mean seven nights a week.
Bangla Road has a huge selection of girly bars, the best known of which are found in Soi Crocodile and Soi Sea Dragon. Here you'll find a number of very entertaining bars, including Suzy Wong's, one of Patong's oldest and best known bars.
If you love dancing then Patong also won't disappoint. There are many nightclubs in the town, including Tiger, Hollywood, Seduction, Illuzion, White Room, Bananas and Tai Pan.  Most of these go on into the early hours of the morning.
But if you prefer to kick back and listen to some live music, Patong can cater for this preference, too.  The best known live music bars are the New York Bar, Monsoon or Red Hot and of course The Hard Rock Café.  But really, no matter where you are in Patong, you are likely to find a good band most evenings.
Other Areas of Interest and Tourist Attractions Around Patong 
As you would expect from Phuket's number one tourist hot spot, there is an array of daytime and evening entertainment not far away.
During the day, there are oodles of spas and massage parlours. There is Rollerball (also called Zorbing) in Kalim. It involves floating on the water in a big plastic sphere while rolling down a mountain.
Tiger Kingdom and Go Karting are just over Patong Hill in Kathu, as is the Phuket Wake Park. And if you like the sound of discovering Phuket's rain forest canopy and zip lining, then you might like the sound of Flying Hanuman, also in Kathu.
For golfers, three of Phuket's world class golf courses are also found in the Kathu Valley area.
Not far from Patong you'll find the usual elephant rides, ATV and zip-lining. There are also a couple of Thai boxing stadiums in Patong, which is a really good evening out.
The Tri Trang area, as we have already mentioned, has some of the most incredible beaches to explore. But because of Patong's central position on the island, it is also near to other beautiful parts of Phuket.
A little ways south are the very popular beaches of Kata and Karon, and to the north, Kamala is not that far either.
If you like shopping then heading inland over Patong Hill is Phuket Town with all the shopping facilities there. Central Festival and Floresta are amazing venues for shopaholics.
In the evenings, Patong is full of live bands. But if you want something a bit different, Simon Cabaret (the best known "lady boy cabaret" in Phuket) has been running for years and is very popular with tourists.
Kamala has Phuket FantaSea, a theme park with an evening show about the history and culture of Thailand. This has been a popular tourist attractions in Phuket for over 20 years now.
You may want to read some of our related Phuket property articles here:
The Benefits and Advantages of Buying a Freehold Condominium in Thailand
Owning a Freehold Hotel-Licensed Condominium in Thailand
10 Good Reasons to Buy a Condo in Phuket
5 Essential Tips for Buying a Condominium in Thailand
8 Top Tips for Finding Your Perfect Condo in Phuket
Using a Thai Company Limited to Purchase a Leasehold Condo Unit