What is it that you are looking for when you're on vacation?
Do you like to be where the action is? Or do you prefer a bit of isolation? Do you only feel alive in a city environment? Or do you prefer nature?  
If you're coming to Phuket, you must like the beach.  But do you love it so much that you must see it from your hotel?
Well, in Phuket you are in luck because you can pick and choose the area of the island which will offer you the perfect vacation environment.
And while this article may be about vacationing in Phuket, anyone planning to move to Phuket, or just to buy a property here, will hopefully find it to be equally helpful.
 About Phuket Island
Phuket is approximately 570 square kilometers in area. It's the second smallest province in Thailand, although it is the largest island.
From tip to toe it is around 48 kilometers long, with an average width of around 20 kilometers.
It has a city (Phuket Town), and densely populated areas of seafront, including the tourist and nightlife hotspot, Patong.  But it also has virtually isolated stretches of coastline, and areas of stunning natural beauty, where you will barely encounter another living soul.
In short, there are massive differences between the various parts of the island. This article looks at densely and sparsely populated areas, then at the three distinctly different environments, such as beach, nature and city.
Everyone is different, and you can't be too meticulous. Whether you are booking a holiday or choosing a location for a long-term home in Phuket, the island offers such diversity that you need to ensure it will be the right area for you.
There are a myriad of accommodation choices too. From beach huts to boutique to luxury hotels, there are choices to suit everyone's budget. Phuket also has a wide choice of amazing private pool villas to rent too!!!
Choosing the Right Place for You
Where you stay will really depend on your personal preferences.  You might prefer the beach or to be surrounded by nature.  You may love the city life or you may prefer seclusion.
If you are the kind of the person who likes to be in the thick of things, you will want to seek out a more densely populated area. If that means  surrounding yourself with Thai culture and living near a large local population, then you will want to be in Phuket Town.
But if your desire to mix with the crowd is driven by a love of the beach and/or a party atmosphere, then the crowds you seek may be in Patong.
Conversely, if you would prefer not to see another soul for a week or two, and only want solitude, peace and quiet, then you need should consider Mai Khao or the northeast.
In truth, it is all beautiful.  Just as Thailand itself has a vast array of choice, each area of Phuket offers its own attractions. There really isn't a bad place to stay, but if your hotel or the surrounding area does not match your preconceived expectation, then you may be disappointed.
There are so many hotels on the island today, and we frequently hear people complaining about making the wrong choice.
So we've decided to make it easier for them and for you.
We hope the following overview will help you make the right decision on where to stay in Phuket.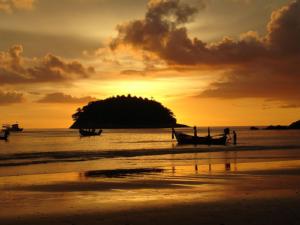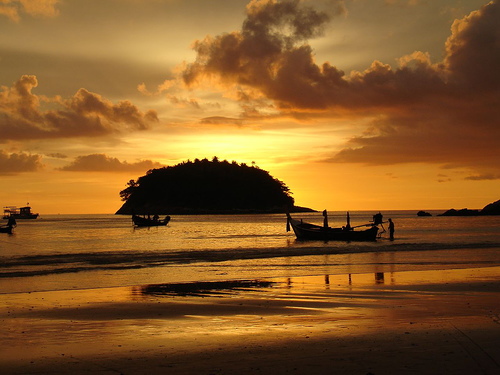 Life on the Beach
It has been proven that humans tend to relax when they are near water.  Whether it is the sound of a stream or falling rain, floating in a lake, walking on the beach, or even taking a hot bath, water soothes us.
The sight or sound of water releases neurochemicals which increase blood flow (and with it oxygen) to the brain and heart, helping us to relax.  Even looking at a photograph of water is capable of inducing a mild meditative state.
While scientists are not completely sure why water has this effect on us, its impact is undeniable.
It is no surprise then that the west coast of Phuket, with its stunning sunset views and beautiful beaches, is in the highest demand, and one of the busiest areas of Phuket.
If you have always dreamed of a property close to the beach there are plenty of developments to choose from. If you want to hang your hat (or rather, lay your towel) on the white sands next to crystal clear water, there are 32 beaches choose from on the West Coast.
The beaches are separated by beautiful capes, rock outcrops and headlands, which have created some small, intimates bays with unspoiled beaches, as well as a few longer, sweeping stretches of sand.
Less developed, but with properties still available, the east coast boasts stunning views across Phang Nga Bay. While there is the occasional pristine beach to rival the west coast, most of the east coast is either muddy, or inaccessible due to mangrove swamps and oyster farms.
Where to stay for life on the beach? Anywhere on the west coast for crystal clear waters, but away from the towns or tourists areas for solitude.  The east coast offers solitude and beautiful views, but not many beaches. Also, the water on the east coast is not the same.  Not that it is dirty, but it does not have the same aquamarine clarity as the west coast.

Back to Nature
Just as some holiday makers want to be near the water, many also want to immerse themselves in nature.  And we know that a nature holiday can relieve stress every bit as much as being next to the sea.
Green spaces and the sounds of the jungle are also meditative, and if you close your eyes and listen, the sound of so many creatures and animals is almost primeval.
Whether forest, woodland, jungle or open plain, there's something about getting away from the hustle and bustle, and back to the type of environment that our ancestors knew hundreds, or even thousands of years ago.
While Phuket has developed rapidly over the last two decades, there is still an abundance of nature throughout the island. We don't have many open plains, apart from the water buffalo fields, but a large percentage of the island is still covered in jungles and rain forest.
Building restrictions limit construction to heights below 80 metres, and many of the lush forested mountainous areas are protected under national park status. And the wildlife which live there tend to stay away from people.
Please don't listen to what other people might tell you – there is an abundance of wildlife in Phuket.  There may not be any Asian rhinos, tapirs or tigers left, but there are plenty of monitor lizards, pythons, cobras, pangolins, and slow lorises in the higher elevations, away from the developed areas.
There is also a vast array of bird and insect life – and even monkeys – which can be found in a number of areas. Don't be surprised to see monkeys swinging through the trees, or depending on where you are, even coming up to you to scrounge food.
The national parks are nice places to get away from the tourist areas, and the Phra Taew National Park is also home to The Gibbon Project, which has been devoted to the rescue, rehabilitation, release and repopulation of Gibbons since 1992.
Where to stay to get back to nature? The North East, North West or the central mountains. In addition to the national parks, there is also the annual turtle release on Mai Khao beach on the northwest coast. Or how about a trip to Kao Sok National Park for a few days?  Kao Sok is in Surat Thani Province, about two hours' drive to the north, after crossing the Sarasin Bridge.
 The City Life
A large percentage of the world's population now lives in urban areas.  This is not surprising because in most countries the cities are where you find most jobs. There are more economic opportunities there because that's where the money is, and people follow the money. But cities can also have their downsides.  They can be polluted, noisy, smelly and dangerous.
Most of us go on holiday to get away from the city, but some people love the buzz of the city.  In fact, they simply can't function outside of a metropolis.  Even on vacation these people need the glitz, the activity and the crowds.
In Phuket the cities are not dangerous, although they may be a tiny bit smelly.  And without question, they are noisier than the countryside.  You can't deny there is an energy there, so if a faster pace is what you want, you will find it.
If you like being around other people – whether on the street, in the shops, the bars – the city is where you can immerse yourself in humanity. The cities also have the widest choice of restaurants, and If it's the party scene you want, the nightlife (including the seediness) can be found here.
Maybe you're visiting Phuket looking for a date, so where better place to look than in a city?  You are hardly going to find someone on an isolated stretch of coastline.  You need to be where the people are!
Let's not forget the shops. Phuket's densely populated areas obviously have to cater for more people per square mile and more individual tastes than elsewhere on the island. Which is why you usually find the best shopping here.
And if there is one things that ladies love to do on holiday even more than at home, it is shopping.
Where do I find "the city life"?  Phuket Town and Patong. If it's shops you love then these are two remarkable places to shop in Phuket. In terms of western-style shopping malls, Patong has Jungceylon and the new Central Mall, while Phuket Town has the amazing Central Festival and Central Floresta.
Both Phuket Town and Patong also have a wide variety of local shops and markets, although in this regard, the balance is probably tipped in favour of Phuket Town.
Where Phuket Town is more traditionally Thai, Patong could be described a cosmopolitan cornucopia. Patong is easily the largest blend of nationalities in any single area of the island.  Some say they've come for the beach, but people mostly come to Patong Beach because the city is wild, it's fun, and massively entertaining.
Population Density in Phuket
Probably more than any other factor, population density will drive your decision on where to stay in Phuket.
In other words, your perfect place is likely based on how many people you want to be around.
Do you want a low-density area where you can relax in peace and isolation?  Or do you want to mix with throngs of humanity in some of Phuket's higher-density area.
We've prepared a list for you of the quiet and the not-so-quiet areas of Phuket to help you decide:
Low Density Areas
North East/Ao Po and Mission Hills
North East/Cape Yamu
Mai Khao
Cape Panwa
Tri Triang
Low to Middle Density Areas
Nai Thon
Layan
Nai Yang
Surin
Bang Tao
Kalim
 Middle Density
Karon
Kata Noi
Koh Kaew (includes BIS area)
Cherng Thalay
Kathu
 Middle to High Density
Kata
Thalang
Chalong
Nai Harn and Rawai
Kamala Beach
 High Density Areas
Conclusion
Whatever you are looking for during your stay on this beautiful tropical island, we hope the information above helps you to find the area which will maximise the enjoyment you get from your holiday.
If you are looking purchase a property to live on Phuket, we likewise hope this helps you to narrow the down areas that you think will be the best for you and your family.
Whether you like beach, nature, or the city – or whether you prefer your own company to that of scores of other people – you'll be able to find the ideal place for you in Phuket.
Phuket is extremely diverse, and every area is unique.  But that is what attracts millions of people here every year, each one also unique in their own way.
Maybe you would like to be out at sea instead of on land? If that's the case, why not check out our sailing article:
Please also see some of our other Phuket related articles:
Phang Nga Bay – The Best Day Out Ever!
The Sea Turtles of Mai Khao Beach