In the northern reaches of Phang Nga bay, nestled close to an islet with a huge vertical limestone cliff edge, sits the picturesque Koh Panyee.
If you are on a day trip around Phang Nga Bay, then there is a good chance you'll be stopping off at this floating village for lunch.
Phang Nga Bay is incredible – and we never get tired of reminding people of that.  Which is why it should not be a surprise that this is where you would find a village on stilts, attached to the side of a small island, not far from the perimeter of the bay where the mangrove swamps start.
No one really lives on the island itself.  It is a sheer cliff face that acts as an anchor for the floating village.
The fact that a village can exist where it does in the first place, and that the whole thing is built on stilts, is simply remarkable.  If you are lucky enough to visit Koh Panyee, then it will surely be another amazing memory that will stay with you forever.
Koh Panyee, sometimes spelled Koh Panyi or even Koh Pan Yi, caters nicely to the tourist trade, so if you are on a tour, there is a good chance that your trip will include stopping off at one of the floating village's many restaurants for lunch.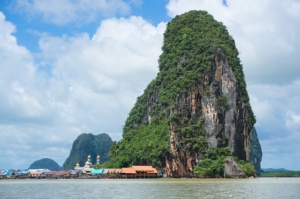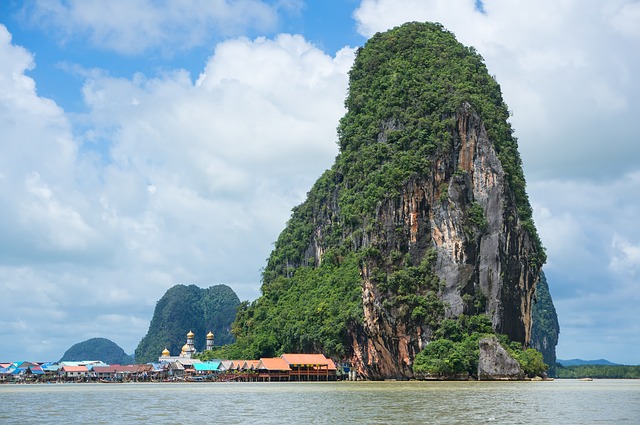 Artistic and Authentic with a Dash of Chaos
How would you describe this extraordinary settlement?
There is a certain artistry to it, and it is beautiful in its own unique haphazard sort of way. Chaos mixed with beauty. An organized maze. It looks both makeshift and permanent – an island cobbled together with concrete, wood, perhaps a little steel and corrugated iron.
This floating village is a collection of sheds, shacks, huts, stilts, platforms, and jetties (with longtail boats moored at each one).  There are wooden beams, joists and tiles, all thrown together over a couple of hundred years to create a rare and unexpected settlement.
It's difficult to count the exact number of buildings, as the architecture blends together almost as much as the colours, which are a mix of red, orange, brown and blue.
Improvised but intentional. Authentic but almost manufactured. It really is difficult to describe.  You must see it for yourself, then try to imagine how this amazing village managed to grow – bit by bit – into what it is today.
The History of Koh Panyee
The literal translation of Koh Panyee is "the island of the flag." While this may sound like a strange name, the history of the island is also the origin of the name.
There is not much recorded history about these people. We certainly know that they were once nomadic, and it is widely accepted that the entire population of the village is descended from just three families that arrived in the area around 200 years ago.  They were either from the Malay peninsula, or from as far away as Java in present day Indonesia.
As the legend goes, they made the journey northwards in search of the perfect place to settle, and each family explored the region separately.  The first ones to find waters plentiful with fish would then raise a flag on the highest hill to alert the others.
It is said that Toh Baboo, the head of one of the families, discovered this little corner of paradise, and climbed to the highest reaches of Koh Panyee to raise his flag.   Sure enough the other families found him, and began their little settlement on The Island of the Flag.
But why did the first settlers build a village in the middle of the sea?  There are two theories here.  The first is that neither the island nor the surrounding mangrove swamps offered enough flat land on which to build homes.  The other suggestion is the restrictions on land ownership (which were even more limiting at the time than they are today).
So as it was impossible to own land, and with island offering sheer cliffs to one side and water on the other three, they improvised.  And as their community grew, so too did the area of their floating village.
And Koh Panyee has continued to expand.  Over the years, there have likely been additions to the community from outsiders, but it is thought that most of the estimated 1,800 inhabitants today are directly or indirectly related to Toh Baboo and the other two original families.
Even back then the Muslim religion had deep roots in Southern Thailand, and certainly most of the archipelago from which these fisherman stemmed.  So while they brought their religion with them, most of the surrounding area, as well as sea gypsies from other ethnic backgrounds, were also Muslim.
The mosque is prominent. It is almost attached to the island, as its gold dome overlooks the centre of the village, with the unmistakable minarets either side. Every day, five times per day, the villagers receive their call to prayer. The mosque, then as now the centre piece of the island, epitomises the importance of religion in the community.
Embracing the Modern World
Although a large percentage of the village still earn their living as fisherman, tourism is certainly the number one source of income for the community.
They haven't just accepted tourism, they have embraced it, and tourism has proven to be a lifesaver to this community given what you can only imagine to be dwindling fish stocks in the area.
Tourists groups visiting the bay inevitably come to Koh Panyee for lunch.  After all, when you're touring a bay a restaurant in the middle of the water is a perfect place to stop.  And with the growing number of tourists, the number of seafood restaurants is also increasing.
It is well known that restaurants earn more from a fish than fishermen do, so by embracing the lunchtime crowds, these clever entrepreneurs are cutting out the middle man and earning more from their catch.
If you are stopping for lunch here, we have no doubt you are going to enjoy this amazing dining experience.  You do get the sensation of sitting on a huge plank of wood with tables and chairs, but there are actually many different restaurants. If it were not for the potted plants forming a boundary between them, it would be impossible to guess where one restaurant ended and another began.
There is also a mini bazaar selling souvenirs, textile products and locally made arts and crafts.
If you have a stroll around you'll get a better idea of how the locals really live. If you wander into the inner labyrinth, it might feel like being lost in the alleyways of any town . . . except of course the sea lapping against the "ground" you're walking on.
It's all a rather mind blowing experience. No matter how hard you try to understand their lives, it is still hard to imagine how they have lived like this for over 200 years.
The village is fairly self-sufficient, and the infrastructure they have created is impressive. There is a school for the children, and even a medical centre. They are also very proud of their floating football pitch, which is often full of kids working on their skills.
Who would have thought that a floating village could have its own floating football team!!?? And the team actually plays in the local league, so we presume other clubs have to come here for away games.
This truly is amazing Thailand! Could you imagine if the team gained promotion to higher division, and needed a floating stadium to host top flight opposition?  Wouldn't that be incredible!?
Everything about this place is surreal. It is remarkable to see this idyllic village, built on stilts in a sheltered bay, blending the old world and the new. No matter how rich the history of these once nomadic people, they are still embracing the modern world, including technology.
They may be surrounded by some of Asia's most iconic rock formations, but that doesn't stop everyone from having satellite TV, mobile phones and wireless internet throughout the village.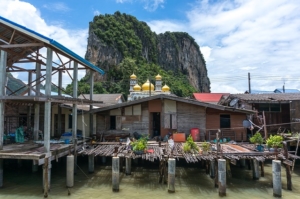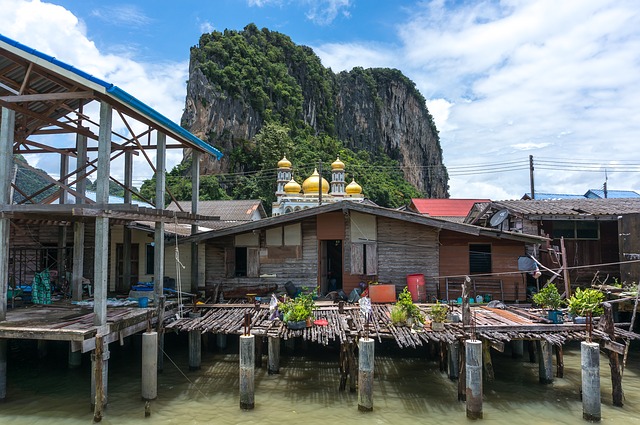 Still Traditional
This community of fisherman have survived for nearly two centuries away from the modern world, using their boats and nets to make a living, making their own pots, weaving reeds and palms to make thatched roofs, catching crabs and collecting shellfish.
Since the first families arrived, the settlement has grown and they have been left to live pretty much without any interference from the Thai authorities.  While they may once have been viewed as outsiders, now these nomadic fisherman are accepted as being every bit as "Thai" as the next guy.
Today they form just another welcome part of the already diverse local community. The growth in tourism has certainly helped the villagers economically, and they have obviously been prospering, but they haven't lost that laid back charm.
Everyone is welcoming and friendly. But please remember this is a Muslim village, and you should respect the differences between here and elsewhere in Phuket or Krabi.  For example, they do not sell beer, and you are not be allowed to consume alcohol on the village. If the boat that brought you has beer on board, you are welcome to stay on the boat and sip a Singha – just don't take it with you into the village.
The same applies to pork lovers. Being strict Muslims, they do not serve pork, so don't expect or even ask for any dishes with pork, bacon or ham. But you are on an island in the sea – who cares about pork or beer, when you can feast on delicious seafood.
One other thing to note. In the same way that you should show respect by not asking for beer or pork, you also must ensure that you are not dressed too provocatively. Modesty is the key.  Guys, try to avoid muscle shirts, and opt for a t-shirt instead.  Ladies, please don't show too much skin.  You should ideally cover your legs (and even your arms) with a sarong and/or a shawl. Again, t-shirts for women would also be fine.
Please respect their culture. Treat the villagers in a way that keeps them open and welcoming, so that they will carry on embracing tourists indefinitely.
How To Get to Koh Panyee
If you aren't really one for tour groups, and you just want to visit the floating village, then the best thing to do is to drive north off of Phuket island, and into Phang Nga Province.  Go to the jetty in Surakul.
From there you'll be able to rent a longtail boat, and it only takes around 20 to 25 minutes to get to Koh Panyee.
Staying the Night on Koh Panyee
As we've mentioned already, the locals are keen to take advantage of the booming tourist trade, so some residents even offer accommodation.
If this is something you really want to do, there are actually guest houses on the island now. Rather than being hurried around like cattle in a tour group, you can take your time and immerse yourself fully in the local culture.
This is not your typical hotel accommodation, so don't expect to book on Agoda, Airbnb or Booking.com.  Don't expect any luxury, or even value for money. Staying here overnight is purely for the experience, but that experience is not for everyone.
We have friends who have done this, and they said they would have preferred to get that day of their holiday back again and stayed somewhere else.
Summary
For anyone who has never visited Phang Nga Bay, the floating village is a must see for any day trip. It really is a unique experience.
As always, take only photos, leave only footprints. And please, respect the cultures of others.
See our other articles on what to do in amazing Phuket:
Phang Nga Bay – The Best Day Out Ever!
Phang Nga Bay – A Day Trip to James Bond Island
Exploring the Phang Nga Caves in a Sea Canoe
The Sea Turtles of Mai Khao Beach
Where to Stay in Phuket For Your Perfect Vacation