If you want a truly unique cultural experience in Thailand, then why not make a trip to the boxing ring.
But we're not talking about Ali-Frazier or Mayweather-Pacquiao.  We're talking about Muay Thai – "the art of eight limbs" – the famous national sport of Thailand.
Never seen Muay Thai?  Go check it out; it is extremely entertaining!
If you are staying in a busy tourist area, you have probably been exposed Thai boxing (Muay Thai) in Phuket, even if you haven't realized it.  Have you heard the trucks driving past your hotel with their loud speakers blaring? They are announcing the fights, and encouraging you to join them at the local Muay Thai stadium.
You've doubtless heard the announcements. But if you've actually seen one of the trucks you'll notice picture boards displaying all of the competitors.
And you may be surprised that many of them are foreigners.
What to Expect?
You'll have a great evening! If you are already a boxing fan, we guarantee you won't be disappointed.
All of the stadiums are similar except some are more up-market than others.  Which stadium you visit depends on what sort of experience you want.
Depending on the venue, you'll watch as many as 10 fights in one night.  The good thing is that there is never a huge time to wait between each fight.
The fighters are all ages and all levels, and sometimes you will even see a couple of really young Thais having a go at each other.
In most of the stadiums the fighters come from all the surrounding training camps. When they meet head to head it they are not just fighting for themselves, but they are representing the camp that trained them.
Watching the action unfold is a fantastic experience, and don't be surprised to see a few knockouts. Some fights are even over in a few seconds, and this happens more frequently than you might think. It can be a very brutal sport. The last time we went we saw a few fighters who had to be carried out of the ring.
An evening at a Muay Thai stadium is great entertainment, and you can truly revel in the atmosphere. Although gambling in Thailand is illegal, there is usually someone there to take your money for a bet or two.
It's well worth a trip, and if you've never seen Muay Thai live, it is one of the things you must do if you are on holiday in Phuket.
Or you may even want to train in Muay Thai in Phuket: Muay Thai Boxing and Training Camps in Phuket
How Much is a Ticket?
You can expect to pay at least 1,500 Baht (US$ 47), but don't be surprised if admission is as much as 2,000 Baht (US$ 63).  If you are booking through a tour operator, you will at least know the price before you go, so you can decide if it's more than you want to spend.
While that may seem a lot in a country where you can eat for as little as $1.00, prices have always been high for watching Muay Thai.
But keep in mind you are watching up to 10 contests, and the last few fights are usually major bouts.   The fighters need to be paid their prize money, and stadium obviously has to be maintained.
Sometimes you can get cheaper admission if you pay beforehand rather than paying on the door. You'll also get a choice of where to sit, so you can possible choose some less expensive seats if you want to keep the cost down.
Where to Go?
There are a few options on the island, so it really depends on where you are staying. There is no point in traveling too far if you have a stadium on your doorstep. Most of them are in Patong, or further south, but there is also a stadium in Bang Tao that occasionally has live fights.
If you really want to watch a foreigner fight a local Thai, then Bangla is a good venue, although Soi Ta-eiad also has a lot of foreign fighters these days. Most of the venues will offer the occasional Farang v. Thai fight.
In all honesty, these are usually the most fun. The Thai fighter almost always looks so much smaller compared to the foreign guy, but you learn quickly that size doesn't matter in Muay Thai.  More often than not, speed and technique, rather than muscle, wins the day.
So, where to go then?  We'll start off with the two busiest (both in Patong). But as with the fighters themselves, don't be fooled into thinking bigger is always better.
Sometimes the smaller, more local stadiums have the better atmosphere, and the better fights.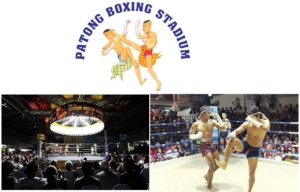 One of the two stadiums in Patong, the Patong Boxing Stadium is always busy. Fights here take place three days a week: on Mondays, Thursdays and Saturdays.
This stadium has more local Thais fighting than foreigners.  So if you think too many white faces will spoil your appreciation of a traditional Thai sporting event, you might enjoy this venue.
It is located on Sainamyen Road, which is really not that easy to find.  If you are driving there yourself, make sure you have good directions before heading off for the evening.
We'd probably suggest getting a taxi or tuk tuk.  Tell them Patong Boxing Stadium Sainamyen (to distinguish it from Bangla, the next one on the list). Every driver will know exactly where it is.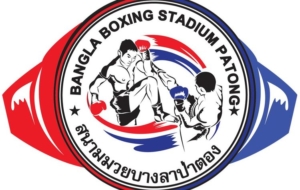 We've been to Bangla Stadium a few times and thoroughly enjoyed it, even if our friends never seem to win. There's always a lot of people around, and it always has a great atmosphere.
The best nights are usually Friday and Saturday. Many of the competitors here are foreigners, so if you want to see a real mix of adversaries, then this is the place.
It's easy to find, as it is right behind the Jungceylon shopping centre.  If you go out the back of Jungceylong (not the seafront side, the other side), you'll find it opposite the Banzaan (or Baan Saan) fresh market, and right next door to the Tiger Bar with it's giant tiger statues.
One of the newest stadiums, and definitely worth a mention, is on Soi Ta-eiad, right on the doorstep of a few of Phuket's top Muay Thai Gyms.
It makes sense that that they would build a competition venue here.  Historically all the fighters from the gyms in this area would travel to Patong to fight, or they might compete at the more local stadium down the road.
Although it is outdoors, which can be quite warm, it is covered and reasonably modern.
We expect this stadium to pick up in popularity, and likely become a top location on Phuket Island in the future. The continued expansion of Soi Ta-aied as a health, fitness and Muay Thai centre will certain aid in its success.
The nearby Suwit Muay Thai Stadium in Chalong is pretty good, too. It is much smaller, and very much more a local venue. It can be found on Chaofa Road East, not far from the turning to Phuket Zoo.
We've been here before, and even though you will mainly see Thai patrons, there will be a few tourists watching.  These are usually people who are staying in this part of the island.
Most of the competitors are Thais, with the odd foreigner fighting here from time to time.
The prices are a little more local, too.
One smaller, and even more local stadium is the Rawai Boxing Stadium.
You can find it near the southern tip of the island, close to the fishing village. It is much smaller than the other more commercial venues, but maybe that's why we really like the atmosphere.
Don't expect to see many farang fighting here.  So if you are staying in the Rawai/Nai Harn area, and looking for a traditional Thai boxing bout, this is the place.
Conclusion
Whichever venue you choose, you are virtually guaranteed to have a great time.
And because Muay Thai never finishes too late, you'll still have plenty of time for a night on the town.
Enjoy!
See our other related Phuket articles:
Muay Thai Boxing and Training Camps in Phuket
Phuket Nightlife – A Night Out in Bangla Road
Exploring the Phan Nga Bay Caves in a Sea Canoe
Phuket's Weekend Market (Naka Market)
Phang Nga Bay – The Best Day Out Ever!
Phang Nga Bay's Floating Muslim Village