An Economic Overview for Thailand Property Investors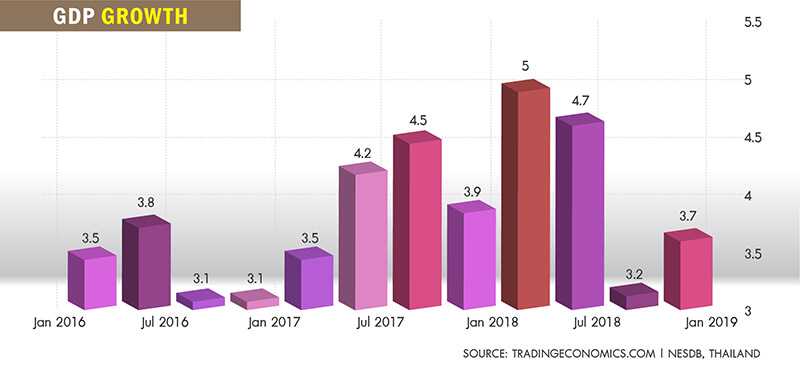 GDP GROWTH
A country's GDP (Gross Domestic Product) is typically calculated by totalling all the goods and services produced by that country in a single year, although some organisations use the cumulative annual incomes of all working citizens to calculate GDP.
A steadily increasing GDP usually translates into a rising standard of living, which is accompanied by greater demand for property. This has certainly been the case in Thailand.
Compared with many countries in the region, Thailand has achieved satisfactory GDP growth. In the fourth quarter of 2018, Thailand's GDP grew at 3.7% year-on-year.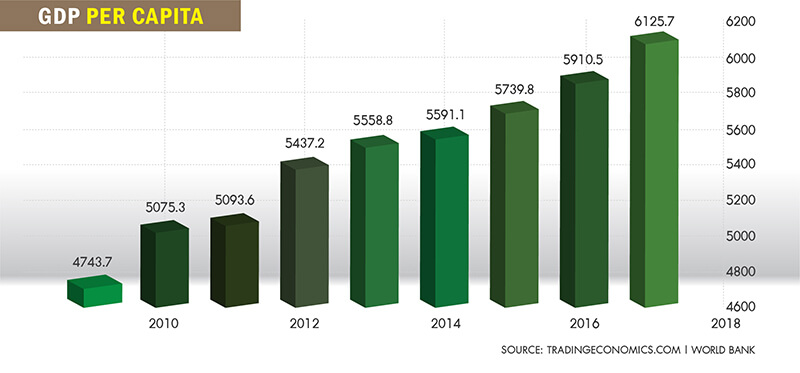 GDP PER CAPITA
This measurement takes the total GDP of a country and divides it by the population of that country. As the standard of living in a country rises, so too does GDP per capita, making it a good indicator of a country's economic performance.
Thailand's Per Capita GDP has more than doubled in the last two decades, and for long-term residents of Thailand, certainly those of us in Phuket, the dramatic rise in the wealth of Thai nationals has been noticeable. Distribution of wealth is never perfect, but overall the Thai population has certainly benefited from the increase in GDP.
Household debt measures the sum total of home mortgage debt, car loans, student loans, credit card debt, etc. relative to the size of the economy. High levels of household debt can lead to or coincide with economic difficulties, and excessive levels must be addressed.
As an economy matures and incomes rise, debt levels will increase. The ratio of household debt to GDP serves as an early warning sign that the burden of interest payments on debt is becoming too much for a country's citizens to handle.
Thailand currently has the 27th highest GDP in the world, the 92nd highest Per Capita GDP, but the 14th largest household debt to GDP ratio in the world.
Household debt in Thailand inched up to 68.3% in Q3 2018.
Government debt, also called public debt (or sovereign debt), refers to money borrowed by a national government and owed to parties inside or outside that country. The debt usually consists of government bonds which are purchased by individuals, corporations or by other foreign governments.
A government that borrows and spends less than it generates in revenue runs a surplus. A country that borrows and spends more than it generates in revenue runs a deficit.
As long as it remains manageable, public debt is a great way for governments to fuel growth and keep their economic engine running. Problems can arise, however, when a country's borrowing reaches levels that make it difficult to keep up with the interest payments.
If that happens, the perceived risk to investors increases, and they may begin to demand higher yields on the money they have lent the government. So when debt becomes excessively large it generally pushes up interest rates and in extreme cases, when a country can no longer service its debt, it defaults.
Most countries aim for a perfect equilibrium between debt issued and stimulus achieved, meaning the debt must be large enough to achieve the desired economic benefits, while remaining small enough to keep the serving costs as a percentage of GDP manageable, which in turn keeps interest rates in check.
Thailand's Debt to GDP ratio rose during the financial crisis, but good management over the last 20 years has kept the ratio down to less than 50% (41.8% in 2017, the most recent figure available). This is perfectly acceptable for an emerging country such as Thailand.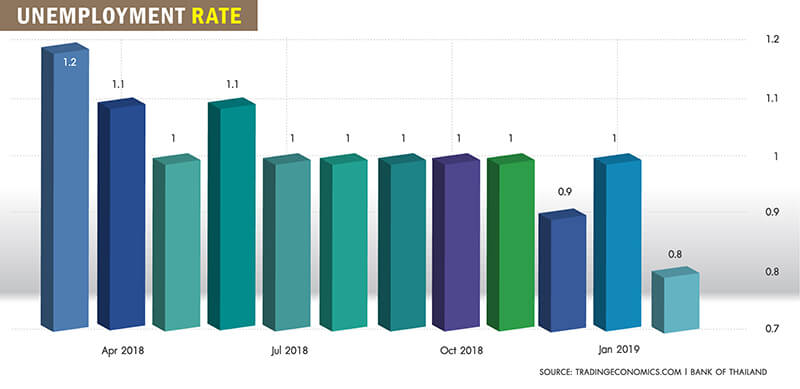 UNEMPLOYMENT RATE
Rising unemployment has never been good for the property market. New property purchases, especially in developments targeting Thai buyers, need a vibrant local economy with good employment prospects. Without income, people are unable to keep up mortgage payments, or even pay for the upkeep on their property. If rising unemployment forces property sales, then there is downward pressure on prices.
Unemployment in Thailand is low (0.8% as of February 2019). January 2001 saw a high of 5.73%, but unemployment has averaged around 1.42% from 2001 to the present.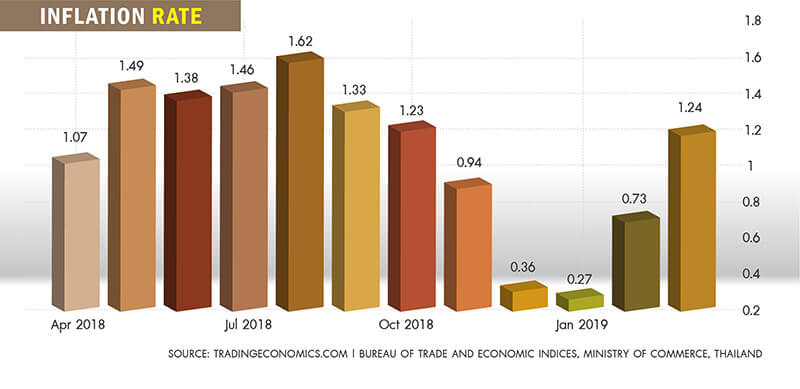 INFLATION RATE
The inflation rate gives us an idea of the pace of any increase in the cost of living.
It is important to keep inflation in check because when inflation is high people tend to spend less. They may also delay or completely put off major purchasing decisions, which slows the economy. Because consumer spending is important for overall economic health, governments want to make sure inflation is contained sufficiently enough to keep people spending.
Global real estate suffers during periods of high inflation because people have less money to spend, and may delay their home purchase. Even though the price of real assets (e.g. precious metals) is going up, any owner trying to sell during a period of high inflation will likely be forced to lower their asking price due to a lack of buyers. High-end properties may partially avoid this scenario.
Inflation in Thailand is currently well under control at 1.24% (March 2019).


MANUFACTURING PRODUCTION INDEX (MPI)
For emerging markets such as Thailand, with its huge manufacturing base, the MPI is an important gauge. This metric usually moves hand-in-hand with others indices, but even on its own the MPI offers clear indications of whether an economy is moving forward. Certainly in Thailand, it is a useful tool for tracking local economic activity.
Growth in the MPI in Thailand today is slightly lower year-on-year, but industrial production remains historically strong.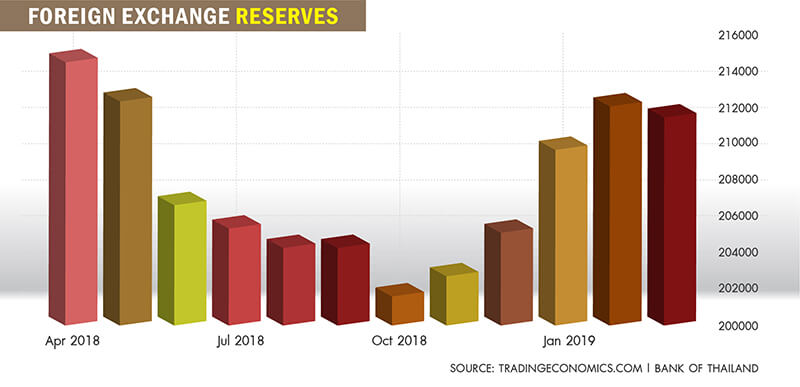 FOREIGN EXCHANGE RESERVES
Foreign exchange reserves are the foreign currency held by a central bank, which take the form of paper assets or government securities from other countries, denominated in another currency. Foreign reserves are important insofar as they provide governments with resilience during periods of turmoil, whether internal or in other countries/regions around the world.
Central banks usually diversify their holdings, but the tendency is to hold more US Dollars than other currencies. As China's economy grows, central banks are increasing their exposure to the Chinese Yuan, instead of the traditional currencies such as the Euro, British Pound, Japanese Yen and the Swiss Franc.
It is generally accepted that the more foreign reserves a country holds, the better it is able to withstand any economic shocks that may transpire. Thailand has seen a steady growth in its foreign currency reserves over the last 20 years, and these currently stand at US$ 212.2 billion.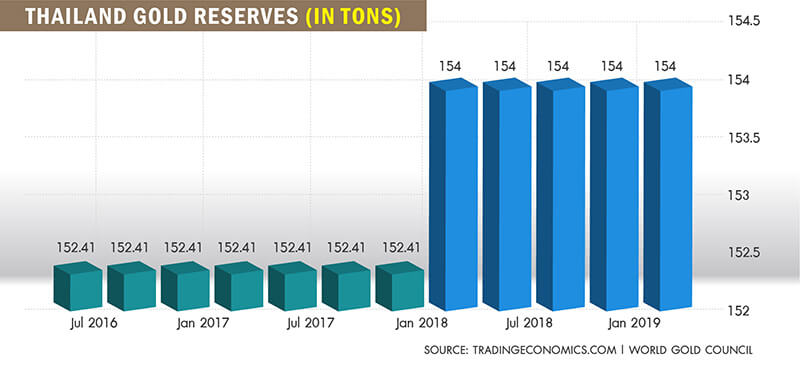 THAILAND GOLD RESERVES (IN TONS)
Most central banks stock up on gold in the same way they accumulate foreign reserves.
Generally speaking, a central bank increasing gold reserves points to a stronger economy. Gold has for millennia been regarded as imperishable, and a true store of wealth, so the greater the reserves of a nation, the stronger its tangible wealth and the more likely it is to be resilient in the face of any economic shocks.
When the 1997 Asia Crisis struck, Thailand had $914 million in gold reserves, which had been reduced to $713 million by the following year. Since then, Thailand has been gradually increasing its gold reserves.
The dollar value of the country's gold holdings peaked in 2012 at US$ 8.8 billion, and currently stands at approximately US$ 6.4 billion. Thailand has continued to add to its reserves, so the drop in the dollar value is more a result of a lower gold price, than gold sales on the part of the Thai government. Thailand is obviously in a vastly stronger position today than in the run up to the Asia Crisis.
THE THAI BAHT
TRANSFERRING FOREIGN CURRENCY INTO THAILAND TO BUY PROPERTY
Any foreigner planning to purchase a property in Thailand must follow the correct procedures for the remittance of money into the country. If the proper steps are not taken it may prove impossible to repatriate the money when it comes time to sell the property and/or leave Thailand.
If more than US$ 50,000 is being remitted for the purchase of a condominium, a Foreign Exchange Transaction Form (FETF) must be requested from the receiving bank.
If funds are being remitted for the purchase of a villa, for along-term lease on a property, or to provide share capital for a Thai company, the FETF is not a statutory requirement. As long as all evidence of the original transaction can be presented and is clear, and there is proof that all requisite taxes have paid, the funds can be sent out of Thailand at a later date.
This process does take longer than it would with an FETF, so even if you are buying a villa, it may be worth requesting one from your receiving bank/developer even though it is not required.
The Condominium Act states that any nonresident of Thailand who wishes to buy a condominium, must transfer the requisite funds from overseas specifically for that purpose. Regardless of the buyer's country of origin, the funds must be sent in a foreign currency, to be converted into Thai Baht (THB) by the receiving bank upon arrival in Thailand.
In order to register the condominium with the Land Department, the FETF documentation must be presented to prove that the full purchase price was transferred into the Kingdom from abroad. (The instruction on the bank transaction form should also state that the payment is for the sole purpose of purchasing a condominium.) From an estate planning perspective, it is a good idea to always have multiple names (including children or grandchildren) added to the original telegraphic transfer, so they may be included on the FETF.
If the only way to arrange payment is by transferring funds to the developer directly, then the developer must arrange the FETF forms on behalf of the foreign buyer.
Taking the money out of Thailand at a later date is relatively straight forward, provided all the supporting documents can be presented. This is especially important if the funds have been borrowed from an overseas financial institution and/or there is an overseas mortgage on the property.
Please also note that no repatriation of money will be possible until any income/capital gains taxes have been settled on the sale of the property. The FETF must also be presented to the tax authorities as proof of the legitimate ownership.
Whether ultimately remitting the funds back to a private account, or to repay a bank loan, the Foreign Exchange Transaction Form is an absolute requirement. By ensuring multiple names are on the FETF, not only is inheritance made easier, but funds can also be returned to the account of an heir. This document should be kept in a safe place at all times.
Again, it is wise to consult a good Thai lawyer throughout this process.


Investing in Thai Baht
The relative strength of any national economy will typically have a bearing on the strength of its currency. Many of the economic factors discussed above could affect the Thai currency, but other considerations can also impact the exchange rate.
It is important to understand the relevance of "the currency question," and how having a property investment valued in Baht could affect your returns in the years ahead. Currency fluctuations do matter, not just for the calculation of profit or loss, but also because changing exchange rates affect the market as a whole.
Investors should be aware that markets – whether stock, bond or currency – go through short and long-term cycles. Even a small shift in a currency can change buying trends, while major shifts can more significantly affect the Phuket property market.
Currency valuations are a two-way street. The THB may see little change against a basket of currencies, but should someone's home currency suffer a significant devaluation (i.e. against all global currencies), that would-be buyer may find themselves temporarily priced out of the market.
On 16 September 1992, the UK government was forced to withdraw from the European Exchange Rate Mechanism. Dubbed "Black Wednesday," the cost to UK taxpayers that day was over GBP 3.3 billion. The resulting devaluation of Sterling was a good example of how a single currency can lose ground on others, even one historically perceived to be strong.
Two more recent examples are the declines of the Euro in the mid-2000s, and of the Russian Rouble, starting in the autumn of 2014. Both devaluations changed the spending power dynamic, leading to a drop off in sales (and rentals) in Phuket, first from Western Europeans, and later from Russians.
The strength or weakness of individual foreign currencies is not the sole driver of the Thai Baht exchange rate. The Baht has at times in its history moved unilaterally against all other currencies. In 1997, for example, George Soros (who was behind the devaluation of the Pound in 1992) was involved again, as he sold short many Asian currencies. The Baht lost significant ground against most major currencies.
Exchange rate adjusted in major western currencies, Phuket property prices nearly halved after the Asia Crisis. The real estate market for foreigners in Phuket was in its infancy at the time, and while this may have impacted existing owners, it also provided an opportunity for future foreign buyers.
Currency Devaluation: A Double Edged Sword
A weakening or strengthening Baht can be a double edged sword, depending on an individual's perspective. If a buyer sees the THB strengthen against their home currency, and they already own a Phuket property, they will see the value of that investment rise in exchange-adjusted terms – even if the price of the home remains unchanged in THB.
So while a trip to visit their Phuket holiday home may become more expensive, they will have profited on paper from the devaluation of their home currency vs. the Baht. However, any of their fellow countrymen(or women) who haven't bought yet will now find it harder to make the purchase because they will have lost spending power in THB.
Conversely, if the THB devalues against someone's home currency, any overseas investment (including property) will lose value on paper in exchange-adjusted terms. For anyone who has yet to consider the purchase of Thai property, a weaker Baht will make buying a property in Phuket easier because they will get more "bang for their buck".
The success of any overseas property investment typically has as much to do with a fluctuation in the exchange rate between purchase and sale as with any change in the underlying property's actual THB value.
Why Currency Fluctuation Matters for Investors
Anyone who pays the slightest bit of attention to FX markets knows how frequently currencies fluctuate. In our experience, many foreign buyers give little thought to the currency exposure they assume when buying overseas, but everyone seems to be conscious of exchange rate fluctuations when it comes time to sell.
Owing to the US dollar's role as the world's reserve currency, the strength or weakness of the Baht in dollar terms is the frame of reference used by most analysts. But the USD-THB exchange rate is only relevant if the buyer has their savings in US dollars (e.g. US nationals or workers on US$ contracts). Someone from Geneva transferring Swiss Francs for the purchase of a Phuket property is unlikely to be similarly affected.
If a purchase requires installments during the construction process, payments usually become due as and when project milestones are achieved. If the currency of the buyer is undergoing a sharp fluctuation against the Baht, the otherwise equal THB payments may turn out to be dramatically unequal in the buyer's home currency.
Please note this isn't necessarily a negative – currency swings can also be a good thing. But whether ultimately beneficial or detrimental, the uncertainty can nevertheless be an unwelcome distraction from a carefully planned financial transaction.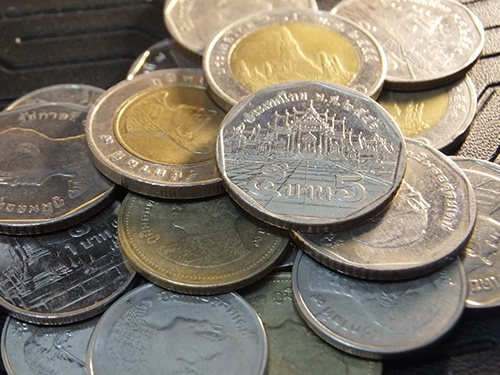 Strategies for Investors Transferring Foreign Currency to Thailand
For larger purchases, such as property, there are ways for investors to mitigate exchange rate risk when transferring money into Thailand.
One of the simplest is to make multiple smaller payments over a period of time, rather than sending the whole amount at once. This "cost averaging" allows the transfer or to buy into any short-term currency fluctuation, rather than risking a poor daily rate on a one-time transfer of funds.
There is a small risk that this strategy works against, rather than for, the buyer, but the difference either way is likely to be small. If the currency does begin to move more sharply to the detriment of the buyer, however, he or she may choose at that time to transfer the balance of the money.
For anyone purchasing a new build, the payments may already be arranged in installments over the construction period(as alluded to above). Such transfers will automatically be taking advantage of "cost averaging".
Buyers should refrain from paying in full unless there are strong financial incentives when it comes time to make the decision. For example, a developer may offer an attractive discount to encourage the buyer to pay 100% upfront. Alternatively, the Baht may be at near-record lows (meaning the Yuan, Rouble, Euro, Dollar, or Pound would buy more THB).
In some cases, very satisfactory exchange rates can be found using forward contracts and options. For extremely large purchases it is advisable to enquire with an authorised currency specialist in either the buyer's home country, or in Thailand.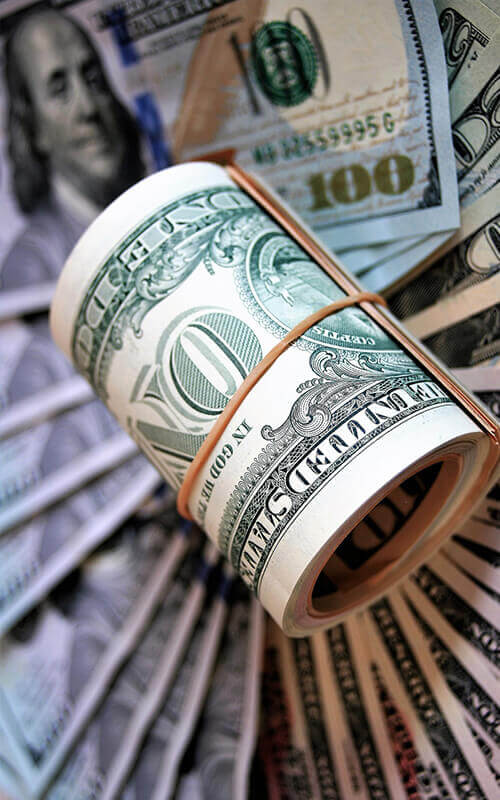 What Economic Factors Affect the Strength of a Currency?
Very few currency analysts (if any) can correctly forecast exchange rates all the time. There are simply too many variables, foreseeable and unforeseeable, which can determine the direction a currency will move.
In the short-term, central bank policy, and even rhetoric from policy makers or talking heads (e.g. sanctions or threats of sanctions), can push a currency higher or lower on a short-term whim. Longer-term, however, quantifiable fundamentals will determine one currency's value against all others.
When we talk about fundamentals, we are referring to certain key drivers of national economies, which also have a direct influence on the movement of exchange rates.
Economic Factors That Affect the Strength of a Currency
Thailand's Big Mac Barometer as a Way to Forecast the Baht
(January 2019)
RAW INDEX
Against the USD, the Thai Baht is undervalued by 33.4%
Implied Exchange Rate of US$ 1 = THB 21.33
ADJUSTED FOR PER CAPITA GDP
The GDP-adjusted Index, on the other hand, sees the Thai Baht actually overvalued by 20.8% against the USD.
In fact, using the GDP-adjusted Big Mac Index as a barometer, the Thai Baht is overvalued against most major currencies, including Sterling, Euro, Yuan and the Japanese Yen.
Source: The Economist, 10 January, 2019
The Big Mac Index
Pioneered by The Economist in 1986, The Big Mac Index is a tongue-in-cheek way to demonstrate purchasing power parity between two countries, and by extension, the relative overvaluation or undervaluation of one currency versus another. The Big Mac was chosen because, with very few exceptions, the ingredients are the same the world over, meaning the price of a Big Mac should (in theory) be accurately reflected in the exchange rate between any two currencies.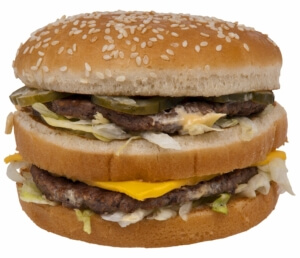 Some economists view the index as too subjective, and in countries where price controls exist on certain ingredients, or where cultural differences mean the burger is vastly different, this criticism is valid. Nevertheless, it has proven to be a remarkably accurate and reliable barometer.
In a world with perfect purchasing power parity, the price of a Big Mac (in Thailand for example) would be the price of Big Mac in the US multiplied by the USD-THB exchange rate. Any variation in the "optimum" price would indicate that the Baht is either overvalued or undervalued vis-à-vis the dollar.
The Economist also has an adjusted index, which addresses the differences in production costs of the Big Mac in different countries. This is an attempt to overcome any flaws in the original methodology by taking into consideration the costs of labour and raw materials. This secondary calculation, based on per capital GDP, may be the more accurate gauge, as it also addresses the overall wealth of the nation, as well as its residents' incomes relative to other countries.
The Baht In A Nutshell (or perhaps, a Burger Bun)
The Thai Baht is roughly 20% weaker against the US dollar today than it was in the 1990s (when it was pegged at around 26:1). It would require an appreciation of 10% in each of the next two years to return to that level.
Some consider the THB to be overvalued but it has actually weakened against global currencies during the last 5 years. 2013 saw the Baht approach the strength of its pre-1997 peg. Since then, it's approximately 15% weaker against all major currencies. Based on that, and on current fundamentals, the Thai Baht is not really overvalued.
The Thai central bank has significant foreign currency reserves, adequate gold reserves, and strong economic growth, which should keep the currency risk for property investors in check.
Excessive household debt, the potential for interest rate movements, and a host of other variables can determine a currency's strength (or weakness). When these natural adjustments occur, exchange rates will almost always be affected. Investors need to be aware of this when considering an investment in Thai property.
It is our view that those investors in the Thailand property sector who have a long-term view will be rewarded. Any bumps in the road will likely include the occasional pothole for the Thai Baht, but this should be expected and accepted when investing in any foreign currency.