The Phang Nga Bay region of Southern Thailand is nothing short of amazing. But while the remarkable karst formations have been there for millennia, what really put this topographical and archeaological marvel on the map was the arrival of 007 less than half a century ago.
In 1974's The Man with the Golden Gun, James Bond tracks the freelance assassin Francisco Scaramanga to his secret hideout on Kho Phing Kan, where the final showdown between the two took place.
It was seven years after Roger Moore and Christopher Lee introduced the wider world to this remarkable natural wonder, in 1981, that the Phang Nga National Park was created.  The royal decree, perhaps signed in response to the tourism inspired by the film, protected not only some of these amazing islands, but also Thailand's largest remaining mangrove forest.
While Scaramanga's hideout was on Kho Phing Kan, the 20 meter tall karst formation which disguised his solar laser was Koh Tapu. This is the island now known to locals as "James Bond Island", and it is Koh Tapu that you'll find on post cards everywhere in Phang Ngna province.
(1974 was not actually James Bond's last visit to the area.  In 1997 it was Pierce Brosnan in Tomorrow Never Dies, and Phang Nga Bay was doubling as "Ha Long Bay".  You don't get to see Koh Phing Kan or Koh Tapu, but you there some lovely shots of the bay and the karst.)
In Thai, Koh Tapu translates as "Nail Island," and it is easy to see why.  It does resemble a fat-headed nail, ready to be driven into the muddy bottom of the bay.
Over the years, the increasing number of tourists have forced the authorities to forbid getting too close to Koh Tapu.  We agree with their decision wholeheartedly. There is not much to do up close, unless you want to touch the island, and the photos look better from a distance anyway.
You are allowed to disembark on Koh Phing Kan, however, the larger of the two islets.  You can stretch your legs, admire the rock formations, and try to picture the Christopher Lee and Roger Moore standing back-to-back on the beach as they prepared for their duel.
Koh Ping Kan has a very interesting meaning in Thai. It Translates into English as "leaning on each other island" or "leaning on itself island" because the two huge limestone slabs look like they are playing cards leaning against each other.  In this way, they form a kind of ceiling over one part of the island. Geologically, they were once part of the same thicker slab, but after splitting down the middle, the bottom ends gradually slid away from each other over time.
Of course it would not be an attraction if you couldn't also buy a few trinkets and locally-made products from the inhabitants of the area. A lot of the memorabilia for sale is made from shells and coral, and some of it is really quite beautiful. There are also some other souvenir type stalls (for your post cards and fridge magnets, etc.) and even a snack shop.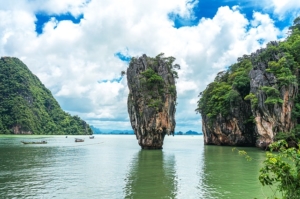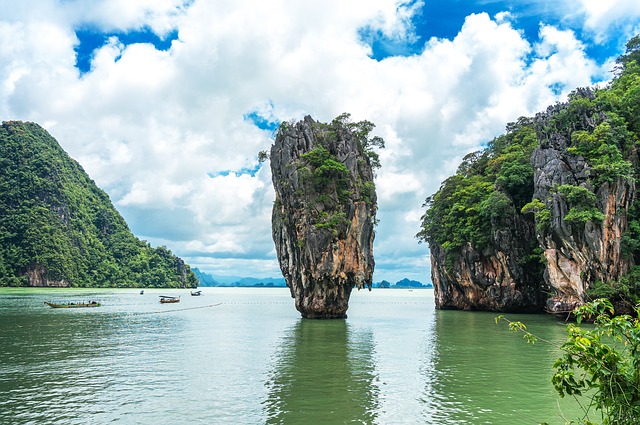 Is it Worth a Trip?
Do we think James Bond Island is worth a visit?  Absolutely!
Firstly, the island is a beautiful and unique rock formation, which alone warrants a trip.  But the fact that it was also used in an iconic movie (albeit it one greeted by mixed reviews), just adds to the experience.
On top of that, the trip is usually part of a longer tour, featuring the whole day out in Phang Nga. Hopefully that will at least include exploring some caves and hidden lagoons in the amazing karst systems or visiting the gypsy floating village.
If you do opt for a day trip from Phuket, it will be a full day out. You'll leave early and get back in the late afternoon.
If the sound of some of the Phang Nga attractions don't appeal to you, but some do, then you can always drive to one of the three jetties in Phang Nga Province and hire a longtail boat. That will only take half a day, and if you leave early you can still get to James Bond Island and back again, and still have the rest of the day to yourself.
Summary
These two small islands are obviously one of the most visited spots in Phan Nga Bay. That means that it can get busy in the high season, but not so much that it spoils your day out.
If you love beautiful scenery, and you love an adventure, then this trip is a must – especially if you're a James Bond fan.
See our other articles on what to do in amazing Phuket:
Phang Nga Bay – The Best Day Out Ever!
Phang Nga Bay's Floating Muslim Village
Exploring the Phang Nga Caves in a Sea Canoe
The Sea Turtles of Mai Khao Beach
Where to Stay in Phuket For Your Perfect Vacation