When we think of all the amazing things to do in and around Phuket, our firm favourite would be this mind blowing, truly unforgettable experience.
Whether you are suffering from jet lag, recovering from a heavy night out, or just need something to liven you up a bit, then exploring the caves in Phang Nga Bay will clear your mind and raise your spirits.
There is something truly ethereal about sitting in a sea kayak, in the middle of shallow lagoon, in the centre of a limestone karst, surrounded by a 400 km2 bay.
The islands in Phang Nga Bay have been hollowed out from millions of years of erosion by the elements, and many are thought to have these internal lagoons.  The largest and best known is Koh Panak. It is probably the most popular because it can accommodate so many tourist at one time.
Geologically, these islands (or karsts) form like this because they erode so much over time. Limestone is relatively soft, so it dissolves easily, and the rock simply disappears from the inside out, in sink holes and drainage systems. The interior, including any roof structures eventually collapses leaving only the outside walls and the inner chambers.
It's amazing to think that if sea levels had not risen, Phang Nga would probably offer access to a massive underground cave system, similar to those karst formations found elsewhere on dry land. But here the underground sink holes and caves are full of sea water.
Imagine the island is a giant donut, and the lagoon in the middle of the island is the hole. Then picture a few channels carved into the bottom of your donut from the outside to the centre.
The only way to get to the middle would be through one of these channels. That is the case with the karst rocks – the only way through the perimeter wall is via one of the caves that joins the outside to the inside.
But the caves are too narrow and their ceilings are low, so we have to use a sea canoe or kayak. It's simply impossible to get in any other way.
Unfortunately (or fortunately depending on your perspective) you can't attempt this on your own. You must take a guided tour to explore the interior lagoons.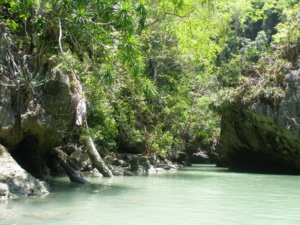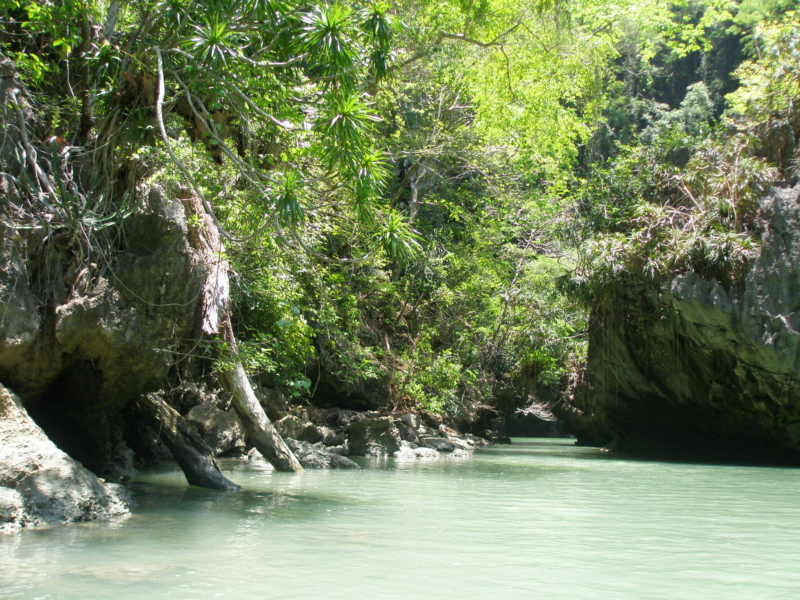 Taking a Tour to Phang Nga Bay
The tours that do this are very well organized, as you would expect.  Every one of the guides has led this trip a hundred times before, so they know how to look after you.
They'll also be sure to remind you to "take only photos and leave only footprints". Even though your feet will be in a kayak, you get the idea – conserving the area is obviously very important for everyone.
After picking you up from your hotel, and delivering you to the port, your tour boat will head north into Phang Nga Bay. As soon as you enter the bay, you will be mesmerised by the beauty of the area.  It is almost surreal, and the further in you go, the better the day gets.
The schedule may vary slightly depending on the tour operator you use, but usually the cave exploring is toward the beginning of your tour, rather than on your way back.
Your guides will anchor the boat and then you all disembark into the kayaks.  When everyone is ready, the guide will lead you through the caves into the central lagoon. They know where and how to get in and what time of the day is best.
The timing usually must be fairly precise because to get inside these inner chambers requires entering through caves which may only be accessible at low tide.
There is a labyrinth of entrance tunnels through the cave systems into the central lagoon, and each guide will have his or her favourite.  Each canoe has its own guide who will take you through the caves into the pitch black, with only a flashlight to guide the way.
For us, this is the highlight of the trip. If the tide is just a little bit high, you have to lay down flat and it feels like the cave ceiling is almost tickling your nose. Eventually you find yourself in daylight again, and when you do, you're in the middle of an island.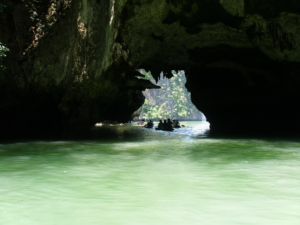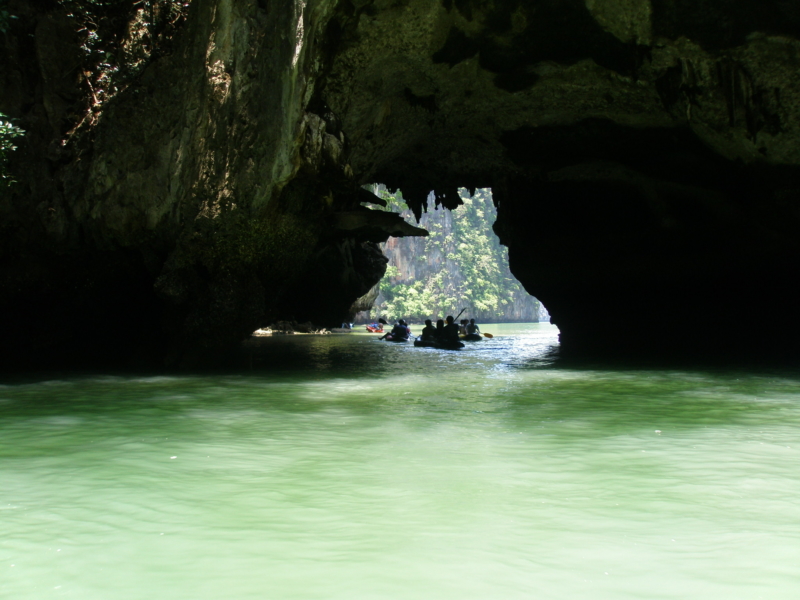 A Step Back in Time
Once you are in one of these "hongs", inside the centre of the island, it's like going back in time. For us, this is really what makes the trip so special. It's eerily silent and the blue sky above is visible as though through a giant funnel overhead.
The water is very shallow and warm, nutrient rich with small mangrove lagoons. You'll see spiders, butterflies, even monkeys in the higher reaches.   There is an almost prehistoric ecosystem, with its unique flora.  It truly is an archaeological wonder.
But what strikes you the most is the silence.  It is one of the most serene places in which you'll ever find yourself on planet earth. You feel completely isolated from the outside world (unless you are unfortunate enough to have noisy and rowdy tourists in your group).
You'll also see a few mudskippers crawling around, one of Phang Nga Bays' protected amphibians. These little creatures are amazing and are evidence of evolutionary leap that life on earth took hundreds of millions of years ago (375 million, according to some scientists).
It's remarkable to think that these were likely the first creatures to walk on land, and that they haven't changed much since that magical leap. These ancient creatures are amazing to watch. They can breathe through their skin, although they have lungs and gills too.
Every time we've been, we've always seen monkeys swinging from the branches of the trees high upon the cliff edges of the island.  While we have never witnessed it, we've also heard (and seen photos) of monkeys actually coming down to the lagoon to bathe, or trying to scrounge some food from the tourists.
When you are accustomed to being stuck in traffic jams all day, and suffering dark, cold and rainy winters, then 48 hours after jumping on a plane you find yourself in a kayak, in a lagoon, in the middle of a karst island, with mud skippers, butterflies, spider webs and monkeys, it is simply too surreal for words.
After spending enough time to absorb the beauty of the surroundings and clear your mind, it's time to leave the central lagoon, back through the caves and into the bay.
If you chose a good full day tour, you'll probably continue on to James Bond Island, possibly with a stop for lunch along the way. If you're lucky, lunch will be at the floating village at Koh Panyee.
Summary
This can really be the trip of a lifetime, and one you should not pass up if you come to Phuket on holiday.
It is such an incredible experience, that we think you should prioritise it as one of the first things you do. Very rarely is anyone disappointed by this day out.
If dark caves and prehistoric scenery isn't up your alley, then maybe you can lie around your hotel pool for the day.
But if you have any kind of sense of adventure, then just do it!
See our other articles on what to do in amazing Phuket:
Phang Nga Bay – The Best Day Out Ever!
Phang Nga Bay's Floating Muslim Village
Phang Nga Bay – A Day Trip to James Bond Island
The Sea Turtles of Mai Khao Beach
Where to Stay in Phuket For Your Perfect Vacation