We all love Phuket and Thai food, and we all like to try and be healthy, but every now and then we just have to opt for a good old English fry up.
It may not be the same as the typical Rose's Roadside Café on a British Motorway, perfectly situated to satiate the stomachs of English and transcontinental lorry drivers in need of some nutritional recharging.  But we just have to make do with what Phuket has to offer, two continents away.
It's always been hard to find a really decent English (or Scottish and Welsh, even Irish) fry up in Phuket. Very often, you are really looking forward to one, but it turns to be mediocre or disappointing.
We still weep over the departure of Big Tony and the closing of The Coffee Pot in Kata. Please come back Tony, all is forgiven. We miss you!!!
Not only do we not have The Coffee Pot, but sadly, the Islander in Patong also closed in June 2018. Another dependable breakfast joint for over 20 years.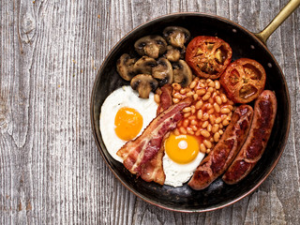 Where to Go For a Good Old Fry Up!
So what do we do for breakfast now? Where do you go for a good English fry up?
Ok, well we will do our best to point you in the right direction.
TripAdvisor, though valuable, obviously has its flaws. Anyone can post a review if requested by the owner. This is obviously to try and improve ratings to get more customers, irrespective of the quality of the food.
So it can be a little annoying because of the many false posts and reviews that people are encouraged to submit, lead you on a wild goose chase.
If a few people post that somewhere has the best English breakfast in Phuket, we just have to check it out. But instead of finding a new English breakfast gem, or at least expect it to be at least adequate or even average, we are mostly bitterly disappointed.
Another gripe that some residents have is that some of the good breakfasts around, aren't possible to eat at breakfast time. They are brunches or all-day breakfasts, which basically means it isn't really a breakfast at all. It's just a bacon and egg fry up that you eat for lunch or in the afternoon.
We can understand some holiday makers getting up at 11:00am and fancying an English fry up, but residents always complain that there are hardly any decent places to eat proper breakfast at breakfast time. When normal people get up and eat it (or is it just "old fogies").
Either way, without further moaning, if you aren't likely to cook at home and really want a decent fry up (at breakfast time), then here's what you can choose from in Phuket starting off in the south and working our way up to the north of the island:
Noi has been running the Breakfast Hut for many years now, as long as we can remember. If all else fails and we want a dependable breakfast joint, then a drive to Nai Harn is in order. The homemade hash browns are unique and to die for, especially topped with fried or poached egg.
Noi is always super friendly and you'll notice many of the diners will stop and chat and use her first name. She also remembers many of the names of her customers. There is a nice patio area that you can sit in outside which is always cool in the mornings.
The Breakfast Hut can be found on the 4233, the road heading into Nai Harn (most people call this the Sai Yuan Road). It's on the left hand side mid-way down. It opens early, usually by 8:00am.
 Delish Café, Soi Sai Yuan, Nai Harn/Rawai 
Delish have moved from Fisherman's Way Business Centre, so if you have trouble finding them, then they are now on Sai Yuan Road (the 4233) further down towards Nai Harn on the right hand side.
Australian owned and run, this place is fantastic for consistent, well turned out, well presented English style breakfast. They use quality ingredients but it never seems to be any more expensive than other similar cafes.
All in all, this has to be highly recommended. The homemade tomato sauce is sublime. Coffee is extremely good too and they even do freshly squeezed orange juice which is a perfect complement to their breakfast.
You'll probably be back to sample some of the other fare on offer during the day.
Open at a proper breakfast time too, 7:30am but closes on Sundays.
Wilsons, Sai Yuan Road, Nai Harn/Rawai
We have to mention Wilson's in this article, not just because it is a cool hang out place, but the food is just so healthy and the buzz is great. You would never know you are in Thailand or Phuket. You get this feeling in Wilson's that everyone is truly loving life and it just has that amazing "I love Thailand" feel to it.
Jim, the owner, has created Wilsons's based on the football, the best friend of Tom Hanks in the movie Castaway. Tom Hanks was washed upon a desert island and that's the feel that Wilsons has. The décor is all about the beach, surfing, fishing and everything to do with the tropical ocean lifestyle. Good job by Jim.
Wilson's is so popular they had to expand it not long ago and it still gets busy now, even after having the extra room.
The menu is all about a super healthy diet. Lots to choose from, but they do have a breakfast called "English with the Lot", which includes the usual: eggs how you like them, bacon, sausages, toast, tomatoes, beans etc.
Wilson's is also on Sai Yuan Road, not too far from the Breakfast Hut and Delish. It also opens nice and early at 7:30 am.
If you are in the Chalong area and it is passed 9:00am, then why not try the Chalong Yacht Club. Tell them you want the works, and the works is what you'll get. It's Australian owned and all the food is pretty good. It sits right next to the water overlooking Chalong Bay with all the boats and the pier in view. It's a great place to go and eat breakfast.
It can be hard to find if you've never been before. As you drive up Chaofa Road East towards Phuket Town from Chalong roundabout, keep an eye out on the right hand side. It's further up than the turn off for Kan Eang 2, but if you get to Wine Connection on the left you've gone too far.
It opens up at 9:00am so good enough for an early breakfast to start the day off nicely.
There are now four of these opened up, but we'll focus on the Gallery in Chalong as this is the one that we have frequented the most, although we have also visited Nai Harn and Phuket Town.
As you would expect from a successful chain, the food is pretty consistent, and that can also be said for the English breakfast. This includes all the necessaries including some nice whole grain toast. Lots of other healthy options to choose too.
Don't be surprised to see a few more Gallery Café's by Pinky appearing on the island.
They are open early, around 8:00am so perfect time for an early start to the day. Great coffee here too.
An Irish pub rather than an English joint, Angus O'Tools has been around for as long as we can remember. It's fairly dependable for a great fry up, although it opens at 10:00am, which is a little later than we eat breakfast, but probably ideal for anyone on holiday in the Karon area or close by.
Nearly everything you eat at Angus's is great value for money so if you enjoy the breakfast then also check out the Sunday roast.
The staff are super friendly, and they always air the latest sporting events on their many screens. They also have a great selection of beers and ales if you fancy a draught Guinness with your fry-up!!
Coffee Club, Found All Over Phuket
You'll find Coffee Clubs all over the island now, and you can't beat them for consistency. It's an Australian chain that now has over 400 cafés/restaurants across 9 countries. They usually have good chefs, so the English style breakfast is perfectly acceptable.
You'll get decent sausages, bacon and it comes with a large American style hash brown and the other usual accoutrements. And just as importantly to many people, the coffee is always nothing short of excellent.
If you are not up for a fry up of the English or Australian variety, then there are plenty of delicious alternatives, including healthier smoked salmon and avocado dishes.
The easiest branches to find are the ones in Jung Ceylon shopping centre, along the beach front in Patong in Banana Walk and there is also one in Turtle Village, Mai Khao.
All the stores have different opening hours, but they'll be open for breakfast (at breakfast time) if you are an early bird.
Another Australian joint, great value, perfectly cooked eggs, American style hash brown, grilled tomato, mushrooms, baked beans, amazing bacon and the sausages aren't bad either. Our table also had a tasty Portuguese piri-piri which was as good as any English mustard. Staff very nice and very helpful.
You'll find the Bondi at the front of Jung Ceylon. Opening hours seem to be closer to 9:00am, even though they say 9:30 on the door.
We have to admit it isn't quite the same as it used to be, but all in all is still good fry-up. And it's certainly worth a try if you are close by. The Jumbo Breakfast has everything you'd expect from an order that has the word "jumbo" in it.
They even serve black pudding, although not the same as we have in the UK, but the eggs are always perfect. The bacon and sausages are always pretty good. One plea to the owners, please can you bring back the Yorkshire tea you used to serve. It's the best tea around and perfect with a good fry up or if you particularly like strong tea.
The Yorkshire Inn, as is suggested in the name, is an Inn, so is part of a hotel where people are getting up   early and so the restaurant is open at 7:30am. A perfect time for breakfast.
In Dublin's fair city, where girls are so pretty, is where you'd usually find sweet molly Malone. But of you are strolling along the sea front in Patong, and fancy a breakfast, then that's where you want to make a detour to, to get your bacon, eggs a decent fry up.
The Irish Pub, Molly Malone's has been around for nearly 20 years. It's Big Breakfast, isn't bad value at all, giving you all the usual you'd expect to find in an Irish (or English) breakfast.
They also serve draught Kilkenny and Guinness at Molly Malone's so if you are lover of stout, you might want to revisit Molly's in the evening and watch the sun go down across Patong Bay.
Molly Malone's can be found on the beach road, in Patong. It opens at 10:00am.
Kathu seems to be an up and coming area considering there was barely anything there a few years ago, aside from the golf clubs and water ski-ing lake. These days, probably because of its ideal location and ease of getting to both Patong and Central Festival, many expats live in the area and so we have seen an abundance of new restaurants open up.
Kathu now has a pretty decent breakfast establishment in Zebra Café. You can sit outside and watch the world go by and enjoy a pretty good fry up in the process. The choice of food and drinks is pretty good, so it can be a lunch venue too.
Zebra is well worth a visit if you are around in the morning. It opens nice and early too, we even had brekkie one day at 7:30am at Zebra.
Les Diables, The Boat Lagoon- now also in Boat Avenue 
Last and certainly not least, is Les Diables. This restaurant is quite simply a lovely setting overlooking the yachts moored up at the Boat Lagoon. For those that don't know where this is it is in Koh Kaew on Thepkasattri Road on the north south airport highway on the left as you are heading south towards Phuket Town.
It makes for a very pleasant morning and opens at 8:00am. On a beautiful day, with the blue sky and the white boats and a great breakfast in front of you, life feels pretty good.
The owner and chef, Peter Weber, used to work at the Savoy Hotel in London, so you can expect some quality grub. A full English is only 325 Baht which is a pretty good deal for the setting and the quality of the food.
If you don't live in the area but fancy a bit of a drive, then it is well worth the trip. If you are running late, don't worry the breakfast is an All Day affair.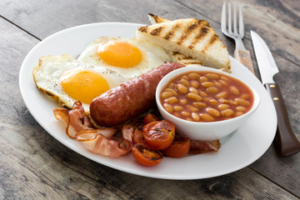 Fancy Cooking at Home?
Here's Our Cooking at Home Alternative – The Healthy Way
Don't for one minute think that the traditional English breakfast is unhealthy. The trick is to cook a breakfast that your Grandma use to cook. The use of bad refined oils for frying today (which create inflammation), the use of pesticides and corn fed cattle dairy products (high in Omega 6 not healthy Omega 3) makes most breakfasts served today a Herman Munster version of what our healthy ancestors used to eat in the mornings.
If you love greasy dirty fry ups, but also want to live an extremely long and healthy life, and if you have a kitchen, then why not cook at home.
Use free range eggs, buy some healthy bacon, eat whole wheat bread and make sure you buy grass fed butter. Try and find some lard to fry with.
As an alternative every now and then why not buy a super juicy grass fed steak (you can get this from Makro) and have steak and free range eggs.
As mentioned above, never use vegetable oil to fry. Always use grass fed butter, lard or Extra Virgin Olive oil. Vegetable oil is highly inflammatory and should be avoided at all costs.
If you want fried bread use the lard. Lard is made from pork fat and although partially a saturated fat is oozing with healthy monounsaturated fat.
Try and drink freshly squeezed orange juice rather than those in cartons. The two choices are polar opposites: one is great for health and the other is detrimental to your health.
A Plea to Potential Budding Entrepreneurs/Restauranteurs
The demand for a good fry up, like our ancestors would have eaten, would be in such demand in Phuket that they would have to take bookings for breakfast.
Any entrepreneurs out there, go on please, it's not expensive to open. A good rule of business is to find a hole and then plug it. People would seriously drive 15km for a satisfying breakfast.
Here's what's needed:
Decent sausages
Decent bacon
Good baked beans
Black pudding
Haggis
Decent button or Portobello mushrooms
Quality tomatoes
Lard fried bread
Perfectly cooked fried or poached free range eggs
A good whole wheat farmers bread to accompany
Use of a decent grass fed butter
English mustard, HP and Tommy Sauce
A decent English strong tea or an Italian or French coffee Segafredo, Illy or Lavazza (Bon Café would be fine)
Maybe some other dishes, like liver and bacon or lamb kidneys or chicken liver on toast. Even better if all organic (which most of this can be these days). How about bubble and squeak with fried eggs.
Come on! Someone out there must want to make a fortune!!!
See some of our other articles on great things to do in Phuket:
Where to Stay in Phuket For Your Perfect Vacation
Phang Nga Bay – The Best Day Out Ever!
Phang Nga Bay's Floating Muslim Village
Phang Nga Bay – A Day Trip to James Bond Island
Exploring the Phang Nga Caves in a Sea Canoe
Reasons to Love Phuket's Rainy Season
The Sea Turtles of Mai Khao Beach