Throughout history Burma and Siam fought many battles. The boundaries between these ancient kingdoms was constantly being redrawn. After one Burmese victory in 1767, one of the thousands of Siamese soldiers taken prison was Nai Khanom Tom.
The Burmese knew  of his prowess as a fighter. So they wanted to see how his skill compared to some of the best Burmese fighters.  His reward for winning would be his freedom. After beating 10 Burmese opponents, without any rest in between, the Burmese king was true to his word, and he was released.
Nai Khonom Tom returned to Siam a hero.  Muay Boran, the style of fighting he employed, later became known as Muay Thai, and today is recognized as a national sport.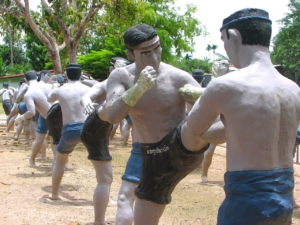 Phuket is a fantastic place to come on holiday. People are drawn by the stunning scenery, the crystal clear waters of the Andaman Sea and the vibrant nightlife.
But many people coming to Phuket these days don't come for the normal pleasures of a tropical island paradise.  Instead they come to fight.
They are here to learn that ancient style of boxing that won Nai Khanom Tom his freedom.
Muay Thai is often referred to as the ancient art of eight limbs. This is because, unlike other forms of boxing, you don't just use your two fists. You also use your fists, shins, elbows and knees too.
Extremely popular with Thai nationals, the growth of MMA (Mixed Martial Arts) over the last 20 years has shined a global spot light on the sport. It has gained international popularity, and people come to Thailand from all over the world to train in Muay Thai.
Phuket has grown into one of the most popular Muay Thai destinations in the country.  There are now a multitude of training camps to choose from all over the island with a mix of foreigners and Thais attending.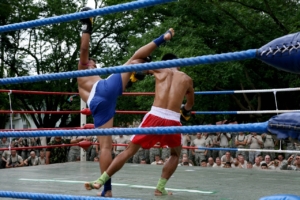 Competitive Fighting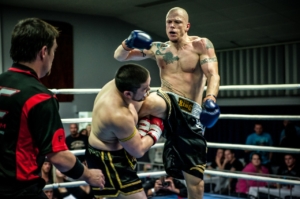 If you are coming to Phuket to train in Muay Thai, you will also have the opportunity to fight in the ring in front of an audience.
As long as you reach a certain standard, it is very common for farang (foreigners) to fight competitively here. Foreign participants do require a certain period of training, and must achieve a minimum qualification standard to be able to do this.  This lets the trainers gauge whether fighters are ready, and it also allows them to match you up with a suitable opponent in the ring.
Every day in Phuket you will see vans driving up and down the road promoting upcoming fights. You actually hear them long before you see them, as their more-than-ample loud speakers announce the fights taking place at the local stadiums.
The picture boards and posters display their combative pose and the flags of the countries they come from. You will see a few Thais but many of the competitors are foreigners.
If you're in Phuket and you want to know the best places to see a fight, you might want to read this:  the best places to watch Muay Thai in Phuket
What type of visa you will need depends on whether you intend to come here for a week or two to improve your fitness, or you intend to hang around longer to fight competitively in the ring.
If your intention is to be in Thailand longer term, you will definitely need to address the visa issue.
Is It Possible To Obtain a Thai Visa For Muay Thai Training?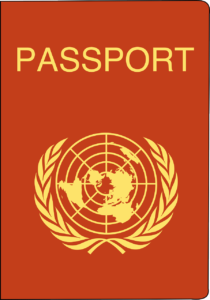 At present, long term visas are harder to obtain that they were a few years ago, but it is certainly not impossible. If you really want to train in Thailand for a long period of time, there are a couple of options.
Using a Tourist Visa – If you do this properly, you'll be able to get a total period of 120 days. Your initial entry visa allows you 30 days, but you may then obtain extensions thereafter. The best thing to do at the end of your initial 30 days is to travel to the Thai Embassy in a neighbouring country and apply for a 60 day extension. When you are at the end of this 60 days, you can then apply for one more 30 day extension.
Obtaining a Student Visa – It is also possible to get a student visa for Muay Thai.  Some Muay Thai training camps may be able to assist you with this. If you can't find one to help, then you can also consider a student visa to study the Thai language as well as training in Muay Thai.
Ideally, you want to find a school licensed by the Ministry of Education and/or accredited by the Bureau of Immigration. Studying the Thai language may actually be fun and will enhance your cultural experience.
A student visa will give you one full year to become a Muay Thai expert, and to become pretty proficient in the Thai language too.
Finding The Muay Thai Training Camp For You
If you plan to come to Thailand to learn the art of Muay Thai then you have a great choice of training camps to choose from. New ones seem to be opening all the time and they can be very different in the way they look and equip themselves.
If you want a "back to basics" approach, there are literally dozens of local Muay Thai training camps more frequented by locals than foreigners.
Or, if you prefer, you can find a more state of the art facility, with high tech equipment and gymnasium, which may very well be attended only by foreigners.
And there are a number in the middle, which regularly entertain a mix of foreigners and locals.
Below we've listed Phuket's most popular training camps by area of the island, starting in the south and moving north. There are a few more than the ones which make the list below, but we've left out ones whose Facebook is only in the Thai language.
There is probably nothing at all wrong with the camps we omitted, but you may encounter a language barrier if you wanted to train there.
We hope one of these will be the training facility that suits you best:
Nai Harn and Rawai
Chalong
Phuket Town
Patong
Kamala
Surin, Bang Tao and Cherng Talay
Thalang
Summary
Of all the places in  Thailand to learn Muay Thai, Phuket is probably the most beautiful. And the number of training camps seems to be forever growing to meet the demand.
If you want a relaxing sun, sand and sea holiday – combined with a few weeks (or more) of getting super fit by practicing Thailands "art of eight limbs", then Phuket is the place to come.
Related health and fitness articles:
The Best Places to Watch Muay Thai in Phuket
Phuket's Best Health and Fitness Gyms
Thailand's Healthy Living and Secrets of Longevity
The Best Places to Do Yoga in Phuket