Why is it that all veterinarians you meet are such lovely people? The answer to that question is probably quite obvious:  anyone who devotes their life to working with animals usually has a kind heart. 
To treat and care for animals requires a gentle disposition, and even the animals can sense this.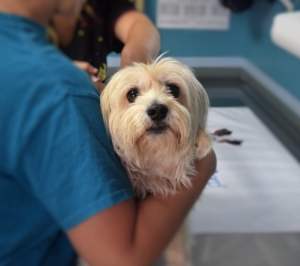 Many people love animals. After all, they are our friends, companions, and even our family.  Many of our friends brought their pets to Phuket with them.  Others are not here long before they decide to add a new member to the family.
Those family members need their own special type of doctor, and thankfully today they're spoiled for choice.
Gone are the days when Doctor Anucha and Doctor Joyce were the only veterinarians in the south of the island.
Doctor Joyce is still in the same clinic opposite the Chaofa Road East entrance to Land and Houses. She is a wonderful lady, and still helps us to rescue the occasional animal.
Dr. Anucha's first clinic was on Chalong roundabout, but a new modern clinic just south of the Chalong Tesco soon followed. Dr. Anucha recently entered a joint venture with Thonglor Pet Hospital in Bangkok, one the most popular veterinary clinics in the capital.
(On a side note, if you are living in central Bangkok, this is definitely the go-to place for your pets. When we lived there, our dogs always had their appointments at Thonglor).
Both Dr. Joyce's Chao Fah Andaman Pet Hospital Phuket and Dr. Anucha's Thonglor Animal Hospital are both great places to take your pets.  But since these two clinics first opened around 20 years ago, a number of new vets have also opened, both in that area and across the island.
It's not surprising. Both Phuket's local and expatriate communities have expanded considerably during the last two decades. And more people means more pets in need of veterinary care.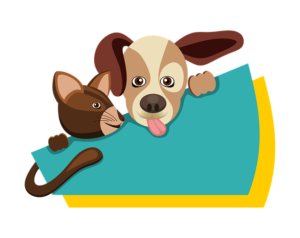 A Word of Thanks to Soi Dogs and PAWS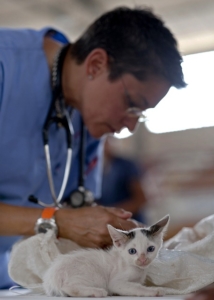 Anyone who remembers Phuket 20 years ago will know that the island was absolutely covered with packs of stray dogs.
Of course the beach dogs are still here, but thanks to the efforts of PAWS and Soi Dogs, it is rare to see mangy dogs roaming the streets of Phuket scavenging for food.
We'd like to extend a personal thank you to Vivian. For years now she has tirelessly patrolled the streets in the south of the island and beyond. Vivian has fed the dogs and cats, made sure they are looked after, and taken them away to be spayed or neutered.
Her efforts have really helped to reduce the population of stray dogs on the island.
Can I Put My Dog to Sleep?
Many people having taken a suffering pet to the veterinarian, only find that they refuse to put the animal to sleep.  In the west, when a pet is noticeably in pain, putting them to sleep seems the only sensible option.
But things are a little different in Thailand. Some veterinarians in Thailand won't end suffering by putting any animal to sleep.  Pet euthanasia is in conflict with Buddhist beliefs especially, and finding a vet to put your pet down can be difficult, especially if you're in a predominantly Thai area.
Whatever your opinion or your moral stance, it's ultimately the choice of the veterinarian. This is Thailand, and we adhere to their culture, so we must respect that.
You will find vets in Phuket who are willing to put your pet to sleep, but we thought it was important for you to understand this is not automatically available everywhere.
Where to Go in Phuket?
Below are the veterinarian clinics that we recommend in Phuket. We've grouped them together as South, Central and North to make it easier for you to find a vet nearby.
There are also a number of veterinarians on the island who serve the local Thai community. We are not including these because if you can't speak Thai, the language barrier may frustrate you.
We've made sure that all the vets below are accustomed to dealing with foreigners, so they may be more understanding to your wishes and beliefs regarding your pet's treatment. The clinics listed below should also have at least one person who speaks English.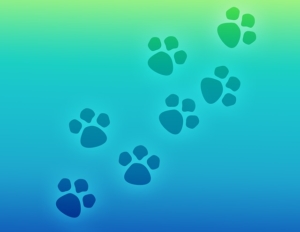 So, here's where you can find your new vet:
Southern Phuket
Chao Fah Andaman Pet Hospital Phuket, Dr. Joyce
Thonglor Animal Hospital (was Ao Chalong Animal Hospital) Chalong Dr. Anucha
Rattanathibet (RTB) Animal Hospital Phuket – 24 Hours
Central Phuket, Phuket Town
Northern Phuket
Phuket International Pet Care Centre, Thalang
If you need help with any pet emergencies, or have found a sick or wounded animal that needs immediate help, here are the two wonderful organizations we mentioned above:
Phuket Animal Welfare Society (PAWS)
And don't forget the RTB Animal Hospital in Chalong is open 24 hours a day.
See our other related Phuket articles:
Pets – Kennels, Dog Hotels and Dog Sitting Services in Phuket
International Schools in Phuket
Nurseries, Kindergartens and Preschools in Phuket
Thailand Moving and Logistics Companies – How to Make Moving To a New Home Easier to or From Phuket
Purchasing an Automobile in Phuket
Understanding the Administrative Districts of Phuket