We often speak to people who are confused about the different administrative districts in Phuket.  We decided that it would be worthwhile explaining this in simple terms, to make it easier for holiday makers and residents to understand. 
If you are looking to purchase a property in Phuket, or rent long term, then it helps to know in which district you will be staying.
Phuket is divided up into three main administrative areas, known as Amphoe (districts). These are: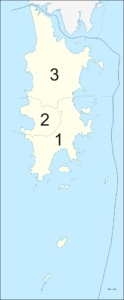 Mueang Phuket
Mueang Phuket is known as the capital district of Phuket Province, mainly because it includes Phuket Town (mueang means "city"). But this district extends much further, encompassing everything as far south as Chalong, Rawai and Nai Harn, and even across to Karon and Kata. This Amphoe is the most densely populated in Phuket.
Kathu
Kathu District sits on the west side of the island, north of Karon, and includes Patong, Kamala, as well most of the Kathu Valley in the centre of the island. This is the smallest of the three main districts.
Thalang
Thalang District is easily the largest area, but it is also the least densely populated. It extends from the northern borders of the other two Amphoe the whole way to the Sarasin Bridge.  The southern border of Thalang pretty much cuts the island in half, with Thalang to the north, and the other two districts to the south.
The Sub Districts, Municipalities and Villages
The 3 main Amphoe are broken down into 17 sub-districts, or Tambon, and 9 Municipalities (Thesban)
Eight of these tambon are in Mueang Phuket:  Talad Yai, Talad Nuea, Ko Kaeo, Ratsada, Wichit, Chalong, Rawai and Karon.
Kathu has 3 tambon:  one named after the Amphoe Kathu, then Patong and Kamala.
And there are 6 tambon are in Thalang: Thep Krasasttri, Si Sunthon, Cherng Talay, Pa Khlok, Mai Khao and Sakhu
Each of these sub-districts and municipalities is divided yet further into a total of 103 villages (muban).
The 9 Municipalities
Phuket's nine municipalities are what we would call "local councils" in some countries.  They have self-governing status over a town or area, and local government offices. You often hear long term residents calling these thesaban's.
Of the nine, three have special status.  Phuket Town has city status, and comprises the Talad Yai and Talad Noi (literally, "big market" and "little market") sub ditricts. Patong and Kathu both enjoy the status of "town".
The other six municipalities are Karon, Thep Krassatri, Cherng Talay, Ratsada, Rawai and Wichit.
Summary
While this may seem like a lot to take in, please accept this for what it is:  a very useful reference.
Any issues you may have to deal with in Phuket could require you to visit the appropriate administrative office. It may be a district office (Amphoe), a sub-district office (Tambon), or a municipality office (Thesban).  It is important to know which is which, and more importantly, which one you live in.
Not only that, it is good to know these when you are asked for your address, or you are looking for someone else's address.
See our other related Phuket articles:
Phuket Geography and Topography
Converting Thai Land Measurements to Metric/Imperial
Phuket's World Class Hospitals
Purchasing an Automobile in Phuket
International Schools in Phuket
Nurseries, Kindergartens and Preschools in Phuket
Thailand Moving and Logistics Companies – How to Make Moving To a New Home Easier to or From Phuket
Pets – Vets and Veterinarian Clinics in Phuket
Pets – Kennels, Dog Hotels and Dog Sitting Services in Phuket