Karon Beach can be found just south of Patong and north of Kata on the west coast.
If you are coming south along the coast road, you climb a hill after Patong, and that road will take you directly into Karon.
From the South, if you are in Kata, then you will simply reach Karon Beach at the northern end of Kata's shops, hotels and restaurants. Once you reach the long straight road that runs parallel with the sea shore, you will notice Karon Beach on your left.
Karon has been a popular holiday destination for many years, although it has always managed to retain a quieter feel.
It may be that this part of Phuket feels less crowded because the beach is so long (3 km), and the hotels are quite spread out along the seafront.  Because it is much quieter than nearby Patong, and is generally more family-orientated, it attracts a lot of couples and families with children.
Why Karon is a Great Place to Invest in Phuket Property
Whereas areas such as Chalong, Nai Harn and Rawai went from being popular residential areas to popular tourist destinations, Karon is doing things in reverse.
There is already a healthy residential population here, but as an increasing number of vacationers have discovered Karon, there has been a corresponding increase in the development of new condominiums and villas.
Karon has always been home to a number of 5-star hotels. Today these include the Sofitel, Movenpick, Mandarava, Hilton and Centara Grand.  Just a little further north is the well-entrenched and equisite Le Meridien, with its private beach and crystal clear waters.
There is also a wide selection of 4-star hotels here, such as the Ramada along the beach front, and Centara Villas, which commands stunning views from the hillside overlooking the Andaman Sea.
Of course, there are also dozens of beautiful boutique hotels, which are attracting thousands of tourists throughout the year.
Its proximity to the bars and restaurants of Kata, as well as the beaches at Kata, Kata Noi and Nai Harn, also makes Karon a wonderful holiday destination. It also means a good return on investment for potential property buyers.
One of the other appealing aspects of Karon area is, of course, the fact that it is just over the hill from Patong.  Patong is the entertainment centre of the island – shopping, bars, restaurants, nightclubs, kickboxing . . . you name it.  Patong can be a lot of fun, but living in that environment can be a little "over the top" for some.
While tourists are instantly drawn to this area, the ample supply of amenities has also been an attraction for residents.  It has plenty of quality restaurants and bars, and even a little nightlife.
Karon is ideal if you like the permanent feeling of "being on holiday". You are surrounded by tourists having a great time, but the difference is they have to go home, while you get to stay in paradise.
Because of Karon's popularity with tourists, rental potential is also reasonably strong, so buyers seeking a sound investment opportunity or a great place to live will not be disappointed.
Villas and Condos For Sale in the Karon Area
Anyone looking to purchase a condominium or villa in Karon will be pleased to know that more developments are planned so the choice is growing.
There is still plenty of land for development, which will likely mean more options for future buyers, as well as more tourist attractions and quality hotels in the future.
Even were it not for all the aforementioned attractions, having such picturesque beach makes this an extremely attractive investment proposition for potential property buyers.
You can view some of the properties in the Karon area here: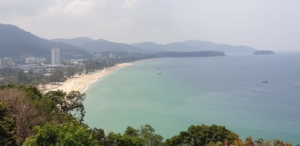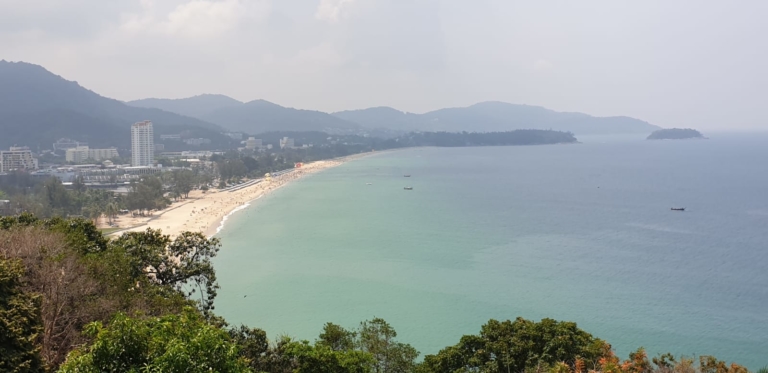 Karon Beach
Karon has always been a top a tourist destination, and that's perhaps because of the remarkably long stretch of sand. At just over 3 km, Karon is the third longest beach on the island.
Wherever you are there are beautiful views, which are even more stunning in the high season when the sky is blue and the sea is as flat and calm as a mirror.
The beach has all the usual activities on offer, such as Jet Skis and parasailing. Once a year, they also hold a Beach Volley Ball Competition.
Restaurants and Dining in Karon
The Karon and Kata areas have a huge selection of places to eat, from finer dining to traditional Thai restaurants, including amazing seafood. There are some great Italian, Scandinavian, Greek, German, and Indian restaurants, as well as many highly rated western grills.
Karon is also home to "EAT", a bar and grill that has consistently ranked near the top of restaurants in the area.
Another great place to dine in Karon is On the Rocks.  Located at the southern end of Karon Beach (next to Kata) the restaurant looks back north along the entire length of the beach.  Perched on top of the rocks, and over the water, it is a very romantic setting, and great place for an early dinner when the sun is setting.
El Goucho (located in the Mövenpick Hotel) is a traditional Brazilian churrascaria.  This one is not really Thai food, and it is certainly not for vegetarians, but if you are a meat lover is it worth it.  Pork, chicken, beef, lamb, seafood – all cooked on a spit, and carried piping hot to your table.  You may select a piece or carving, and they will keep bringing you more until you tell them you are done.
On the southern end of Karon beach there is a row of great seafood restaurants, and the same choices can also be found around the wonderful laid back street at the entrance to the Old Phuket Hotel, just a short distance down from the Movenpick Hotel and the massive indoor market (also worth checking out!).
Around Karon Lake (near the Karon Beach Roundabout) there are more great value seafood restaurants, mainly catering for beach goers during the day but they also stay open for evening meals.
Grocery Shopping and Supermarkets in the Karon Area
Grocery shopping in Karon is fairly limited, although there is a Makro Food Service just 5 minutes' drive away in Kata.
It is less than 10 minutes' drive from Karon into Patong. The Jungceylon shopping centre has a Big C supermarket, where you can easily do a full shop, as long as you're not craving too much food from home.  For that, the Central Food Hall (across the street) will take care of everything you need.
Villa Market has a huge range of international produce, and this can be found in Chalong, just a 10-minutes' drive from Karon.
The local markets also deserve a bit more than an "honourable mention."  If you are looking for fresh fruit and vegetables, or ingredients for cooking at home, the markets always have a great selection.
Schools in Karon
Because it has traditionally been more of a tourist area, there not actually any schools in the Karon area, but it is a short drive through Kata to Chalong where a number of primary and secondary schools may be found.
In Nai Harn/Rawai you will find the ABC International Nursery and Pre-School, Palm House School, Mother and Child Kindergarten & Preschool, Little Einstein Kindergarten, and the Montessori International School Phuket (which actually has classes for children up to the age of 12).
For your older children, Chalong has two excellent internationals schools:  BCIS offers both the Cambridge English Program and the National French Curriculum, and The International School of Phuket (ISP), which also has a French curriculum, the Cambridge Programme, as well as a Russian department.
Karon Nightlife and Entertainment
There are a lot of fun bars in Karon, and you don't have to go very far to find live music. The main Karon High Street is always lively, but if you search the back streets, you'll also find plenty of great places to grab a cold beer.
One of these is the Irish pub, Angus O'Tool's, which serves draft Guinness and cider, and is also a great place to grab a pub lunch or a Sunday Dinner.
Karon does have its own beach club – the Coast Beach Club located within the Centara Grand Beach Resort, at the very northern end of Karon Beach. This is one of the best places to enjoy an evening cocktail.
The Centara Villas on the mountain side (on the road north to Patong) is also a wonderful place to watch the sun go down. Spending your early evening here can be pretty special, as it has perhaps one of the most stunning sunset views on the island.  You are looking back southward across the entire length of Karon Beach toward Kata, and the small island situated there called Koh Poo.
Watching the sun go down and savouring your favourite cocktail here can be perfect end to your day.
But if you want your day to end with nightclubs and dancing, Patong is the place to go.  It is not far at all, literally just over the headland, and if you are staying around northern end of the beach it takes no time at all to get there.
Other Areas of Interest in Karon
You can actually see the Big Buddha from Karon Beach, but if you want to see it up close and personal, it is definitely worth a visit. Not only to see the sheer size of it up close, but also for the views of the southern part of island.
At the southern end of the beach, you'll find Dino Park, which is one of the best crazy golf courses you're ever likely to experience. It's great for the kids, and worth every penny.
If you are looking for souvenirs, some nice food, or you just enjoy browsing, then make a trip to the Karon Temple Market at Wat Karon.  The market is open from 4 PM – 9 PM on Tuesdays and Fridays.
The huge indoor market on the sea front is also great for shoppers, and is almost like a mini Chatuchak with its wide range of goods on offer.
There are also water sports on the beach, community parks, and jungle trekking.  ATV tours, zip lining, as well as monkey and snake shows are also not far away.
If you love scenery then the viewpoints on the Kata-Nai Harn Road offer some of the best "photo ops" on the island. This is also another great place to watch the sun go down, as the road has a number of bars and restaurants perched on the mountain side overlooking Kata Noi.
These viewpoints are only 10 minutes away even from the northern end of Karon Beach.
You may want to read some of our related Phuket property articles here:
The Benefits and Advantages of Buying a Freehold Condominium in Thailand
Owning a Freehold Hotel-Licensed Condominium in Thailand
10 Good Reasons to Buy a Condo in Phuket
5 Essential Tips for Buying a Condominium in Thailand
8 Top Tips for Finding Your Perfect Condo in Phuket
Using a Thai Company Limited to Purchase a Leasehold Condo Unit