Kata is on the west coast of Phuket, just south of Karon and almost due west of Chalong.
Like many other West Coast locations in Phuket, Kata has seen amazing growth over the last 20 years.
It has transformed itself from a low-key resort area, with not much more than the Club Med on the seafront, into a vibrant and buzzing tourist destination.
Today, there are a number of projects to choose from, and still more being planned.  As more and more people discovered Kata, it also led to a great deal of residential development.
Why the Kata Area is a Great Place to Invest in Phuket Property
The lovely beaches of Kata and Karon may not be joined together, but the two share the same municipality office, and both are enjoying an expansion in development.
Like Karon, Kata (and Kata Noi) have historically been major centres of tourism on the island, so they enjoy plenty of amenities. There is a vast array of 5-star hotels, and the last few years have seen many stylish boutique hotels opening, which have made the area even more popular as a tourist destination.
There are local markets, supermarkets, bars, restaurants, and shops of all kinds. For anyone settling here with young families, Kata and Kata Noi are also close to Chalong, which has the best selection of international pre-schools and secondary schools in the south of the island.
Because the area remains hugely popular with tourists, anyone looking at an investment property in Phuket should have no trouble renting out their condo or villa, especially in the high seasons.
But as well as being a sound investment, this beautiful part of the island is also a great place to live.
Villas and Condos For Sale in Kata and Kata Noi Area
New condominium and villa developments are springing up everywhere, and the large variety of amenities make this a very popular residential area.
There is also a great choice of properties for sale, from luxury condos and villas with stunning sea views to condominium projects at extremely competitive prices in the middle of the tourist areas.
You can view some of the properties in Kata and Kata Noi here: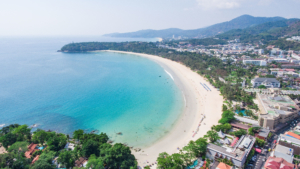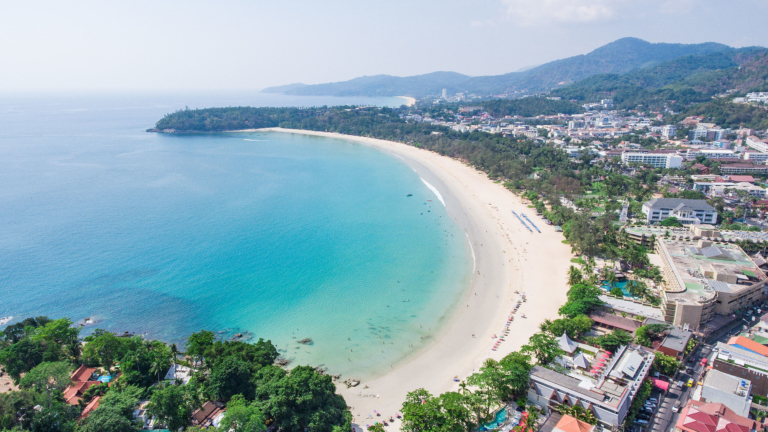 The Beaches at Kata and Kata Noi
Kata Beach is one of the most beautiful in Phuket, with soft powdery sand which is unlike most other beaches on the island. But like many Phuket beaches, Kata is also lined with casuarina trees, providing ample shaded areas.
Kata seems too come alive early in the morning, when local fitness enthusiasts can be seen walking the beach from end to end.
The two capes jutting out at either end of the beach help to create the calm seas in the high season, and the island lying just off the northern end (called Koh Poo, or "Crab Island") further adds to the scenic beauty.
Although the area is popular with tourists, Kata Beach always seems to remain relatively quiet.  The centre of the beach, near the beach entrance of Club Med, is fairly crowded, as are the ends where snorkelling is popular, but you can usually find a large stretch of sand to yourself.
The snorkelling is great here, especially by the rocks on the southern end of the beach. On the northern end you may also see one of the local dive schools taking students out for a beach dive.
Kata Beach is especially nice in the low season, as there are even fewer people, but it still retains its charm. It's also popular with surfers during the low season months, and Kata is home to Phuket's annual surfing competition.
Kata Noi is much smaller (Noi actually means "small" or "little" in Thai), and has a completely different feel to its larger namesake next door. Just south of Kata's main beach it is beautiful little bay surrounded by mountains and tropical greenery. At each end of the beach is a small rocky headland making it another ideal place for snorkelling.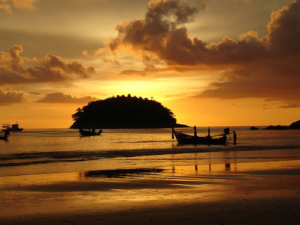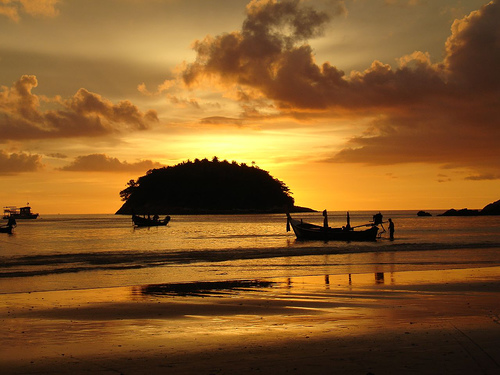 Restaurants and Dining in the Kata Area 
People are not only attracted to Kata for the beaches. In the evenings, residents and tourists alike make their way to the bars and restaurants on the hill overlooking Kata Noi.
The views are stunning, and it is easy to see why holidaymakers who can finish their day like that would return to Kata year after year.
It's so idyllic and almost a perfect place to go for an evening cocktail as you watch the sun disappear over the horizon.
But it is not just the hillside which boasts good food, and nice views.  On the southern end of Kata Beach you'll find a number of restaurants just a step or two from the sand which are obviously very popular with seafood lovers.
On the same stretch you'll also find The Boat House which is a Kata landmark.  Once owned by Mom Tri, it is now in new hands, but the quality is still the same.  Here you'll find a beautiful fine dining environment overlooking Kata Beach, and one of the best wine lists on the island.  Not far away is the Kata Rocks resort, which also offers exceptional fine dining.
If you are not looking for fine dining, there is also a huge selection of other seafood restaurants in the area, but also steakhouses, Italian, Greek, Turkish, and a variety of other international cuisine. There is also a Wine Connection with its very popular Mediterranean menu.
One of the most romantic settings (on the Kata end of Karon Beach) is On the Rocks.   It is a wonderful dining experience in an amazing location – a tropical environment, perched above the rocks, staring straight along the Karon coastline. Here you can enjoy some great food while listening to the gentle crashing of the sea upon the rocks below.
Grocery Shopping in Kata
If you prefer to cook, there are ample supermarkets in and around Kata.   Makro Food Service is on Patak Road in Kata (parallel to the coast road), and just over the hill into Chalong is Villa Market (located within Home Pro Village).  There is also a large Tesco-Lotus a little further up the road from Villa.
If you need to buy some cheese and quality meat products (e.g. bacon and sausages) then Food for Foreigners in Rawai is must.
In the opposite direction, only 10 to 15 minutes' drive, is Central Food Hall in Patong (opposite Jungceylon).  Jungceylon itself also has a Big C supermarket, which is more than ample for all the essentials.
Schools Close to Kata
Residents of Kata have a number of nearby early childhood education options for their young ones.  In Rawai/Nai Harn, there are ABC International Nursery and Pre-School, the Mother and Child Kindergarten and Preschool, and the Palm House School.  In Chalong there are Buds International School, Chalong International Kindergarten & School, and Cravens International Nursery Pre School.
Nearby secondary schools in Chalong include BCIS, which offers degrees according to both the Cambridge (UK) Program and the National French Curriculum, and the International School of Phuket (ISP), also offering the Cambridge Programme and a French curriculum, with an additional specialist Russian department.
Oak Meadow International School (on the Khwang Road between Chaofa Road East and West) offers an American curriculum.
Kata Nightlife and Entertainment
One of the coolest places to drink a beer in the evenings and watch the sunset is the Ska Bar, which sit on the rocks at the southern end of Kata Beach. This has to be one of the most chilled out places in Phuket, if not all of Thailand, or possibly the whole world.
Kata has a number of nice bars, and also features one of Phuket's most chilled beach clubs, the Nui/Water Beach Club.  As you head south to Nai Harn, just after the viewpoint, keep your eyes open for a small dirt road on the right.  This takes you to Nui Beach.
Nui/Water Beach Club is where you go if you want to spend your day relaxing and enjoying the views. You won't find the international DJs and rocking atmosphere that you get at other beach clubs in Phuket, but it more than makes for that with the breathtaking scenery.
That same road to Nai Harn also has bars on the hillside with stunning views of the sea, close to the elephant camps.  These are yet another great venue to enjoy the sunset with your favourite cocktail or cold beverage in hand.
The slightly crazier nightlife on the island is mostly in Patong, which is just a short ride up the coast. But Kata usually has enough going on in the evenings to please most people, including plenty of live music.
Other Areas of Interest in the Kata Area
Much of the activity in Kata centres around the beach and the water.  This includes the usual seaside activities like para-sailing, or banana boats, even water skiing.
After the peak season, when the weather starts to turn and the waves get bigger (usually from May to October), Kata Beach attracts the surfers. If you want to give it a go you can rent a board or even take lessons.
But if you don't trust your skills in the open water, Kata is also home to one of Phuket's two Surf House venues.  Located on Pakbang Road, Surf House's Flowrider allows you progress from a bodyboard (on which you lie down), to a flowboard, on which you can stand and begin to master all manner of tricks.
Kata also has Dino Park, which features one of the best crazy golf courses you'll find in Thailand. It's great entertainment for the kids and well worth a visit.
The Big Buddha looks down over Chalong facing east, but is clearly visible from Kata. Getting there is only a 20-minute drive towards Chalong and then up the mountain road. From here you can look easterly over Chalong and the views are stunning. On clear days the island of Phi Phi can be seen on the horizon.
Of course, there are also all the other usual attractions close by.  Aside from all the water sports on the beach, there is ATV, zip lining, as well as monkey and snake shows.  This area has it all.
You may want to read some of our related Phuket property articles here:
The Benefits and Advantages of Buying a Freehold Condominium in Thailand
Owning a Freehold Hotel-Licensed Condominium in Thailand
10 Good Reasons to Buy a Condo in Phuket
5 Essential Tips for Buying a Condominium in Thailand
8 Top Tips for Finding Your Perfect Condo in Phuket
Using a Thai Company Limited to Purchase a Leasehold Condo Unit