Nai Yang is in the northwestern corner of the island, roughly 5 minutes from Phuket International Airport. It's only about 1.3 km south of the airport, and can easily be reached by taking the first right hand turn you come to.  Less than 1 km down that road you will reach Nai Yang Beach.
Anyone who has ever visited Nai Yang will know that it is an extremely chilled out area, so it is hardly a surprise that many tourists who also love this laid back vibe revisit Nai Yang every year.
Nai Yang's close proximity to the airport raises the question as to why it has not historically been more popular with tourists or residents.
But all of that is changing.
Why Nai Yang is a Great Place to Invest in Phuket Property
Although Nai Yang is away from the busiest tourist areas, it remains extremely popular and many would be residents are choosing this area to live over any of the busier areas in the south of the island.
As new developments and hotels open, ongoing infrastructure improvements and attractions will likely follow too. And with so many new developments under construction, Nai Yang could prove to be a very popular area in the years ahead.
The ease of "commuting" between Phuket and major cities in Asia has attracted people who want to escape the hustle and bustle on weekends.  Many of these weekend commuters are attracted to Nai Yang because – with only the weekend to spend here – the ease of getting to and from the airport is unparalleled.
This new type of "weekend resident" gives Nai Yang property owners a different type of rental potential than the more southern areas of the island.
There will always be demand from tourists wishing to stay in this area, so discerning investors will no doubt be able to capitalise on this and generate good returns on their investment in the years ahead.
Finding a Property in Nai Yang
There are plenty of new condominium developments happening in the area, with a few villas for sale too at extremely attractive prices.
Because of its location to the airport some condo projects with hotel licenses are also being marketed as "airport hotels" which adds another dimension to the rental prospects.
Some tourists may want to stay in the hotel if they have an early flight to catch the following day. As tourist numbers keep growing year on year in the area, we may even see more of these being constructed.
Increased development in both residential property and resort hotels is leading to more people discovering Nai Yang, but despite recent growth, it still has an almost undeveloped feel to it.
And while we expect to see further development, we don't expect it to lose its "chilled out" vibe any time soon.
You can view some of the property or sale in the Nai Yang area here: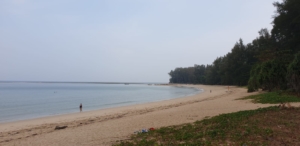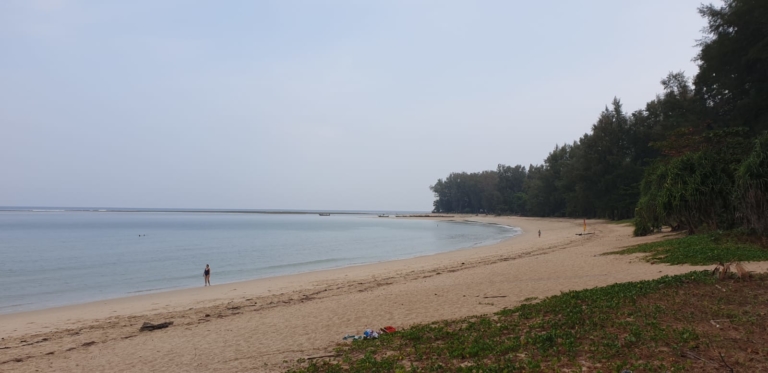 Nai Yang Beach
Nai Yang Beach is lined with casuarina trees which spill out of the surrounding Sirinat National Park.  From here you can lie back in the sand and watch the planes on final approach over the beautiful Andaman Sea, as come in for a landing.
In fact, it is popular with those "in the know" who are seeking exactly that kind of relaxed atmosphere.  The trees lining the coast, shading the grassy areas by the beach, have always been extremely popular with the locals at weekends.
But it is never overcrowded, because it is not yet that well known among tourists. Nai Yang has always had a laid back feeling, and the planes do not detract one bit from your enjoyment of the area.
Nai Yang is also very close to the beautiful beaches of Nai Thon and Mai Khao – two other areas of the island which are growing in popularity.
Restaurants and Dining in Nai Yang
There's not much in the way of fancy restaurants, but still plenty of options for those who enjoy Thai food. In fact, if you love Thai food and seafood, you'll love Nai Yang.
Many of the restaurants here actually sit right on the beach, which is a wonderful way to dine. The casuarina trees which spill out onto Nai Yang cover many of these restaurants, where tables and chairs rest on the sand.
There are also many good western-type restaurants, including grills, pizzas and burgers, and one or two very good Italian restaurants.
There is a 5-star hotel called The Slate (formerly Indigo Pearl), which offers some great dining choices.  It also has an afternoon tea service, as well as a Sunday brunch.
Grocery Shopping in Nai Yang
The nearest supermarkets are Makro and Tesco-Lotus, which are about 5-10minutes away in Thalang.  These have most of your staples, but if you are looking for foods from home, you will need to go to Villa Market at Boat Avenue in the Laguna area (ca. 20 min. drive), or to Central (about 25 minutes away), which has a Tops Supermarket and a Central Food Hall.
Proximity to Schools in Nai Yang
Residents of Nai Yang are fortunate that one of Phuket's best international schools, United World College (UWC), is also in the north of the island.
Formerly known as Phuket International Academy, the school is open to all ages from pre-school to Grade 12, and uses the International Baccalaureate Programme for all age groups.
Nightlife and Entertainment in Nai Yang
We have already mentioned that Nai Yang is truly relaxing and chilled out.  Although not as quiet as Mai Khao, it is still probably too quiet for anyone seeking a bit of fun and a few wild nights out.
As far as evening entertainment goes, there is NY Beach Republic, Nai Yang's own beach club, where you can relax close to the sand and enjoy a cocktail as you admire the sunset.
For a little more excitement, you will need to make your way south to either Bang Tao or Patong.
Other Things of Interest in the Nai Yang Area
There is a world class health and sports resort, Thanyapura, only a short drive away.  It is located next to the UWC, and offers some of the finest health and fitness training in the world.
Less than 2 km away from Thanyapura is the Khao Phra Thaeo National Park.  The park covers 20 km2 and is also a wildlife sanctuary, so for anyone interested in experiencing the "authentic nature" of Phuket, Khao Phra Thaeo is a must.
A short walk up the beach will bring you to the end of the airport runway. Here, tourists and residents enjoy some plane watching, which has actually become a popular attraction in the area in recent years. You can stand on the beach and watch the planes fly directly overhead and take some amazing photographs as they take off and land over the Andaman Sea.
Another nearby attraction is the local foundation on Mai Khao Beach, where turtles still come and lay their eggs. Every year, the eggs are collected and nurtured and later released in an effort to protect the population of these wonderful creatures.  When the hatchlings are released on the beach in a ceremony each year, it truly is an amazing sight.
As the area develops more of the usual tourist attractions have arrived, including spas, massage, diving and elephant trekking. For the more adventurous, Nai Yang is also home to Skydance Helicopter Tours, which can give you a far different perspective of Phuket, or even an aerial view of Phi Phi Island.
You may want to read some of our related Phuket property articles here:
The Benefits and Advantages of Buying a Freehold Condominium in Thailand
Owning a Freehold Hotel-Licensed Condominium in Thailand
10 Good Reasons to Buy a Condo in Phuket
5 Essential Tips for Buying a Condominium in Thailand
8 Top Tips for Finding Your Perfect Condo in Phuket
Using a Thai Company Limited to Purchase a Leasehold Condo Unit