Kalim is on Phuket's West Coast, just north of Patong Beach. In fact, Kalim and Patong are so close that it's actually quite easy to walk from one to the other either over a small hill, or around the rocks that separate the two.
Some people would claim that Kalim is actually part of Patong, but don't try telling that to anyone who lives here.  Called Kalim Bay by the locals, it has its own beach, which is separated by a rocky headland from Patong Beach, and the small community of residents here is proud of that distinction.
Why Kalim is a Great Place to Invest in Phuket Property
Kalim has its obvious attractions. For anyone seeking peace and quiet, but who wants to be as close as possible to the hustle and bustle of a large town, Kalim could be the perfect place.
As mentioned above, there hasn't been a huge amount development in the Kalim area, but this may not necessarily be a bad thing.  While Patong keeps modernising, and adding attractions and amenities, Kalim seems happy to be the laid back neighbour and remains relatively unspoiled.
That means Kalim can take advantage of Patong's rapid modernisation, but retain its relatively peaceful environment. And just because it is a little way out of town, that doesn't necessarily mean that it is in anyway isolated. It's either a long walk (or a short drive/taxi) into the throbbing nightlife that Patong has to offer.
But there are also plenty of bars and restaurants heading south before you reach Patong, and as you head north there is a wonderful array of choices, all of them looking down onto the beautiful Andaman Sea. These stunning sunset views across the Bay can not be matched in the lower-lying Patong.
There are holidays makers who prefer the peace and quiet offered in Kalim, so anyone purchasing a property in this area is likely to find it easy to rent out.  And property here will attract both short and longer term tenants.
So whether you are seeking a home to live in or a great investment opportunity, Kalim is certainly a worthy contender.
Finding a Property in Kalim Bay
It's not a large area, but many people like this part of the bay.
There is still a fair amount of land to be developed in the Kalim area, but the local authorities here are cautious about authorising too much development on the mountain side.
Many years ago, there was run off created by some of the developments.  This led to flooding which caused the road to give way, and some cars wound up floating 100 metres out to sea.
New construction seems to have eased off since then, but for anyone who feels this area is ideal for them to live, there are still a few available options in Kalim.
You can view some properties in Kalim Bay here: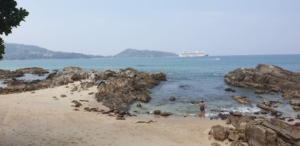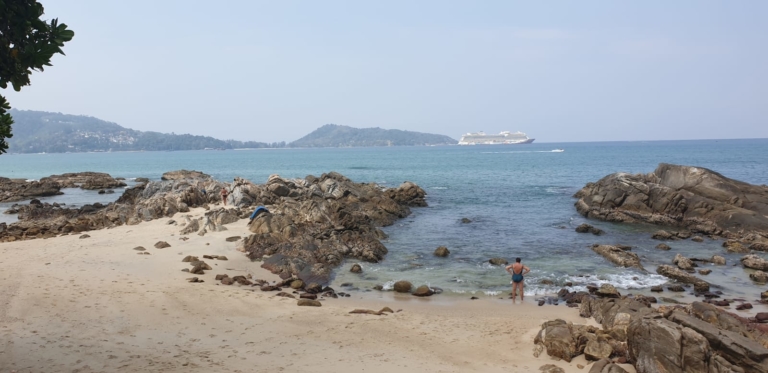 The Beach in Kalim
Kalim has its own beach, although it tends to be quite rocky, and so it's not the best swimming beach.  But it does have a couple of small coves on the end of the bay closer to Patong, sheltered by rock formations, which have crystal clear waters and are great for snorkelling. There are also a lot of rock pools to explore.
Where the beach is rockier as you head north you can often see locals looking for shellfish when the tide goes out.  In the low season, however, when the waves are bigger, you'll frequently see surfers in this area.
For reasons we have never figured out the winds seem to pick up more at this end of the Bay.  It's not so bad in the high season, but after the monsoon winds change, the breeze can often be quite strong.  (This may be a welcome positive to any residents of the area who love to sit on their balconies.)
Restaurants and Dining in Kalim
There are a number of very good restaurants in this area, which becomes obvious as you drive along the coast road (Phrabaramee Road).
Fine dining establishments include Baan Rim Pa, Acqua and White Box. For great Thai food, just before you head out of Kalim and the road starts to climb uphill, you have Duck Spicy on the right hand side.
As mentioned, this is one of the best parts of the island for watching the sun go down. The numerous bars and restaurants – either perched over the rocks, or slightly elevated on the hillside – all provide a bird's eye view of the legendary West Coast sunsets over the Andaman Sea.
Grocery Shopping in Kalim
There is not much in Kalim itself, but you are only 5-10 minutes from the Jungceylon and Central shopping malls in Patong.
Jungceylon has a Big C supermarket, while Central Food Hall lies directly opposite, on the other side of Rat-U-Thit Road.  Between the two of them you will find everything you can possibly want, although Central has the better selection of international brands you might miss from home.
Schools in Kalim
As with Patong, there are no international schools close by, but anyone determined to stay in this area can find schools further north, or over Patong Hill into the Kathu Valley.  Neither is too far of a journey.
Kalim Nightlife and Entertainment
Kalim is much quieter than its "noisy neighbour" Patong, but that is one of the key attractions for anyone choosing to live here.  Kalim offers you peace and solitude at home, and the ability to relax and enjoy your surroundings. If you feel like "stepping out", however, the energy and bright lights of Patong are on your doorstep.
In fact, Kalim is pretty much walking distance to where the noise, music and laughter begins.  Patong is all about fun and having a good time, and it's a massively entertaining tourist destination. It has the night life, the shopping, a huge choice of restaurants, and a truly cosmopolitan feel to it.
If you're looking for something a little more laid back, however, drive a little way north along the coast road towards Kamala until the road road bends sharply to the left (you will notice a few reggae bars on the right side). On the left you'll find Iguana Beach Club.
This beach cub is a wonderful place to spend your days in the high season, with great music and a super relaxed atmosphere. Iguana Beach lies on an amazing, picturesque small cove, and offers big comfy seats to lounge in and enjoy your surroundings. It has a very different feel to most of Phuket's other beach clubs, and is a great place to while away an afternoon or evening.
Other Points of Interest in Kalim
Aside from the attractions of nearby Patong, Kalim does not offer much in the way of attractions.
But there is one thing worth checking out, which actually is in Kalim.  Just up the mountain you can try Rollerball (sometimes called Zorbing). It's great fun and involves getting inside a huge plastic sphere and rolling down the hill, while you float on the water inside.
And of course, just up the coast road heading north to Kamala there is a range of things to do. You'll find elephant rides, zip lining, ATV rides and closer to Kamala there is also a place where you can bathe elephants in a natural jungle environment.
A little further up the coast, in Kamala itself, is Phuket FantaSea.  For over 20 years this cultural experience has been one of Phuket's most popular tourist attractions. FantaSea is a theme park which is best known for its stage show each evening.  The show combines the acrobatics of Cirque du Soleil, with live animals and a little Thai history.
You may want to read some of our related Phuket property articles here:
The Benefits and Advantages of Buying a Freehold Condominium in Thailand
Owning a Freehold Hotel-Licensed Condominium in Thailand
10 Good Reasons to Buy a Condo in Phuket
5 Essential Tips for Buying a Condominium in Thailand
8 Top Tips for Finding Your Perfect Condo in Phuket
Using a Thai Company Limited to Purchase a Leasehold Condo Unit