Surin lies on Phuket's West Coast.  Heading north from Kamala, it is the first major beach you come to (there are others, but they are smaller and not easily accessible).
The area itself is relatively small, but it is very upmarket.  There are a number luxury resorts and villas in Surin, with stunning views either up or down the coast. 
While it has never been a busy tourist destination, its proximity to other popular areas and its beautiful beach make it the first choice for many holiday makers and residents.  
Why Surin is a Great Place to Invest in Phuket Property
Surin is somewhat unique in that you will not notice any major developments or built-up areas, but nestled in the hillsides and narrow roads, you will still find it offers plenty of options.
While neighbouring Beach areas like Bang Tao and Layan have been relatively unknown over the last 25 years, Surin has managed to achieve long-standing notoriety as either a luxury holiday destination, or a good place to purchase a multi-million dollar residence.
The luxury hotels in Surin are world famous, and over the years they have attracted "A-List" stars from around the world, further enhancing its high-end reputation.
This well-earned acclaim for the luxury and exclusivity of many of its developments make the resale market very attractive.  The popularity as a holiday destination means it is very easy to rent out your investment property in Surin.
Villas and Condos For Sale in Surin
There are plenty of new developments springing up all the time, even a few just a short walk to the beach. As there is still a fair amount land well suited to new projects, we can expect development to continue for the years ahead.
Most of the luxury villa developments are found on the mountain sides, many with beautiful views along the stunning Bang Tao coastline, or looking directly out over the crystal clear waters of the Andaman Sea.
There are always new condominium developments in the area, on land adjoining the entrance to Bang Tao Beach – land where, up until now, water buffalo used to graze.
You can view some of the properties in Surin area here: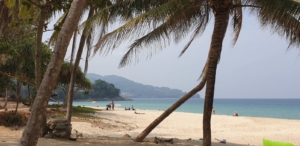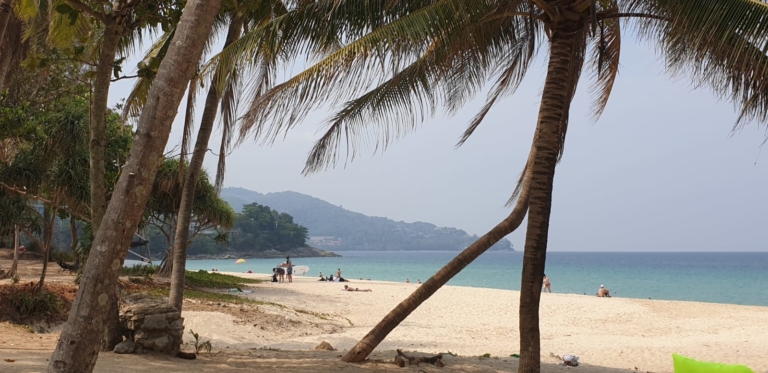 Surin Beach
Surin Beach is idyllic, and features some of the nicest sand of any beach in Phuket.  Despite the popularity of this area as a tourist destination, the beach surprisingly never gets over crowded, even at the height of the high season.
As with most of the beaches on the island, the snorkelling is great at either end where the rocky headlands form the bay.
In addition to the ever-present casuarina trees found the whole way up the west coast, Surin also has coconut palms which not only provide some additional shade on the beach, but also add to the natural beauty of the area.
While it's a fairly typically beach for the high season (e.g. long stretch of sand, good for swimming and snorkelling), during the low season from May to October, don't be surprised to see the odd surfer on Surin Beach.  Be aware that when those waves pick up, so does the less visible undercurrent.  It is typically unsafe to swim here during low season, so if you see the red flags, please heed their warning.
It may be hard to fathom, but Surin was once even nicer than it is today.  There were a number of lovely beach clubs, bars, and restaurants along the beach, but these were bulldozed to the ground.  But even though this little element of extra trendiness has disappeared, this small stretch of coastline is still wonderful.
Schools Near Surin
There are very good international nursery/Kindergarten options within 10 minutes in either direction of Surin – Kindergarten Rainbow in Cherng Talay, and Shining Star in Kamala.  Cherng Talay als has the highly rated Indigo Kids, which is about a 20-minute drive.
There are no international secondary schools in the immediate vicinity of Surin.  The closest would be the British International School Phuket (BISP) in the Kathu Valley, and UWC (United World College) in Thalang.  Both are around half an hour from Surin.
Bars, Restaurants and Night Life in Surin
Surin is located within the subdistrict (tambon) of Cherng Talay, which places it alongside other popular areas such as Bang Tao, Laguna and Cherng Talay Town itself.
What this means is that the concentration of restaurants within a 10 km radius of Surin Beach is one of the best on the island.  There are multiple fine dining establishments, including some of the restaurants at the Laguna hotels.  There are also burgers, pizza, pasta, tacos, tandoori chicken, schnitzel, escargots, hummus . . . you name, and this area has it!
There are no night clubs in Surin, but there are a plenty of places to grab a cold beer or a cocktail.  Surin is also quite close to four of Phuket's most popular beach clubs, the closest of which (Bluesiam Beach Club) is only 1 mile away on the southern tip of Bang Tao Beach.
Shopping in Surin
Surin has a selection of up-market shops, and if you're interested in furniture, jewellery or art, Surin Plaza in worth a look.  (This is also the place for the ladies if they are interested in designer evening wear).
But Surin itself does not have much to offer in the way of day-to-day shopping.   One of the benefits of Surin's location, however, is that all of the amenities in the adjoining areas are less than 10km away.
The Laguna complex has Canal Village, which features local handicrafts, fabrics, jewellery, and some relaxing cafés and restaurants.
Boat Avenue offers some additional shopping, including a Villa Market, one of the better supermarkets on the island.  But Villa must surely be rivalled by the Central Food Hall at the Porto de Phuket, the latest shopping mall from the Central group.
Cherng Talay Market is a wonderful traditional Thai Market, where you can walk around and sample the amazing Thai food, or buy your fresh ingredients for cooking at home.
Attractions Around Surin
Just a few minutes south of Surin along the coast road lies one of Phuket's most popular tourist attractions.   Phuket FantaSea in Kamala is fun for the whole family.   It is a 140-acre theme park, which combines Thai history and culture with entertainment that would do Las Vegas proud.
And only a few minutes in the opposite direction, in Cherng Talay, there is a 56-acre water park called Blue Tree in the works.  In addition to offering a day full of aquatic fun, Blue Tree will also feature restaurants and bars, shops, a fitness club, as well as office rental.
You may want to read some of our related Phuket property articles here:
The Benefits and Advantages of Buying a Freehold Condominium in Thailand
Owning a Freehold Hotel-Licensed Condominium in Thailand
10 Good Reasons to Buy a Condo in Phuket
5 Essential Tips for Buying a Condominium in Thailand
8 Top Tips for Finding Your Perfect Condo in Phuket
Using a Thai Company Limited to Purchase a Leasehold Condo Unit