When The Banyan Tree Resort opened its doors 25 years ago, the Laguna Resorts in Phuket were launched in style.  But while the name "Laguna" today instantly evokes quality and luxury, even more impressive was the vision which got the resort off the ground.
It seems obvious that a plot of land bordering on one of Phuket's longest beaches would be a logical site for a resort, but when the land was acquired it was still a disused tin mine.  Making Laguna what it is today required more than a decade of rejuvenation and renewal, including planting thousands of trees and reintroducing other plant life to the area.
Starting from Bang Tao Beach on the West Coast and spreading inland, what had been 1,000 acres of disused land is now some of the most expensive real estate on the island.  And Laguna is one of Phuket's premier resort destinations.
In addition to the 5-star hotels, spas, shopping and restaurants, Laguna also boasts one of Asia's finest golf courses.
But the accommodation is not reserved for holiday makers, as Laguna is also among Phuket's most desirable addresses, offering spacious luxury villas, townhouses and condominium units – perfect for anyone who enjoys luxury, resort-style living.


Why Laguna is a Great Place to Invest in Phuket Property
If you are attracted to real estate at Laguna Phuket, you are investing in Banyan Tree Holdings Limited, one of Asia's most successful luxury hotel chains.
This Singapore-based company boasts 40 resorts in 28 countries throughout Asia, America, Africa, and the Middle East.  These resorts employ close to 4,600 people, and feature spas, shops and 3 championship golf courses.
When you see the beautifully manicured gardens and well-kept park lands remember that this is all being done by the management company which will be looking after your property.
In addition to having first class resort amenities at your fingertips, you also have the Laguna Phuket Golf Club. After undergoing two years of extensive renovation and redesign, the course reopened in 2015 to near universal acclaim.  This multiple-award winning course is now one of Thailand's elite golf courses.
Needless to say, amenities and management of world-class hotel group, combined with a championship golf course, also make Laguna properties very easy to rent out, especially in the high season.
Villas and Condos For Sale in Bang Tao
When we talk about the Laguna area for residential properties, we are mainly referring to the resort-style setting within the perimeter of Laguna holdings. This immaculately-landscaped collection of luxury properties is one of the most desirable locations in all of Phuket.
There are spacious sea view apartments, spectacular villas with easy beach access, as well as condos and townhouses further inland which are positioned either on a lakeside or in a lush, green tropical environment.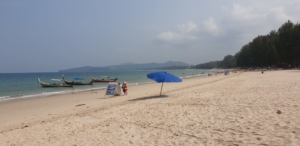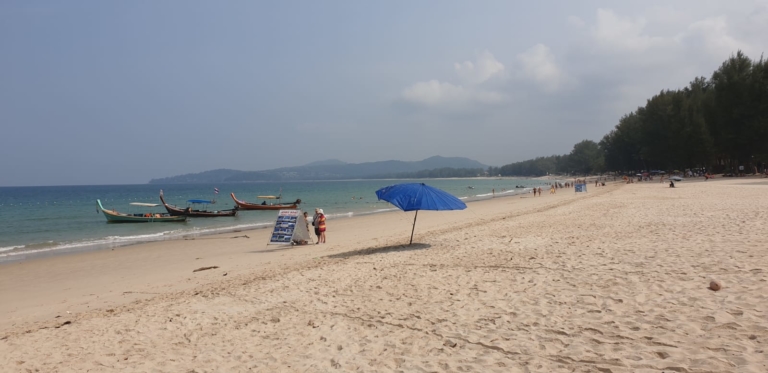 Bang Tao Beach
While the stretch of sand adjoining the resort is often referred to as "Laguna Beach," the entire 6 km (4 mile) stretch of sand along the bay is really Bang Tao Beach.  (While the northern end turns into Layan Beach, many still don't realize they are two distinct beaches.)
Laguna occupies the centre of this sprawling beach, overlooking the vast Bang Tao Bay, and the even more expansive Andaman Sea beyond that.
In the high season, Bang Tao is one of Phuket's finest swimming beaches, and the sand there is extraordinary.  The beach is lined with casuarina trees, offering plenty of shade to escape the sun.
With a massive resort complex on its doorstep, you might expect Bang Tao to be heaving with crowds, but it is surprisingly considerably more chilled out (i.e. less crowded) than most of Phuket's southern beaches.
Because, like most of Phuket's beaches, Bang Tao faces west, you can also enjoy some spectacular sunsets.  And one ideal spot for that is Laguna's own Xana Beach Club.
Beach Clubs in the Laguna Area
Beach Clubs are extremely popular in Phuket.  If you've never kicked back in plush chair or on a soft cushion and watched the sun set, while you sip on a cocktail of choice, well, then you're missing out.
One of the best known Beach Clubs on the island is Xana, located on the beach in front of the Angsana Resort. It's obviously a great attraction for those staying in any of the hotels on the complex, but Xana is also frequented by residents of Phuket. It plays cool music, has a great selection of food, and a magnificent 35-metre swimming pool (complete with pool bar).
But Xana is not the only beach club in the area – far from it!  Bang Tao Bay probably has Phuket's finest concentration of beach clubs, all of which are easily accessible from Laguna.
If you head north from Laguna until you reach Layan, you will come to the Dream Beach Club.  You can actually walk it – straight up the beach – but it would take you about a half an hour.
If you stroll south about 20 minutes along Bang Tao Beach, you will find Catch Beach Club.  This is one of the most popular beach clubs on the island.   Just 10 minutes further (again carrying on south) is Bluesiam Beach Club.
That makes 4 beach clubs all within walking distance.  OK, so it might take you an hour to walk from Bluesiam to Dream.  But it is a beautiful walk, and at the end of your hour – whichever direction you go – a cool vibe and an even cooler beverage await.
Restaurants in and Around Laguna
The resort hotels at Laguna all have their own restaurants, each offering a different blend of western and Asian cuisine, but in the immediate vicinity your dining options are by no means limited to the resort.
Along the sea front you'll find a huge variety of food – small local restaurants, magnificent seafood, and even western dishes. (There are also a number of bars and places offering a very relaxing Thai massage.)
If you spread your net a little wider to include Bang Tao, Surin and the whole area of Cherng Talay, your choice of eateries becomes practically boundless.  Thai restaurants are obviously everywhere, but you can also find American burger joints, Italian food, steakhouses, French cuisine, as well as a good selection of fine dining establishments.
And finally, the beach clubs mentioned above aren't just for sunset cocktails.  Each of these clubs has its own fantastic restaurant, so after making your way through the drinks menu in the afternoon, you can start in on the dinner menu in the evening.
Shopping in the Laguna Area
Laguna has the benefit of being situated in among other up-and-coming areas like Bang Tao, Surin and Cherng Talay. The regeneration of these amazing areas, including the much quieter but nevertheless popular Layan Beach just to the north, means a growing population and a demand for amenities above and beyond "tourist shopping."
Each hotel at Laguna obviously has its own retail outlets, but the centrepiece of shopping within the resort itself is Canal Village Shopping Centre.
This is a very stylish shopping area is located along one of the many lakes in the centre of the Laguna complex.  Here you can find handicrafts, jewellery, the finest Thai silk (from the renowned Jim Thompson), as well as a number of cafés and restaurants.  (There is even a currency exchange, dry cleaner/laundry, and a medical clinic.)
The entrance to Laguna has Boat Avenue and Lagoon Road for great shopping and a wide choice of restaurants. Not to mention new shopping complexes – like the Central shopping mall, Porto de Phuket – which will feature a Central Food Hall, one of the best supermarkets in all of Thailand, and an alternative to the nearby Villa Market.
Surin also has some up-market shops, and it's worth checking out Surin Plaza if you are looking for art, jewellery or furniture (or even some new designer evening wear for ladies).
And if you want to browse a traditional Thai Market, there is Cherng Talay Market.  You will find handicrafts here and other nicknacks which may attract tourists, but it is the food – both fresh and prepared – which will likely make you a repeat visitor.
Up-And-Coming Attractions Around Laguna
When talking about a resort community which is already at the pinnacle of residential living in Phuket, it may seem a little strange to use the phrase "up-and-coming."
But such as been Laguna's influence on the surrounding area, that retail and commercial developers alike are locating in nearby Bang Tao and Cherng Talay to capitalise on the proximity to Laguna.
What does this mean for residents?
It means recreational areas like the 56-acre Blue Tree water park, currently being constructed in Cherng Talay, only 2km from Laguna.  Blue Tree will be more than just a water park, offering shops, restaurants, bars, a fitness club, and even office rental.
You may want to read some of our related Phuket property articles here:
The Benefits and Advantages of Buying a Freehold Condominium in Thailand
Owning a Freehold Hotel-Licensed Condominium in Thailand
10 Good Reasons to Buy a Condo in Phuket
5 Essential Tips for Buying a Condominium in Thailand
8 Top Tips for Finding Your Perfect Condo in Phuket
Using a Thai Company Limited to Purchase a Leasehold Condo Unit