Rawai is the whole way down in the south of Phuket, and is therefore not hard to find. Technically, it is a municipality that covers a large area over the southern tip, even up to some parts of what we think of as Chalong.
Together with Nai Harn and Chalong, it is easily one of the most popular areas of Phuket for foreigners to live. Attracted by the numerous beaches, the nature, and of course the breathtaking scenery, the south of the island became their home.
Although Rawai itself does not really have a swimming beach, it is in close proximity (less than 10 minutes' drive) to some of the nicest beaches on the island.
What Rawai does have is a wonderful atmosphere, with beautiful views across to Coral Island and Bon Island, and excellent amenities for residents and tourists alike.
Why Rawai is a Great Place to Invest in Phuket Property
For a couple of decades now, Rawai has attracted foreign residents and now has a huge community in the area. As the population has increased so has the choice of restaurants, cafes and bars.
So while the Rawai area has its own magical charms for tourists, it has also been improving to make it an ideal place for foreigners to live, work or retire.
Having no swimming beach of its own hasn't made that much difference to its appeal. It is so close to other amazing beaches, and tourists still love the area. In fact, the holiday rental market here is almost the same as it is in Nai Harn, especially throughout the peak season.
It certainly has its own attractions, but with its proximity to Kata, Karon, Nai Harn and Chalong it is easy to see why people  from all over the world keep coming back year after year for their holidays.
Like Nai Harn, the large expatriate community also means it is easier to rent your property for the long term, in addition to short-term holiday rentals.
In past years, some people were put off from this southern part of the island because of the traffic jams that plagued the Chalong roundabout – the main artery into Rawai.
But with the new Chalong underpass now completed, access to both Rawai and Nai Harn has improved considerably. Hopefully delays leaving or entering the area will be a thing of the past.
In fact, Rawai is probably the most southerly part of Phuket where you're likely to find a home. There are a few isolated villas closer to Prom Thep Cape, but for the most part, this is as south as it gets.
The proximity to the beaches may have attracted foreigners here in the first place, but it is the infrastructure and amenities – which have developed to satisfy the growing population – that make Rawai so popular with residents today.
The main beach road is always alive with people. There are now numerous shops, convenience stores, massage parlours and restaurants along this road.  And we're not talking about just a few restaurants – Rawai has one of the largest and best choices of restaurants in this area, including the Rawai Seafood Market.
Villas and Condos For Sale in Rawai
It is easy to understand why there are many new developments in Rawai. There is a good choice of both condo and villa developments appearing all over the Rawai area, some inland, some closer to the beach, while others are perched on the mountain with stunning sea views.
Given the popularity of the area, we expect more development to follow.  And there are still plenty of open tracts of land ideally suited to development.
You can view some of the properties for sale in Rawai and Nai Harn here: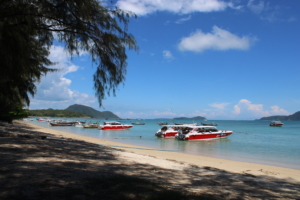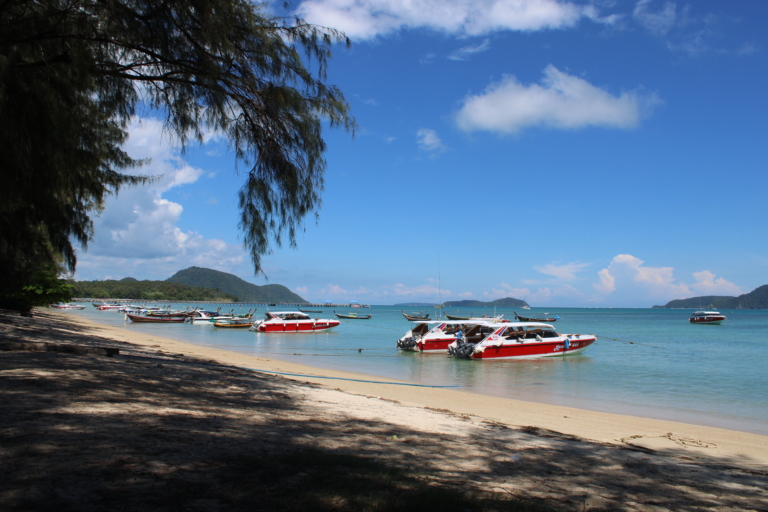 The Beach(es) Close to Rawai
Although Rawai beach is not renowned for swimming it is located just a few minutes away from some spectacular beaches:  Nai Harn, Yanui, Laem Ka and Friendship.
Nai Harn is a one of Phuket's nicest beaches, and it is less than 5 minutes' drive northwest from Rawai.  Here you can go swimming, snorkelling, and in the low season even surfing.
Yanui Beach is actually a modest walk away from Rawai sea front. This is extremely pretty and idyllic beach, and hugely popular in the high season. It's a great place to rent kayaks and to canoe around the Koh Man, the island that sits just out to sea.
Yanui is also great for snorkelling. On both sides of the beach there are plenty of tropical fish and some people even go as far out as Koh Man to snorkel.
There are also a couple of decent restaurants next to Yanui so it's also a great place to go and eat lunch and just relax, especially at the end of the day when the sun is setting.
Laem Ka and Friendship Beaches are on the East Coast as you head north to Chalong. They are both a little off the beaten path, but have completely different scenery to the southern-facing parts of Rawai. Instead they look east towards Koh Lon and Chalong Bay.
Like Rawai, they are not great beaches for swimming, but have their own attractions, mainly the spectacular views of these islands out to sea.
Restaurants and Dining in Rawai
Rawai has an absolutely amazing assortment of dining establishments, and for this fact alone, it is very easy to see why this southern part of the island is such a popular place for foreigners to live.
Next to Rawai Pier is the famous Sea Gypsy Village, where you can eat fantastic seafood for a fraction of the cost of the tourist-oriented seafood restaurants on the island.  In fact, you can buy your own fresh seafood from the market stalls, and the nearby restaurants will cook it up for you, just how you like it.
Two of the best steakhouses on the island are both in Rawai. If you're a steak lovers you must try either Tseti's or Mando's (or both).
One of Phuket's oldest and most beloved Italian restaurants is also in Rawai. Once along Rawai sea front, Maggie and Mario's (it's actually called M&M's) has now moved a little closer to Nai Harn.
Also an institution in Rawai, is Nikita's which is found along the sea front on the eastern end. Many residents still use this as a local, mainly because the atmosphere is great, the consistency is dependable, staff are friendly and prices are perfectly acceptable.
There is a nice restaurant on Promthep Cape, which is better when the crowds disappear and the sun is going down. The views over Nai Harn are stunning, and there is always a beautiful breeze.
Rawai for Grocery Shopping
There are a number of supermarkets in the area if you prefer to cook at home.
Less than 10 minutes north towards Chalong you will find a Tesco-Lotus, Makro and Food for Foreigners.
Tesco and Makro will take care of all your staples, but if you are looking for those things that most of miss from home (e.g. cheese, sausages, and quality bacon) then Food for Foreigners is the place to go.
But if you carry on north just past Chalong Circle you will come to Villa Market (located within Home Pro Village).  Villa is also well-stocked with foods that most foreigners are looking for.
Schools in Rawai
The Rawai area has a number of kindergarten and nursery schools, including the Mother and Child Kindergarten and Preschool, ABC International Nursery and Pre-School,  and the Palm House School.  Nearby Chalong also offers Chalong International Kindergarten & School, Buds International School,  and Cravens International Nursery Pre School.
There are not really any international secondary schools in Rawai itself, but a short drive away in Chalong you have BCIS and International School of Phuket (ISP).
There are also Oak Meadow International School located in northern Chalong/southern Phuket Town, and offering the American curriculum), as well as ISP (the International School of Phuket) opposite Makro in Chalong.
Nightlife and Entertainment in Rawai
Whether you are living here or only on holiday, Rawai has more than enough pubs/bars/sports bars to keep you occupied.  There really are too many to list, but it is almost certain you will find one to your liking.
Nikita's on the seafront stays open until 11:30 PM, so if your objective is a few drinks while enjoying a late dinner and the sea breeze, you don't know necessarily need a pub.
Rawai is great place to hang out and have a good time, but if you are looking for more raucous entertainment, you will probably want to head to Patong.
Other Points of Interest in Rawai
If you're at the seafront near the pier, you will doubtless notices the long-tail boats moored up on the beach.  Some of these are still used by the fisherman who supply the local seafood restaurants, but some are there for tourists to rent.
These are used mainly for short distance boat excursions to Coral and Bon Island, which aren't too far from the mainland.
Some long-tail boats may even take you as far as the Rachai Islands which, although visible from the beach, are actually quite distance away.
For longer trips you are better offer choosing a speed boat (which you will notice are moored right alongside the long-tails).
Promthep Cape is just a few minutes' drive from Rawai, and remains one of the most popular tourist attractions on the island. Promthep was once very popular with Thais, who would drive from far and wide on a Saturday evening to pray at the temple, or to watch the sunset.
The views from Promthep are quite beautiful, overlooking the island Koh Kiaow, home to a Buddhist monastery with chedis that can be seen from the mainland, adding to the island's mystique.
The car park area of the viewpoint has many handicraft shops and stalls selling shells, sarongs and other souvenirs.
Back in Rawai, one major attraction for families with children is the Rawai Park. This is an amazing day out for the kids, especially if they love water.
Many locals take their children here at weekends, and there is so much for them to do.  This can easily be a whole day's worth of entertainment for you and your family.
Rawai also has the usual tourist attractions not far away in neighbouring Nai Harn or Chalong. Snake shows, monkey shows, elephant rides, ATV, zip lining, and more are all less than 10 minutes away.
You may want to read some of our related Phuket property articles here:
The Benefits and Advantages of Buying a Freehold Condominium in Thailand
Owning a Freehold Hotel-Licensed Condominium in Thailand
10 Good Reasons to Buy a Condo in Phuket
5 Essential Tips for Buying a Condominium in Thailand
8 Top Tips for Finding Your Perfect Condo in Phuket
Using a Thai Company Limited to Purchase a Leasehold Condo Unit