Mai Khao is on the Northwest coast, stretching from the Phuket International Airport to the Sarasin Bridge at the northern tip of the island.
Mai Khao is home to numerous 5-star resort hotels, but it is still about as far from the madding crowds as you can get on Phuket.  The coastline here stretches 13 km, and Mai Khao Beach almost joins up with Nai Yang in the south.
There is some beautiful scenery here, but the one thing you will not see for the whole 13 km is a crowd.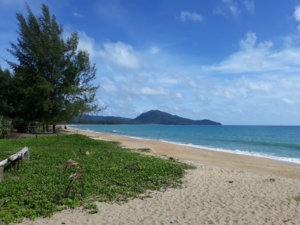 Why Mai Khao is a Great Place to Invest in Phuket Property
For those who like long deserted windswept beaches, Mai Khao might just be the ideal destination.
Like Nai Yang, Mai Khao is also a part of the Sirinat National Park, a protected area, so it remains one of the most underdeveloped parts of the island.
The main attractions of Mai Khao are the isolation, peace and quiet. It is ideal for anyone who enjoys long beach walks and seeks solitude and relaxation.
It is not necessarily for everyone, but some buyers will deliberately seek this type of environment when looking for a Phuket property purchase. There are also many holiday makers that prefer a more relaxed beach setting for their vacation.
As the area grows in popularity, and shops and restaurants keep improving, Mai Khao will gradually change.  But it is very unlikely that Mai Khao will ever lose its somewhat isolated feel, as all the hotel buildings on the beach are separated by sprawling gardens, lawns and trees.
Like Layan and Bang Tao, Mai Khao can certainly be classed as one of Phuket's up-and-coming areas. So much so that new attractions are opening all the time to cater for tourists who stay in the area. Elephant rides, new restaurants, and massage parlours are all opening up around the hotels.
Because the area boasts many popular 5-star luxury hotels, it has become synonymous with upmarket living. This has also led to some hefty land values, and land prices are expected to increase as hotel and residential development continues.
If the Mai Khao area retains its charm, then investors will find they have made a good investment, both for capital gains and rental yields.
Villas and Condos For Sale in in the Mai Khao Area
At present there are very few residential developments in Mai Khao, although one or two luxury villas are for sale in the area, as well as some luxury condominiums.
But since Mai Khao attracts holiday makers seeking peace and quiet, there a number of "Condotel" investment properties being built.  Condotels are essentially hybrids of hotels and condominiums, which foreigners can own freehold.
These are for investors seeking a return, rather than for those looking for a holiday home or a primary residence in Phuket.
Given the already growing popularity of the area, we do expect that more of the land surrounding the beach area will be used for future development.
You can view some of the properties for sale in the Mai Khao area here:
Grocery Shopping and Other Shops in Mai Khao
There is not much to do in the way of shopping in Mai Khao, but the area close to the hotels does have Turtle Village, an extremely attractive local shopping centre that is always expanding.  Next door there is a new, smaller retail village offering additional shops, massage, bars and restaurants.
Because Mai Khao is only just starting to be discovered for residential development, the larger supermarkets have not yet moved in.  There are mini markets and convenience stores in Turtle Village, but the selection is limited to the basics.   The nearest Supermarket is Tesco-Lotus in Thalang (about 20km to the south on highway 402).
That said, Turtle Village is a nice shopping area. There is a collection of furniture shops, souvenir shops, restaurants and coffee houses (and a turtle fountain decorates the central courtyard). It is a nice place to spend a few hours. The complex is tastefully done, modern and set on two stories with ample parking underneath.
As the popularity of the area grows, the complex also seems to be expanding.  As more new hotels appear, expect to see more choice for local residents and tourists.
If you need a more varied experience, with a bigger selection of shops and restaurants, Central Festival/Central Floresta are only about 15-20 minutes beyond the Tesco.
Patong – with its variety of bars, restaurants, shops and nightlife – is about an hour from Mai Khao, while Bang Tao and Cherng Talay are even closer.
Restaurants in Mai Khao
The 5-star hotels obviously have their own restaurants, which are excellent, and very much aimed at the western palate.  In the vicinity of the hotels, however, there are now a number of other dining options, including local Thai restaurants, as well as specialist seafood restaurants which can found all along the coast.
At the very far end of Mai Khao close to Sarasin Bridge you'll find a very picturesque restaurant.  If you like the wide open spaces of Mai Khao, then you'll love the furthest reaches of the beach (which at this spot technically goes by the name Sai Kaew Beach). Take the long stroll up to Sai Kaew from wherever you are, and grab some lunch when you reach the restaurant.
If you decide to go exploring by car you'll find a number of seafood restaurants on both sides of the main highway (402).
Nightlife and Entertainment in Mai Khao
Mai Khao caters to those seeking peace and tranquillity, so there's not a massive amount of entertainment in the area.
Mai Khao does have its own beach club, however.  The M Beach Club is positioned just a short distance away from the Marriott Hotel. This club only opened officially in 2018 but is already growing in popularity.
M Club is quite trendy, and the standards here befit its proximity to the surrounding 5-star resorts. They also have top DJs performing here in the high season.
Also worth a mention is Baba's. Just short distance off the island (circa 15 minutes) into Phang Nga Province is the up-and-coming area of Natai Beach, which has its own Baba Beach Club (a "sister club" to the ones in Cape Panwa). If you are staying in the Mai Khao area, and you like beach clubs, Baba is likely to be a regular haunt.
Back in Mai Khao (in Turtle Village) there is also Bill Bentley, a traditional English pub which also serves some extremely good food. In terms of entertainment, it shows live sport on multiple screens around the pub, and also has live bands, especially in the high season.
Most of the 5-star hotels will also host live music, but if it is a wilder type of nightlife you seek, and the beach clubs aren't enough for you, then you'll have to travel further down the coast to Laguna or Patong.
Schools in the Mai Khao Area
Unfortunately, there is not much infrastructure (e.g. schools) in the immediate vicinity. For families with children, the UWC (ca. 15 km away, just north of Thalang) is probably the closest secondary school.
A few primary schools and kindergartens can be found down the coast towards Cherng Talay.
Other Points of Interest in the Mai Khao Area
One of the most enchanting things about Mai Khao Beach is the fact that turtles still come here to lay their eggs on the beach. Each year, a local foundation collects and nurtures the eggs in an effort to conserve the turtle population in this part of the Andaman Sea.
Sadly, the leatherback turtles that once came here to lay their eggs are little seen anymore, mainly due to poaching and a lack of supervision, but other species of turtles still return to Mai Khao each year.
And every year the hatchlings are released on the beach in a ceremony near the 5-star hotel complexes. It is a wonderful sight, and has made this area synonymous with turtles.
You may want to read some of our related Phuket property articles here:
The Benefits and Advantages of Buying a Freehold Condominium in Thailand
Owning a Freehold Hotel-Licensed Condominium in Thailand
10 Good Reasons to Buy a Condo in Phuket
5 Essential Tips for Buying a Condominium in Thailand
8 Top Tips for Finding Your Perfect Condo in Phuket
Using a Thai Company Limited to Purchase a Leasehold Condo Unit