Layan can be found at the extreme northern end of Bang Tao Beach, on the west coast of Phuket.  Once a well-kept secret, it is now gaining a bit more notoriety and popularity.
Most of the West Coast beaches south of Layan are busy tourist resorts, but Layan has managed to remain a tranquil, peaceful area, with a low population density. Even in the height of the peak season, it maintains an almost deserted tropical island feel.
It's only 4 km from Layan Beach to the centre of Bang Tao Beach, and you truly cannot find this sense of isolation so close to a major resort anywhere else on the island.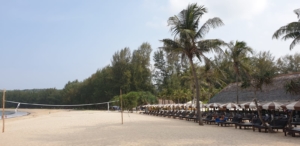 Why Layan is a Great Place to Invest in Phuket Property
You only have to stand on the beach in Layan at any time of year to see why so many people love this area so much.
After Mai Khao it is probably one of the least developed areas on the west coast. As you look down the sweeping coast line toward Bang Tao Beach, the view is utterly breathtaking.
This sense of isolation makes it an extremely attractive place to live for anyone seeking peace and solitude, even though ample amenities lie only a short distance away to the south.
There are a number of high-end hotels in Layan as well as some upmarket developments taking place. Many of the hillside resort have stunning views looking out on to the beautiful Andaman Sea and the shore lined with casuarina trees.
It is certainly another one of Phuket's "up and coming" areas which appeals to many people, especially those that love the beach. The prospects for the future certainly look good for this area of Phuket, and if more local amenities start to appear then it is likely to become even more popular.
Savvy investors will likely see decent potential for capital growth in the years ahead, especially as the area becomes better known. And given its proximity to Laguna and Bang Tao, the Layan area is busy in the high season, so anyone thinking of renting their property should expect to do quite well.
Finding a Property in The Layan Area
Although most people think of the Layan area as just the beach, it is actually far more than that. The Layan area also traverses inland for a few kilometres along the 4018, where a great deal of development is now taking place. Here there are new villa and condo developments springing up almost every few months.
At present, there's not much development close to the beach, but as mentioned above, there are a few superb luxury developments perched on top of the mountain with west-facing views.   For anyone who wants to live in a low density area with breathtaking sea views, Layan is worth a look.
There is also some development on the northern road which leads toward Nai Thon Beach and the 5-star Trisara resort. As you drive down the winding road from the top of the mountain, the views looking south over Layan and Bang Tao are simply stunning. Some major luxury developments are now taking full advantage of this splendid vista.
Most of the new development is occurring away from the coastline, so the beach itself is unlikely to lose its laid back feel.
You can view some of the properties in the Layan area here:
Layan Beach
The beach is pleasant and sparsely populated even in the high season, and it's not far to walk down to Laguna or Bang Tao Beaches either.  It has that wonderful open empty feel to it, with beachgoers dotted around with plenty of space between them.
People relax on sunbeds under the tall casuarina trees and enjoy the superb views all the way down the long sweeping curl of beach towards the Bang Tao area.
As there are not many people around and area is surrounded by trees, there are many birds and other wildlife if you look carefully.
There is a river that runs through the area as well as a few lakes and plenty of small casuarina forests dot the area. There's a pier where the long tailed boats are moored and you can still rent canoe's here and explore the area around the island and even up the tributaries a little.
Of all the areas in Phuket that seemed to have remained relatively the same, Layan is probably the one that wins this trophy. It is still very chilled out and also great for swimming.
The sea is extremely calm at the very northern end, mainly because of the island, Koh Kala which sits just a small distance out to sea. In fact when the tide goes out, it almost joins the mainland.
Grocery Shopping
Although there is not much around in the way of convenience stores closer to the beach, it is only a short drive to Boat Avenue and Villa Market.   Villa is a very western/international orientated supermarket, so you are sure to find everything you need here.
For the "basics", Tesco-Lotus is only 5 minutes down the road in the direction of Cherng Talay.
Schools
The area is not ideal for families with children, however. There are no schools in the area, and parents would have to travel each day to the nearest options.
Restaurants and Dining in Layan
There were once a few beach huts selling drinks and food, but even though these have gone now, it's still very idyllic. There is still one restaurant on the beach – built of wood, bamboo and thatch – which really has a "beach feel."
Dream Beach Club (mentioned below) is in Layan, and has a good menu.  It is a nice place to eat or relax (or eat, then relax).
You also have a number of great luxury resorts in the Layan area, all with quality restaurants and nice menus.
But given how close you are to Laguna, Bang Tao, and Cherng Talay (not to mention Surin, which is only 15 minutes away), you will not be short of restaurant choices.
Nightlife and Entertainment in Layan
Layan is also home to the very popular Dream Beach Club, which covers a little over 3,000 square metres.
Dream occupies two levels, and has a large indoor restaurant downstairs with lots of room and big comfy chairs. There are four bars in all, and a couple of swimming pools.
For anyone living in the area, it's a great place to go and hangout at sunset. But things also get lively at night with a nightclub on the second floor, which looks down on beach below. The restaurant caters for everyone and, as mentioned above, the food is pretty good too.
Other Points of Interest in the Layan Area
As Layan is right on the doorstep of the Laguna Resorts you also have all the amenities there too.  The hotels each have their own spa, if you fancy being pampered for a day,
Canal Village also offers shopping, including a small Jim Thompson outlet store.  The selections are not the same as you would find at the main store in Bangkok, but the prices are reasonable.
Canal Village is also where you can board the very unique "Floating Donut".  The Floating Donut is basically a round boat with which seats up to 10 people.  Your seating and table surround a built-in BBQ grill, on which your pre-selected choice of meal can be served.  It's an excellent new take on the concept of "dinner cruise", which is available for lunch or dinner.
For golf enthusiasts, Laguna Golf Phuket recently underwent a comprehensive revamp of the course, and the result was course which has received awards as both the best in Thailand, as well as Asia.
You may want to read some of our related Phuket property articles here:
The Benefits and Advantages of Buying a Freehold Condominium in Thailand
Owning a Freehold Hotel-Licensed Condominium in Thailand
10 Good Reasons to Buy a Condo in Phuket
5 Essential Tips for Buying a Condominium in Thailand
8 Top Tips for Finding Your Perfect Condo in Phuket
Using a Thai Company Limited to Purchase a Leasehold Condo Unit