Most foreigners in Thailand do not have the necessary local expertise to proceed with a property purchase on their own, so they are very much reliant on the advice they receive from real estate advisors and lawyers.
Except in exceedingly rare circumstances, foreigners cannot own freehold landed property in Thailand.  (Interestingly, Thailand's Land Code Promulgating Act seems to indicate the opposite.
The Act reads: "Aliens may acquire land by virtue of the provisions of a treaty…" 'Aliens' in this instances refers to foreigners, but the last treaty allowing foreign land ownership ended in 1970.)
For roughly a decade, foreigners were in a kind of legal limbo when it came to real estate purchases in the Kingdom.  Then, in 1979, the Thailand Condominium Act changed everything.
This new legislation defined a condominium, and made it clear that foreigners were now allowed freehold ownership of this specially licensed type of residence.
So for the last 4 decades, the rights of non-Thai citizens to own one class of freehold property – the Condominium – in Thailand have been encoded in and protected by the law.
If you are considering an investment in Phuket property, here are 10 excellent reasons why you should consider a Phuket Condominium.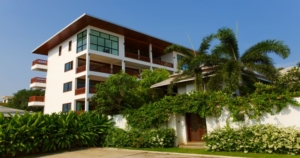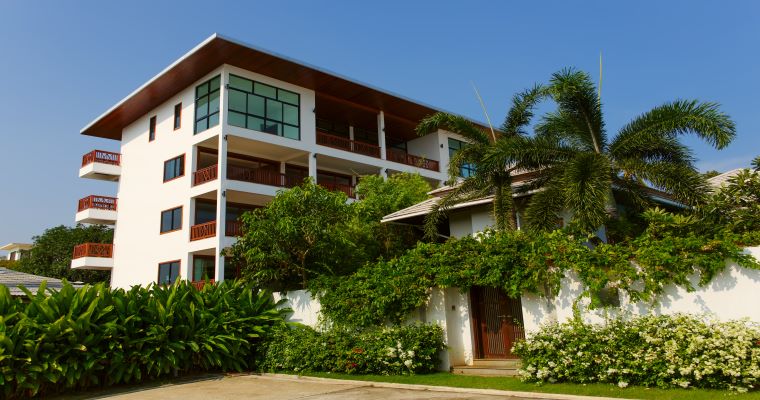 Phuket is a Great Place for a Holiday Home
Approximately 35 million people visited Thailand in 2018.  Why is that?  Basically because the country's advertising doesn't lie – it really is the Land of Smiles, and it really is Amazing Thailand.
And of that 35 million, 15 million people flocked to Phuket, mostly for the sun and the sand.
If you are looking for holiday home in the tropics with some of the world's best beaches at your fingertips, then Phuket may just be for you.
Phuket still retains traditional Thai charm, while also enjoying first rate amenities and infrastructure, which makes it an extremely compelling place to own a home.
A Phuket Condo is a Great Investment Property
But what if you are splitting your time between Phuket and your current home?  What if you only want to use the property once a year on your vacation, and would prefer to rent it for the rest of the year?
Most condominiums offer rental programmes (or rental pools) which ensure your unit is managed for the 48-50 months each year that you are away from Phuket.
Depending on the development, even after committing your condo to the rental market, you will have 2-4 weeks each year that you can use your condo for a Phuket holiday.
And because the attraction of Phuket for you is the same as it is for millions of others around the world, there is quite a buoyant rental in Phuket, with some developers paying guaranteed returns as high as 8% per annum.
These rental yields make Phuket an excellent place to buy a condo as an investment property.  Please click here if you want to see the Investment Properties that Phuket has to offer.
A Condominium is a Secure Investment
Foreign investors in Phuket condos have two types of security.
To start with, there is the Condominium Act, which protects your ownership rights, ensuring that you may occupy, sell, or deed you property as you see fit. But you also have another type of security:   on-site guards 24-hours a day and CCTV cameras.
If your condo is a holiday home that you only use a few times each year, you have the peace of mind that your property will not be exposed to a break-in or burglary.  After all, when you lock up before leaving Phuket for a few months, you want to know that your condo is going to stay locked up.
If you are renting out the property, this type of security is also something that potential renters want to see.  Whether they are long-term tenants or short-term holiday makers, they do not want to worried about their personal safety or the safety of their possessions when they are holiday.
A Condominium in Phuket May Give You a Sea View
As in most seaside destinations, property with a sea view is in high-demand.  Because there are zoning laws that prevent building too close to the sea, most developments are set back a ways from beach.
Unless the location is already on a hillside, to get those spectacular sea views developers must build up – and this means multi-story condominiums.
Some people also enjoy the view of the mountains and jungle, which – unless you want directly outside your window – also means a condominium is ideal to give you those elevated vantage points.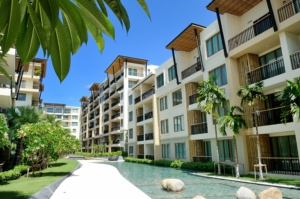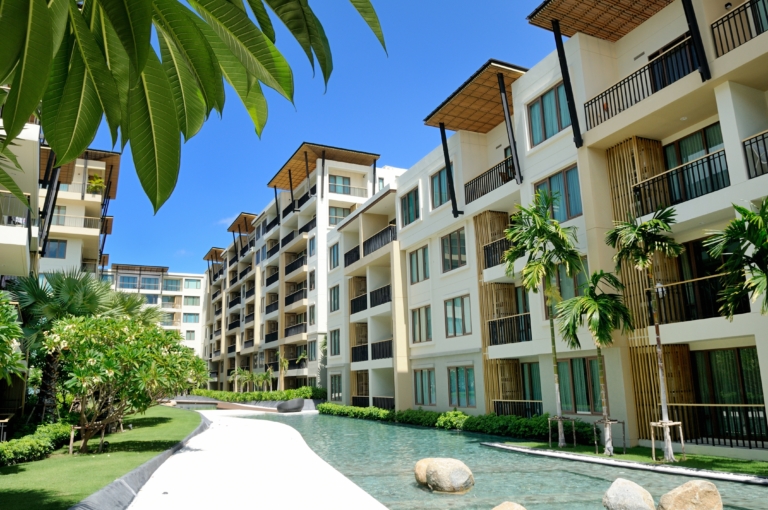 Phuket Condo Ownership is Hassle-Free
Because many condominiums and condotels embrace the holiday rental market, the standard of the fittings and fixtures in the units is often comparable with what you can find in a 4-star, or even 5-star hotel.
On top of that, condominiums also have the kinds of amenities that holiday makers crave:  swimming pools, gymnasiums, saunas/steam rooms, and sometimes even restaurants and spa facilities.
These facilities are funded and maintained by the Common Area Maintenance (CAM) fees paid by each individual owners.
Everything, including the rental of your unit, is handled by a Management Company (also called a Condominium Juristic Person), which is sometimes a well-known high-end hotel chain.
In addition, and as already mentioned above, you can be secure in the knowledge that your property is being safeguarded around the clock.
This truly makes ownership hassle-free, and helps you appreciate the value you are getting from your condo as an investment.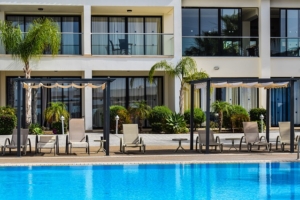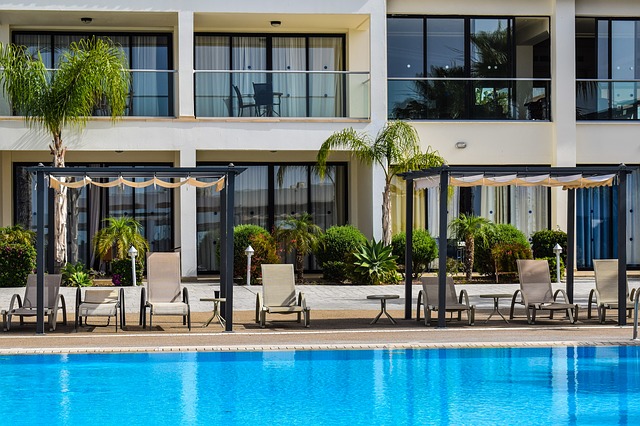 Phuket Has a Dynamic Property Market
The Phuket Property Market is extremely dynamic.  The interest from foreign investors has not abated for over 20 years, but the nationality of the major investors in Phuket condos is always changing.
Brits and Europeans continue to purchase property on the island, as do nationals of Thailand's ASEAN neighbours (e.g. Malaysia and Singapore).   But more recently they have been joined by Eastern Europeans and Chinese nationals who, seeing the property markets in their own countries becoming increasingly expensive, are also looking for investment options abroad.
This steady demand has seen condo prices in Phuket steadily increase, but the market has been spared the "bubble territory" seen in other countries, mainly because mortgage lending to foreigners in Thailand is not permitted.
Speculative lending was one of the causes of the housing crisis in the mid-2000s, which later precipitated the Global Financial Crisis. Because the market in Thailand is a cash market for foreigners, we are unlikely to see this kind of risky property market in Phuket.
Succession is Protected With a Phuket Condo Purchase
One of the advantages of owning a freehold condominium in Phuket, is that you can leave it to your heirs, who may then enjoy the fruits of ownership long after you.
One of the simplest ways to do this is to ensure that the telegraphic transfer (when you send the funds to Thailand for the purchase), as well as the Foreign Exchange Transaction Form (to be completed by the receiving bank in Thailand) mention the names of your intended beneficiaries.
If this is done correctly, you may then add their names to the title deed, and should anything happen to you, their effective co-ownership avoids any need for a will or a trust.
Failing that, you may also list them as beneficiaries in a Thai Will, and ensure succession in that way.
Your Funds are Protected
No matter how long you have owned your Phuket condo, you may repatriate the principle (purchase price), the rental income you have earned, as well as any capital gains on the property.
There is a process which you must follow from day one, which (simplified) involves ensuring that your Thai bank confirms receipt of the funds, and that confirmation not only states the amount, but also that the monies were sent into Thailand for the purpose of buying a property.
By ensuring that the necessary Foreign Exchange Transaction forms (FETF) are completed, you will have no issues taking your money back out of Thailand when you ultimately sell the property.
A Phuket Condo Gives You Freehold Foreign Ownership
Already touched on above, and worth stressing as the final point, is the fact that you can own the full freehold title – in your own name – on a condominium in Thailand.
While foreigners in Thailand are explicitly prevented from titling landed property in their own name, the Condominium Act embraces foreigner ownership, while also protecting the rights of any foreigner who chooses to invest in a condominium here.
All the benefits of condominium ownership listed above are made all the more significant by the fact that your ownership of the property in question is complete and in perpetuity.
You may want to read our two articles on leasehold and freehold here: 
What Exactly is a Leasehold in Thailand?
Understanding the Concept of Freehold Property Ownership
A Condo is Easier to Sell
Having a condo titled in your own name ensures that it is far easier to sell than any other type of Phuket property.
A foreigner with a villa or a bungalow will typically have a leasehold or a corporate ownership structure.  What someone is selling in these cases is either the remaining term of a lease, or a company which may or may not be optimally structured for property ownership.
A condo on the other hand is yours, and whether you sell it to a Thai national or another foreigner, it will be theirs.  No complex structures to unwind, no shareholders to worry about, nothing legally ambiguous.
Full freehold ownership is obviously as attractive to any future buyer as it was to you when you bought the condo in the first place.
You may want to read some of our related Phuket property articles here:
A Comprehensive Guide to the Best Locations to Buy Property in Phuket
The Benefits and Advantages of Buying a Freehold Condominium in Thailand
The Things All Phuket Condominium Investors Should Know About the Condominium Act
Owning a Freehold Condominium through an Offshore Company
The Benefits of Buying a Phuket Condominium Off Plan
The Risks of Buying a Phuket Condominium Off Plan
The Pitfalls of Buying a Condominium Leasehold Unit
Owning a Freehold Hotel-Licensed Condominium in Thailand
Using a Thai Company Limited to Purchase a Leasehold Condo Unit
Buying a Condominium in Phuket – What is a Condominium Juristic Person (or CJP)?
What is a Condominium Sinking Fund?
What is the Common Area and the Common Area Fee?
Using a Thai Company Limited to Purchase a Leasehold Condo Unit