Bang Tao is on the West Coast of Phuket, just south of Nai Thon, and adjoining the Layan area. Just south of Bang Tao is Surin Beach, and a little further down the coast is Kamala.
It was not that long ago that the Bang Tao area was a long sweeping beach, bordered with casuarina trees and plenty of wide open spaces – mainly scrubland, lakes, marshes and buffalo fields.
Today, it is gradually developing, and it's very obvious why it is becoming one of the most popular areas of the island.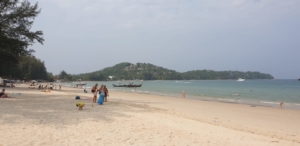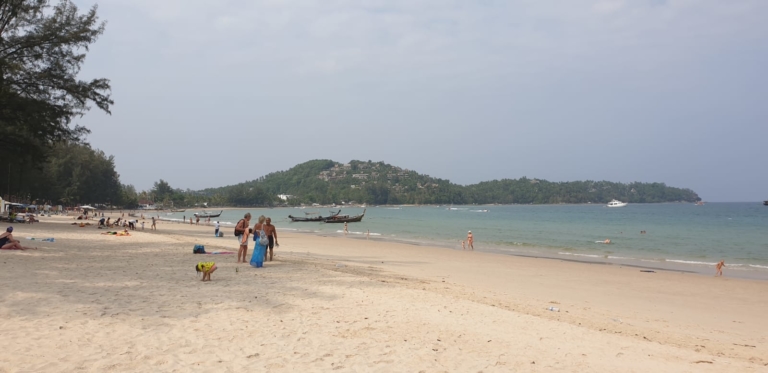 Why Bang Tao is a Great Place to Invest in Phuket Property
Bang Tao is certainly a wonderful place to live. But based on the ongoing infrastructure improvements in the area and the demand from holiday makers looking for short-term (or long-term) holiday homes, it is also a sound investment.
If you are looking for an "up-and-coming" area with a beautiful beach and lots of attractions, then Bang Tao may tick all your boxes.  It has great prospects, and the new development underway is being driven by the demand for staying in the area.
The increasing popularity of the region, especially the beach, makes it a major competitor of the long-established residential areas and beaches in the south.
Discerning investors can look forward to a good return on their investment in the years ahead, as well as reasonable capital growth.
Villas and Condos For Sale in Bang Tao
Bang Tao continues to attract ever greater numbers of residents and holiday makers, and this popularity means a great deal of development is taking place in the area.
There are a number of residential and investment properties for sale in the Bang Tao area, including both condos and villas.
Rental potential is good in the Bang Tao area, especially in the high season. The proximity to the beach is important.
You can view some of the properties here:
Bang Tao Beach
At 4 miles (6 km), Bang Tao is one of Phuket's longest beaches, even though the northern end is technically classed as Layan Beach.  (Some people refer to the beach near the Laguna resorts as "Laguna Beach", even though it is actually Bang Tao.)
Bang Tao sits on an open, sweeping bay which is far more laid back, and certainly less crowded, than many of the beaches further south.
Because of its length it is unlikely to ever be packed full of people. While things are likely to get busier in the future, don't expect Bang Tao to lose that "chilled vibe" – something you don't get on most other beaches, filled with sunbeds or towels of holiday makers.
The sand on Bang Tao Beach is lovely, and in the high season it is one of the nicest beaches for swimming.  But if relaxation is more your thing, the casuarina trees which line the beach in a few areas can provide you a shady respite from the hot sun.
Because Bang Tao is perfectly located on Phuket's fabled West Coast, it is also a perfect place to relax on the beach and watch the sun disappear below the horizon and into the Andaman Sea.
And there's no better place to do this that at one of Bang Tao's many beach clubs.
Beach Clubs in the Bang Tao Area
Certainly one of the main attractions for beach goers in the Bang Tao area is the choice of beach clubs. If you are into the beach club scene then there is a lot to love about this stretch of sand.
In fact, the Bang Tao Bay area is probably the most popular place on the whole island for beach clubs.
There's nothing quite like watching the sun go down with a cocktail in your hand, relaxing in a beautiful and comfortable beach club setting.
At the extreme northern end of the beach (again, technically Layan) is Dream Beach Club.  Built on two levels overlooking the Andaman Sea, it offers up four bars and two swimming pools.  And if you like a bit of noise, they have been known to really turn up the volume at Dream.
A bit further south is Xana Beach Club, which sits on the beach occupied by Laguna's Angsana resort.  Xana has a magnificent pool bar and a 35 metre swimming pool.
A little ways down the coast you'll find Catch Beach Club, one of the more established and most popular beach clubs in Phuket.  Catch is right on the beach, under the casuarina trees, and the mix of both holiday makers and residents gives it an amazingly cool vibe.
They have some brilliant DJs in the high season, and it really is a great place to flop onto a huge comfortable cushion, relax and enjoy the atmosphere.
If Dream, Xana and Catch weren't enough for you on a single stretch of beach, to top it off you also have Bluesiam Beach Club at the southern tip of Bang Tao Beach.
Bluesiam is in a great location, with views across the southern end of the bay. The water is generally calmer here and the whole area is really quite tranquil. It's another fantastic place to gaze out to sea, and enjoy the atmosphere, the scenery and the cold beverage of your choice
Restaurants in Bang Tao
In the area surrounding the sea front you'll find ample eateries – with local as well as western cuisine (as well as plenty of bars and massages).
If you include the Surin, Laguna and Cherng Talay areas, the choice of restaurants is almost unlimited. There are a multitude of Thai restaurants, but also Italian, French, American grills, burger joints, steakhouses and plenty of fine dining establishments.
We've already mentioned the beach clubs, well they aren't just venues for watching the sun go down (or posing). They also have quality restaurants with great menus!
Shopping in the Bang Tao Area
Lagoon Road at the entrance to the large resorts has a number of shops, restaurants and massage parlours.  Just a short drive (or a long walk) inland you'll come to the Boat Avenue shopping centre at the entrance to Laguna.
Next door to Boat Avenue, is where you will find the new Central Shopping Mall, Porto de Phuket. This lifestyle shopping mall will also offer a Central Food Hall, another international grocery store option, alongside the Villa Market at Boat Avenue.
Surin also has some up-market shops, and it's worth checking out Surin Plaza if you are looking for art, jewellery or furniture (or, for the ladies, some new designer evening wear).
Nearby Laguna
This area has certainly become one of the most aesthetically attractive parts of the island, which may owe a lot the cultivation of the landscape by the Laguna Resorts complex.
Laguna Phuket is a former tin mining area which was transformed into an amazing 5-star resort and entertainment complex by Singapore's Banyan Tree Group.
Here you can find one of the finest assemblages of luxury hotels on the island, as well as one of Phuket's most beautiful golf courses, and a spectacular choice of restaurants.
If you like the idea of a hotel resort-style environment – with finely manicured gardens, and plenty of amenities on your doorstep – then the Laguna area may also be an appealing option if you are considering purchasing property.
Other Upcoming Attractions
As the area develops, there are a number of new tourist attractions being planned.  All of these will continue to add value to the property market.
Cherng Talay awaits its new water park, Blue Tree, which is already under construction just 2km east of Laguna. The entire park covers 56 acres, and is built around a huge lagoon. It will also offer a range of other attractions and services, including a health and fitness club, shops, bars, restaurants and even office space.
You may want to read some of our related Phuket property articles here:
The Benefits and Advantages of Buying a Freehold Condominium in Thailand
Owning a Freehold Hotel-Licensed Condominium in Thailand
10 Good Reasons to Buy a Condo in Phuket
5 Essential Tips for Buying a Condominium in Thailand
8 Top Tips for Finding Your Perfect Condo in Phuket
Using a Thai Company Limited to Purchase a Leasehold Condo Unit