Located on Phuket's fabled West Coast, Kamala is almost exactly in between Patong Beach (to the south) and Bang Tao Beach (to the north).  The popular Surin Beach is also than 10 minutes' drive to the north.
Over the last few decades, Phuket has experienced a transformation into a highly desirable destination for tourists and residents alike.  But of all the areas on the island, Kamala is the one that stands out for undergoing the most dynamic and visible changes.
Once a Muslim fishing village with just a small influx of tourists in the high season, it is now a vibrant tourist destination, and cosmopolitan residential area, home to people of all nationalities.
Why Kamala is a Great Place to Invest in Phuket Property
Kamala's proximity to Patong and the Surin/Bang Tao areas may have something to do with its metamorphosis. Its growing popularity has made it one the latest hot spots on the island.
Some residents have chosen Kamala because of its relaxing ambience, and its proximity to amazing places like Laem Sing beach, which is no doubt also an attraction for holiday makers.
Kamala certainly has a different vibe to nearly every other area of Phuket. The ongoing infrastructure improvements here, combined with a steady increase in demand from holiday makers, has created a very vibrant rental market.
In fact, we are always surprised how many enquiries we get from potential buyers who are looking specifically at Kamala for buying a home or investment property in Phuket.
One of the nicest things about Kamala is that, despite the wave of development, there are still parts of the town which retain that quaint charm of a fishing village, especially at the southern end where the boats are still moored. The fisherman here still go out each day to catch fish for the local restaurants.
Kamala's prospects for the future look bright, especially if development continues at the same pace it has seen over the last few years.
Kamala would then remain popular with buyers, and should also continue to offer attractive rental returns.
Price conscious investors will no doubt be rewarded with strong rental yields, as well as the prospect of seeing investment appreciate in value over the years ahead.
Finding a Property in Kamala
The last 10 years have seen the completion of new developments in Kamala – both condos and villas – on an unprecedented scale.  And there are even more projects on the way.
From low end condos to super luxury villas on the millionaire's mile to the south, there is vast array of properties at various price points to choose from.
You can view some of the properties in the Kamala area here: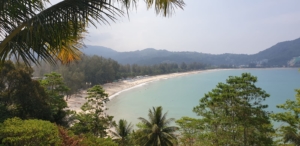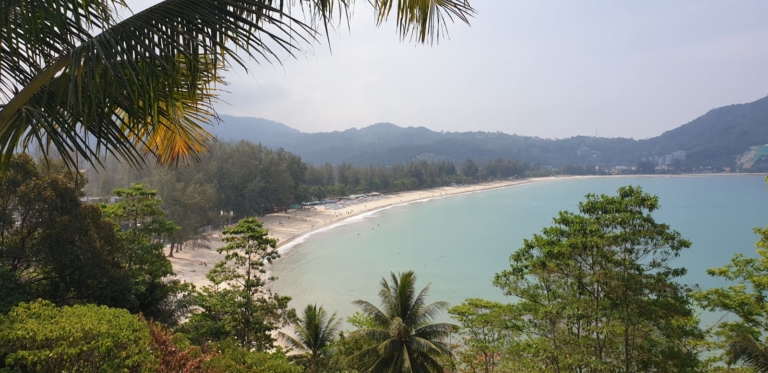 Kamala Beach
Kamala's beach is unlike any other on Phuket. In the high season, the calm seas and the gentle gradient leading down to the water make the beach great for swimming.
It's around 2km long and extremely laid back, complete with the odd reggae bar on the sand, and it never gets overly crowded, even in the busy periods.
Just 5 minutes to the north of Kamala is the absolutely amazing Laem Sing beach.  Unfortunately, the only way to access Laem Sing today is a rather gruelling climb around the rocks, or by long tailed boat from either Surin or Kamala beach.
There's no disputing that Laem Sing is one of Phuket's hidden gems, and while getting there is not straight forward, it is definitely worth the effort once you do.  The water on Laem Sing is crystal clear and the snorkelling around the rocky areas on either end of the beach is phenomenal.
Kamala's Restaurants and Dining
Needless to say, seafood is a major attraction at many restaurants here, and there are Thai restaurants up and down the beach serving fresh fish, squid, cockles and mussels.
There is plenty of international food on offer also, as the hotels all have their own restaurants.  You can also find steak houses, beer gardens, Italians, Indian food and even a Greek restaurant.
At the northern end of Kamala Beach are Café Del Mar and the HQ Lounge.  They are mentioned below for their beach club ambience, but they both have excellent menus, and are great places to eat and drink while you watch the sun dip into the Andaman Sea.
Grocery Shopping
On the main north-south road running through Kamala (the 4030) there is a Big C supermarket.  As with many Big C stores in Thailand, it is combined with a mini-mall, offering a range of fast food, clothing and mobile phone shops.
Big C is a full-range supermarket, but it will not necessarily have all of the western brands you might be looking for.  For those, there is a Villa Market about 15-20 minutes north in Bang Tao, or Central Food Hall in Patong (about the same distance to the south).
Kamala's Local Markets
There is a Friday Night Market is located on the main road (the 4030) opposite Phuket Fantasea.   The first stalls open at 3:30 PM, and the market closes at 11 PM.  It has everything you would expect from a Thai market, including plenty of freshly cooked food.  So if you are going at dinner time, why not plan to walk around and sample the different food.
On Wednesdays and Saturdays (3 PM – 7:30 PM) the Kamala Village Market offers up fresh fruit, vegetables, spices, and fish.  For anyone looking to prepare a home-cooked meal, this is a great place to buy your ingredients!
Schools in Kamala
The Shining Stars School in Kamala provides progressive English-language instruction to children ages 2 to 7, comprising a pre-school, nursery school and kindergarten.   When it opened in 2008, Shining Stars was responding to the growing international population in Kamala, but the school now attracts children from all areas of the island.
For older children, Kamala is around 30 minutes from either the British International School, United World College (UWC), or Kajonkiet International School.
Nightlife and Entertainment in Kamala
Kamala has always been a great place to relax and enjoy the atmosphere, with a good evening meal and a cocktail on the beach.   So the arrival of the iconic Café Del Mar Beach Club was a welcome addition to an area where the centre of life is the beach.
Anyone who has been to Ibiza will doubtless recognise this high profile name.  Café Del Mar is not just known for its laid back ambience, but also for the top quality DJs they are able to attract.
Just a short distance from Café Del Mar, is the HQ Lounge – another fantastic Kamala beach club.  Both clubs are great venues to take in the views, especially the sunset, and both offer wonderful menus.
If you want more vibrant nightlife, you will probably need to head to Patong.  It's only a short drive to the south, and it is absolutely buzzing every night!
Other Points of Interest
As Kamala has grown, so have the attractions available to tourists and residents alike.
As mentioned above, life in here centres around the beach, but Kamala also offers more land-based pursuits such as elephant rides and ATV tours.
It is also home to "Phuket FantaSea," one of the island's most popular attractions.  Phuket FantaSea is a cultural theme park with an evening stage show which is part history lesson, part Cirque du Soleil.  FantaSea just celebrated its 20th anniversary, and the parent company, Safari World in Bangkok, are keen to continue developing the park and its attractions.
You may want to read some of our related Phuket property articles here:
The Benefits and Advantages of Buying a Freehold Condominium in Thailand
Owning a Freehold Hotel-Licensed Condominium in Thailand
10 Good Reasons to Buy a Condo in Phuket
5 Essential Tips for Buying a Condominium in Thailand
8 Top Tips for Finding Your Perfect Condo in Phuket
Using a Thai Company Limited to Purchase a Leasehold Condo Unit