TYPES OF PHUKET PROPERTY
In an effort to help buyers better identify their ideal property, Thai Residential have classified the different types of properties available in Phuket.
While the choice is extensive, the categorisation is perhaps somewhat subjective. Different property types can be difficult to pigeonhole, or they may even overlap with other categories. The price of a given property in one category may more closely match prices in either more or less expensive classifications. The categorisation and the prices below are thus purely for guidance purposes.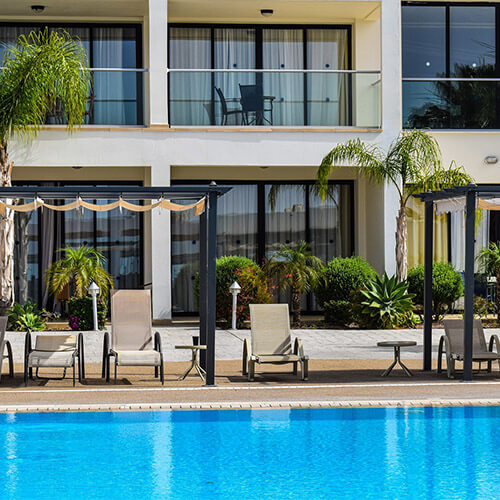 Low-End Condominiums
The low-end condominium sector is appealing to anyone who just wants a "base" in Phuket. These are generally smaller and not intended to compete with better-located, family developments. They might nevertheless still be convenient to shops or beaches, and modern enough to use as either a home or a rental unit.
These condos can offer remarkable value for money, especially for foreigners on a budget. A number of freehold condominium developments on the island offer studios or one bedroom units that can sell for under THB 2 million.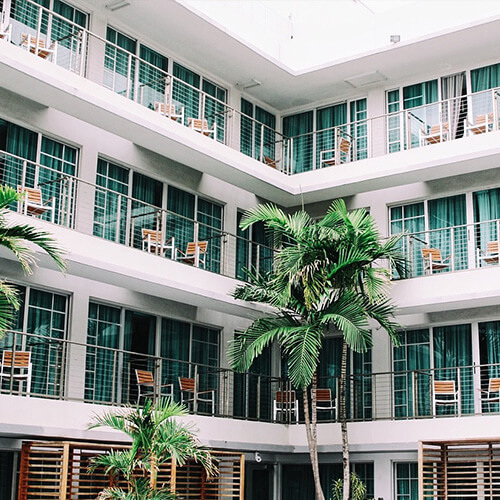 Apartments
Although the majority of new builds in Phuket are condominium projects, there are those which offer only apartment ownership. They may look identical on the surface, but condos and apartments are very different in both structure and law. Whereas a freehold condominium gives the foreign buyer permanent ownership of the unit, apartments are sold on a leasehold basis only. (See more on leasehold property below.)
Some foreign buyers may be attracted by an apartment because it meets or satisfies their requirements. But these should probably be viewed as alternatives to leasehold condominiums, as both the prices and ownership structure are comparable.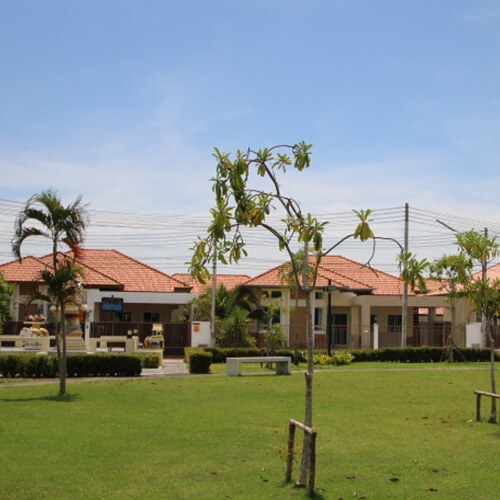 Bungalow Estates
The word "bungalow" originates in the Bengal region of eastern India (just across the Andaman Sea from Phuket). A Bengali style house typically consisted of a small one story structure with a veranda. This housing concept is now used the world over, especially in Thailand.
Bungalow style houses today are varied in form, and can range in price from THB 3 million to THB 7 million (sometimes more).
The last thirty years have seen an increasing number of bungalow constructions. These are usually situated in rural areas, or in the vicinity of Phuket Town. Some are collections of similarly styled houses in small estate-like developments, while newer up-market bungalow developments can also be found in popular tourists areas, offering sea views and unique design concepts.
Depending on the way the development or collection of homes is structured, some of these bungalows may be available for sale to foreigners.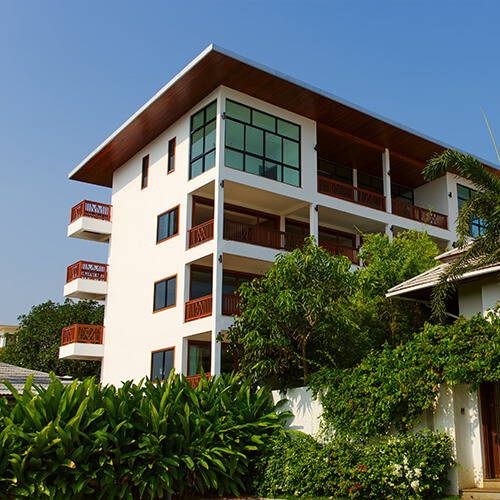 Townhouses or Townhomes
These properties are quite common in Thailand's local real estate market. In Phuket they are found mostly in the suburbs surrounding Phuket Town, as well as along most major roads on the island.
A townhouse is usually a terraced structure with two or more stories. Those that face a main road are often referred to as "shophouses" because they typically have a shop on the ground floor, with accommodation on the upper floor(s). (Unfortunately, some areas have seen shophouse developments go unoccupied, a consequence of over development in the sector during the last two decades.)
Foreign buyers, especially those with Thai spouses, or families who are looking to live closer to built-up, higher-density areas, might want to consider purchasing a townhouse. Some newer townhouse developments are quite stylish, and while prices may vary, they can start as low as THB 3 – 4 million.(Luxury townhouses in prime areas can go as high as THB 30 million.)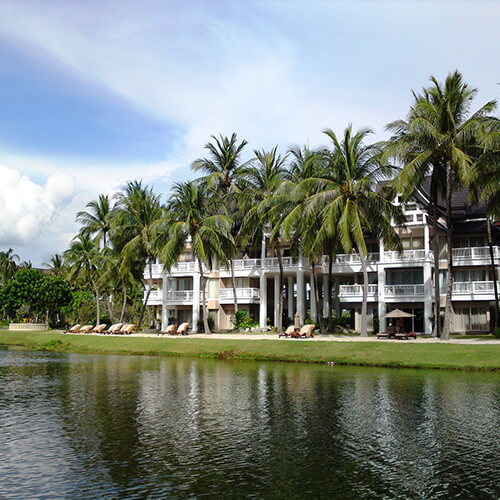 Resort Style Condominiums
Freehold condominiums represent a sizeable percentage of all property units purchased by foreigners in Phuket. These medium-to-high end condominiums are usually priced between THB 3 million and THB 15 million, depending on quality, location, floor space, etc. They tend to offer facilities, such as a gymnasium and communal swimming pool.
By offering a guaranteed income on the unit for the first few years, they also attract buyers looking for an investment opportunity, rather than a place to live. As a result, many condo owners do not live in Phuket, and visit infrequently.
Occasionally these developments also have luxury condos for sale. In some cases these are units closer to the beach, or possibly a duplex (or even a penthouse), offering the owner the feel of a spacious villa, but with the option to buy freehold.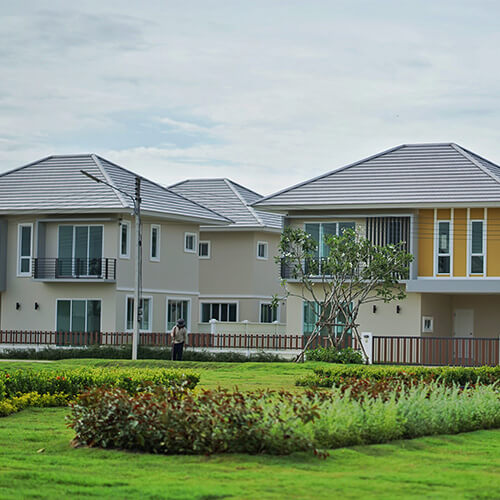 Low and High Density Estate Houses
Extremely popular with Thais, housing estates are usually gated communities, located further inland or in areas where land is more plentiful. Three-bedroom houses with small gardens range from THB 4 million to THB 7 million.
There are now dozens of estate developments in Phuket, targeting the growing middle-class Thai population, which also includes foreigners with Thai wives and families. Some developments are lower-density areas with larger properties and larger gardens, and prices there might start at THB 10 million or above.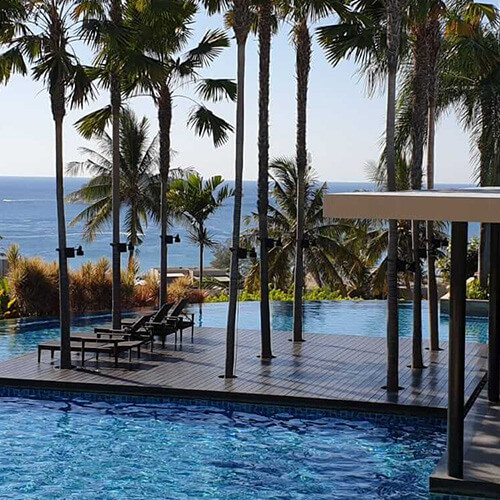 Luxury Freehold & Penthouse Condominiums
Some property developers understand the frustration foreigners face by not being able to own land legally. They have responded by creating freehold luxury condominiums.
With stunning sea views, a quality developer and good management, these units offer all the ingredients required by happy buyers with money to spend (prices can be in excess of THB 50 million). Some of these spacious freehold properties resemble a villa, while others may be luxury penthouses, offering the living area of a private villa with the added bonus of a rooftop garden, terrace and private pool.
As these luxury condominiums are often apart of a resort-style complex, they also offer a range of common area facilities, such as gymnasium, restaurants and communal pool.
The developer may also offer rental guarantees similar to those mentioned above.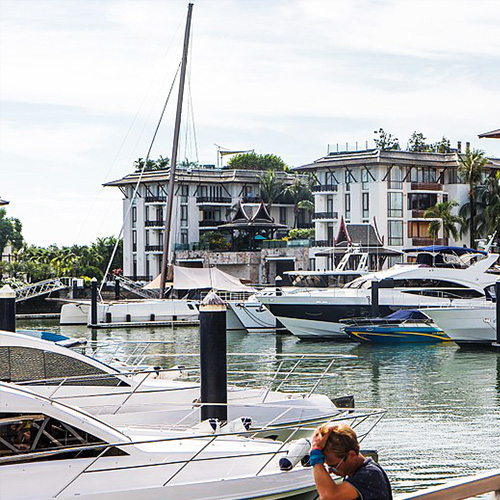 Marina Living
Thai Residential categorise these properties as a separate group because they attract a different type of buyer. The properties in these communities range from condominiums to townhouses to villas, and prices vary significantly depending on location, type of home and size.
They are obviously attractive locations for anyone who keeps a boat moored in Phuket or enjoys the proximity to the sea. But the fact that they are also stylish urban environments, with plenty of facilities, and generally close to international schools may also be appealing. (The RPM and Boat Lagoon, for example, are practically across the street from the British International School.)
The Royal Phuket Marina also has the rather unique "Aquaminium". This singular design offers a luxury freehold condominium, with direct access to a private berth for a boat. It is the only place on the island where you can go from the shower to the open water in a matter of minutes.
VILLAS
While a foreigner may own a villa (the physical "bricks and mortar") outright, full freehold ownership of the property relies on the right to own land – a right which is only afforded to foreigners under extremely special circumstances. The same law applies to estate houses, bungalows and townhouses (unless they have been legally structured for foreign freehold ownership).
Please see more on this in the section of the Phuket Property Guide titled:  Buying and Leasing Property In Thailand.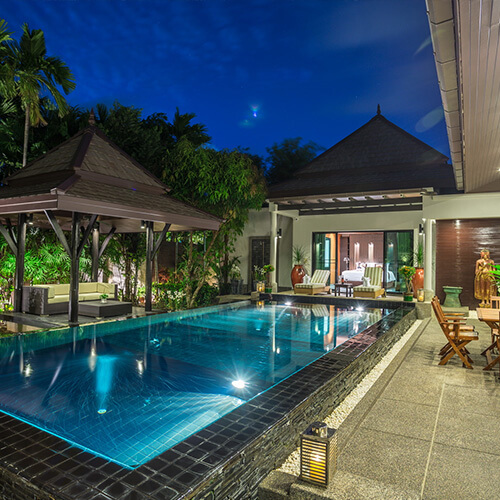 Villa Estates
Usually found inland, a few kilometres from the beach, these villas offer good value for money. They tend to be walled-in, tucked away from main roads, without any spectacular views. Typically making excellent use of available space, the layout of these villas usually offers a stylish patio area, with a private pool in the centre of the courtyard.
Depending on the developer, the materials used could be perfectly adequate and look just fine, but they may be inferior to those materials used in higher-end villas.
One of these villas might provide a comfortable and affordable home for anyone seeking a place in the sun, especially if it's in close proximity to beaches, shops and restaurants. Prices can start as low as THB 7 million, and some developers offer rental programs for investors. A villa could prove to be an extremely well priced long-term investment.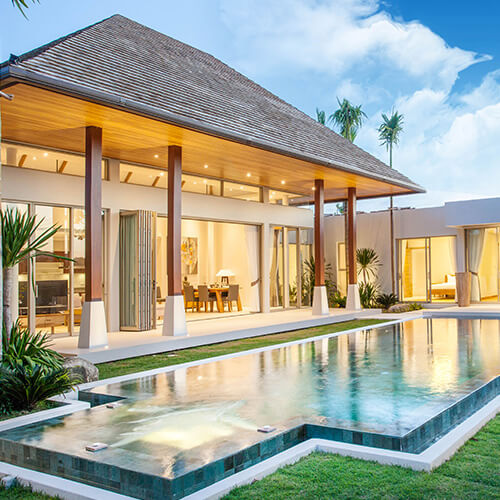 High End Villas
High end villas are typically near the beach, or in tourist areas. Compared with villa estates, they have slightly larger land plots and floor areas, as well as superior build quality, fixtures and fittings. The attention to architectural detail is usually also more pronounced.
For those with a little more money to spend, high-end villas provide more comfort and enjoy more space. High End and Luxury Villas are extremely easy to rent in the high season, fetching a good return on investment. Some developments in this sector even offer rental programs with guaranteed income for investors.
These villas may sell for as little as THB 20 million and can go as high asTHB 50 million.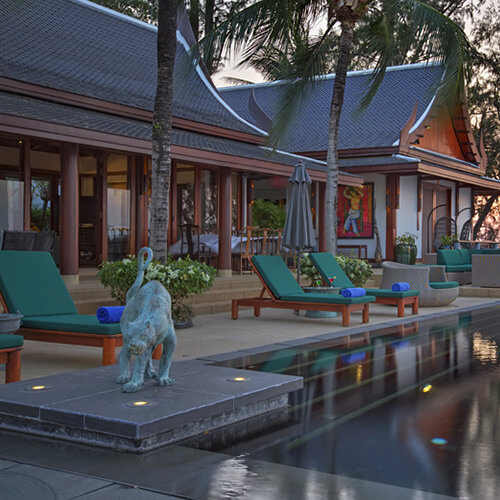 Luxury Villas and Super Luxury Villas
There is not a fixed point where high end villas end and luxury villas begin, but for the purpose of this classification, "luxury villas" will be those priced above THB 50 million.
But what, apart from price, makes them so luxurious? They are generally located in the finest areas, with larger plots and living areas. The progressive architectural designs feature spacious interiors, high ceilings, modern western appliances and a keen attention to detail. All bedrooms will have walk-in closets and feature en-suite bathrooms with the highest quality fixtures and fittings.
Luxury and Super Luxury villas are usually nestled on lush tropical hillsides, with spectacular Andaman Sea views, all the more resplendent at sunset. They have large gardens, with a sundeck, an infinity pool, and an outdoor dining sala. In short, the highest standards of quality and comfort.
While the prices start at around THB 50 million, don't be surprised to see luxury villas being advertised in the USD 10 to 20 million range.
Phuket Real Estate Market Articles
admin
It is almost a misnomer to refer to "The Phuket Real Estate Market" because it is not a homogeneous entity. It is divided (and even subdivided) into categories which collectively include a diverse array of
Phuket Property Guide 2023 – Table of Contents