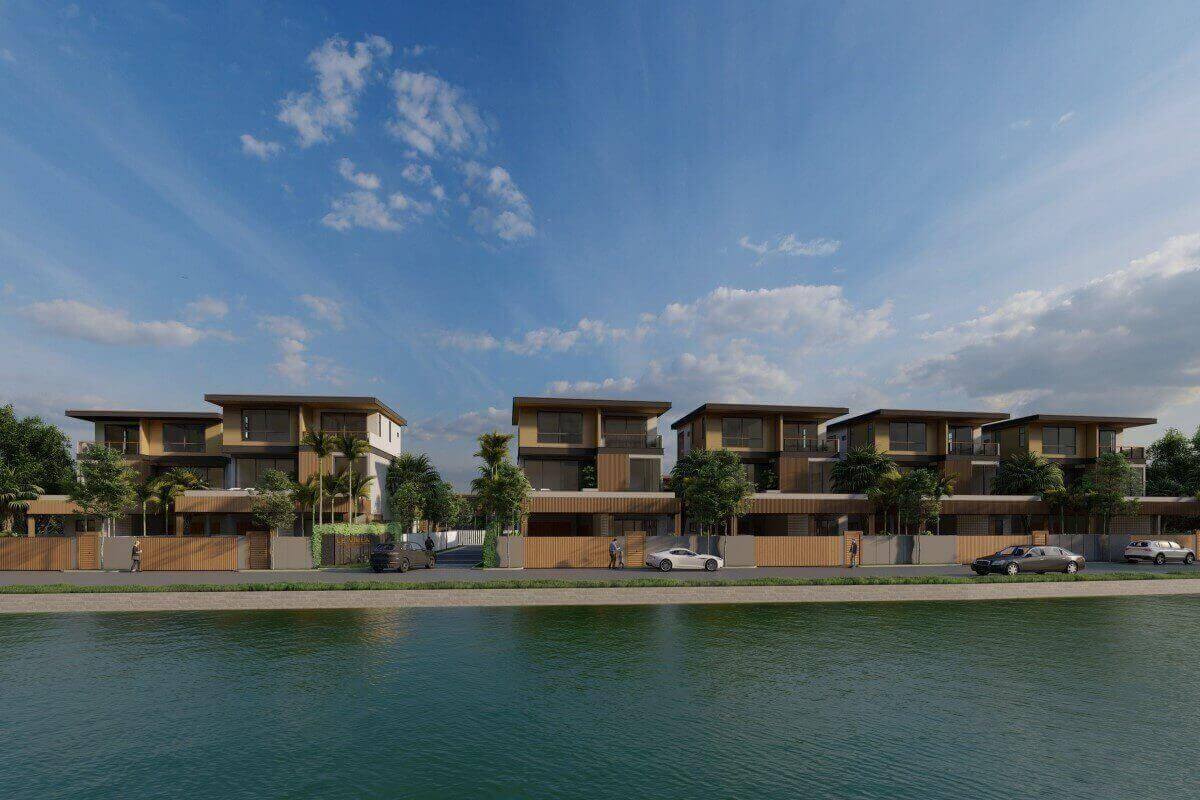 Description
OFFPLAN.
An integrated contemporary home that will last through the generations, featuring tropical biophilic design and superior property management.
These 3 bedroom lakeview pool villas for sale near the Laguna area in Cherng Talay, Phuket is within a new development in Phuket where space to breath and low density living is at the heart of it's philosophy.
Us humans naturally have a bond with other living things, which is known as biophilia. Biophilic design is how designers use this concept to incorporate natural components into spaces to enhance their aesthetic and sensory appeal. A scenic lakeside location, lush tropical plants, carefully chosen natural materials, wood tones and a layout which allows plenty of sunlight and fresh air create a calming and restful atmosphere.
The architectural concepts of space, light, and proportion are the foundations of the villas. The resulting design blend is an elegant, polished, and outstanding contemporary architecture with Phuket's distinctive terrain.
The developer's mission is to become Phuket's top professional property developer with values compatible with the island's tourism industry. They have a team of seasoned professionals with history and experience in the tourism market, hotel industry and property management as well as strong branding in villa marketing. They have a solid track record in hotels, resorts and villas for high and sustainable ROI for owners & investors.
The development offers 16 modern loft pool villas with 2 different designs or types, and similar built-up areas and plot sizes. Six villas with 3 levels are on the 1st row and will feature lake views and a swimming pool on the middle floor. Ten villas with 2 levels are on the 2nd and 3rd rows, and will feature a ground level swimming pool.
Located beside a tranquil lake near the Laguna and Layan area, around a 10-minute drive to Laguna, Bang Tao Beach or Layan Beach. Near the neighborhood is a variety of community amenities and services such Boat Avenue, Villa Market, Porto de Phuket, convenience stores, restaurants and shops. UWC International School is a 15 minute drive whereas Phuket International Airport is in 18 minutes.
Additional/Other 3 or 4 bedroom modern pool villas also available for sale at varying sizes and prices near Laguna in Cherng Talay, Phuket.
Please contact Thai Residential info@thairesidential.com or +66 (0) 94 841 1918 (WhatsApp or Line) for details.
Property Features
Villa / Houses
3 bed
4 bath
Air Conditioning
Pool
327.60 sqm
350 sqm
New Construction
Remote Garage
Balcony
Deck
Outdoor Entertaining
Fully Fenced