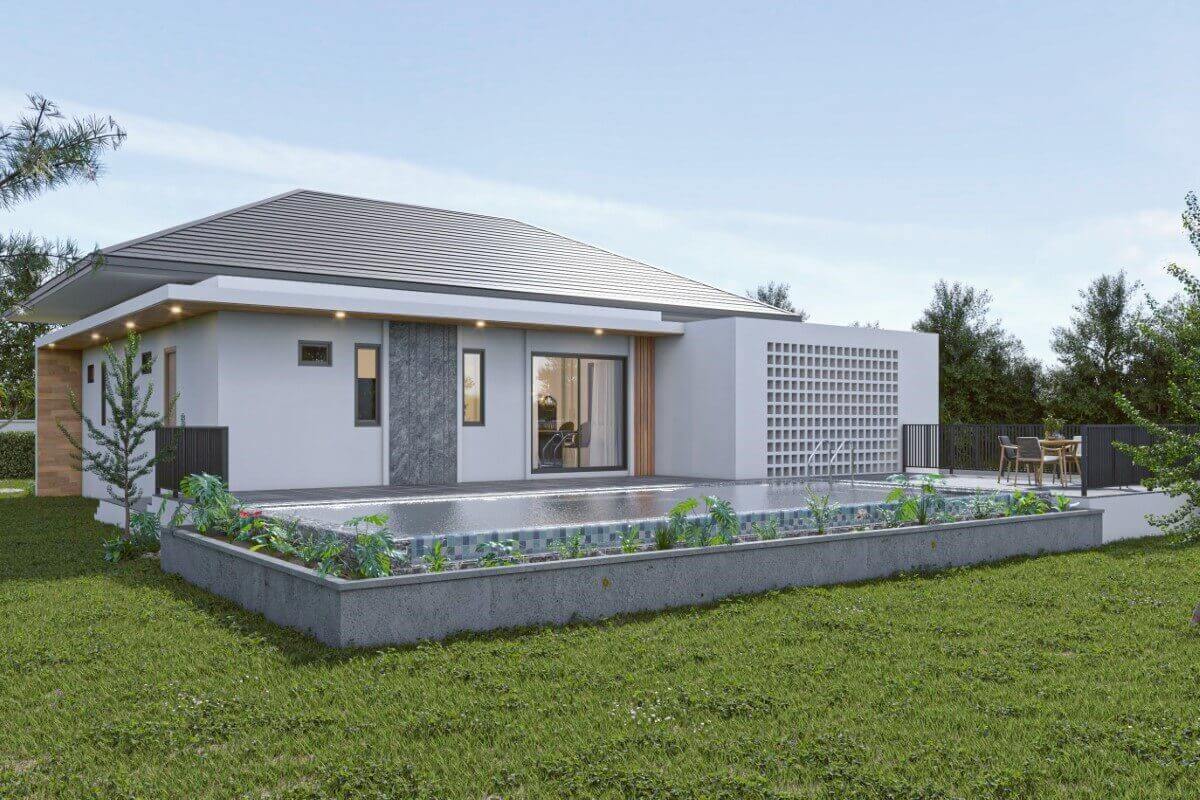 Description
OFFPLAN/UNDER CONSTRUCTION.
An exceptional fusion of affluence and affordability in a location which combines accessibility, comfort and a natural scenery.
These 3 bedroom pool villas for sale near UWC & Homepro in Thalang, Phuket has been designed to provide a level of luxury accommodation accessible to everybody. Bedrooms are roomy and comfortable and have ensuite bathrooms. The spacious open living, dining and kitchen area is flooded with natural light from the windows. The terrace is a wonderful spot to unwind and the private swimming pool is an invitation you cannot resist living in tropical surrounds.
With good company in such a setting, you will enjoy amazing moments with family and friends. Savor each moment and make memories you'll cherish forever in a charming built with materials that are specifically suited to the climate in Thailand.
The developers have an environmental preservation stance and as such have refrained from using wood in construction. Instead, they have chosen to use materials such as clay bricks that guarantee durability, efficiency in terms of the energy required for cooling, sound insulation and is fundamentally fireproof.
This villa complex, with a total land area of 20,000 sqm will consist of 4 Phases of build for a total of 38 single-level homes :
Phase 1 – Has 4 villas on a land area of 1,600 sqm. This phase has been built, completed and completely sold out in 2022.
Phase 2 – Has 3 villas also on a land area of 1,600 sqm. Construction began in 2022 and will be completed June 2023.
Phase 3 – Has 6 villas on a land area of 3,200 sqm.  Construction began in 2022 and will be completed December 2023.
Phase 4 – Will have 25 villas occupying a land area of 12,800 sqm. There will be 15 villas with Layout A (with private swimming pool and start at 12M) and 10 villas with Layout B (without private swimming pool and start at 6.8M). Construction will begin in October 2023 and will be completed October 2025.
This is an excellent location for those who prefer a peaceful setting without city noise or the throng of tourists. You will be surrounded by amazing greenery and mountain ranges while enjoying quick access, i.e. a drive of 5-15 minutes to necessary infrastructure such as schools, airport, supermarkets, shopping malls, convenience stores, restaurants and hospitals. This fully-furnished villa is only a 15 minute drive to Laguna or Phuket International Airport.
Additional/Other 3 bedroom pool villas also available for sale at varying sizes and prices in Cherng Talay or Thalang, Phuket.
Please contact Thai Residential info@thairesidential.com or +66 (0) 94 841 1918 (WhatsApp or Line) for details.
Property Features
Villa / Houses
3 bed
4 bath
Air Conditioning
Pool
352.20 sqm
242.20 sqm
Secure Parking
Deck
Outdoor Entertaining