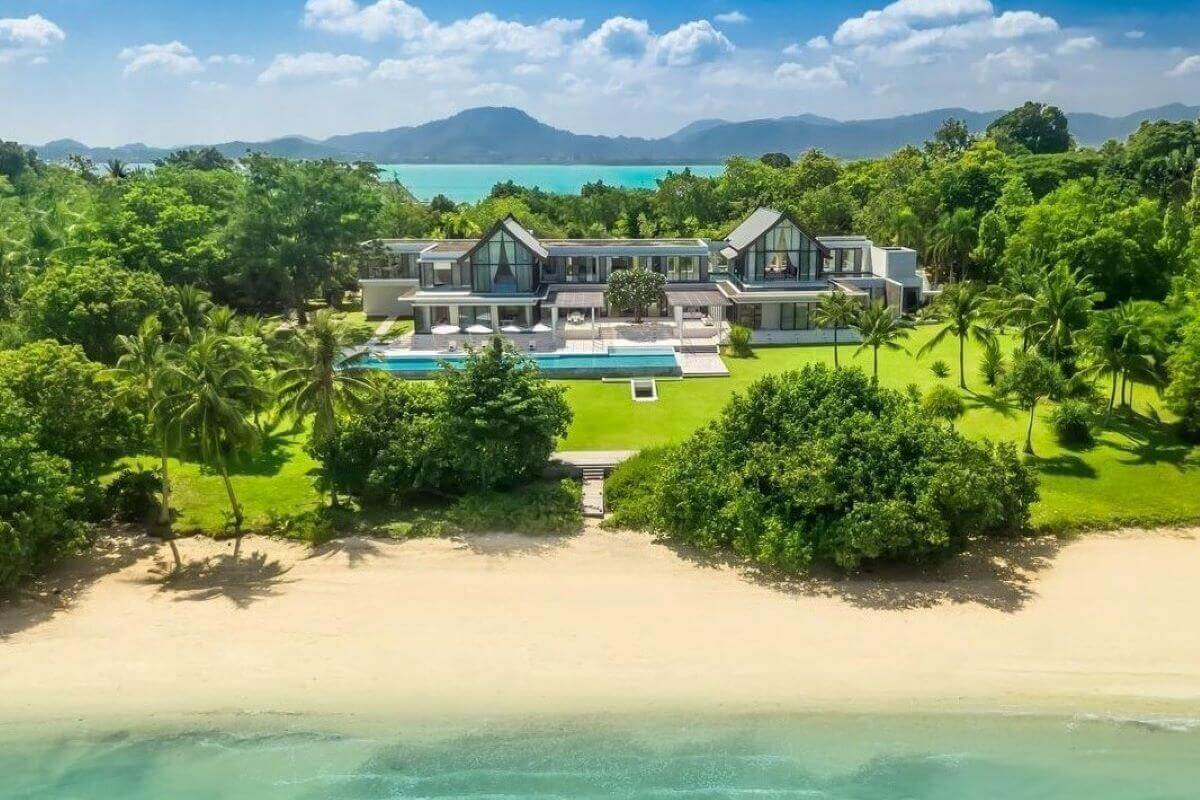 Description
A chic coastal retreat and an expression of contemporary glamour, this 6 bedroom beachfront villa on Phuket's fashionable Cape Yamu takes luxury vacation villa living to a fabulously new level.
One of the most coveted vacation rental villas in Phuket, it offers a unique combination of scenic beauty, top-notch amenities, and breathtaking architecture. This 6 bedroom villa with a 4,500-square meter floor area within an exclusive, secure and gated community offers complete exclusivity for its guests. It can comfortably accommodate up to 12 adults for a minimum stay of 3 nights.
From the amazing setting to the modern, minimalist style, classic black-and-white décor, and sensuous furnishings, there is something wonderfully sophisticated and hipster about this villa that makes the spectacular design and features stand out. The villa effortlessly exudes a sense of style and occasion that creates a statement. Contemporary architecture is fused with iconic Thai features, a modern minimalist feel, complemented by detailed Asian art.
Each of its 6 ensuite bedrooms is fully air-conditioned and has its own toilet and bath. Whichever room you walk into, you can enjoy the views of Phang Nga Bay and the Andaman Sea beyond. You can easily lose yourself in the panoramic view of the open sea. A dramatic spiral staircase connects the villa's two floors. Downstairs, guests can dine and socialize in the spacious dining and living areas. Though the villa has a fully-equipped professional kitchen, there is no need to do the cooking. Your own private chef will happily do that for you. Dedicated in-villa staff  (4 of them)  make the vision of a luxury villa holiday rental a reality.
Give your feet a taste of the sun-warmed sand while walking along the property's beachfront. Or take a swim in the turquoise waters of Phuket's Eastern coast. If you prefer freshwater, the villa's enormous infinity pool is readily available. The villa also features a state-of-the-art 10-seater cinema/home theatre and a game room with a pool table. There is also a spacious home office if you want to keep track of things back home whilst on holiday.
Outside, a net stretched between trees on the lawn is perfect for volleyball or badminton. There is also a tennis court on the grounds too. Add to this a gym/fitness room, with day-beds again, and a spa room for in-villa massage, plus a steam room and you have the ultimate luxurious Phuket villa vacation/holiday pad.
Please contact Thai Residential for details.
Property Features
Villa
6 bed
7 bath
4 Parking Spaces
Air Conditioning
Pool
16,000 sqm
4,500 sqm
6 Ensuite
4 Carport
Secure Parking
Gym
Broadband
Spa
Balcony
Deck
Courtyard
Outdoor Entertaining