Nai Harn is next to Rawai in the very south of Phuket, just over the mountain from Kata and the viewpoints overlooking Kata Noi. It is just a couple of kilometres from the extreme southern tip of the island at Phrom Thep Cape.
When more and more foreigners began settling in Phuket in 1990s, they were attracted to south of the island by the nature, the beaches, and the stunning sea views they could enjoy to the west, the south and even to the east.
In Nai Harn they found one of the most beautiful beach settings on the whole island, and the area Nai Harn/Rawai has been the centre of expatriate life in Phuket ever since.
Why Nai Harn is a Great Place to Invest in Phuket Property
The Nai Harn and Rawai areas have long been the nicest places to live as a foreigner.  Nai Harn offers not only tropical beaches and charm, but also all the comforts of home for people of many nationalities. The already significant international population has brought with it the amenities that make our everyday lives easier.
There is a flourishing property rental market in Nai Harn.  In the high season it is absolutely teeming with people from all over the world, who have come to enjoy the sun, sand and sea (maybe followed by a pizza).
From a villa rental or even condo rental perspective, Nai Harn is probably the area in most demand across the entire island. It is almost impossible not to rent your villa over the high season between December and March.
It is easy to understand why Nai Harn takes one of the top spots on the island in terms of demand for property.  And because of its proximity to Kata, Karon, Rawai and Chalong this area has everything you possibly need for both tropical living or an amazing holiday experience.
Because this area has so many residents, you can generally choose whether you want to rent your property out for the short term with holiday rentals, or to find a long-term tenant.
Not everyone who stays in Phuket for longer periods owns a property. So many would be residents are looking for a property to rent for the long-term.  It is easier to get longer-term rentals here than in many other parts of the island.
Whether you focus on holiday makers or long stay tenants, it is safe to say that discerning investors who choose wisely can look forward to both a solid return on their investment and decent capital growth in the years ahead.
Villas and Condos For Sale in Nai Harn
The infrastructure found in this area has made Nai Harn/Rawai popular with developers over the years.
One thing that is nice about Nai Harn that development is mostly taking place away from the beach, behind the lake or on Soi Saiyuan, the main road that meanders through Nai Harn in a northeasterly direction until it meets Viset Road (the main north-south Chalong/Rawai road).
The beach itself, and the area around Ao Sane and Yanui beaches, doesn't ever seem to be undergoing any major development. There is also a Buddhist temple close to Nai Harn beach, which protects the area on the seafront from any changes.
The fact that part of Nai Harn will be "protected" and preserved in this way, and that the beach will always remain as beautiful as it is today, is great news for anyone looking to live in this gorgeous area or for anyone who invests in property.
You can view some of the properties for sale in Nai Harn here:
Improved Access to Nai Harn
A major positive for this southern part of the island is the new underpass at Chalong Circle. Although it took a few years to complete, it has already made a huge difference to congestion in the area and access to Nai harn and Rawai in the south has dramatically improved. Getting in and out from the airport is so much easier today than it was just a few years ago.
The other positive on the horizon is the proposed LRT (Light Railway System) which will come all the way down from Phuket International Airport to Chalong. Tourists flying into the island will be able to get the train all the way south, with only a short taxi drive needed from Chalong to Nai Harn. This is probably a few years from completion but will eventually be a huge boon to the area.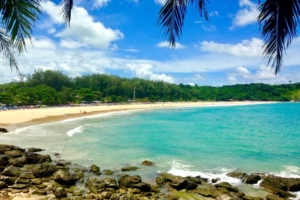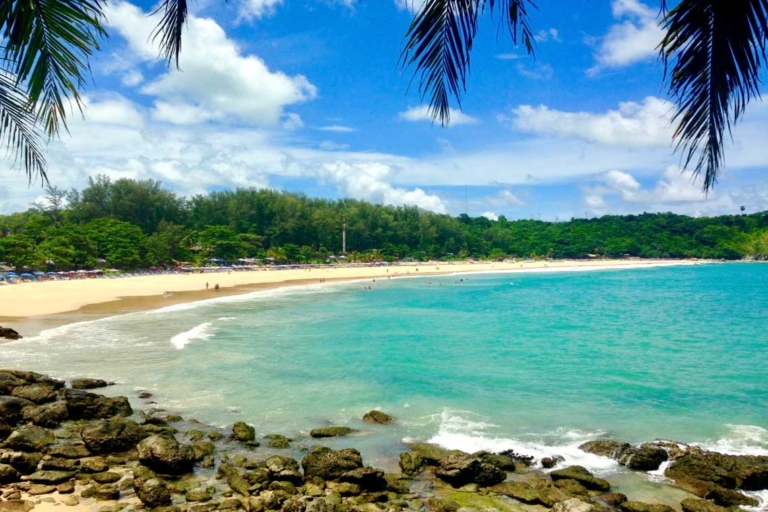 Nai Harn Beach(es)
Nai Harn has a great beach, which is perfect for swimming and snorkelling in the high season, but also very popular with surfers in the low season.
A couple of minutes to the south of Nai Harn lies Yanui Beach, an extremely idyllic and popular beach, due to its unusual shape and rock formation. It is like a picture postcard, especially when viewed from the viewpoint above.
Yanui usually offers kayaks for rent, so you can canoe around the area and even snorkel out around Koh Man. There are also a couple of decent restaurants next to Yanui, so it's also a great place to go for lunch, followed by an afternoon of relaxation.
At the northern end of Nai Harn is Ao Sane Beach.  Ao Sane is not really a swimming beach, but the reef here is excellent for anyone keen on diving or snorkelling.
There is certainly no dispute that Nai Harn, Yanui, and Ao Sane Beaches are some of the most scenic and stunningly beautiful in all of Phuket.
An Amazing Choice for Restaurants and Dining in Nai Harn 
One of the attractions of living in the Nai Harn area is that it probably has the best choice of restaurants on the island outside of Patong. Residents here are literally spoilt for choice.
It is safe to say that the number of foreigners already living in this area has driven the demand for cuisine from every possible country.
Between Saiyuan Road and Rawai, there is simply an abundance of outstanding restaurants, including the best choice of breakfast joints. In fact, this area probably has the best choice of breakfast joints and coffee shops on the island.
There are many pizzerias and also finer dining Italian restaurants to choose from, as well as American burger joints, steak houses and grills, Greek, Swiss, German, French, Belgian, Australian, Russian, Mexican, and vegetarian/vegan for the health conscious. Nai Harn pretty much has any type of food you could ask for. There is even a Croatian restaurant!
Obviously, there are dozens of great Thai restaurants too, and lots of delicious seafood.
You can never fail to find a fantastic place to eat around Nai Harn, and with the Rawai seafront such a short distance away, your choice becomes even greater.
Grocery Shopping in Nai Harn
If you prefer to cook at home, however, you will need groceries.
It is only about a 10 minute drive to Tesco-Lotus or Makro heading toward Chalong roundabout.  Also close by these two is a store called Food for Foreigners, where you are almost guaranteed to find any ingredients you need from home.
A couple minutes further up that road, just past Chalong Circle, is Villa Market another excellent supermarket selling a wide range of international products.
Schools in Nai Harn
The popularity of the south for residents naturally means this is also where many of the international schools on the island were established.
Nai Harn is very conveniently located for both pre-schools/Kindergartens and secondary schools.
Nai Harn area is home to the Palm House School, ABC International Nursery and Pre-School, as well as the Mother and Child Kindergarten and Preschool.
For nearby secondary schools, there are a number of choices.  There is BCIS in Chalong, a truly multinational school with a Cambridge English Program as well as the National French Curriculum.  The International School of Phuket (ISP) is also in Chalong, and offers the Cambridge Programme, a French curriculum and has a specialist Russian department.
Oak Meadow International School is a well-established school with an American curriculum.  It is located on the Khwang Road (between Chaofa Road East and West), about 30 min north of Nai Harn.  A little further north is Kajonkiet International School, Head Start, QSI or the British International School, which is located just over the highway from the Boat Lagoon and Royal Phuket Marina.
Nightlife and Entertainment in Nai Harn
The Nai Harn/Rawai area certainly does not have a shortage of bars, so when it comes to an evening drink you're as spoiled for choice as you are with restaurants.
The really raucous nightlife is mostly found in Patong, which is only about 25 minutes up the coast.
Other Points of Interest in Nai Harn
Because it is such a huge attraction for tourists, Nai Harn naturally has some of the usual tourist attractions. On the road to Kata you'll see a number of animal shows featuring elephants, monkeys or snakes, as well as more active pursuits like ATV tours and zip lining.
The famous Nai Harn viewpoint sits between Yanui and Nai Harn Beaches, and offers stunning sea views overlooking Koh Man, the small island just off from Yanui Beach.
Another popular attraction is Promthep Cape, which sits at the southern tip of the island.  This is also a magnificent place to watch the sun go down in the evenings.
Nai Harn has a well-known lake.  The island in the centre has a children's playground under the casuarina trees.  You'll always find quite a nice community atmosphere, as many people bring their young children here to play.
There is a Buddhist monastery, Samnak Song Nai Han Monastery, which sits adjacent to the beach.  In addition to being a beautiful place, as we have already mentioned, its presence also ensures that no new developments will ever be built too close to the beach.
Another truly beautiful sight in the higher seasons is the Nai Harn Lagoon, which joins the lake to the sea.  It really is amazing, and in some years attracts large fish.  One year, a dolphin even found its way into the lagoon.
The road from Kata is exceptionally beautiful with views overlooking the jungle and the sea, and plenty of bars and restaurants from which to admire the scenery. These are especially popular at sunset.
It is also worth mentioning Rawai Park, an exceptional water and adventure park/playground for younger children. Because there are so many schools in the area, and because lots of families live here, most the visitors to Rawai Park are local residents, both foreigners and Thais.
Rawai Park has grown in popularity over the last few years and can be a great day out even for the parents, who can relax in the restaurant with a cool drink or a coffee and keep an eye on their kids having fun in the pool.
You may want to read some of our related Phuket property articles here:
The Benefits and Advantages of Buying a Freehold Condominium in Thailand
Owning a Freehold Hotel-Licensed Condominium in Thailand
10 Good Reasons to Buy a Condo in Phuket
5 Essential Tips for Buying a Condominium in Thailand
8 Top Tips for Finding Your Perfect Condo in Phuket
Using a Thai Company Limited to Purchase a Leasehold Condo Unit