Cape Panwa is easily one of the most laid back areas on the island.  Full of lush tropical greenery, fantastic scenery and some chilled out venues.
It is now home to some luxury 5-Star resorts, and quite a few 4-star boutique hotels.  The attraction for holiday makers is the same as it is for residents – the relative peace and quiet not found in most West Coast settings.
Located on an eastern peninsula, Cape Panwa juts out into the sea just north of Chalong on the east coast, and just south of Makham Bay and Phuket Town.
Property buyers are attracted to Cape Panwa for this relaxed atmosphere, which owes much to its slightly remote location.
Why Cape Panwa is a Great Place for Retirement if you Want Peace and Serenity and a Little Isolation
Although Cape Panwa is certainly not in the thick of things, it is far from being completely isolated.
Phuket is a relatively small island, so there is nowhere which is truly out-of-the-way, and we've never heard of anyone getting properly lost.
Even in a quieter area such as this, you are still only a 15-20 minutes' drive from shops, markets and schools. You will also find plenty of restaurants, a few bars and a good selection of hotels.
So you love that little bit of solitude, a connection to nature and beautiful scenery, then you'll love Cape Panwa. But if you begin to long for "the civilized world," it is only a stone's throw away.  As for the rest of the time:  just relax and enjoy life to the full away from the crowds.
Property For Sale in the Cape Panwa Area
The area is not well known as a tourist attraction, although it does have a couple of popular hotels. New developments do spring up every now and then, and there are a few condominium and villa resales in the area.
As mentioned, most properties here are more likely to attract residents than those seeking exceptional rental returns.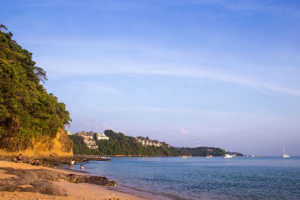 The Beaches in Cape Panwa
Because of its slightly secluded location, there are not as many people around, and not as many cars on the road.  This is also evident if you visit one of Cape Panwa's beaches.
The crowds are far smaller than those found on the West Coast beaches, and while you might not have the same crystal clear azure waters, the beaches offer a far different attraction – peace and solitude.
Panwa Beach is somewhat unique because it is an east coast beach which faces southwest.  So while it is not a typical swimming beach, it does offer some spectacular sunsets.
While the wide open view of a West Coast sunset – itself quite magical – tends to be unobstructed, your vantage point on Panwa Beach sees the sun going down behind the islands in Chalong Bay and Phuket's central mountain range.
There is another very chilled out beach in the area, Ao Yon Beach. It's a nice place to relax, swim or simply enjoy the view of the islands and the yachts moored in the bay.
How is Cape Panwa for Restaurants and Dining?
There are some local beach bars and restaurants, including a few good seafood restaurants, but restaurants are fairly limited on this part of the island.
There are some nice choices but you need to know where to look. For example, there is an Indian restaurant not far from the entrance to Cape Panwa Hotel, and other international cuisines dotted around. Some of the hotels also offer nice dining choices.
One charming venue is the Ship Inn, which sits almost on top of the sea on Ao Yon Beach. It is a lovely place to grab a bite to eat or a cold beer. On the same stretch is the Brasserie Yacht Club, another great place for lunch or an evening meal. There is also a nice coffee shop walking distance from both of these.
Grocery Shopping and Supermarkets in Cape Panwa
Because of its remoteness, there are not many supermarkets in the area aimed at foreigners, although there is an abundance of local Thai markets for fresh produce.
If you really want to buy some international products, then Central in Phuket Town/Kathu is not too far away. It is almost a straight road taking Route 4023, and then on to Sakdidajana Soi 7 (the road which runs east-west from the King Power Duty Free Complex).  When you reach the T-Junction at the 4024, turn right and that takes you straight to Central.
Alternatively, you can take a left on the 4024 toward Chalong, where HomePro Village has a Villa Market. There is also a large Tesco Lotus supermarket before you get to Villa.
Schools Near the Cape Panwa Area
As you would expect in an outlying area like Cape Panwa, there are no schools in the vicinity. But the same applies for schools as supermarkets.
You have the choice of either driving west towards Kathu or heading south towards Chalong.  Both areas have plenty of choice, including pre-schools/Kindergartens, as well as secondary school up to O-Levels/High School Diploma.
Nightlife and Entertainment in Cape Panwa
There are a few wonderful bars in the area, but as you would might have guessed, it is a hard place to locate a nightclub.
But Cape Panwa is home to two of Phuket's nicest beach clubs, the Baba Pool Club and the Baba Nest, both located at Sri Panwa Phuket.
Although not really traditional beach clubs (they are on a cliff edge, not the beach), they are two of the trendiest beach clubs on the island.  The Pool Club is obviously for swimming, while Baba Nest offers lovely big comfy chairs to lounge in while you take in the scenery.
With a stunning 360-degree panorama across the islands and bay below, it is certainly a great place for residents and tourists alike to spend the evening watching the sunset while enjoying a cocktail (or two).
Other Points of Interest in Cape Panwa
The Phuket Aquarium and the Marine Biological Research Centre are located at the very tip of the cape.  These attract a number of tourists, as well as locals.  The aquarium has hundreds of exotic tropical fish native to the region, and the research centre includes a remarkable turtle sanctuary.
Visitors will often see Navy vessels moored at the pier. That is because, owing to the deep water dock, the cape is home to the Royal Thai Navy.
Cape Panwa also has the Ao Yon Waterfall. It may not be as large or dramatic as other waterfalls, but there are plenty of catchment steps that you can bathe in. One of the attractions (like so much of this area) is that it is quiet, and has a more natural feel than those better-known waterfalls which are teeming with tourists.
For another spectacular view, you can travel up to Khao Khad viewpoint which sits perched on top of the mountain on the western end of Cape Panwa. It's a rather glorious view over the whole of Chalong Bay and Koh Lon, the large island that sits in the bay.
You may want to read some of our related Phuket property articles here:
The Benefits and Advantages of Buying a Freehold Condominium in Thailand
Owning a Freehold Hotel-Licensed Condominium in Thailand
10 Good Reasons to Buy a Condo in Phuket
5 Essential Tips for Buying a Condominium in Thailand
8 Top Tips for Finding Your Perfect Condo in Phuket
Using a Thai Company Limited to Purchase a Leasehold Condo Unit