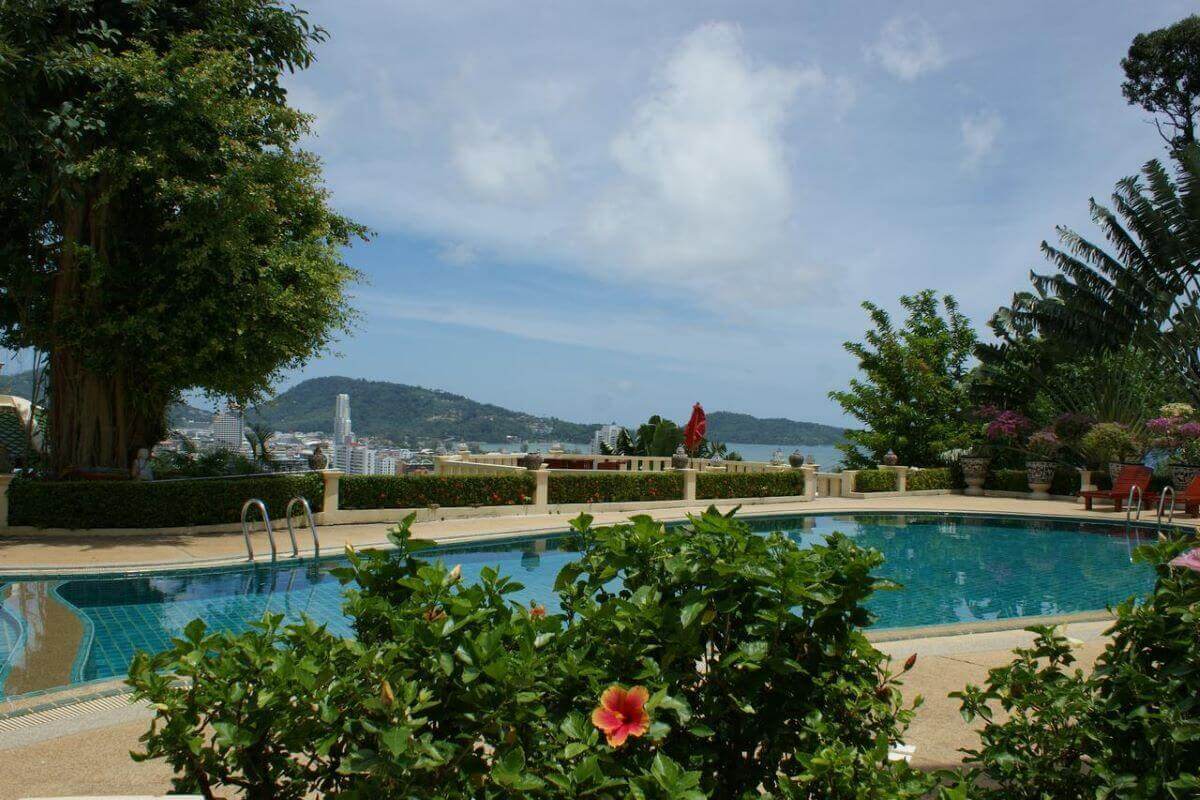 Property Details
Prince Edouard Apartments & Resort
Patong,
Phuket
Description
On a prime hillside location with fantastic views over Patong Bay!
At 80 meters above sea level and facing the sunset, Prince Edouard Apartments & Resort has panoramic views over the sea, mountains and the city. It offers one of the best views on the island. A very quiet, idyllic place and yet only 1 kilometer from the beach and 2 from the city center.
There are 2 separate buildings of 3 floors each, featuring 24 elegant luxury apartments of different sizes from 1, 2 or 3 bedrooms + 1 villa. The furnished interiors are a mixture of Chinese, Burmese and French Empire style. Spacious living and dining areas lead to a large terrace where you can fully and truly appreciate the views. Bathrooms are decorated with marble, granite and ceramic sinks.
The rooms are classified as follows :
One Bedroom apartments:
Deluxe Apartment 86 sqm.
Deluxe Apartment with Jacuzzi, 97 m2.
Executive Suite 100 sqm / 1 bathroom
Prince Edouard suite II 220 sqm / 2 bathroom
Two Bedroom Apartments:
Two Bedroom Apartment 117sqm / 1 bathroom
Executive two bedroom 123 sqm / 2 bathroom
Prince Edouard suite 200 sqm / 2 bathroom
Thai House 170 sqm / 2 bathroom
Three Bedroom Apartments:
Three Bedrooms 195 sqm / 3 bathroom
Duplex Apartment 256 sqm / 2 bathroom
Prince Edouard Apartments & Resort is ideal as a Luxury Hotel or Serviced Apartments or as a Company Residence; to entertain your customers, to reward your staff, to invite friends and relatives, or just to spend quality time in a beautiful setting.
Facilities include a large swimming pool, children's pool and a Thai-style fine dining restaurant with amazing sea views. High speed internet connection is available in all rooms. The land and buildings are owned by a Thai Company.
Other/Additional hotel, resort, land or commercial properties at varying sizes and prices also available for sale in  Phuket, Thailand.
Please contact Thai Residential info@thairesidential.com  or +66 (0) 94 841 1918 (WhatsApp and Line) for details.
Property Features
Hotels
18 bed
17 bath
Air Conditioning
Pool
3,200 sqm
5,440 sqm
Secure Parking
Balcony
Deck
Courtyard
Outdoor Entertaining