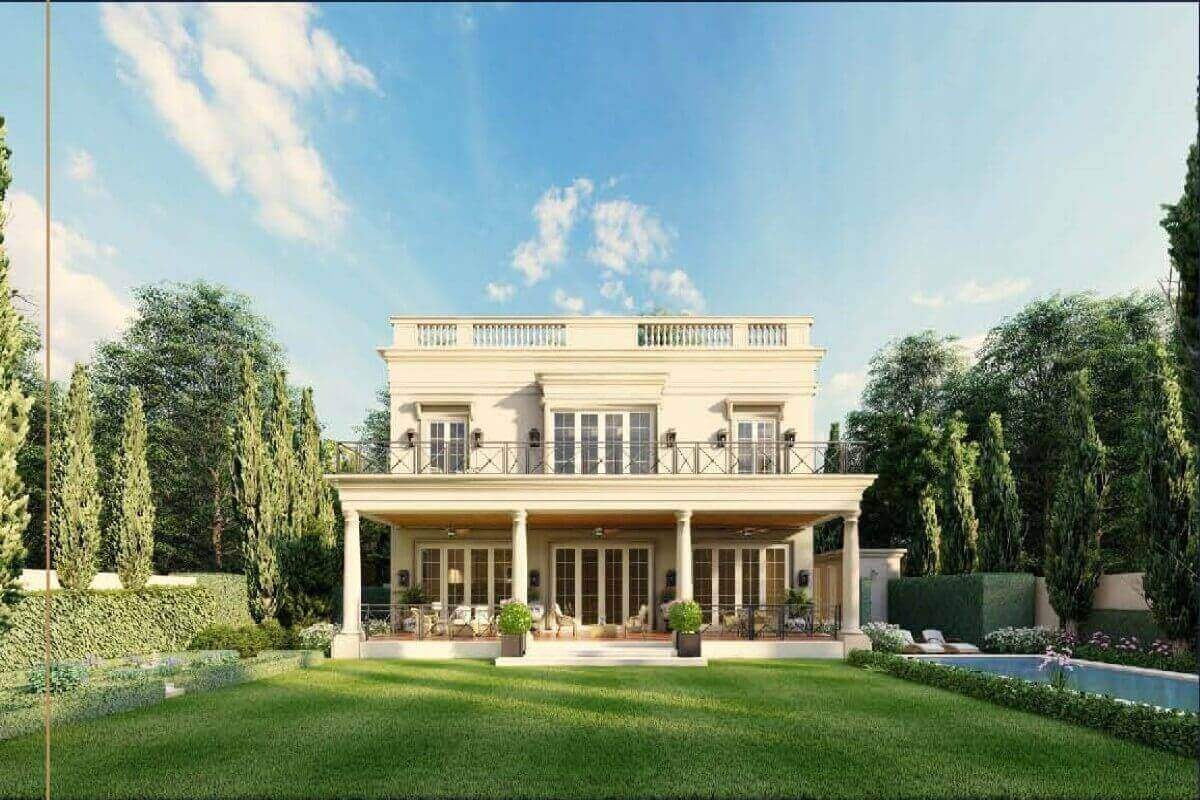 Description
OFFPLAN.
The first and only Regency mansions in Phuket, grand and elegant luxurious homes with wrap-around porches and immaculate landscaped gardens.
These 5-10 bedroom luxury pool villas for sale in Thalang, Phuket are designed in 19th-century Regency architectural style from the Georgian period.  The Main Mansion or the showhouse is an opulent home perched on a hill with views as far as the eye can see. It is now fully finished and ready for inspection, an English Manor in the center of Phuket, an island famed for big villas but without one of this grandeur and elegance.
There are not that many villas in Phuket that could accommodate extremely wealthy people that require spacious areas, seclusion and security. Many of the luxury villas on the island lack a sizable amount of land and the necessary privacy from neighboring homes. Most are also built as holiday rentals and may not be suitable for long term residence. These Regency mansions will have their own private entrance. In keeping with the pristine environment, all electric poles and unsightly wires on the main road in front of the mansions have been removed.
The Mansions were designed in London by a highly regarded and experienced English architect who specializes in Georgian and Regency architecture in order to guarantee authentic Regency architecture and design with the right features and proportions.
There are 7 mansions listed for sale between US$2.3M for a 5 Bedroom and US$4.5M for a 10 bedroom. Internal areas range from 613 – 1,010 sqm and built-up areas from 1,063 – 1,520 sqm on plot sizes of 1,000 sqm to 2,400 sqm. There is an additional space of around 160 sqm on the lower level which could be utilized for additional bedrooms, a ballroom or maybe even a supercar garage.
The location is private and peaceful, with a big reservoir and a national park – surrounded by mountains, greenery and fresh Air. And yet this idyllic location is only a 10 minute drive or so to the cosmopolitan air of the Laguna area and the beach club culture of Bang Tao Beach. The nearest mall for shopping and grocery needs is the new Robinson's Lifestyle Mall in Thalang, which is just a 5 minute drive. The British International School is only a 15 minute drive whilst Phuket International Airport is in 30 minutes.
Additional/Other 5 to 10 bedroom pool luxury villas also available for sale at varying sizes and prices in Thalang, Phuket.
Please contact Thai Residential info@thairesidential.com or +66 (0) 94 841 1918 (WhatsApp or Line) for details.
Property Features
Villa / Houses
5 bed
6 bath
Air Conditioning
Pool
1,000 sqm
1,063 sqm
New Construction
Secure Parking
Balcony
Deck
Outdoor Entertaining
Fully Fenced