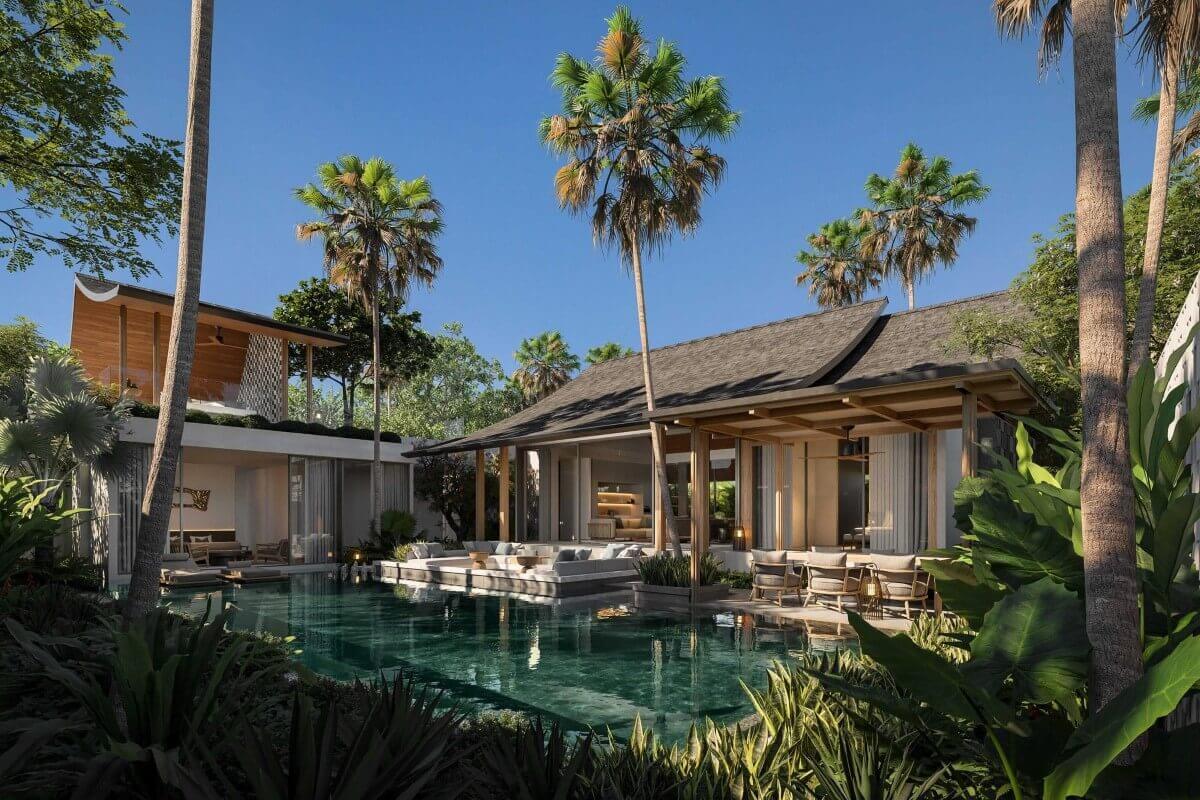 Description
OFFPLAN.
Modern tropical outdoor, semi-outdoor and indoor lifestyle with great comfort in the Pasak area, a growing international destination for property investors and homeowners.
These 3-4 bedroom pool villas are near, perhaps a 5 minute drive or so to Blue Tree or Headstart International School in Cherng Talay, Phuket. These villas are a perfect balance of tradition and style coupled with contemporary architecture and modern minimalism. In order to deliver effortless luxury, special attention will be paid to layering and shaping of spaces and the selection of high-quality materials and equipment for all fixtures and fittings.
Balance and excellence are the major foundations in architecture and construction which will focus on 4 pillars of design. Timelessness – a design that will last for years and not go out of style and can be brought up to date with changes in décor and/or color. Tropical suitability – a seamless flow of space, cross ventilation and landscaping. Simple elegance –  a home focusing on comfort and quiet luxury. Sense of place – small details and artisan crafts that celebrate the heritage of Phuket.
The villa features a spacious open plan living, dining and kitchen area; an outdoor dining sala; a BBQ area; a spacious shaded sunken seating area; a study area; a 10-meter swimming pool with saltwater system; a maid's room; and a private roof-top covered terrace, with a wet bar and views of the mountains and surroundings.
The developers are a subsidiary of a leading gold jewelry manufacturer founded in 1987, working with the world's top jewelry brands, producing  great designs and quality. Through this affiliation they have inherited a long-established tradition of balance and excellence in design, in order to meet great expectations of discerning clients for high-quality products. The aim is to become not only an award-winning property developer, but also a force to be reckoned with in terms of providing a better lifestyle and quality of living for homeowners and higher performing assets for property investors.
The Laguna/Pasak neighborhood is one of Phuket's most livable. It is a lifestyle, not simply a place, where comfort and peace coexist. The location is a safe and secure area in a good neighborhood with villas, restaurants, sports facilities and retail shops nearby. Both Blue Tree and Headstart International School are only 5 minutes away while Laguna and Bang Tao Beach are in 10 minutes. Phuket International Airport is a 26 minute drive.
There are 16 villas of 3-4 bedrooms for sale in this small gated community. Built-up areas are generously sized ranging from 372.15 sqm up to 690.75  sqm. Plots too are a good size, ranging from 508.75 sqm to 935.65 sqm.
Other 3-4 bedroom pool villas also available for sale at varying sizes and prices in Cherng Talay, Phuket.
Please contact Thai Residential info@thairesidential.com or +66 (0) 94 841 1918 (WhatsApp or Line) for details.
Property Features
Villa / Houses
3 bed
4 bath
Air Conditioning
Pool
508.75 sqm
372.15 sqm
New Construction
Secure Parking
Deck
Outdoor Entertaining
Fully Fenced