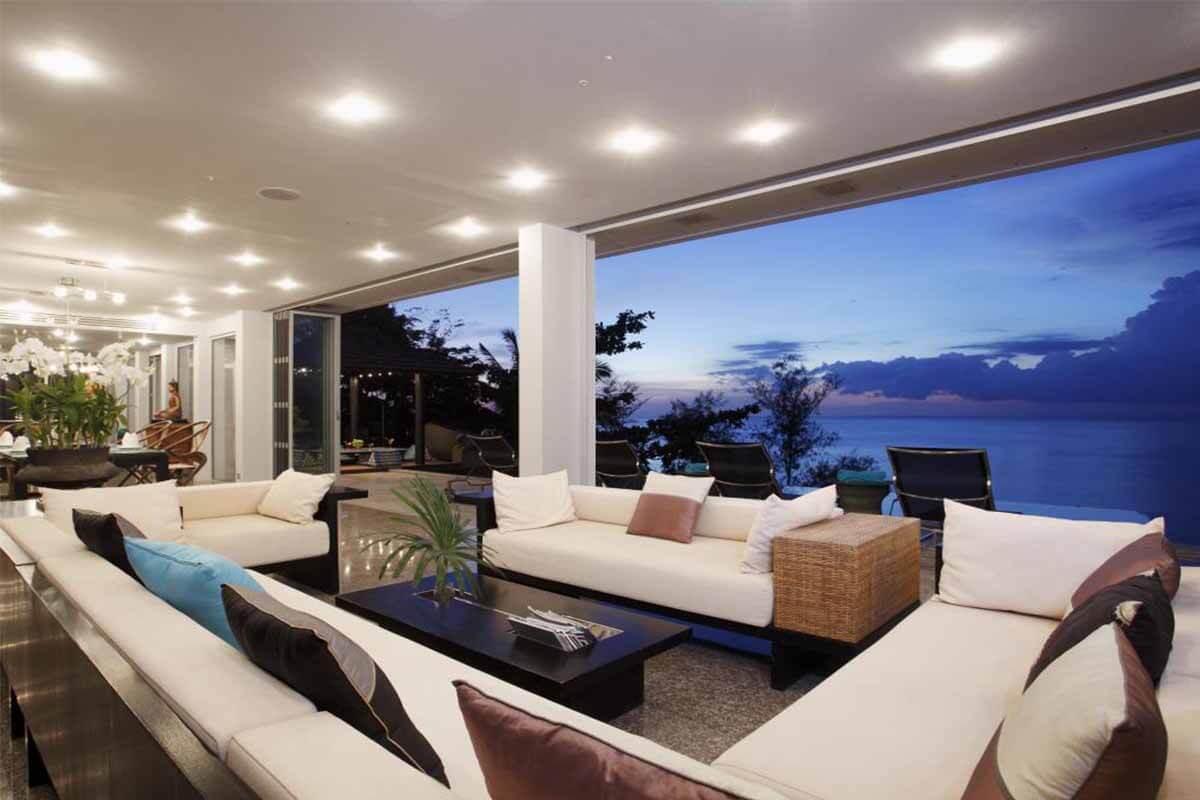 Description
Sits on a hill overlooking a prestigious Surin Beach. The most spectacular beach in Phuket.
One of the only private villas in the area that can give you 100% sea-view with 100% privacy and in walking distance to the beach. Where you will find various beach clubs and other activities you could spend your day with.
This is a private villa that accommodates up to 22+ people with all 11 bedrooms facing the ocean and various in-house facilities you could enjoy.
| | | | | | | | | | |
| --- | --- | --- | --- | --- | --- | --- | --- | --- | --- |
| | Minimum Stay (nights) | 4 Bedrooms | 5 Bedrooms | 6 Bedrooms | 7 Bedrooms | 8 Bedrooms | 9 Bedrooms | 10 Bedrooms | 11 Bedrooms |
| 23 Apr – 30 June | 2 | 40,000 | 45,000 | 52,000 | 58,000 | 66,000 | 75,000 | 85,000 | 100,000 |
|    1 Jul – 1 Sept | 3 | 53,000 | 57,000 | 63,000 | 75,000 | 85,000 | 93,000 | 105,000 | 120,000 |
| 2 Sept – 30 Sept | 2 | 40,000 | 45,000 | 85,000 | 58,000 | 66,000 | 75,000 | 85,000 | 100,000 |
|  1 Oct – 28 Nov | 3 | 53,000 | 57,000 | 63,000 | 75,000 | 85,000 | 93,000 | 105,000 | 120,000 |
| 29 Nov – 19 Dec | 4 | – | 65,000 | 70,000 | 80,000 | 92,000 | 105,000 | 120,000 | 150,000 |
|  20 Dec – 11 Jan | 6 | – | – | – | – | 185,000 | 205,000 | 230,000 | 250,000 |
| 12 Jan – 23 Jan | 4 | – | 65,000 | 70,000 | 80,000 | 92,000 | 105,000 | 120,000 | 150,000 |
| 24 Jan – 2 Feb | 6 | – | – | – | – | 185,000 | 205,000 | 230,000 | 250,000 |
|   3 Feb – 1 Mar | 4 | – | 65,000 | 70,000 | 80,000 | 92,000 | 105,000 | 120,000 | 150,000 |
Services includes: 
Welcome champagne
Welcome fruits
Free Wi-Fi in all areas
Daily cleaning
Villa manager and staff (09:00 – 21:00)
Travel planner
Grocery shopping service (+20%)
Free use of membership card at Bluesiam Beach Club + Free roundtrip transfer
Extra services upon request: (Commission not included)
Chef (2,500 THB per meal, lunch or dinner only)
Breakfast (550 THB per person)
Airport transfer (1,500 THB per van per way, 6 pax with luggage)
Car rentals
Yacht charters
Luxury van with driver
Property Features
Villa
11 bed
11 bath
Air Conditioning
Pool
Alarm System
Secure Parking
Gym
Balcony
Deck
Outdoor Entertaining
Fully Fenced