The Kingdom of Thailand is one of the most sought-after destinations in Southeast Asia, offering a convenient standard of living for foreign residents who make the country their second home. Thai Residential has recently partnered up with Henley & Partners, the global concessionaire of the Thailand Elite Residence Program, to provide new property buyers with a free privilege entry visa, which takes the legwork out of gaining residence in Thailand and affords you the right to live in Thailand for up to 20 years.
With the right to residence offered through the Thailand Elite Residence Program, residents are able to make use of many benefits that will make travelling to and from the country, as well as getting around the country a pleasure. When travelling internationally, the Thailand Elite Personal Assistant (EPA) will assist you with through customs and immigration at the airport. Members travelling out of Chiang Mai, Phuket, and Don Mueang will be able to make use of the exclusive Coral Executive Lounge, while those departing from Bangkok's Suvarnabhumi International Airport can enjoy a range of food, beverages, and high-speed wifi in the Miracle First Class Lounge prior to their departure.
With luxury limousine transfers from selected airports, you may simply sit back and relax while driven by a chauffeur to your hotel or residence. Residents keen on driving themselves around Thailand will be able to make use of discounted car rental services from partners such as SIXT and Budget Car, whilst the Thailand Elite Residence Program staff can also assist successful applicants in obtaining a driver's license, which is issued for two years.
Thailand offers the best hospitals in Southeast Asia and services are of a high quality throughout the country. Two of the options under the Thailand Elite Residence Program offer access to an annual complementary health check-up. Thailand is also renowned for its leisure activities. From the famous massages, countless golf courses, and its world-famous cuisine. Successful applicants of the Thailand Elite Residence Program can enjoy complimentary Thai massages and discounts for guests at partner spas including Angsana, Anne Semonin, and Breeze spas, among others.
Avid golfers can walk the manicured fairways of the country's finest golf, with certain partner golf clubs and country clubs offering complimentary rounds of golf, a significant discount on green fees, and complimentary classes for members to perfect their golf swing. Foodies and cooking enthusiasts can enjoy one of many cooking classes, where they can learn more about the unique ingredients and cooking methods of Thai cuisine and enjoy discounts on cooking classes at partner schools, or pick up fresh local produce and learn how to use it at Smile Organic Farm Cooking School.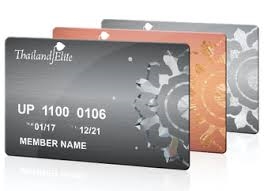 The shopping in Thailand is world renowned and for good reason. With a range of world-class shopping malls and bustling night markets, residents will be able to find what they're looking for and so much more. Make use of the various discounts on merchandise available at different department stores, and enjoy a range of discounts on various international cuisines at a wide range of restaurants throughout mainland Thailand as well as the islands. Residents who would rather enjoy some quiet drinks for business or pleasure are also able to access discounts at various cocktail bars and restaurants on the Thailand Elite Residence Program privilege list.
With all these benefits and more, the Thailand Elite Residence Program offers seven different streams that grant successful applicants residence for five to twenty years for an economic contribution of between THB 500,000 and THB 2.14 million (approximately USD 16,000 to USD 68,000). There is no age requirement or annual fees (with the exception of Elite Ultimate Privilege and Elite Family Premium), making this an attractive option for anyone looking to relocate to Thailand.