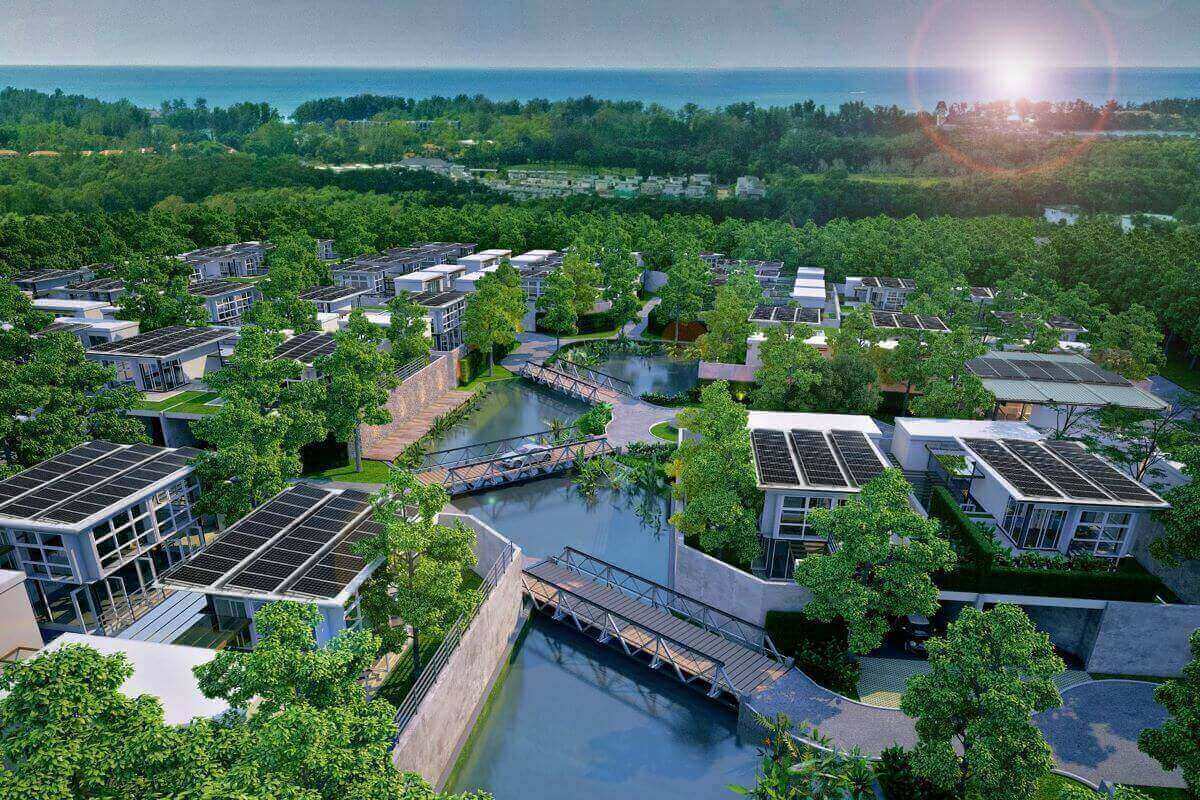 Description
A state-of-the art-energy efficient home uniquely designed to maximize energy savings and minimize carbon footprint.  This villa is not just another development on this highly sought-after area of the island, it is a future home with a purpose, one where we believe in an environmentally conscious lifestyle.
This first-of-its-kind villa offers a combination of renewable energy in a tranquil mountainous backdrop setting. The loft style living in combination with the edgy functional design of these modern tropical pool villas, offer something Phuket has never seen before.
Developed by E-Land Development, a team that has had a long history and experience in construction business both in Asia Pacific and Europe. They strive to build homes with the highest energy standards and living conditions. The developer aims to produce one of the most environmentally friendly and sustainable development in the country.  They want to offer that perfect combination between technology and a functional, livable design for a community.
These unique villas are packed with the latest technology that make the development a standout in the market. It's not an exaggeration that they refer to the villas as "A Home for the Future". These villas are like no other, they are not only a home, but also a power plant. There will be solar panels on the roof top, which will be the main source of energy use in the villa. Using renewable energy from solar panels will enable energy supply to your home at a very minimal cost. Each villa also comes with integrated solar panel systems that are all inter-connected with each other. Called a smart grid, this means the solar energy is shared and transferred between houses to maximize efficiency. This will be a brand new electrical system never before used in Thailand for residential purposes.
Other features such as central heat pumps for hot water and gas usage for hobs and stoves will be installed. There will be a dehumidifier system in each villa to keep wardrobes, closets and bedrooms free of fungus and smells, if the villas are left unused for extended periods of time. As such, there would be no need to run the air conditioning systems or forced ventilation when there are no occupants. We believe they are the first developers to include this in their villas.
This development has an abundance of open space and tasteful industrial elements design. The common areas are full of green space and small creeks with charming steel bridges leading to the villas. The villas have an edgy design, with the staircase extending right over the integrated swimming pool. There  is plenty of green space and gardens to entertain family and friends. There is even a  green space and garden with a large planter box  on the second floor sundeck, so you will feel a part of nature wherever you go. It also helps to provide additional privacy.
This 3 bedroom pool villa is conveniently located near Boat Avenue (800 meters away), a large shopping complex in the Cherng Talay area. Porto de Phuket , the new open-air retail mall by The  Central Group is 1.2 km. away. The entertainment destination, Blue Tree is only 2.7 km. from the development. As a perk, villa owners will have a  lifetime membership at Blue Tree.  Laguna Phuket Resort Complex is 2.8 km. away. Phuket International Airport is only 14 km, making it easy when you need to do any traveling.
Additional 2 bedroom or 4 bedroom sustainable living pool villas also available for sale at varying sizes and prices in Cherng Talay, Phuket.
Other 3  bedroom pool villas also available for sale in Cherng Talay, Phuket.
Please contact Thai Residential info@thairesidential.com  or +66 (0) 94 841 1918 (WhatsApp or Line) for details.
Property Features
Villa / Houses
3 bed
3 bath
Air Conditioning
Pool
297.60 sqm
360 sqm
New Construction
Deck
Outdoor Entertaining
Fully Fenced